Sheilding Strat body with Tex Mex..?
I'm in the middle of a fender partscaster which i will make a thread all about later, but before i go on with putting the pickups in, should i bother with shielding the body with copper tape for tex mex pickups or just leave it how is? And if i do not bother with it, should i strip the paint inside the cavity of paint? Looking for those guys who have done partscasters before and have done one or both of these mods. Lemme know, all help is appreciated!

Heres a pic of the Alder fender body im using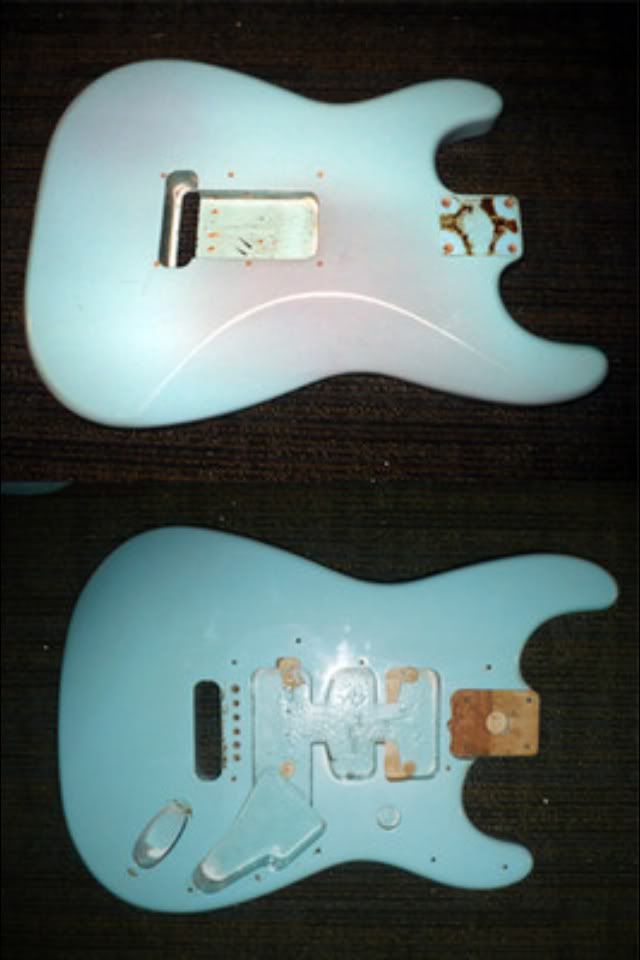 If youre going to all the trouble of having stripped the body for a partcaster build then shielding all the cavities and scratch plate as part of the build should be a definite yes
Shield it with copper tape and solder the joints for the best coverage. It's definitely worth the effort.
Where is a good place to buy enough copper tape like that? Is there a special type I should get? Shoot me a link btw thanks guys

Join date: Apr 2009
40

IQ
I shielded my strat when I replaced pickups and it made a difference. Not a monumental difference, but it definitely helped. So I'd recommend it, sure. I wouldn't say there's a need to remove the paint from the cavities though, not sure what difference it would make; the tape should stick to it fine (at least in my case it did.)

Both StewMac and DiMarzio sell the copper tape. I'm sure there are others too. As poppameth said, be sure to solder the joints/seams too for the best results.
What does soldering the joints/seems mean? Sorry..

Join date: Apr 2009
40

IQ
Where the tape overlaps. You will have to cut and use multiple pieces in order to cover every part of the cavities. Soldering over these seams/overlaps yields the best results. I recommend reading a tutorial on shielding if you haven't already, there's a bit of an art to it I've found..

If you don't go this route, I know there's copper conductive spray out there too. but I have no experience with it.
If you get a tape with conductive adhesive, which is rare, there isn't so much need to solder the joints. I rarely solder them at all because I'm usually using it over existing conductive paint, which also makes it somewhat pointless to solder. If you are going on a bare or sealed surface go ahead and solder to make a solid shield.
Get the tape from Stew Mac- I did one of my guitars and then checked with an ohm meter- it was no necessary to solder. 0.0ohms.
Alright I'll go ahead and get the tape fro stew Mac and not worry about the soldering. Still not even sure what that means. I'll fill the whole cavity and cover the back of the pickgaurd with it. Do I have the right idea? Hahaha
What it means is the whole shield that you fill the cavities and the back of the scratch plate is conductive. All the strips must connect together electrically and should be all grounded.
See this link, not so much the content but the pics linked in my last reply as to what typical cavity shielding looks like.
https://www.ultimate-guitar.com/forum/showthread.php?p=28206092#post28206092
If you're still not sure, you need to do some research into it. Your original post suggested you at least understood the basics of shielding