Unlimited Challenge 2012 - Jazz Bass Special
Hey guys, thought I might as well enter my bass build in the competition even though its not going to be very exciting or anything. It will be a black jazz bass special.
Some info about Jazz Specials. If you don't want to read all about the history and stuff, skip past the stared section.
****For those that don't know about Jazz Specials, their pretty much a precision bass body with a jazz bass neck. The body has a P bass pickup in the neck (mid) position and a Jazz pickup in the neck and no pickgaurd. The name came from the neck for some reason and not the body. Fender has put out a Duff Mckagen signature model which is a Jazz Special that they have called a Precision bass though, I don't know why. His signature model also has a wider neck, like a P bass for some reason. This might have been because some Jazz Specials came with wider necks, or because Duffs first 80's Jazz Special had the neck on it made wrong, or just because Fender decided to put a P bass neck on it, who knows?
They were made by Fender from about 1984-1989, I think, in Japan. They had a 3 way pickup switch (neck, neck+bridge, bridge) and a TBX tone control along with a volume for each pickup. The TBX tone control is a bass/treble cut. It simulates an active circuit by cutting either the low or high frequencies, I guess making it seem like the other is being boosted, since being a passive circuit it can boost signals. Fender also came out with a Power Jazz Special, which had active pickups, but I'll leave that for now, I've probably bored you with this history lesson enough haha.****
Neck: Jazz Neck
Construction: Bolt on
Number of frets: 20
Fretwire: Jumbo
Neck wood: Maple
Fretboard: Rosewood (I think its Fijian rosewood)
Scale: 34''
Radius: 10''
Headstock shape: Fender Jazz
Truss Rod: Hot Rod 2 Way truss rod.
Nut: Bone
Tuners: Black Schaller Fender style
Inlay: Pearloid Dot
Finish: Black Lacquer
Body: Precision Bass
Wood: White Ash
Contours: Belly and Arm
Bridge: Black Fender bridge
Strap Buttons: Dunlop straplok
Cavity Covers: Back control cover plate (No pickgaurd)
Electronics:
Pickup Configuration: Jazz Bass Pickup, Precision Bass Pickup
Neck: Precision Pickup
Bridge: Jazz Bass Pickup
Switch: 3 way Gibson style
Controls: 2 volumes, TBX tone control (Maybe just a tone until I get a pot for the TBX)
Knobs: Black Dome knobs
Input jack: Side mount
Heres some pictures of the wood and paper for the competition. I should have some build pics up soon.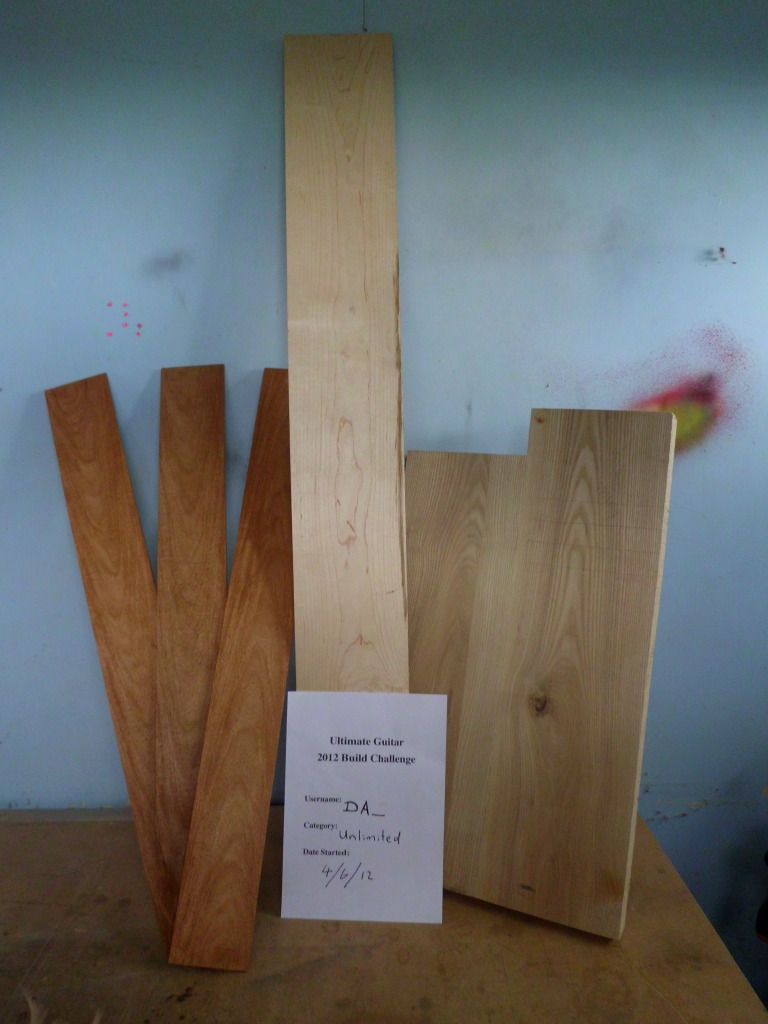 Templates.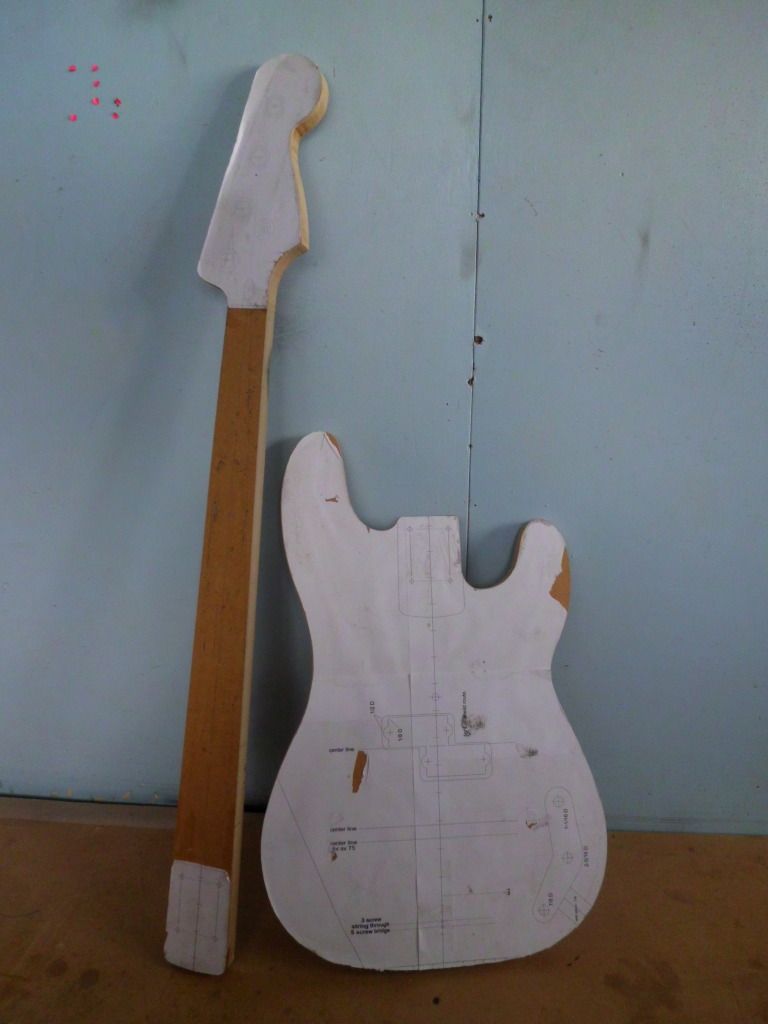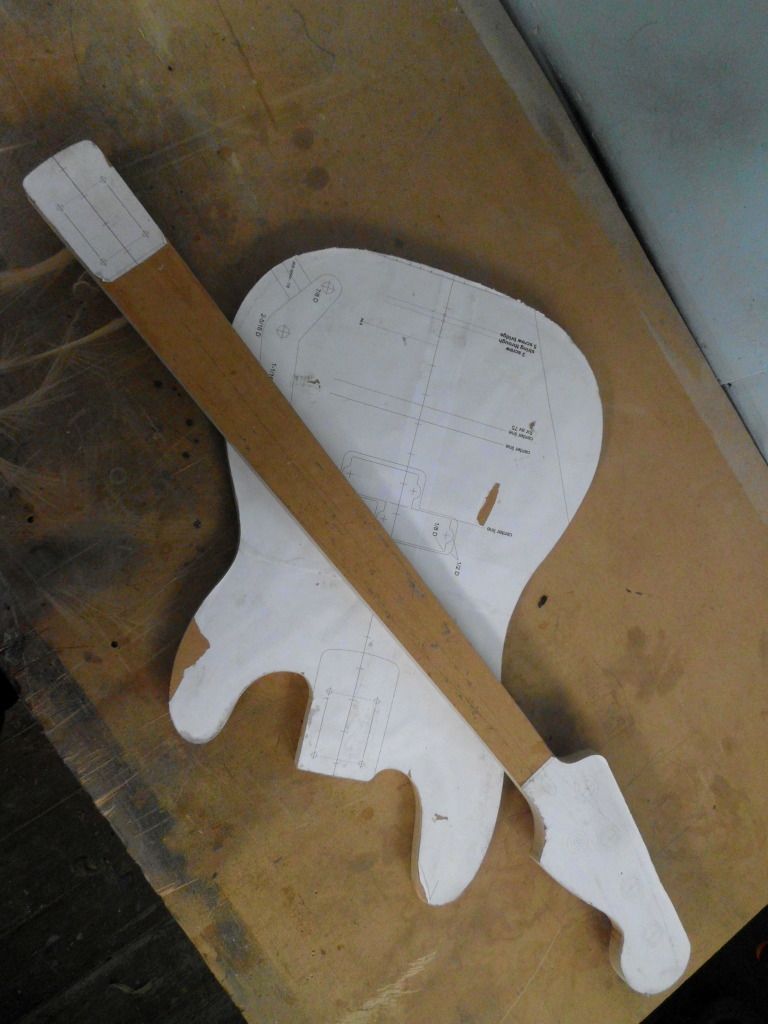 Last edited by da_ at Jun 4, 2012,
Ok, some build pics.
I thicknesed the body down to about 38mm, unlike Fenders which are 45mm thick. This was to help with weight. Since its White Ash, its heavier then Swamp Ash, and it seems to be quite a lot heavier. I'll see what its like once the body's cut out.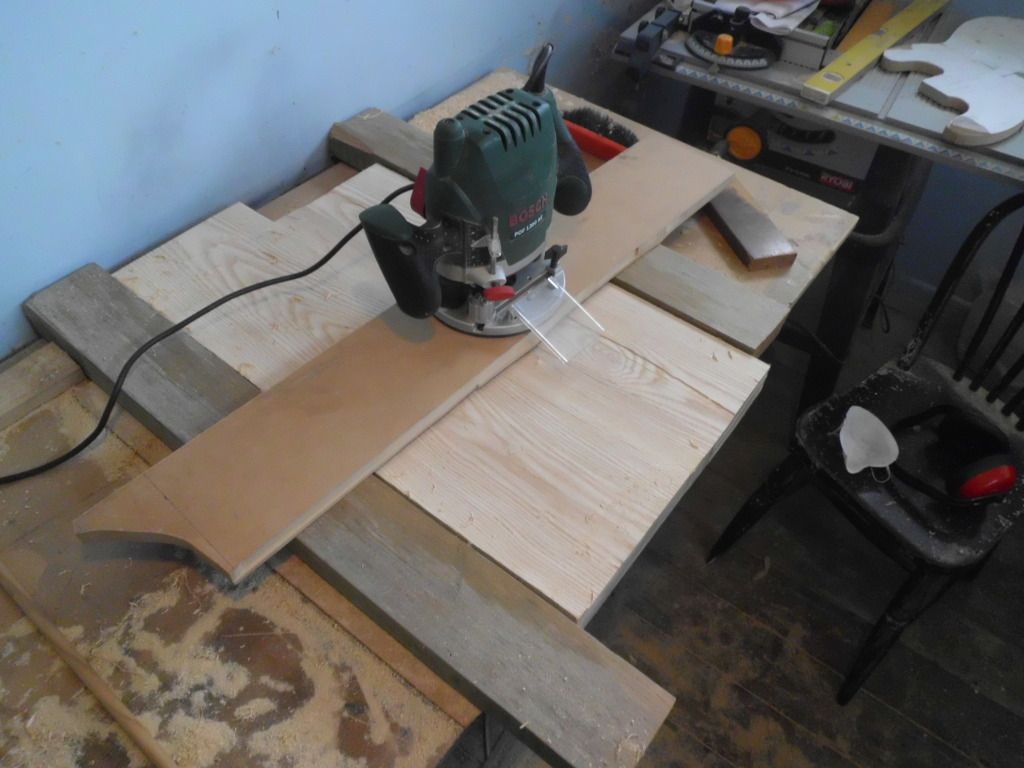 Just my thicknesser made up with my router.
Someone might find this interesting, so I'll post it.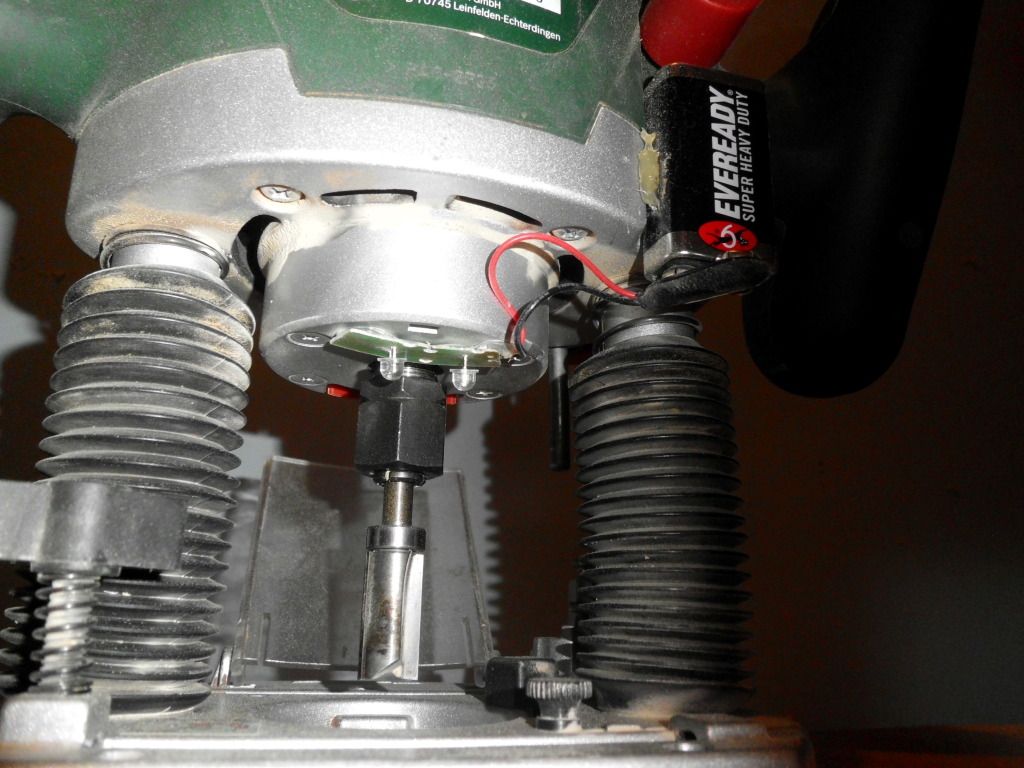 Since a lot of the time I build at night, its sometimes hard to see while I'm routing. I use to tape a little LED torch onto my router but it would always fall off, so I wired this up and hot glued it on. It stays on and it works. Its pretty simple, no ground braking stuff haha. I think I might try wire a little plug to the lights so when I'm not using it, I can unplug it and there will be no wires.
Next I routed the truss rod.
Drew the neck outline and centerline on to the maple and marked where the rout needed to start and finish.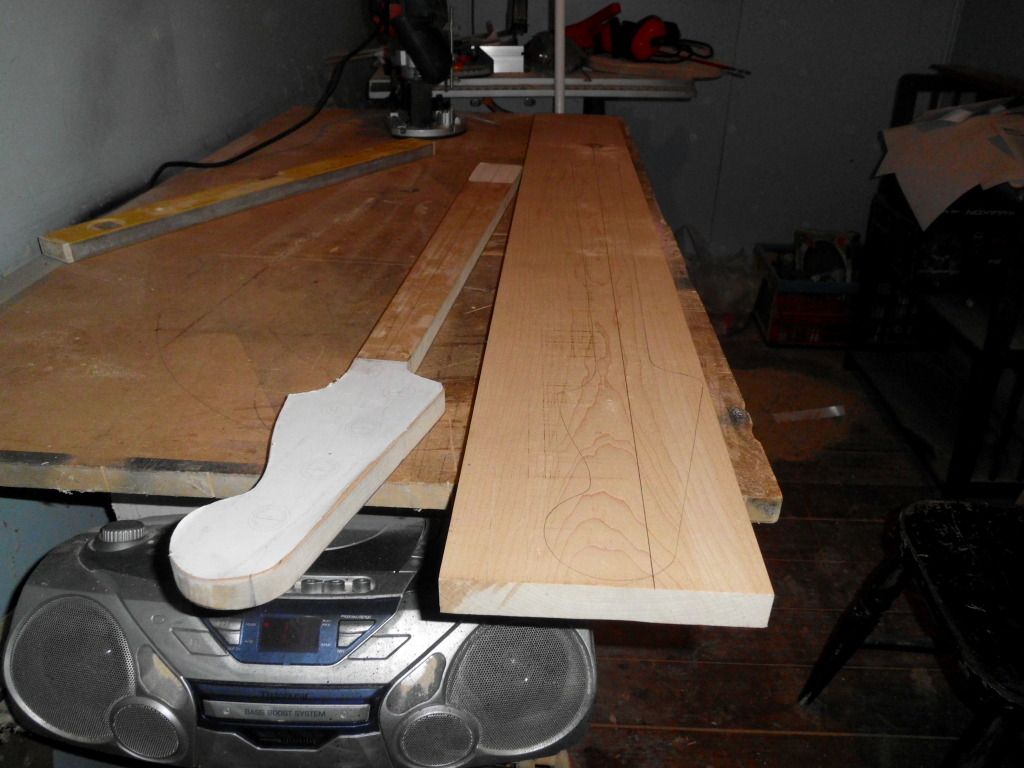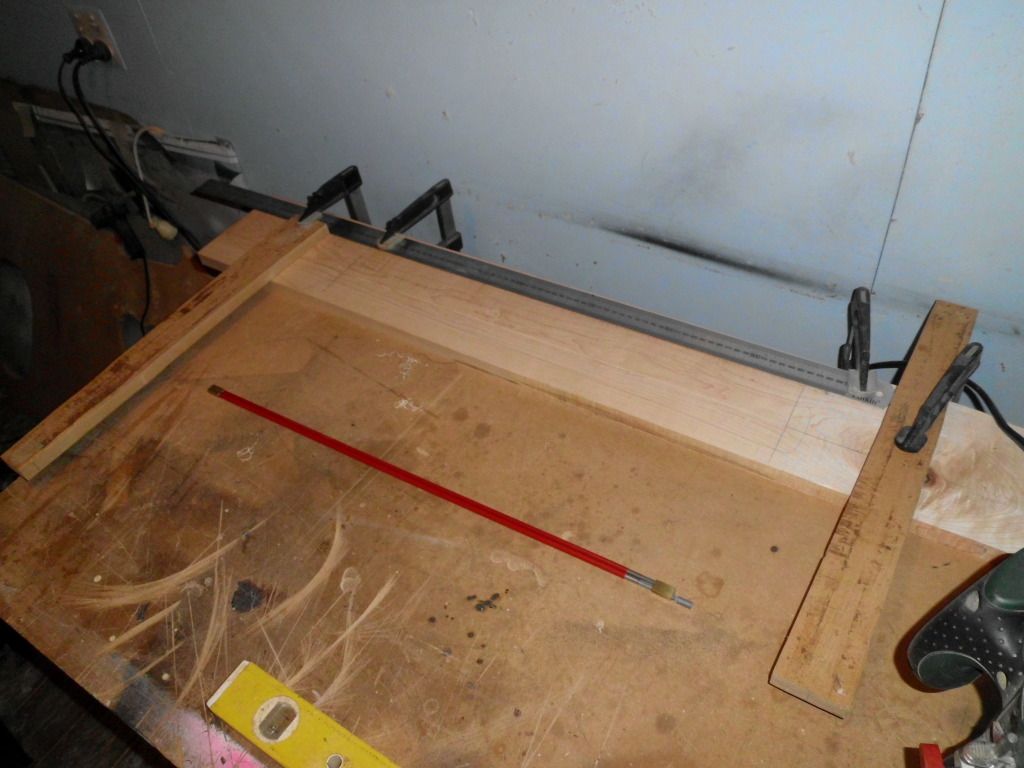 The router rides along the edge of the ruler keeping the route straight, the MDF is there to stop the router at the right place. This set up seemed to work quite well, it would be better with something a bit thicker then the ruler but it worked.
If the straight edge was thicker, this wouldn't have happened.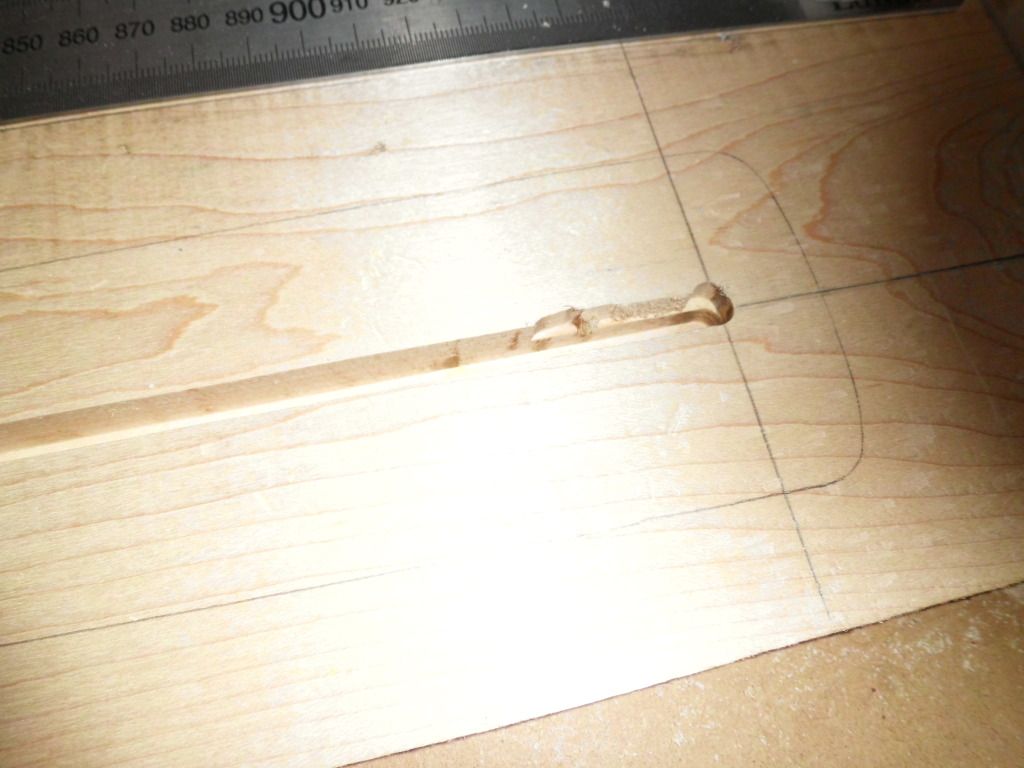 But since it did happen, I found out what went wrong and it worked fine afterwards.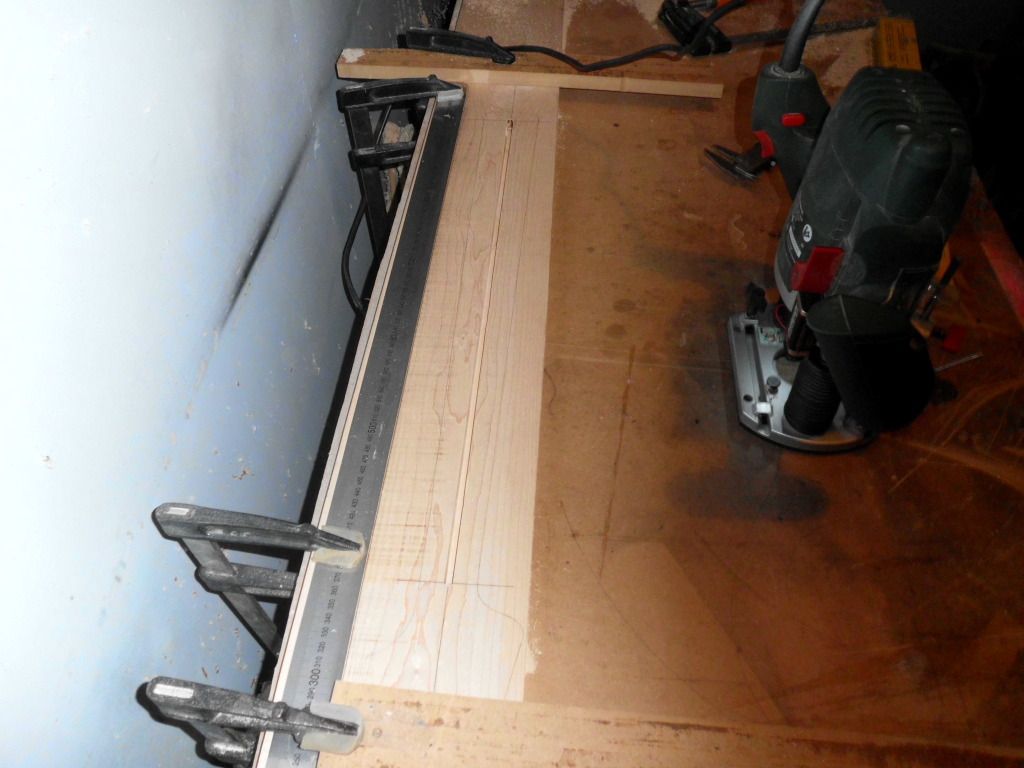 Route done.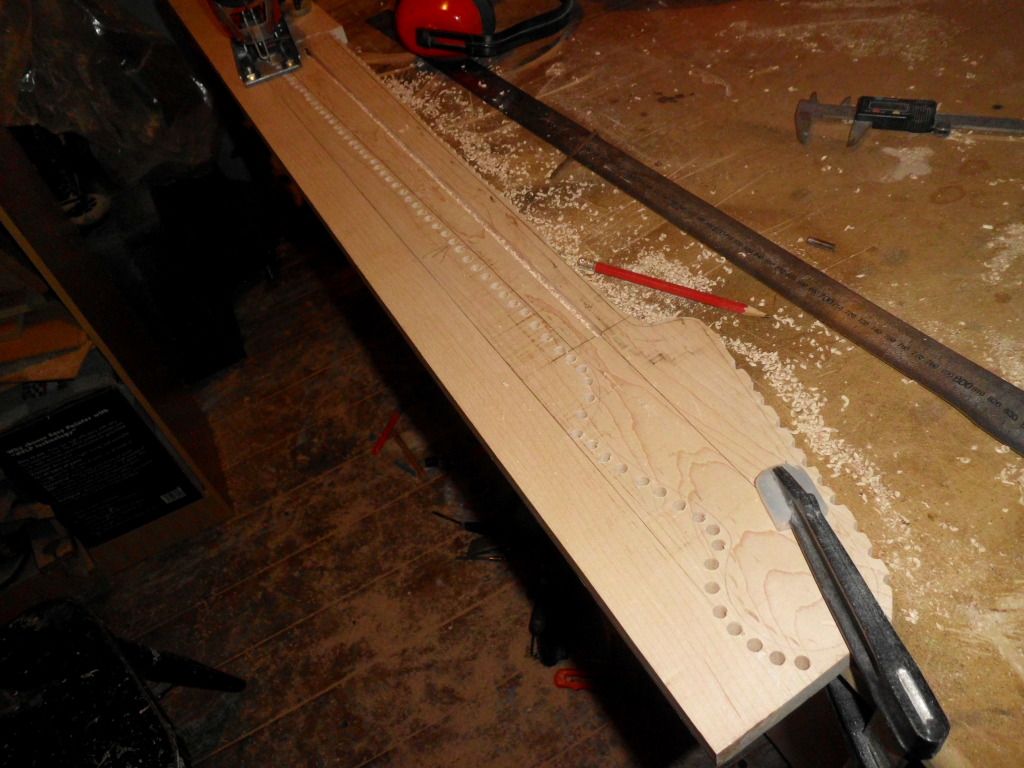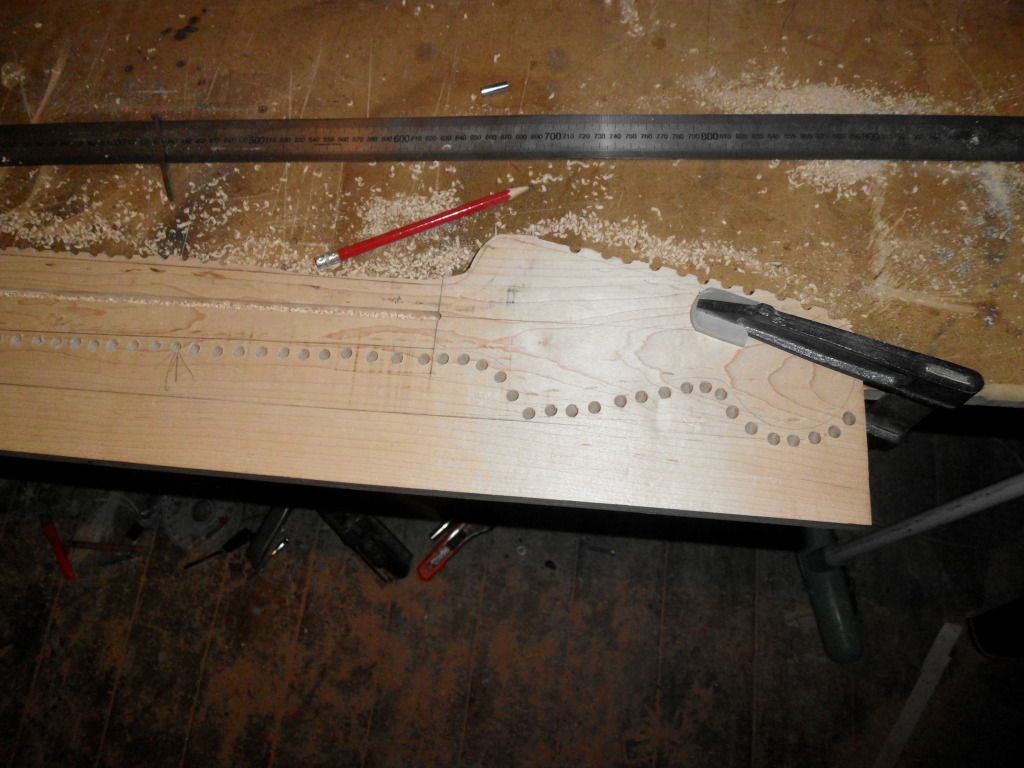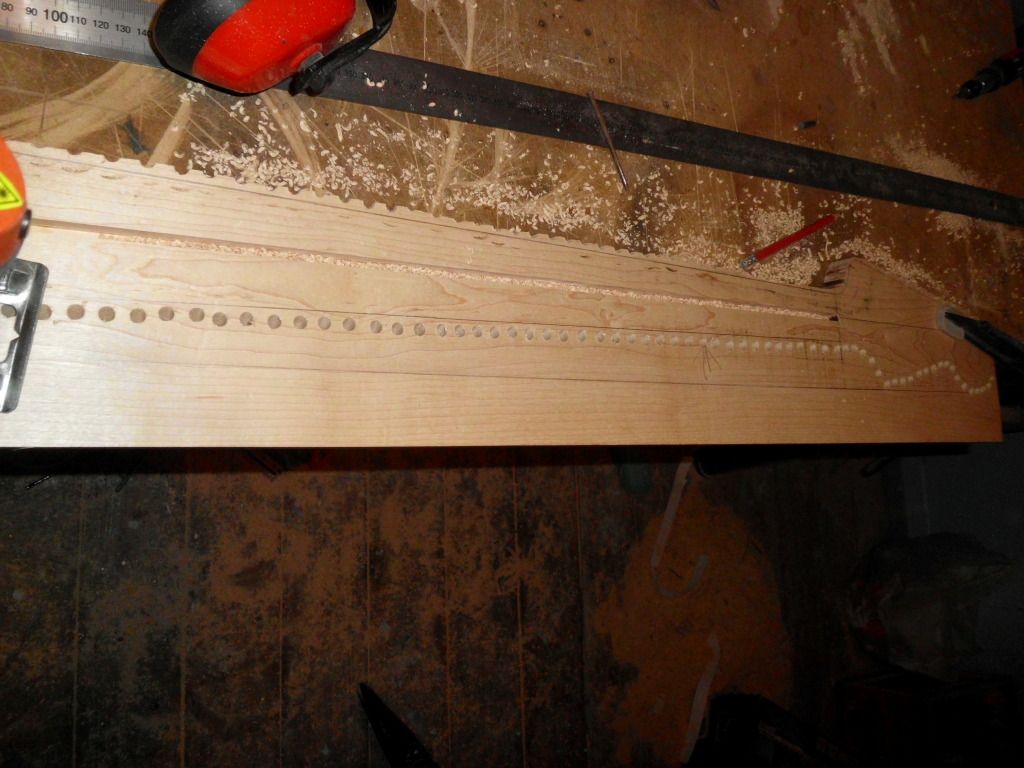 Think I could get a job at a cheese factory?

My jigsaw broke within the first 15cm of cutting the neck out, so it ended up being a very rough cut. I drilled all the way around it and was able to use my jigsaw carefully with a screw shoved in it holding it together to cut between the holes.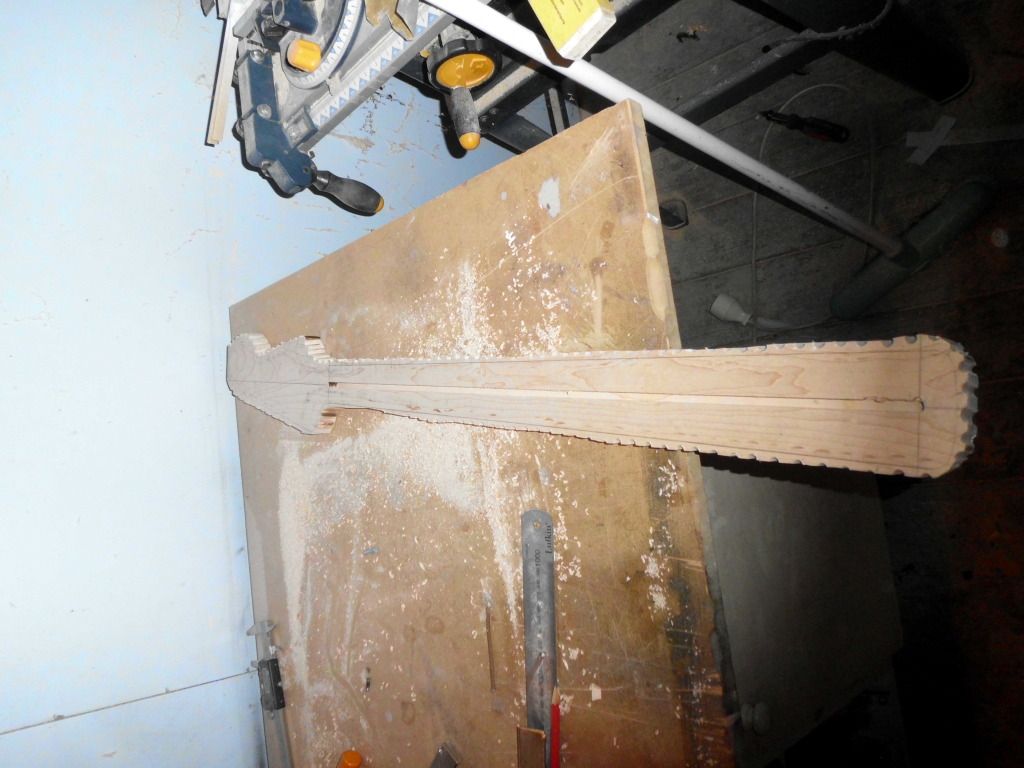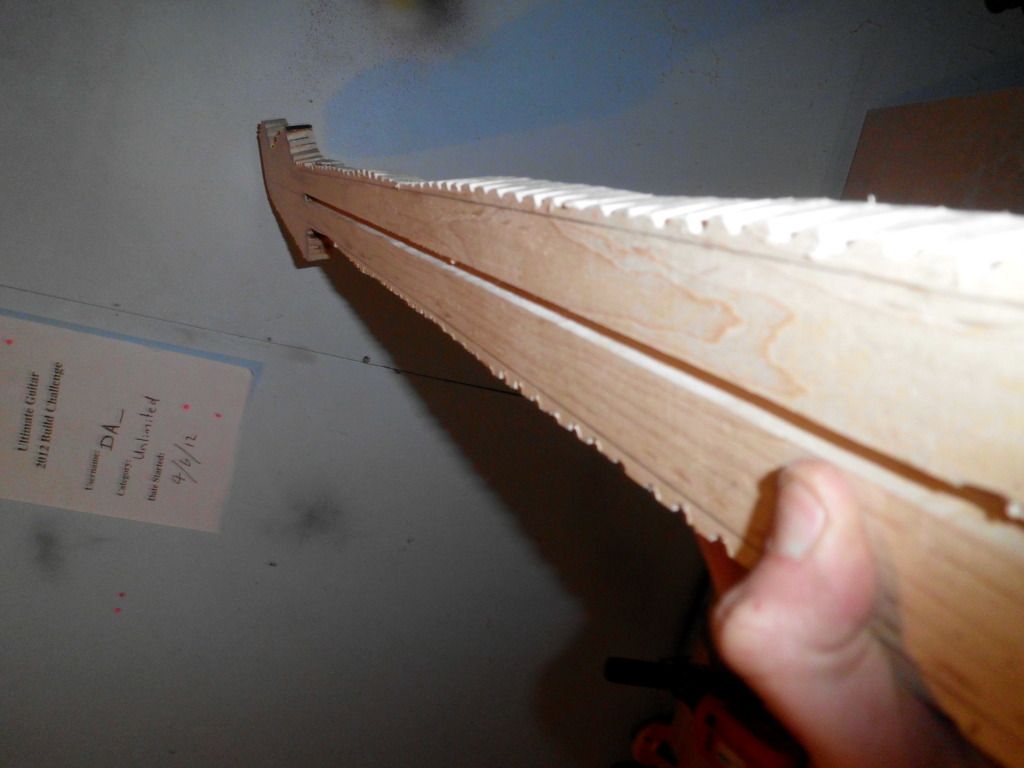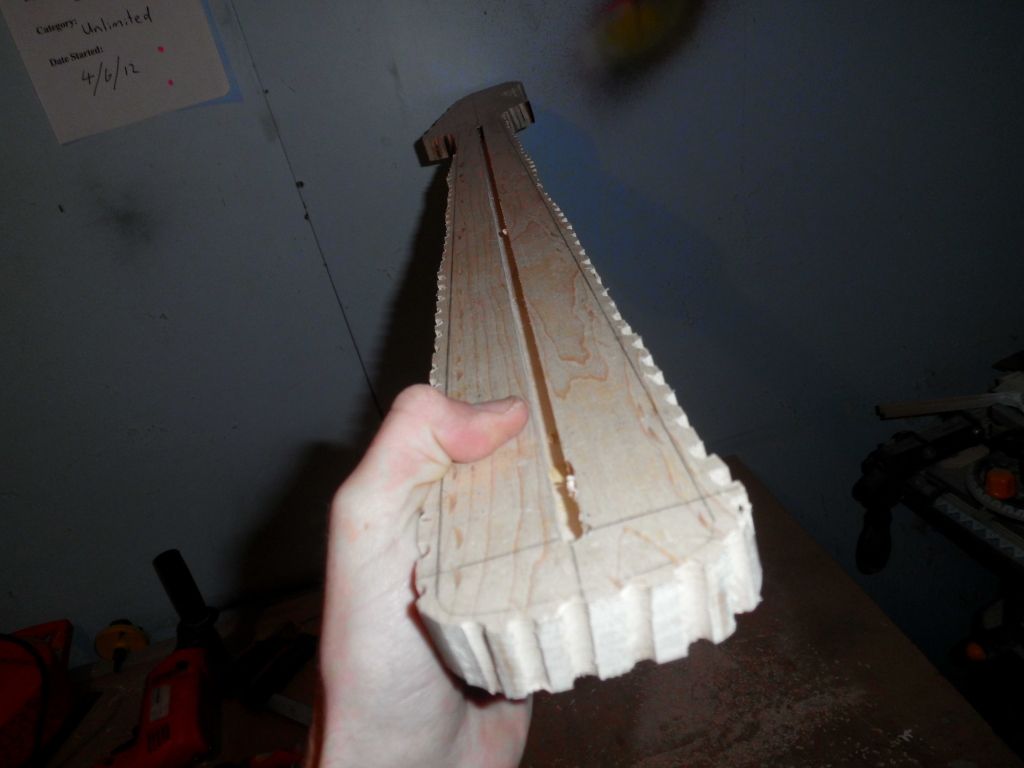 Rough cut? Probably an understatement haha
And routed to shape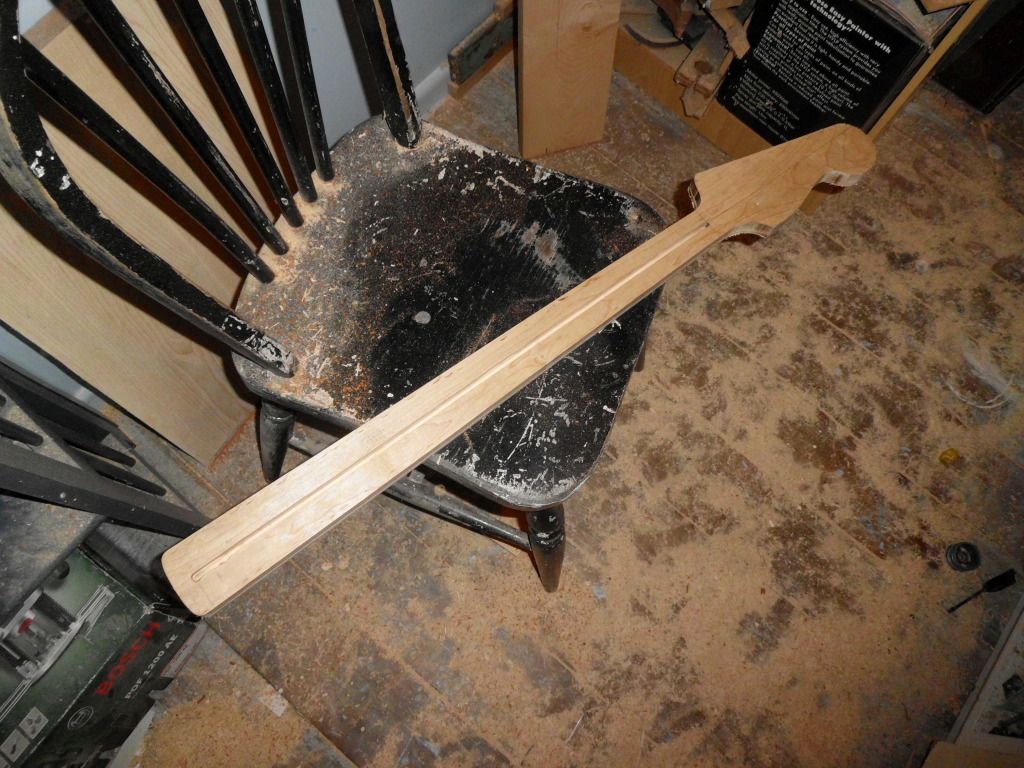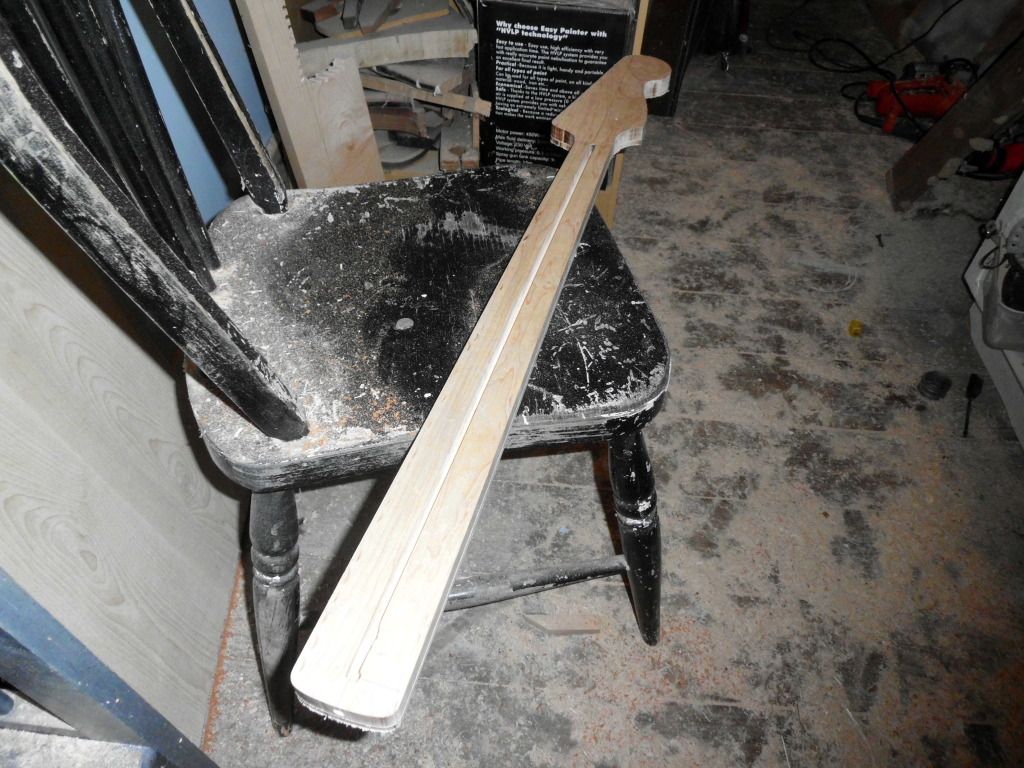 I drilled the hole for the truss rod, its heel adjusted. Just a 7mm hole through the end of the heel into the bottom on the truss rod channel.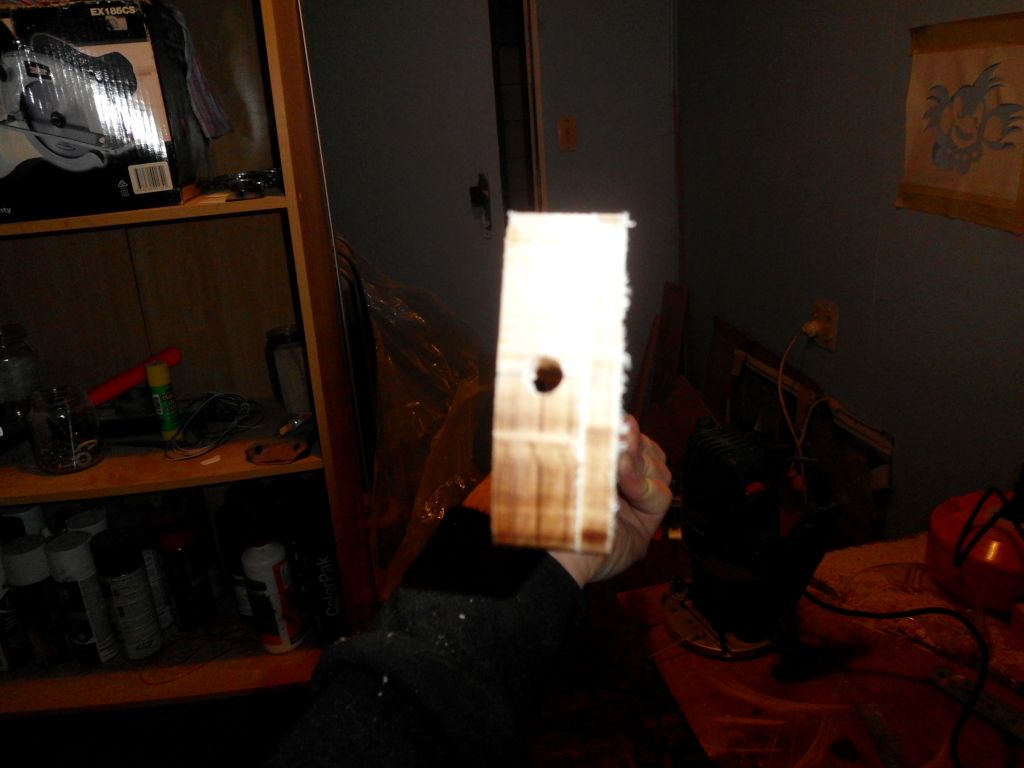 Not much more happened today, I put the truss rod in and glued the fretboard on. Hopefully tomorrow I can get as much of the wood working done on the neck as I can.

Join date: May 2010
80

IQ
I never would have thought of that with the LED, such a simple but great idea, thanks!
Sorry I didn't update yesterday, this is what I got done.
Truss rod in and fret board glued on the other night.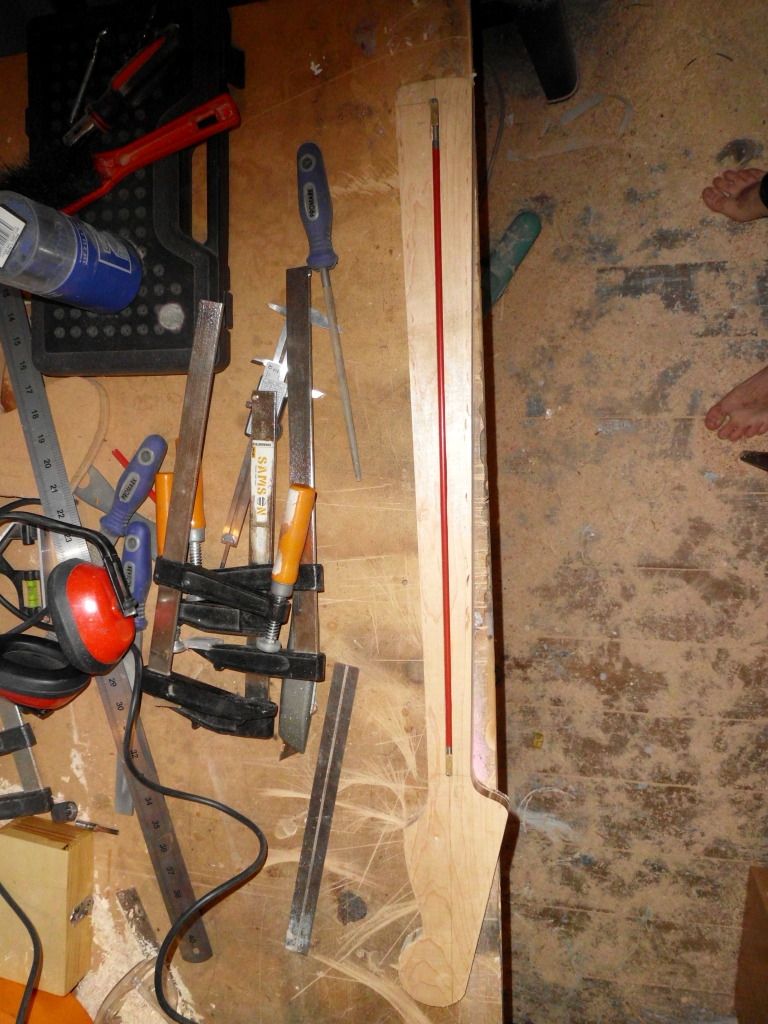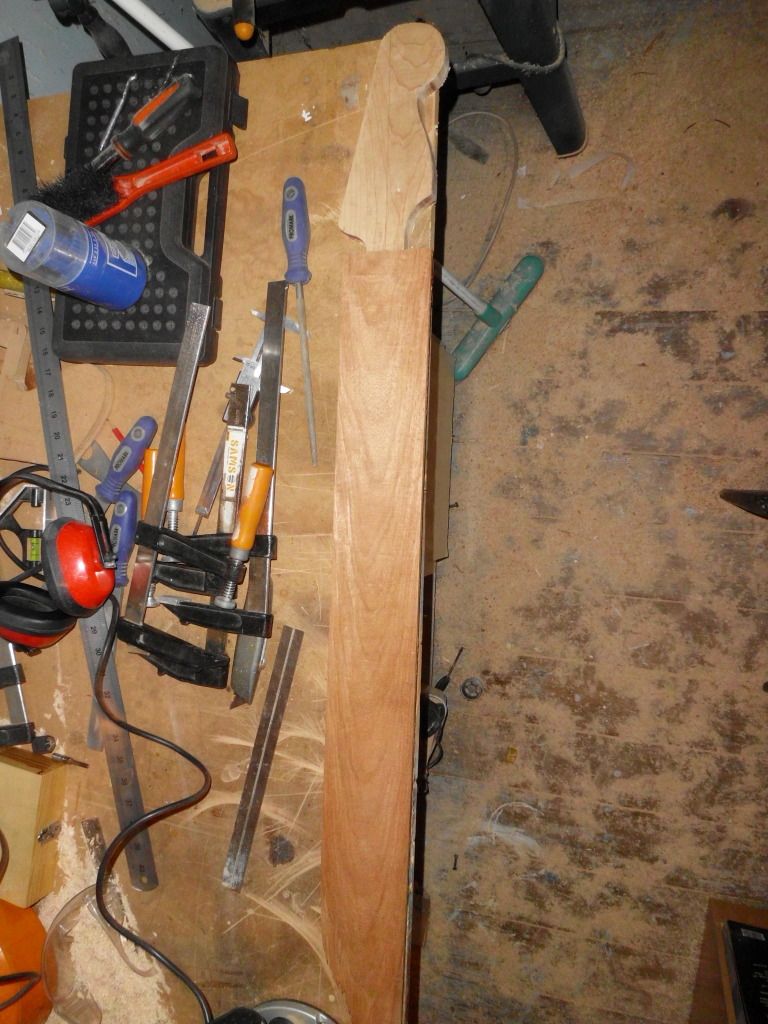 I ruff cut the fret board to shape once it was glued on. I cut it by hand. since the jigsaw was still broken, lots of fun. I then routed the board to shape.
I didn't get a picture of it completely routed to shape, so you can look at another picture of it almost routed to shape haha.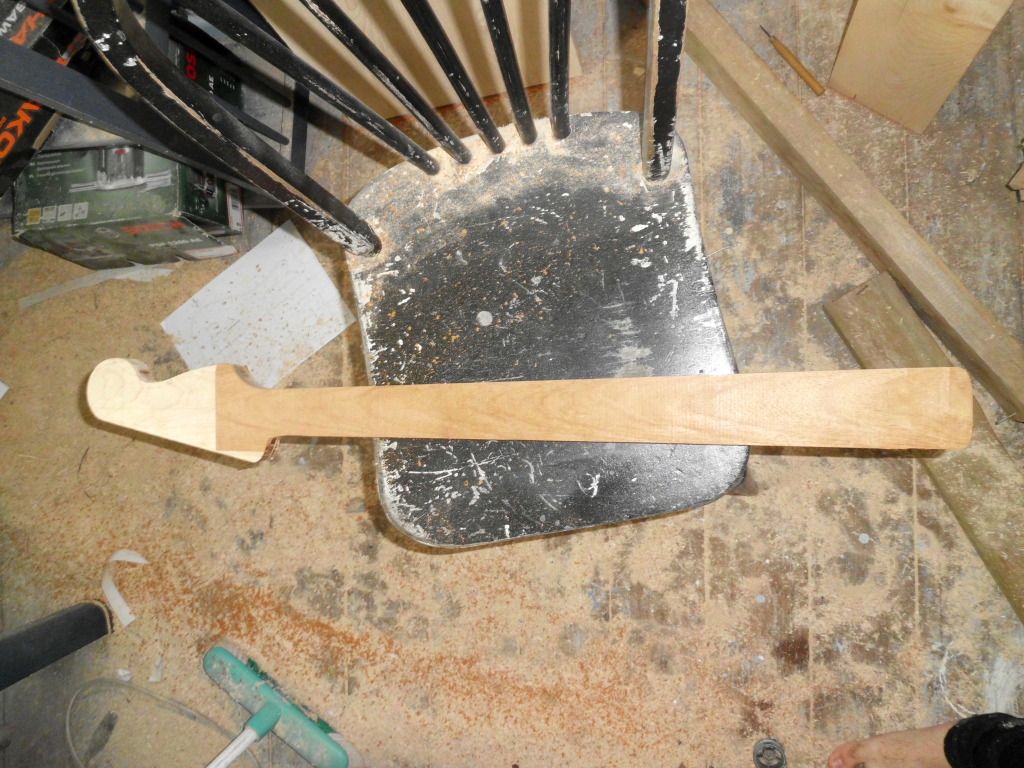 I measured and drew out the transition from the fretboard down to the headstock and the thickness I needed to plane the headstock down to. Even though it was meant to be an accurate line to sand to, it ended up only being a guide.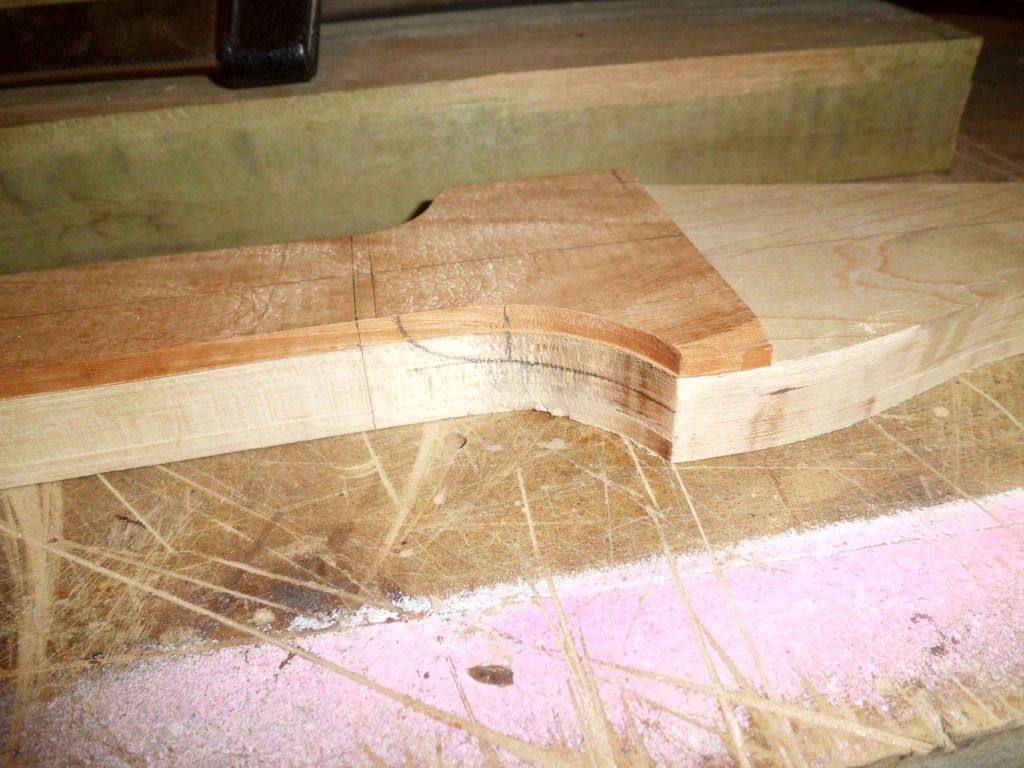 I just put the neck into the router/thicknesser/planer thing that I used to thickness the body blank and routed down tho the right hight.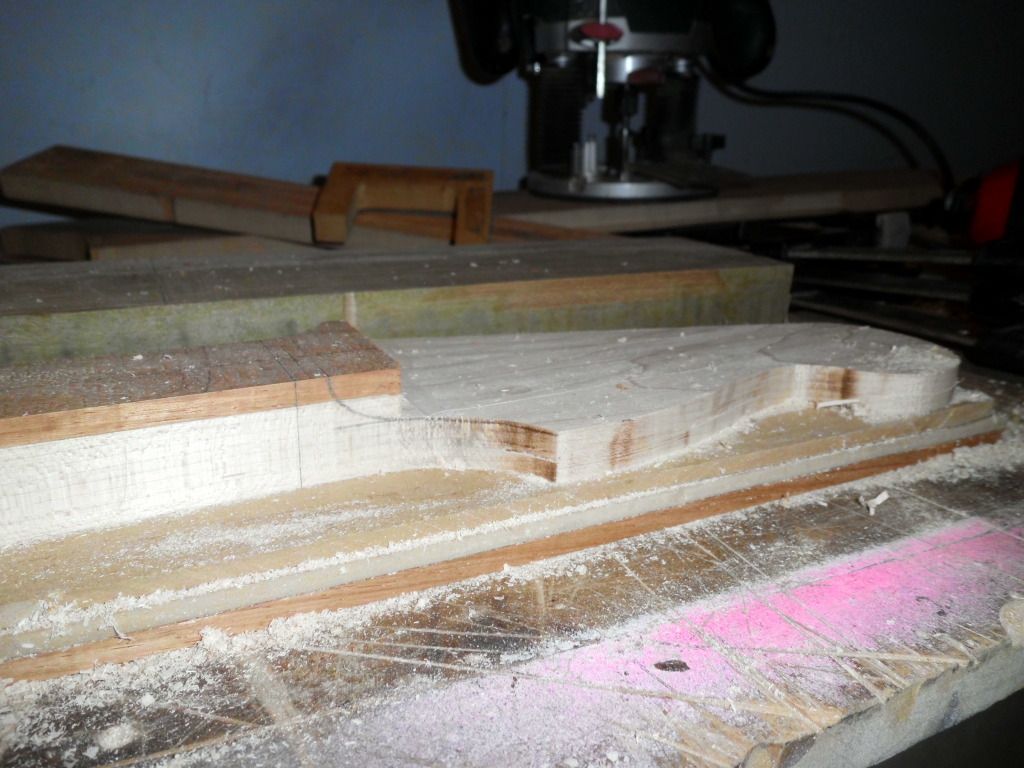 It ended up being about 13.7mm thick, a little thiner then I wanted but it should get a bit thicker with paint. Hopefully a thiner headstock means less weight, less weight means less neck dive. I'm not sure of neck dive on fenders though, but anyway, lighter means more jumping. Fender P basses are about 17mm thick and J basses about 13.90mm thick from my research on the internet.
Then I filed and sanded the transition in. I thought I took pictures of the progress, but it looks like I didn't. I pretty much just started off with a half round rough file, got a curve in the wood and then set up a little sanding cylinder thing in my drill and clamped the drill flat to the table and pushed the neck under neath it. I'll try get a picture of it when I can. And then after that, I hand sanded it to shape with a round cylinder.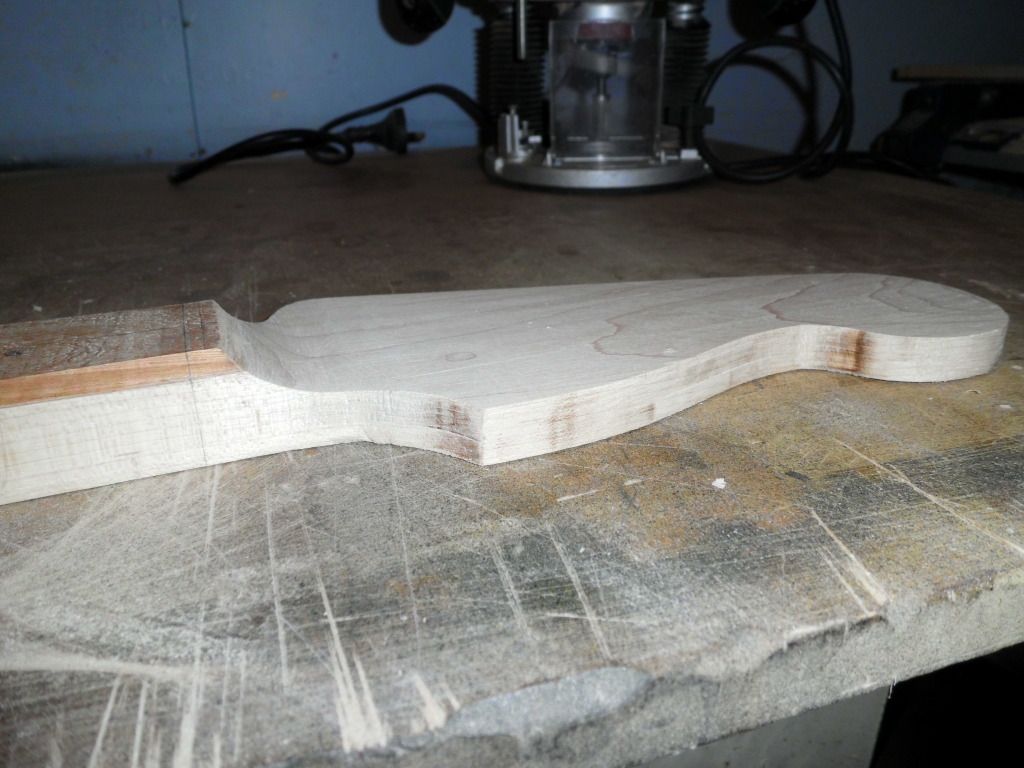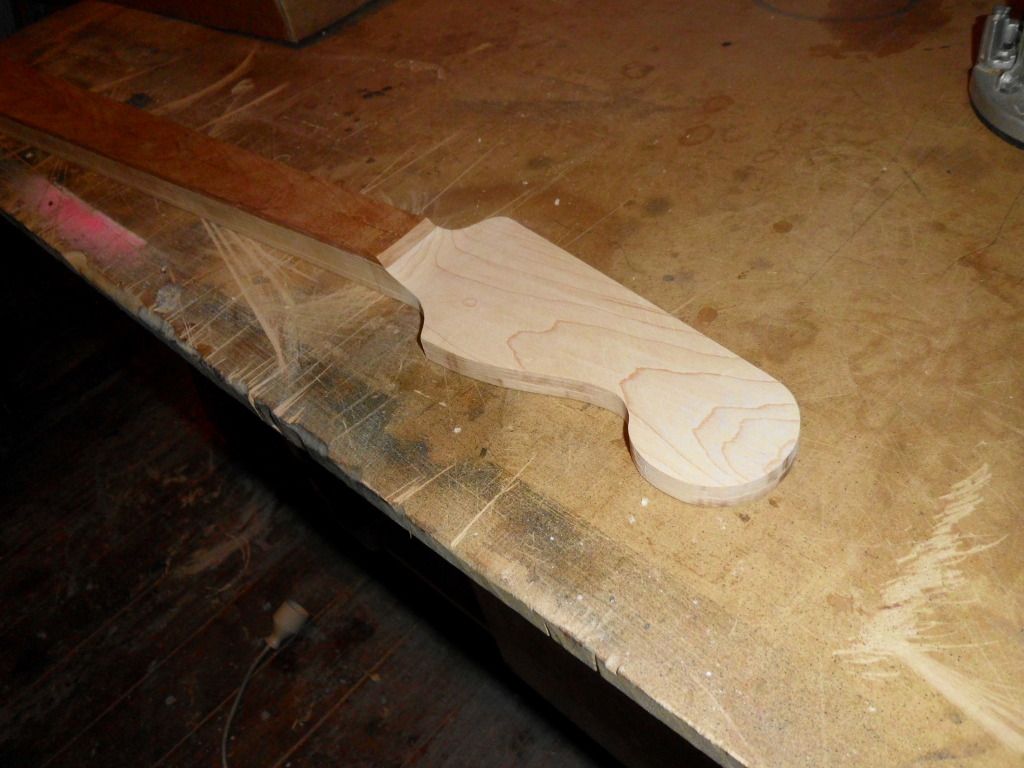 And a fornt on of the neck as it is at the moment.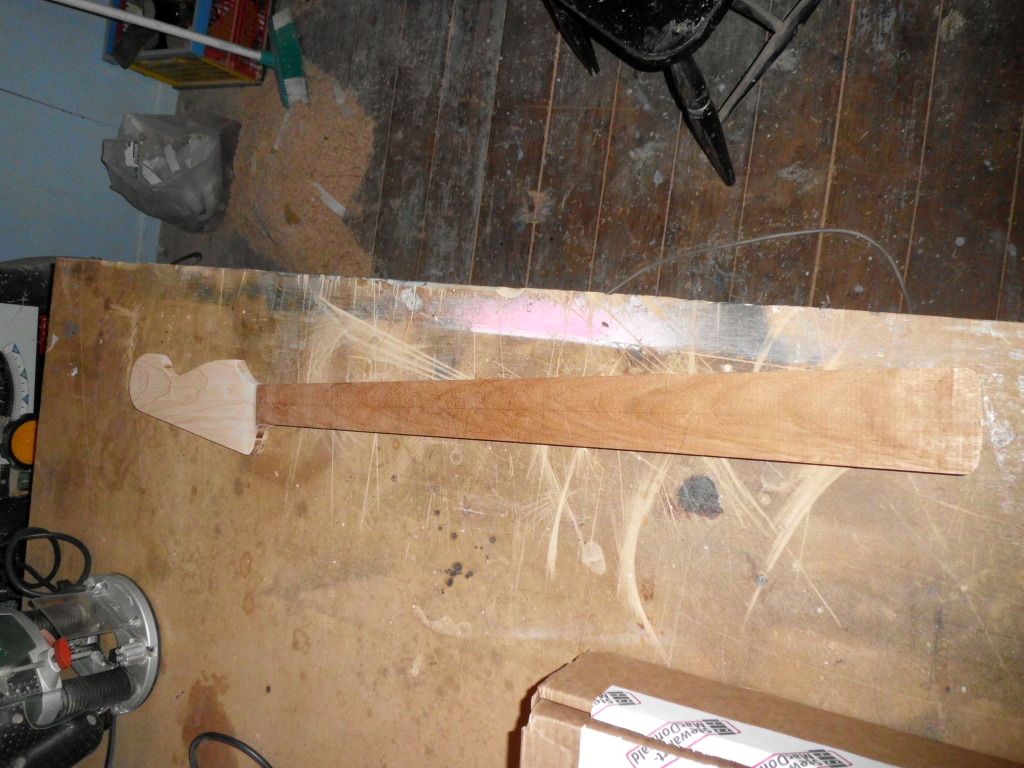 I might not be able to update until the weekend. Most the wood working I have to do at my mums house which is 3 hours away from were I live. I might be able to slot frets and radius the fretboard and a few other things in the next few days though, but no promises haha.
I never would have thought of that with the LED, such a simple but great idea, thanks!
Haha, I felt kinda stupid posting such a simple idea, I'm glad you found it interesting.

Join date: May 2006
230

IQ
Haha, I felt kinda stupid posting such a simple idea, I'm glad you found it interesting.
Man, I'm going to have to second the LED attachment.
I'm eager to see your build come to fruition - we don't see many basses in these parts...
Man, I'm going to have to second the LED attachment.

I'm eager to see your build come to fruition - we don't see many basses in these parts...
Hey man, thanks. I'm really looking forward to seeing how your superstrat turns out, it looks like it will be really nice. And yeah, theres not to many bass builds on here. The only one I can think of thats happened in the last while was the one Jason did.
What do you guys think about staining the fret board? I don't really like how light the rosewood is. I'm guessing it will work, since ebony boards are usually stained, but dose anyone have some useful info on it?
I guess I should show you guys some up dates. Not a whole lot has been done.
I got the frets cut, here they are measured out.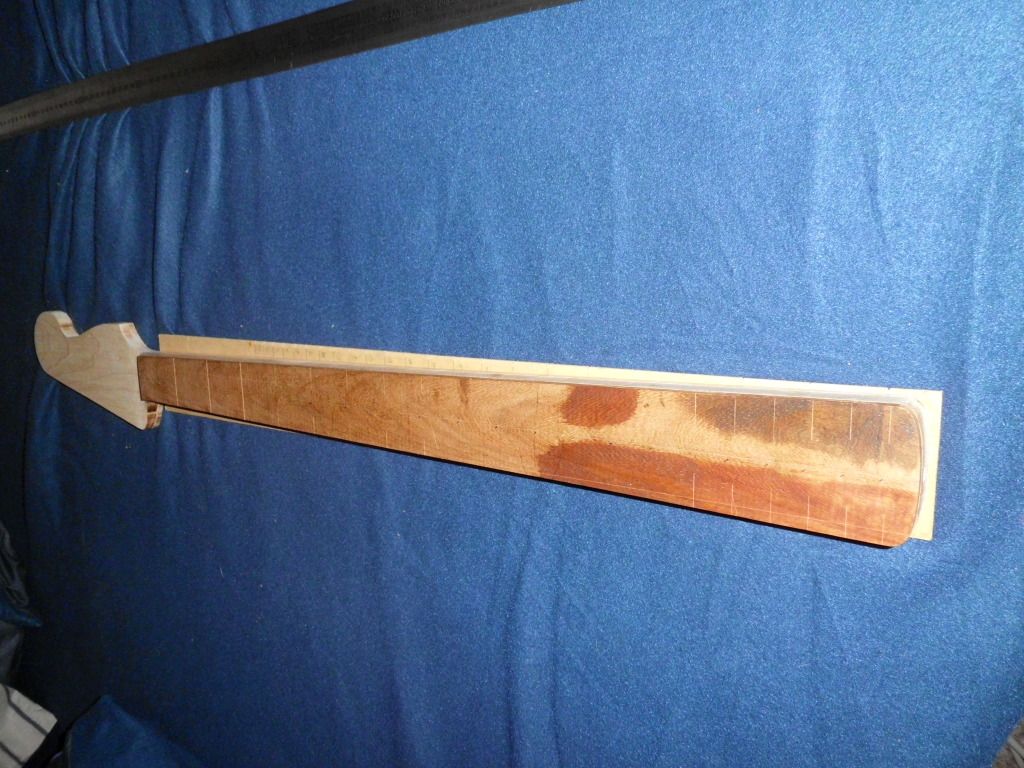 I used the MDF that the neck is stuck to, to keep the neck square when I put it into the miter box since the neck had already been cut. I did it in this order since I planed to get the cutting and glueing done while I was at my mums house and could cut the frets later.
I had to work out a way to use the mitre box since the freeboard had already been glued to the neck. I'll get pics of that later since it might help people who want to cut one piece necks.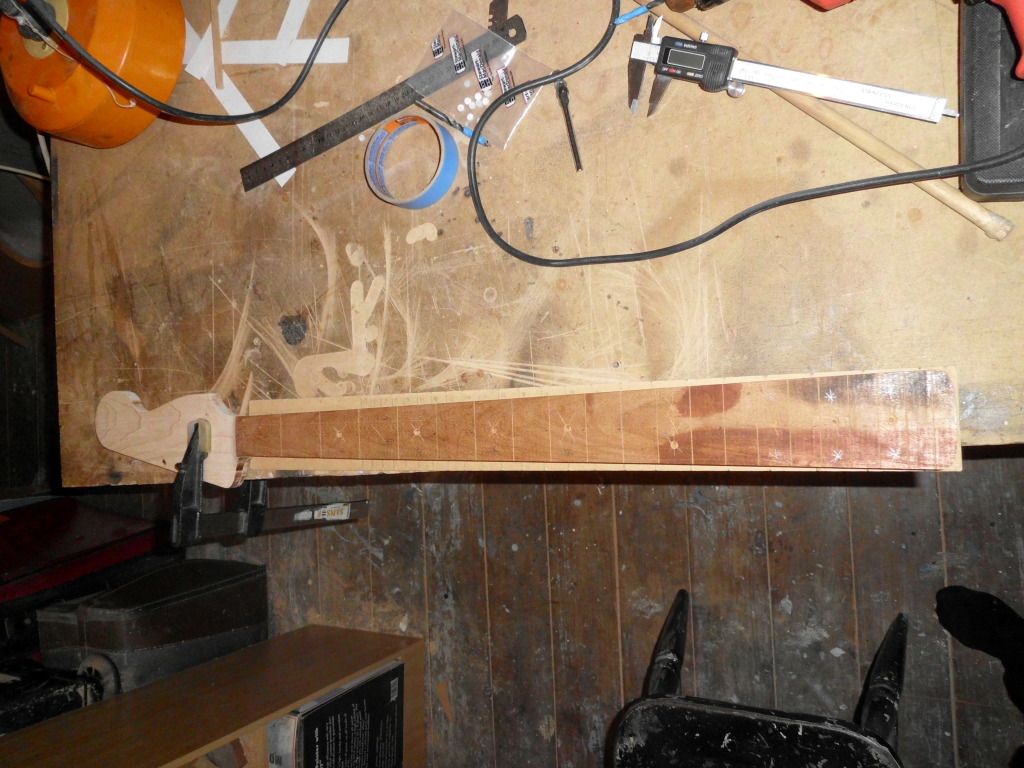 Inlays drilled and fret slots cut.
Inlays in.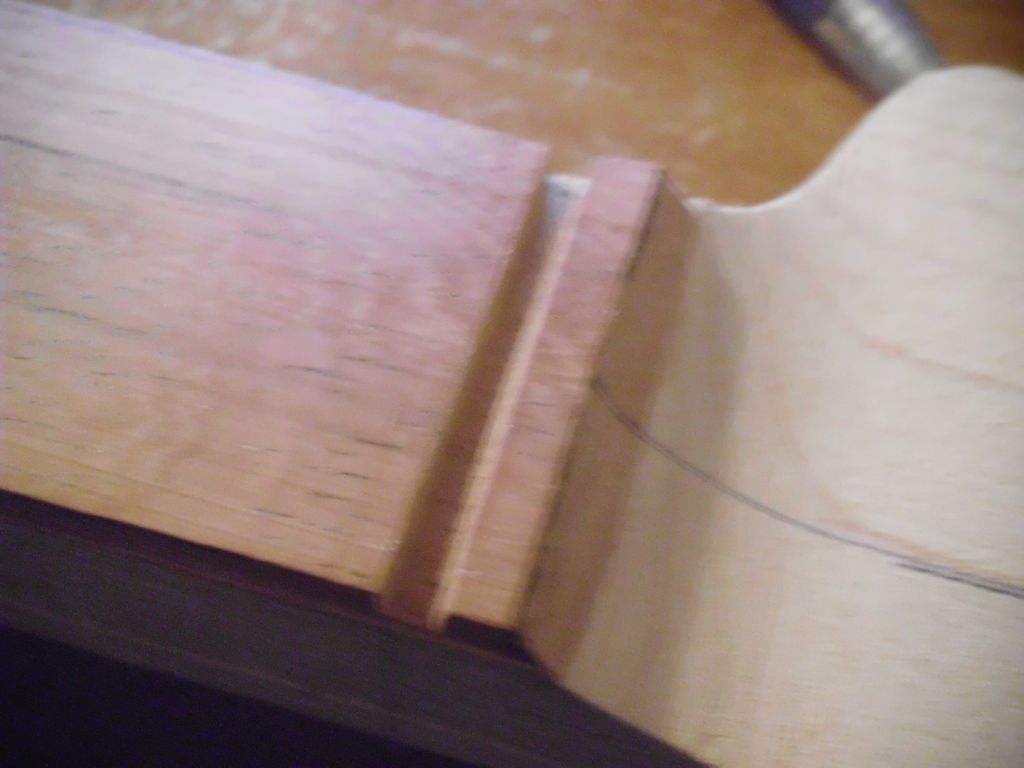 Nut slot cut. This was pretty hard to do, how do other people slot fender style nut slots?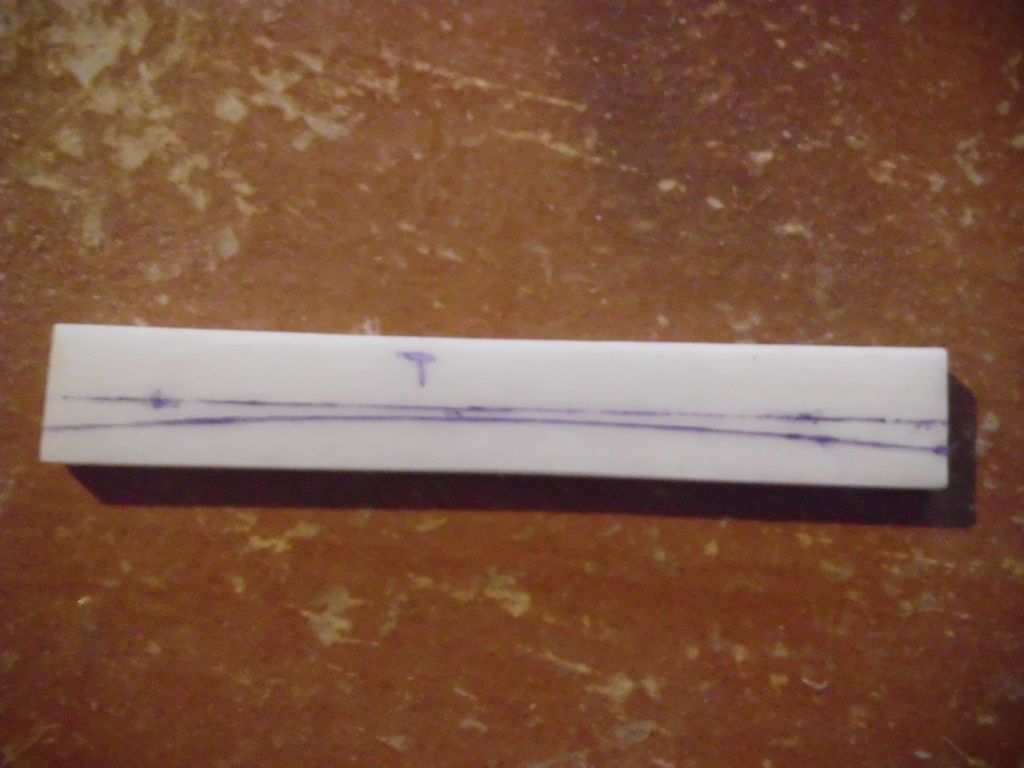 And also the 10'' curve on the nut blank that I shaped.
I got the body blank cut out also. Its routed down to shape now, but I don't have a picture of it.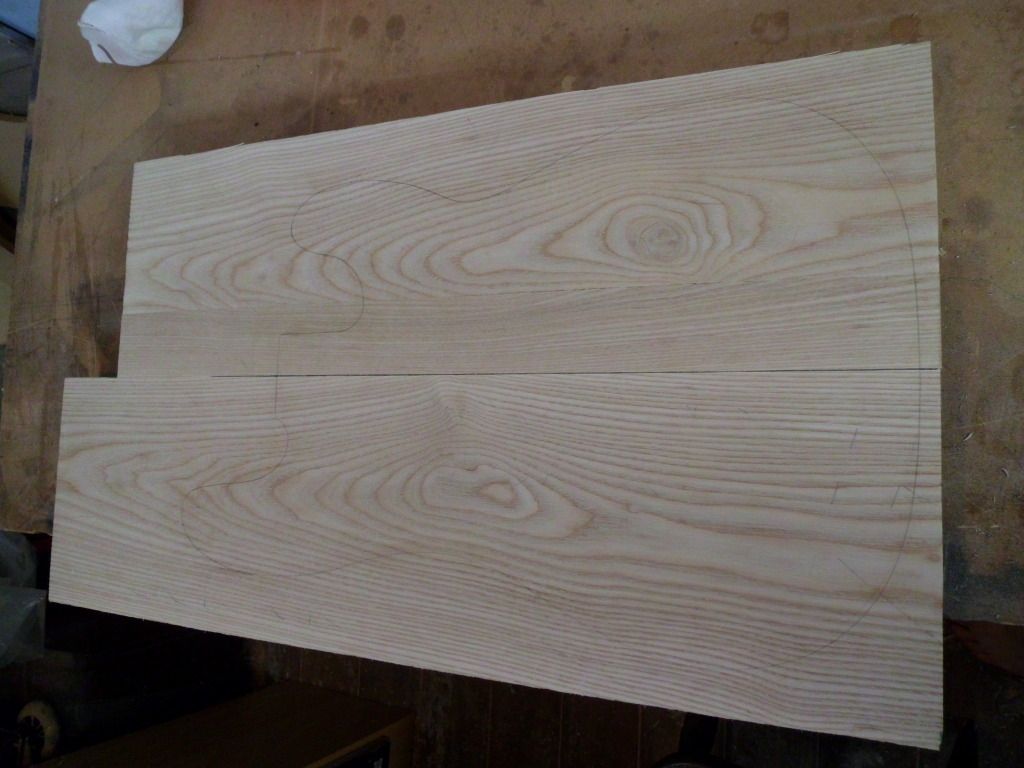 Body blank.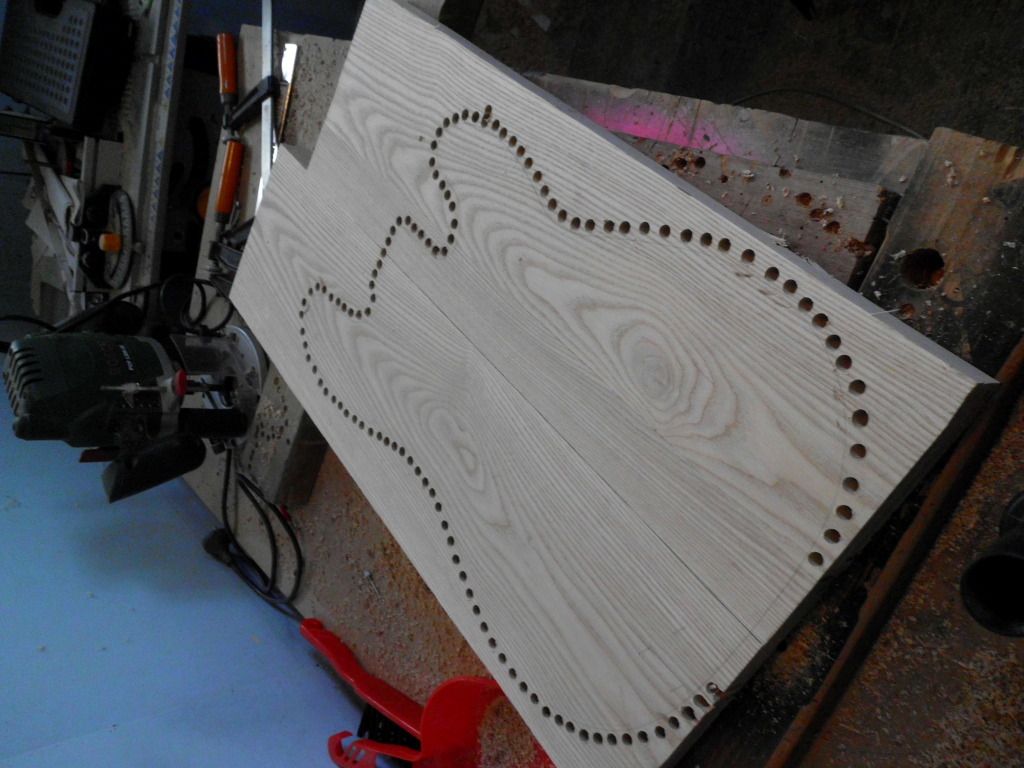 Once again, drilled around the body to make it easier to cut with my jigsaw.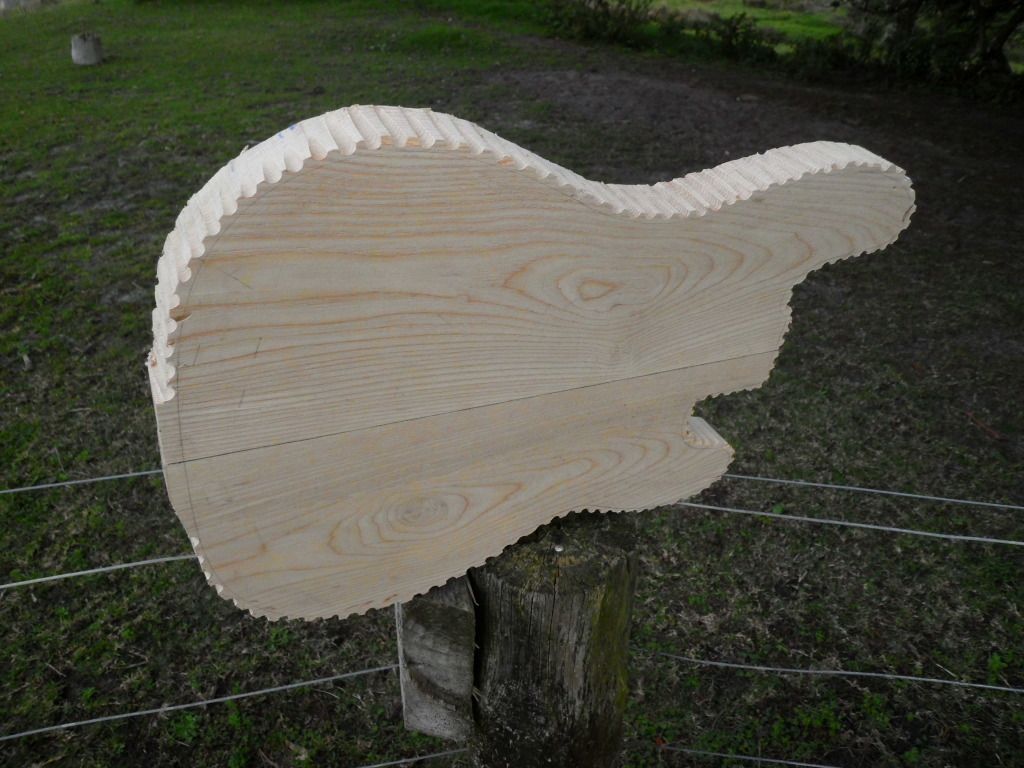 Sorry for the lack of detail, hopefully I'll get some better pictures up of things I did soon, or at some point.
Heres a link to the album with all the other pictures I've taken that I haven't posted if anyone wants to look.
http://s1037.photobucket.com/albums/a451/_DavidAndrew/Jazz%20Bass%20Special%20Build/
where do you get body/neck templates like that?
I can only presume he made them. Scour Google for full size PDFs and then use spray adhesive to stick them to some MDF.
I can only presume he made them. Scour Google for full size PDFs and then use spray adhesive to stick them to some MDF.
Thats right, I made them. I got the body and headstock template off the net and then made up the neck by myself. All I did was get the neck pocket, measure how far away the nut needed to be from it and then rule a straight line from the edge of the neck pocket to the edge of the nut for each side of the neck. The body and head templates just got printed off at full size and glued onto the MDF and then I cut it out and sanded it down to the right size. You can buy templates, but they are a waste of money.
I'm back, finally. The neck pocket took me forever to get the template right and I've only been able to work on this while I've been at my mums house, so not a whole lot has happened.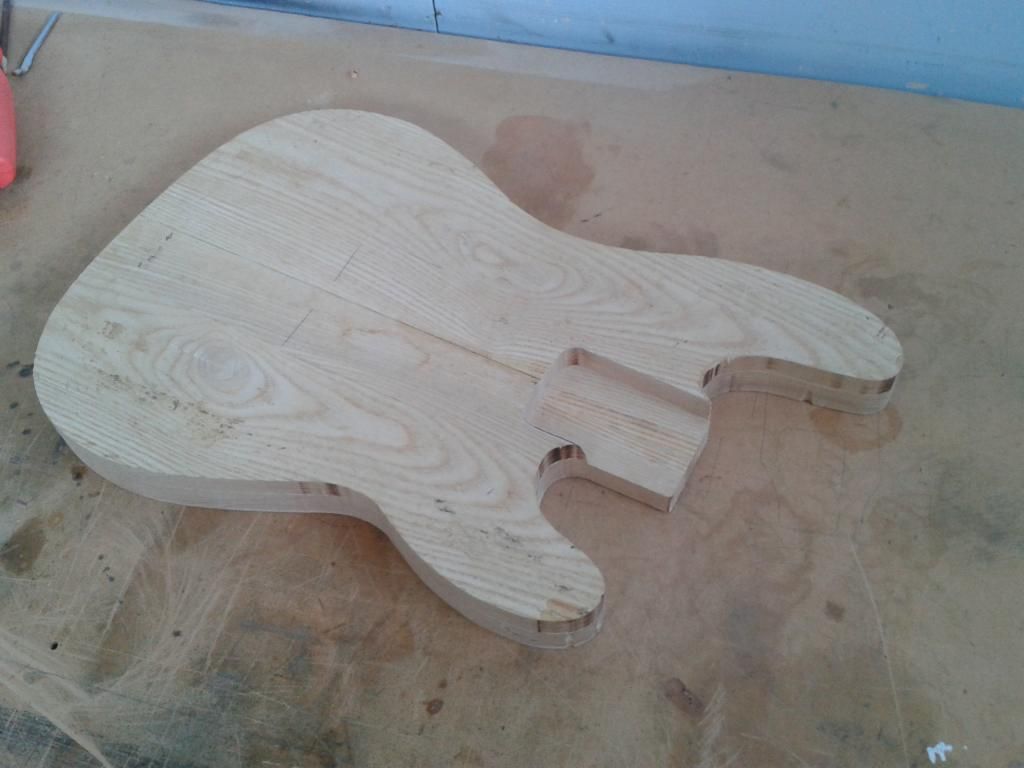 Neck pocket routed and body routed to size.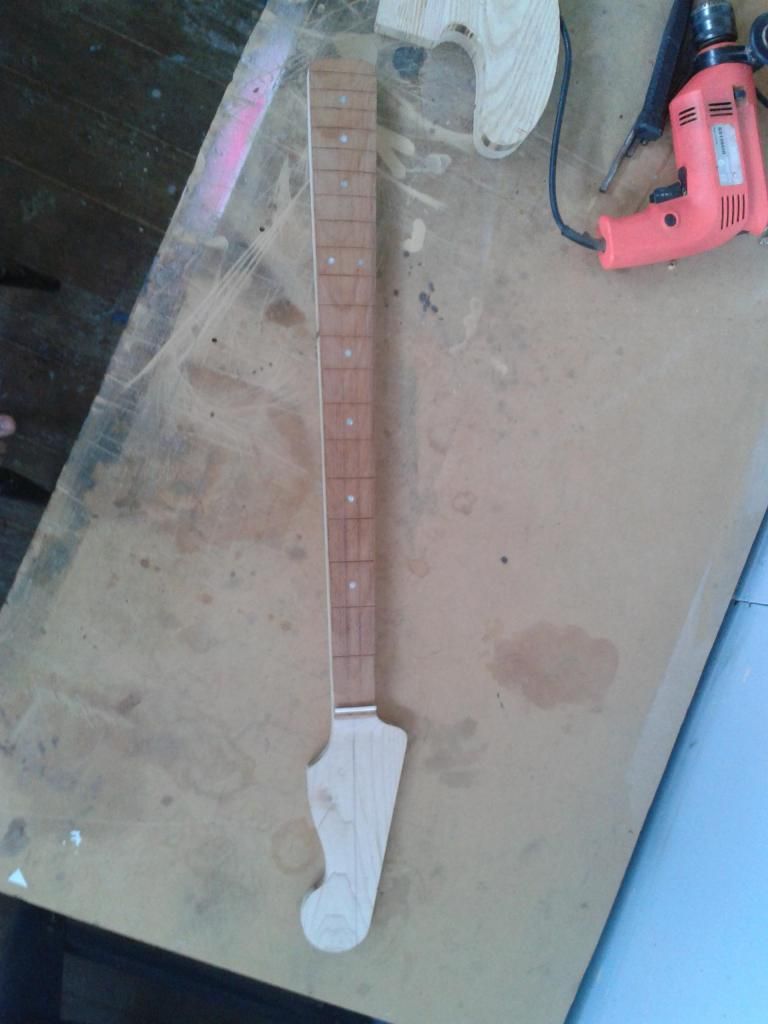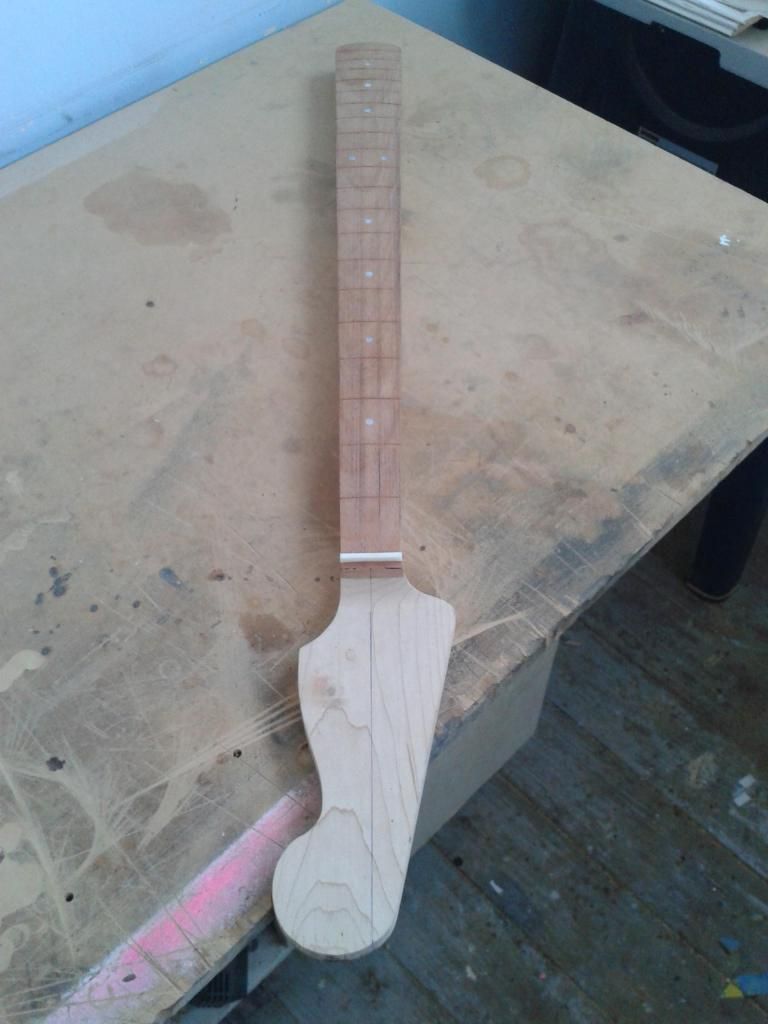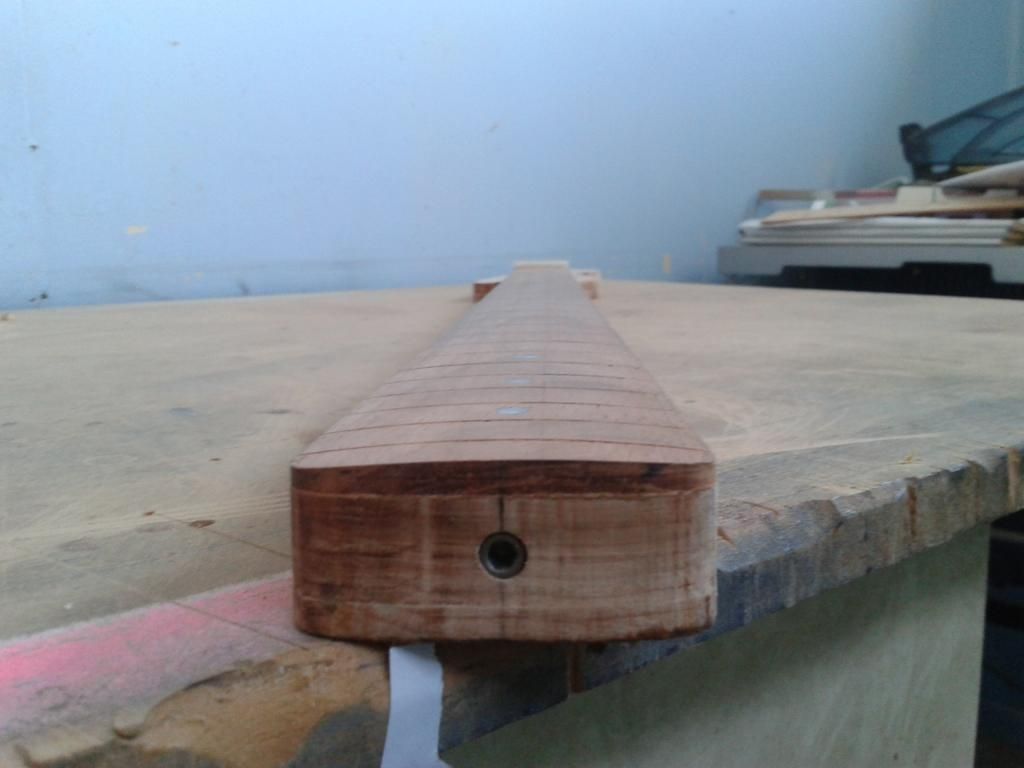 Fretboard radiused and fret slots cut. Also the nut put in. I still need to shape it.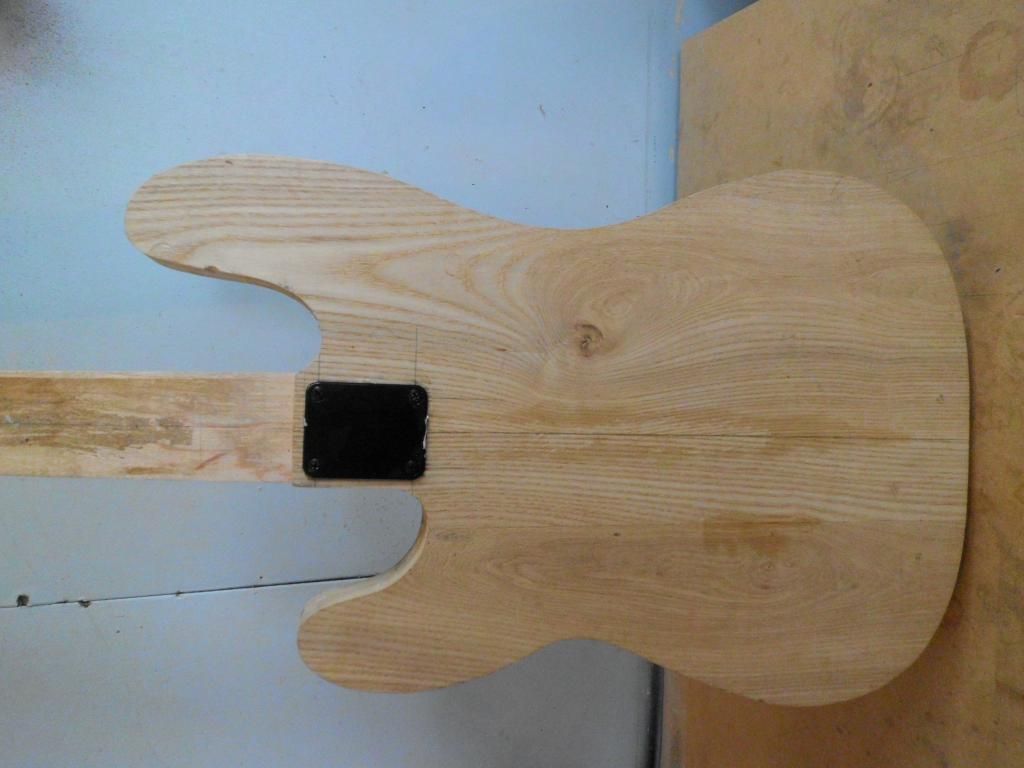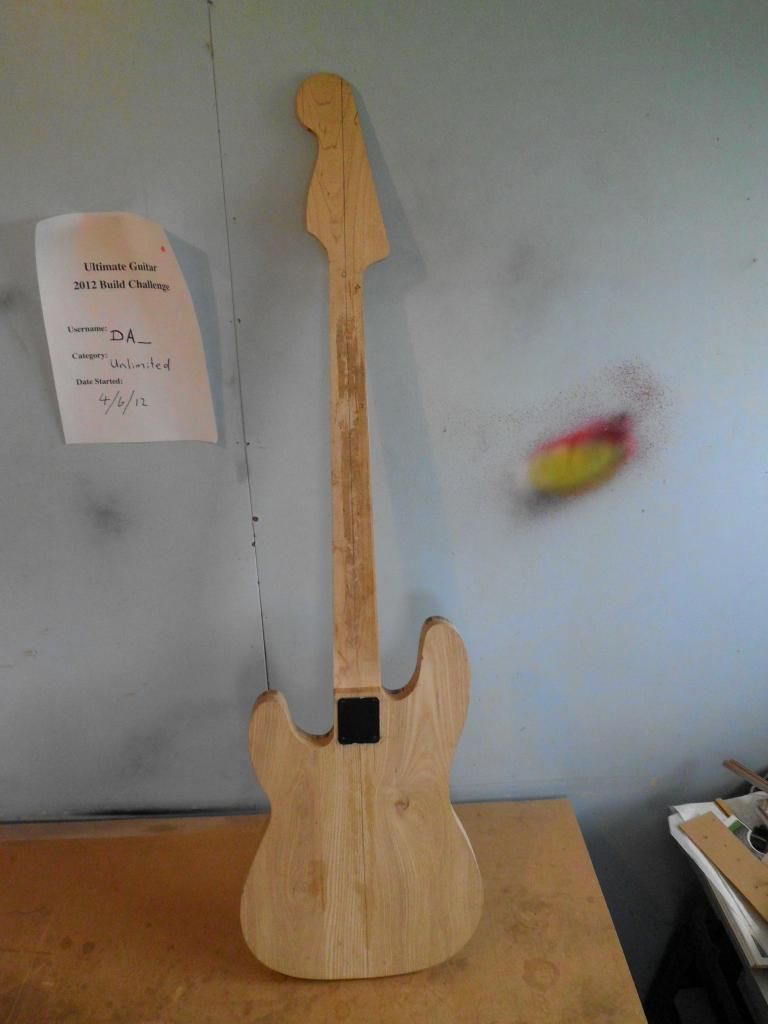 And I got the neck bolted on.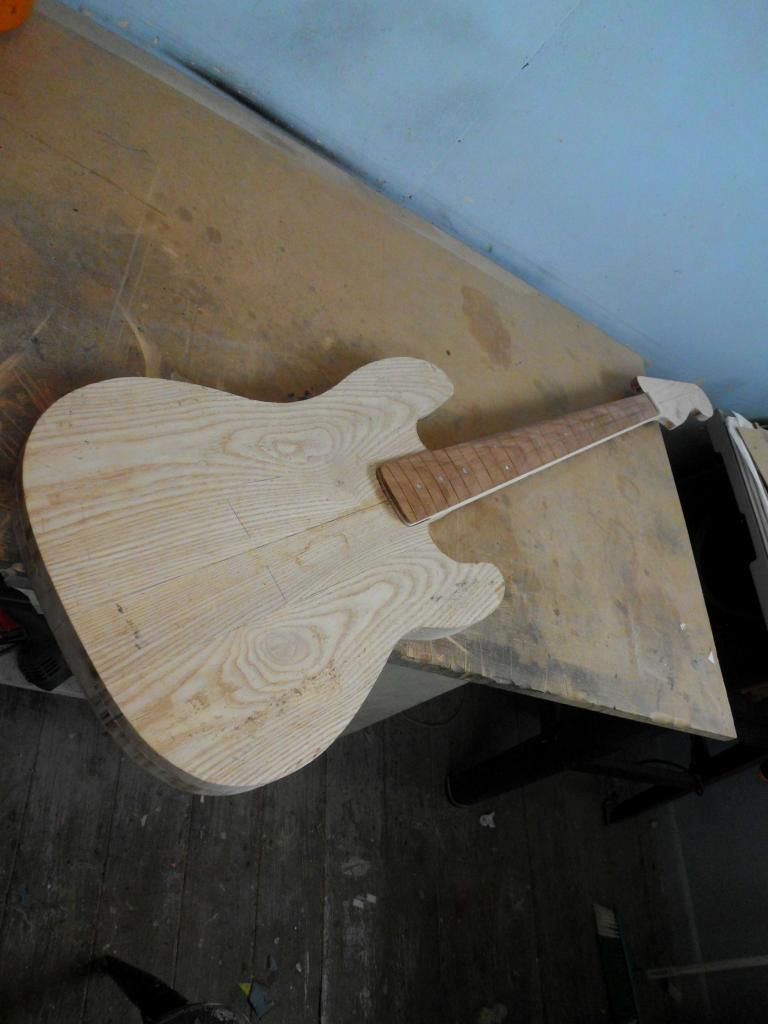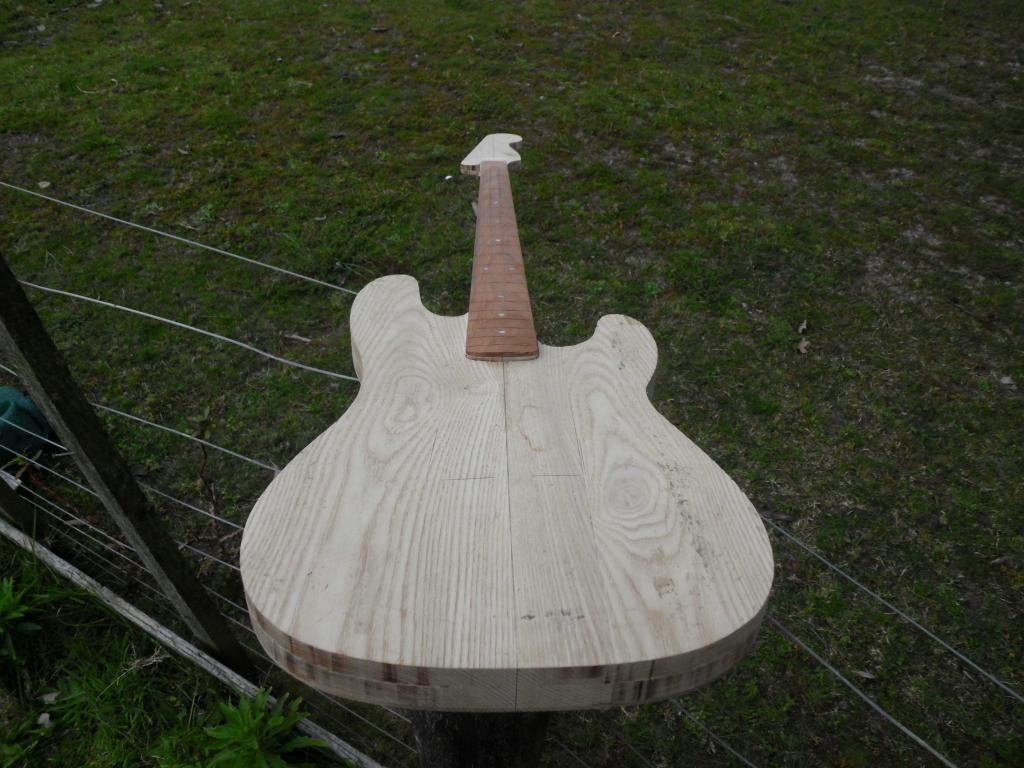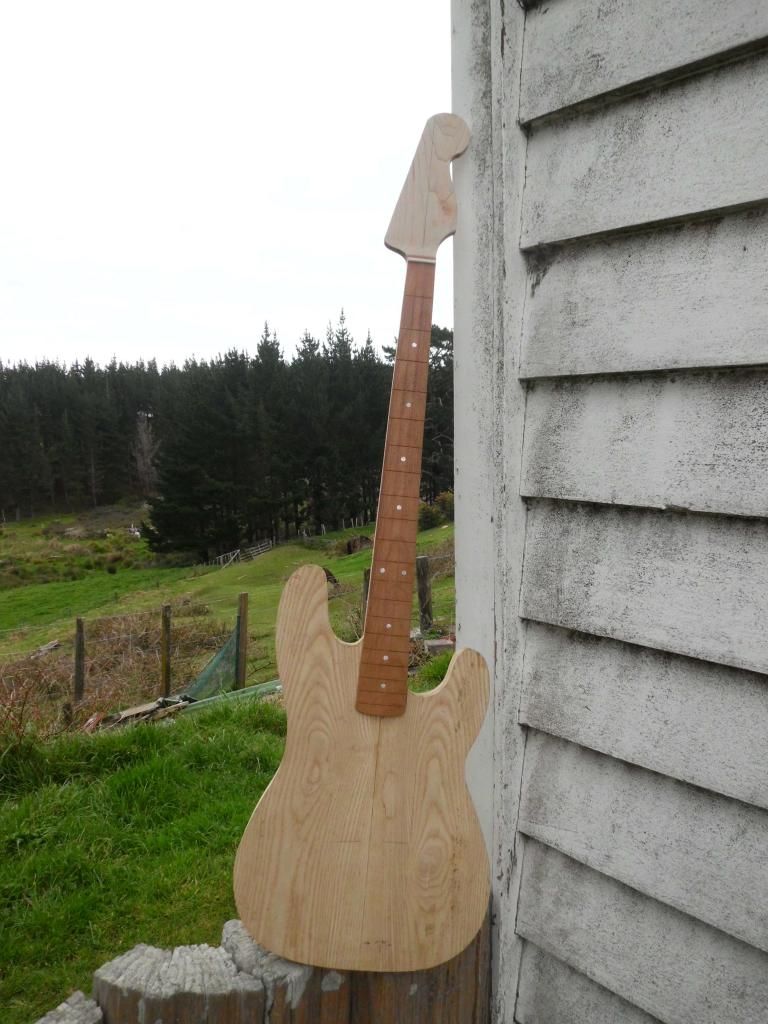 And this is how it is at the moment.
I'm about to go drill for the tuners and place the bridge. Hopefully I'll have an update later tonight.
Lookin' goooood

Lookin' goooood
Thanks man.
I got the tuners drilled, and the bridge placed. I also slotted the nut and will finish shaping it later.
Heres some pictures.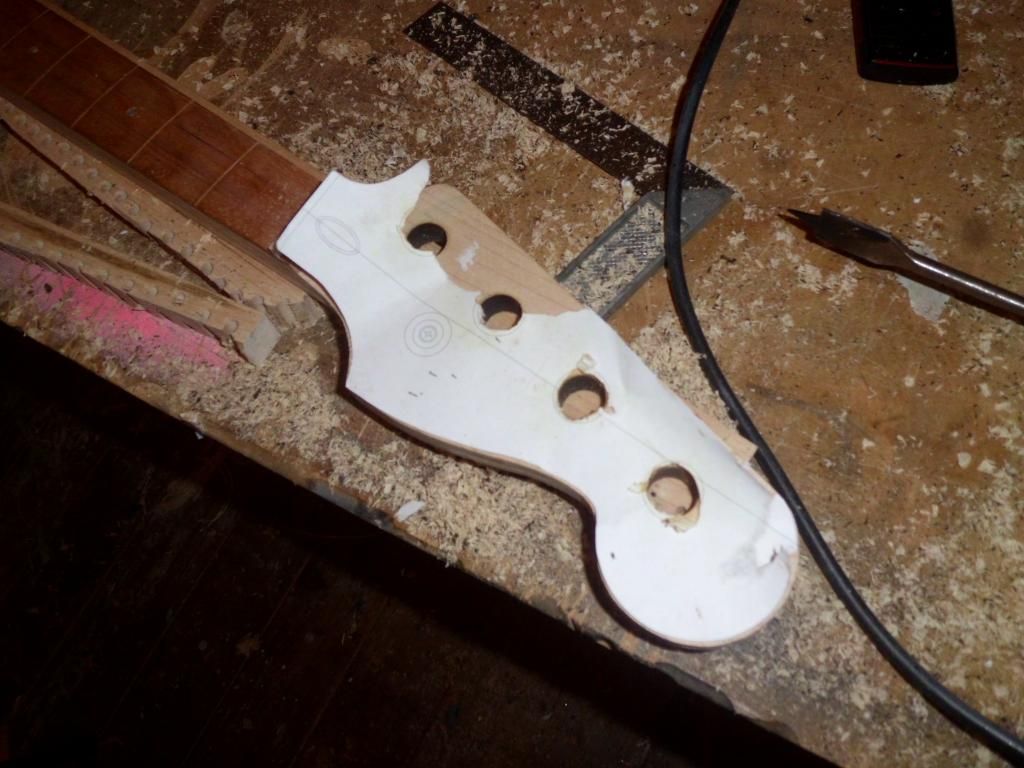 Template glued to the headstock for drilling the tuner holes.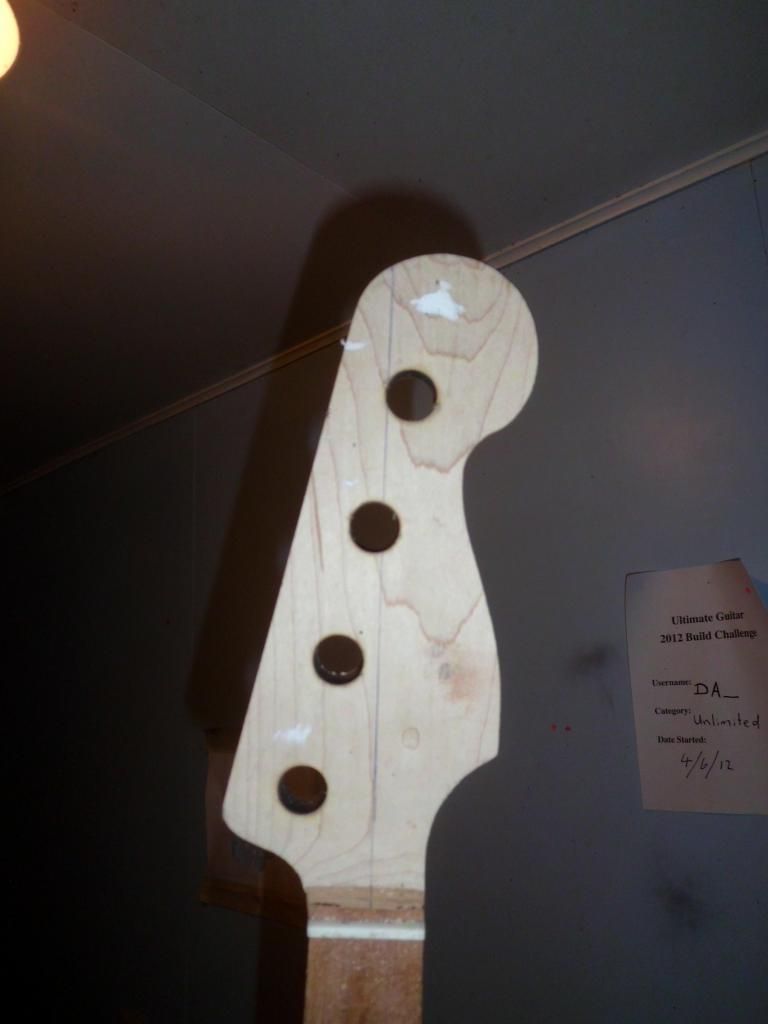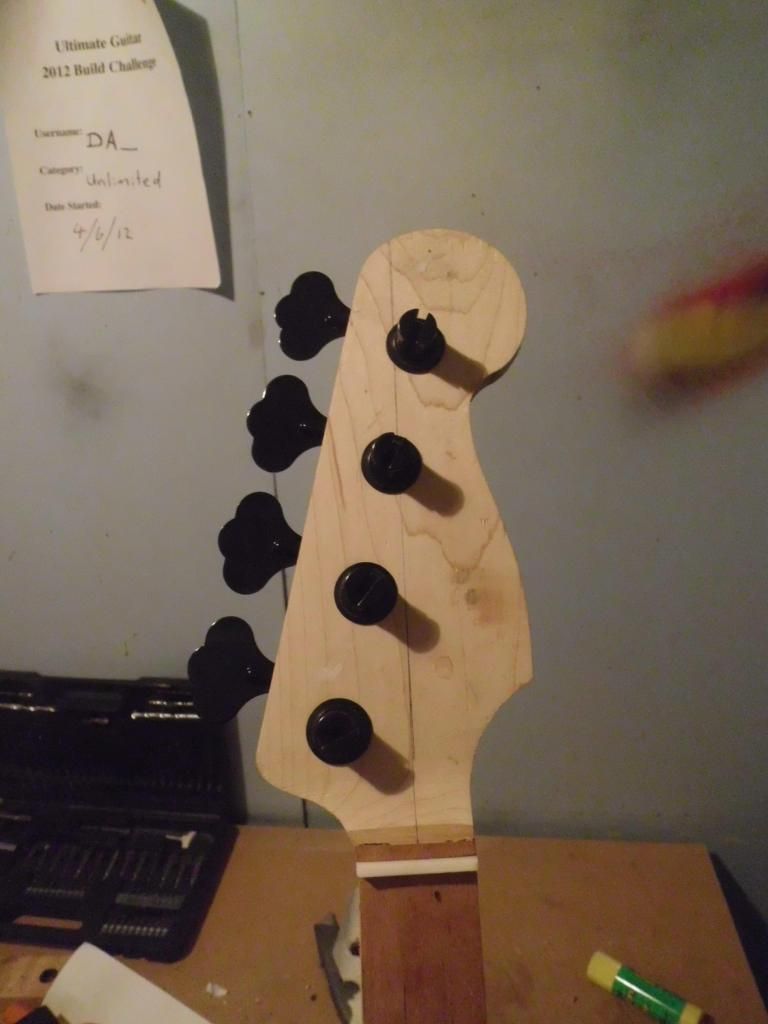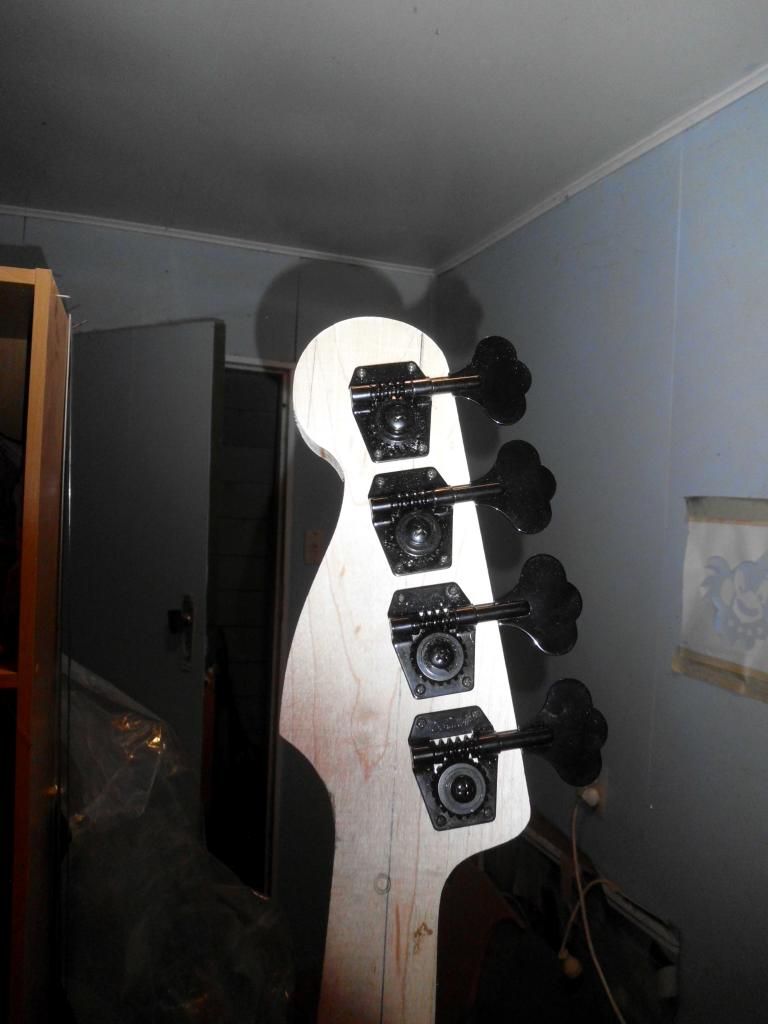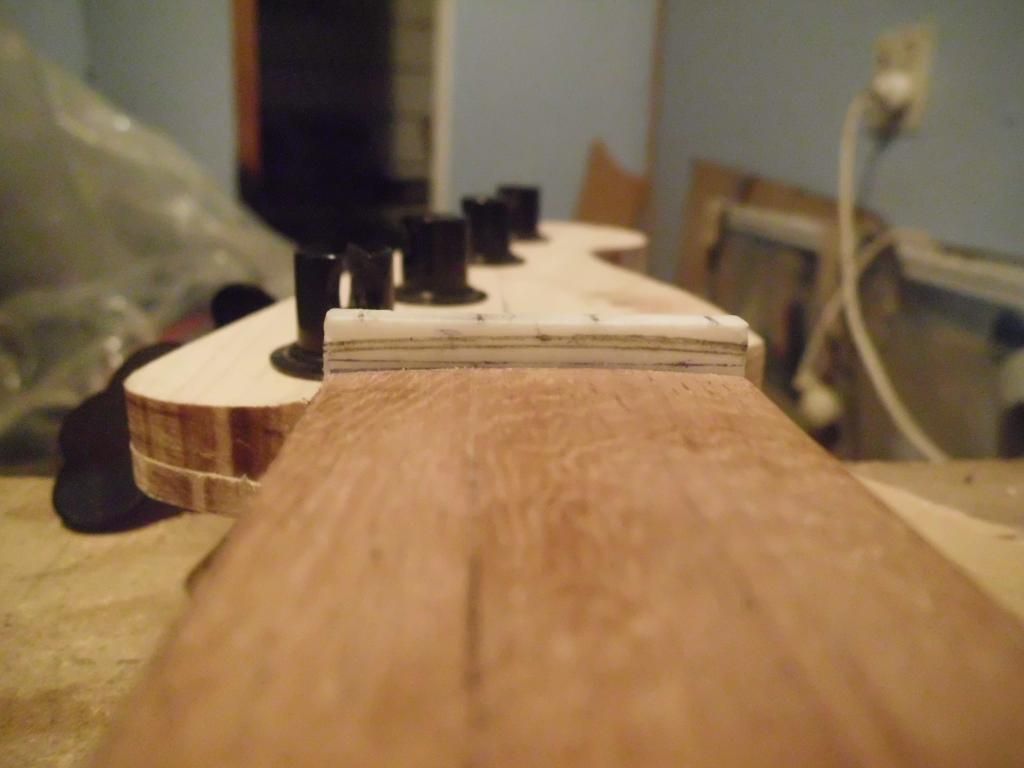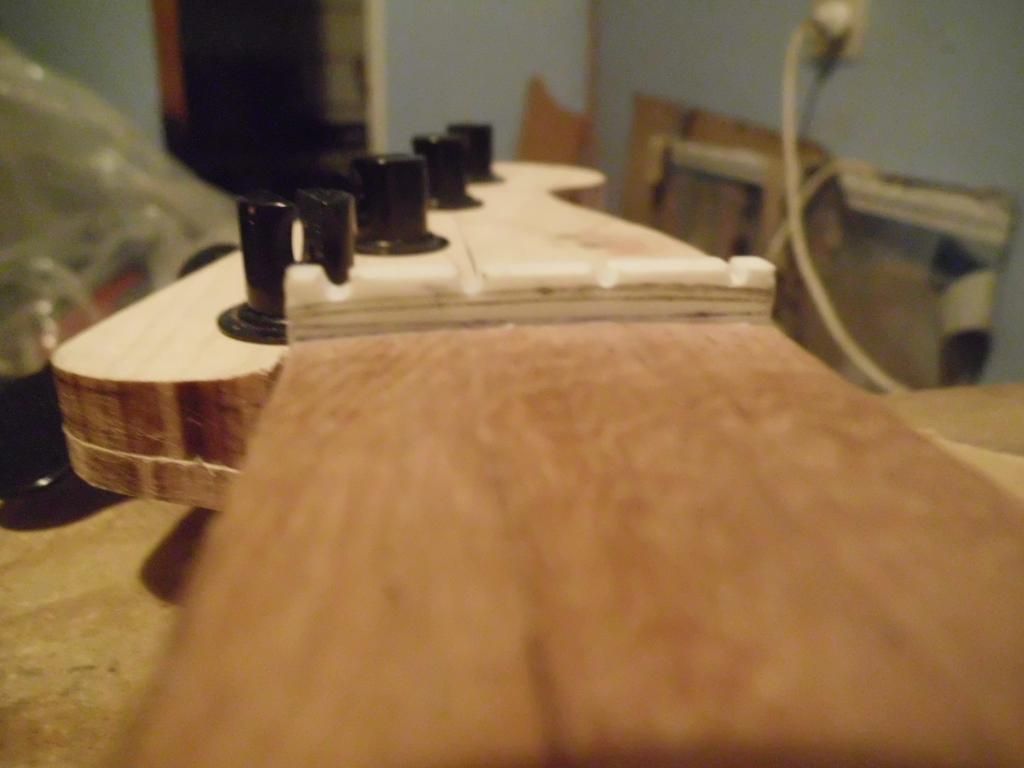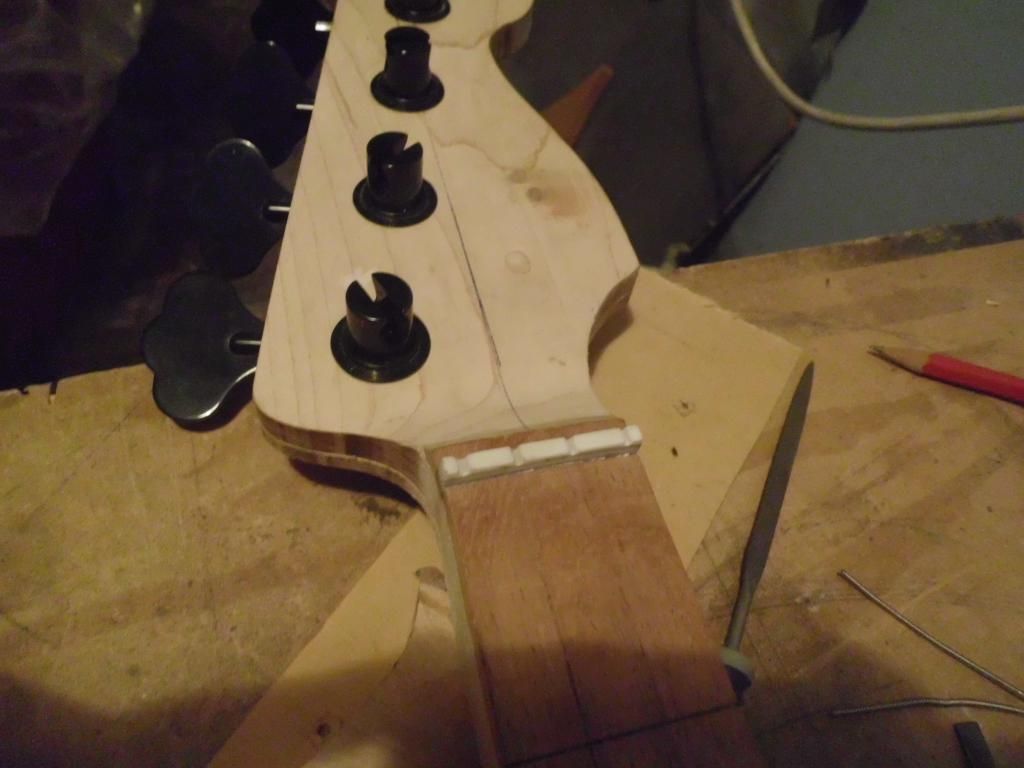 Slotting the nut.
And this is what poor students use for fret slotting files, cheap little files and the guitar strings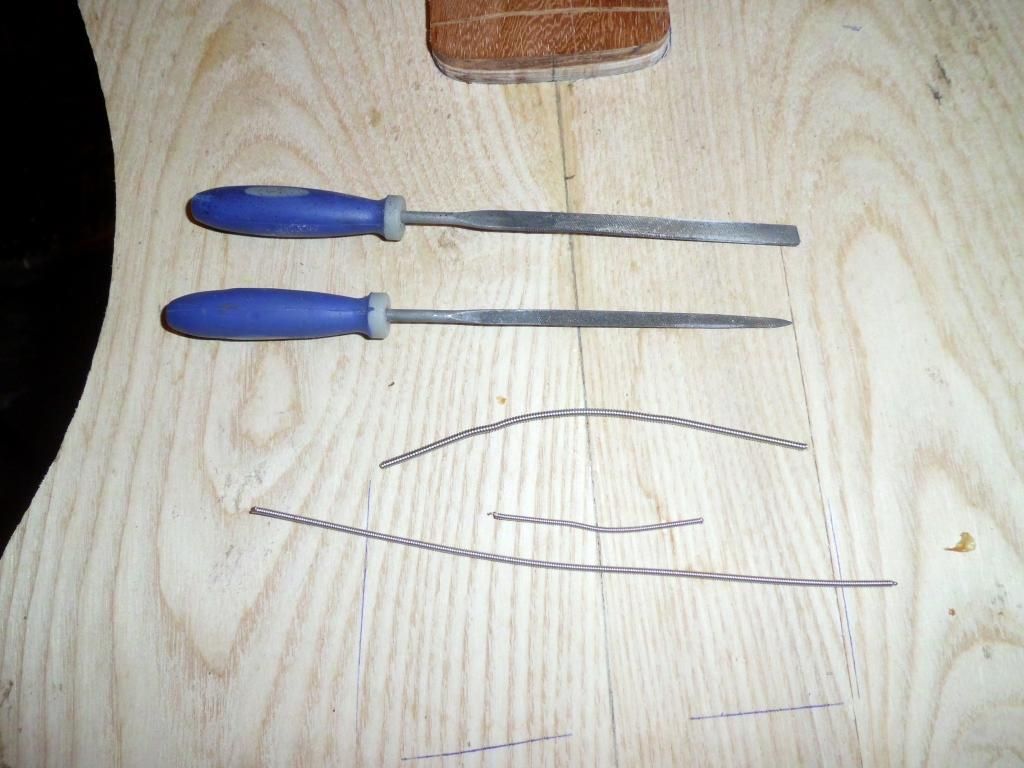 Bridge placement.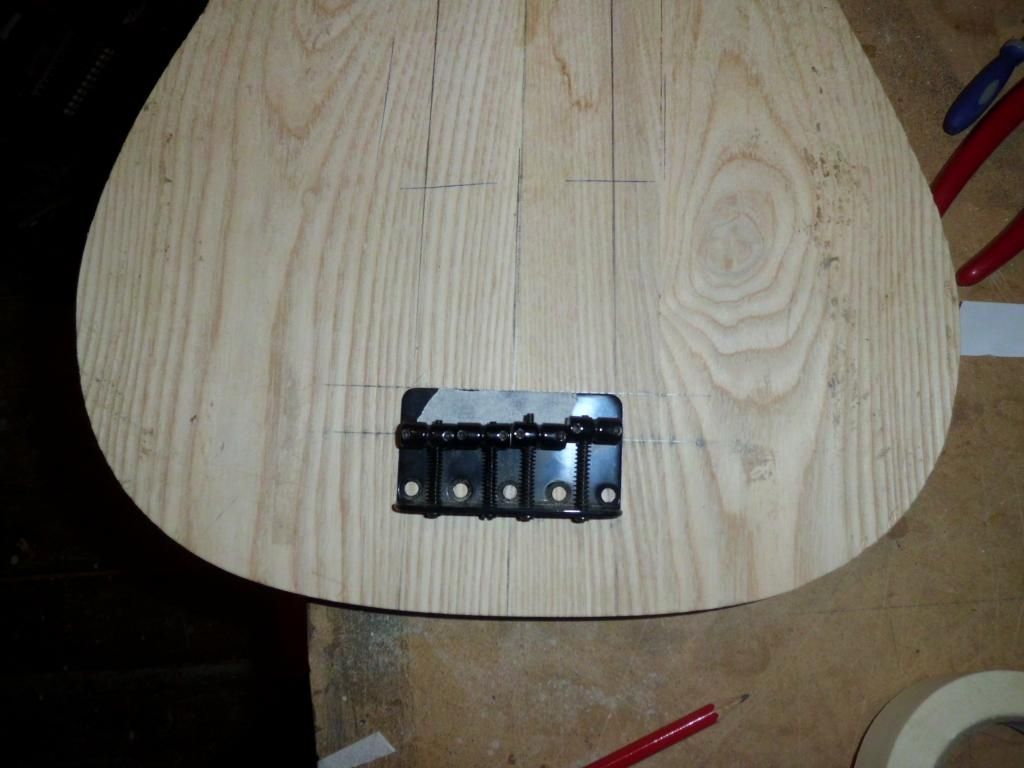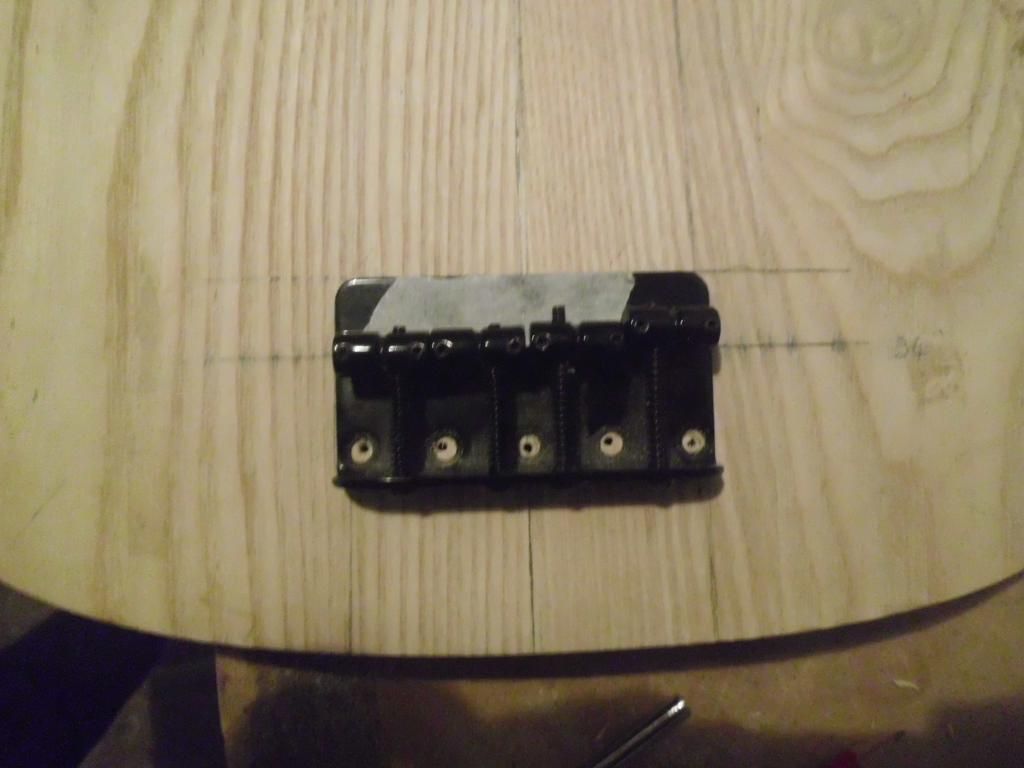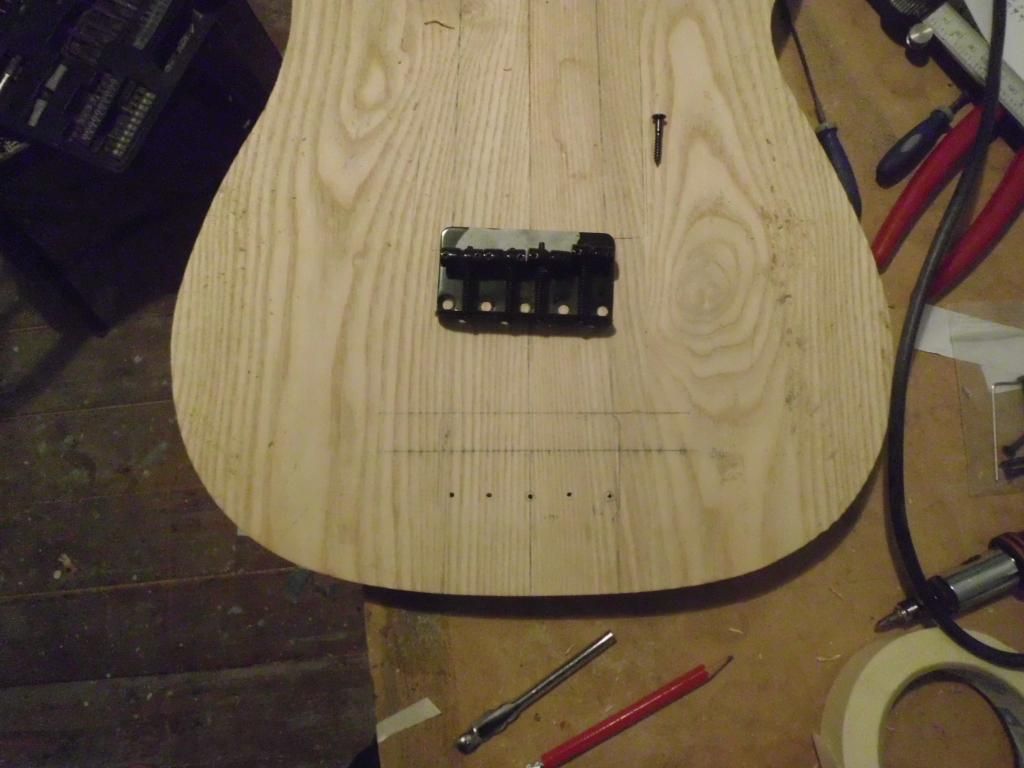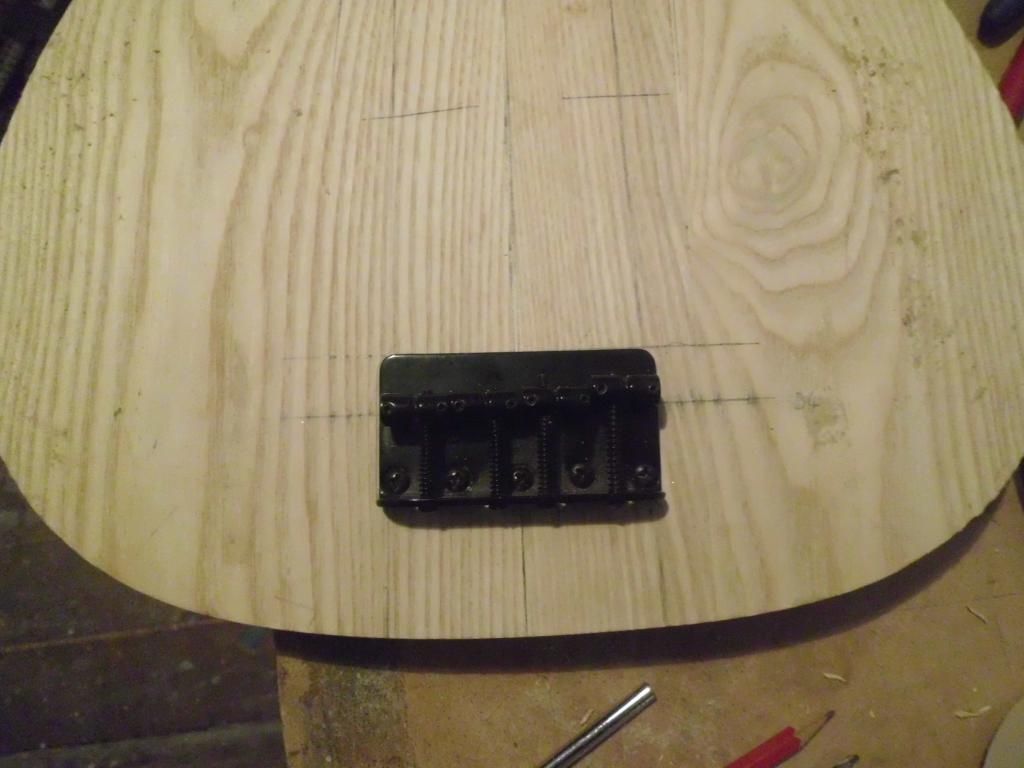 And here it is strung up.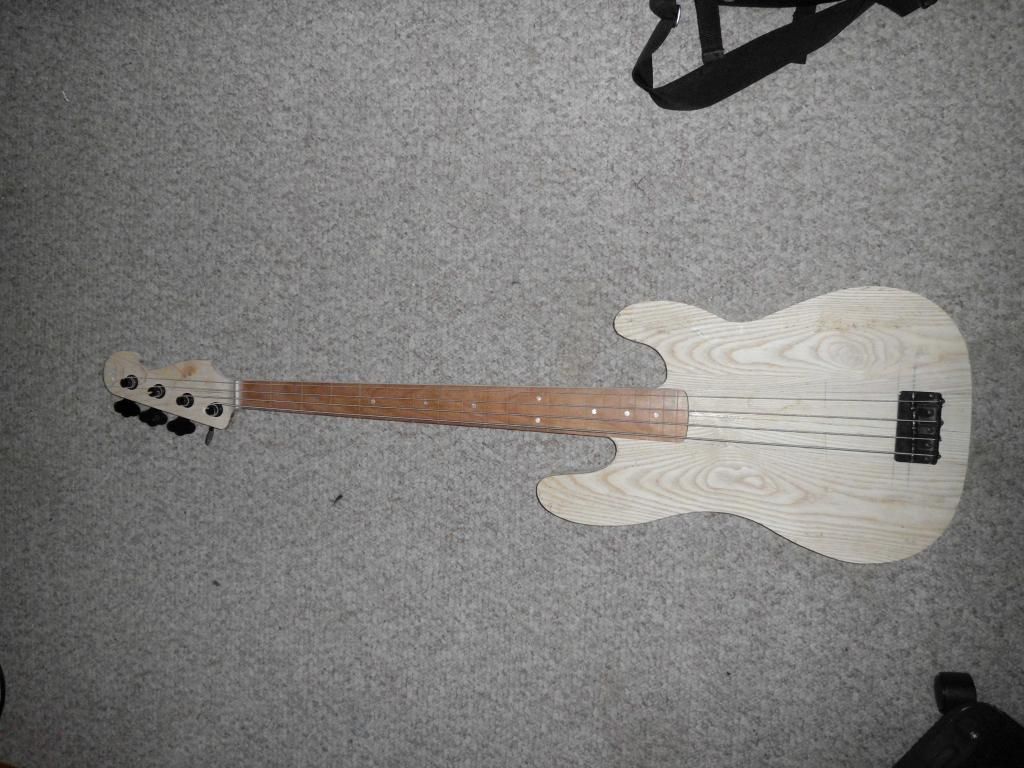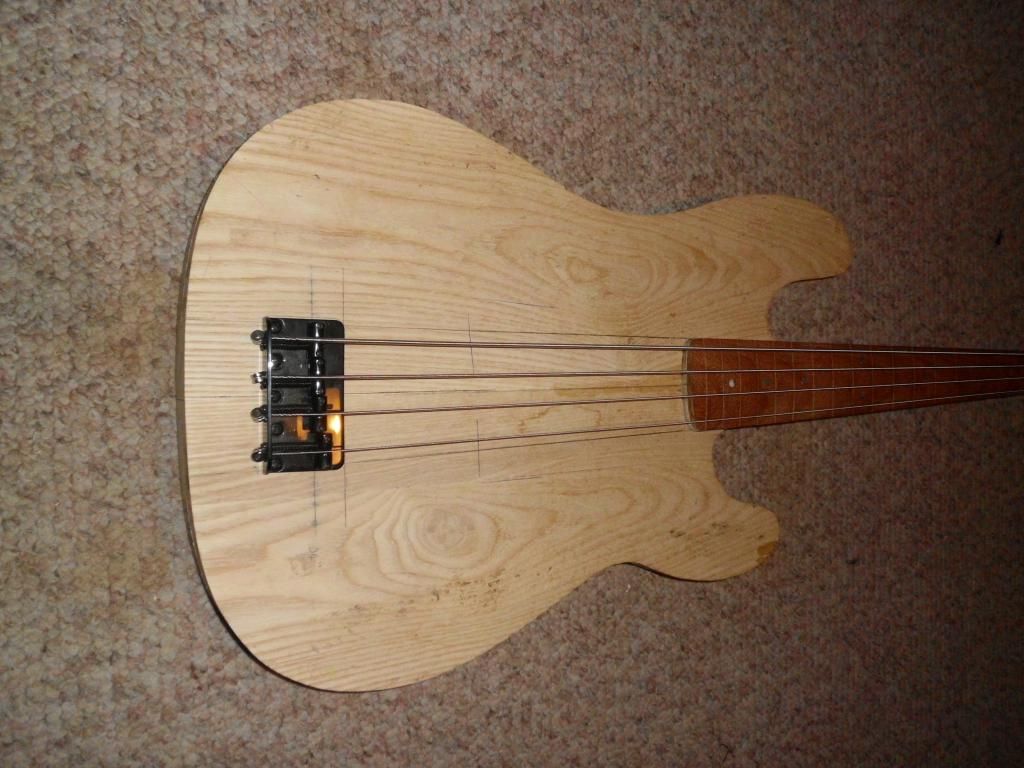 Join date: Dec 2006
110

IQ
did this ever get finished? looks killer.
did this ever get finished? looks killer.
Thanks man. Its not finished yet, I've been way to busy with other stuff this year to get it done. It will be finished though, and I'll continue to post here as I work on it.