Super low budget duo sonic build
Hey guys, I haven't been hanging out around here to much, been chillin' over at offset guitars, more funky guitar goodness there that I love oh so much.
Anyhow, I've been itching to do a more proper build so I'm taking some spare parts I've got laying around and turning them into a guitar. Body is to be made from 2x4 wood

should be interesting. It's a 4 piece!
BTW, the guitar is a full scale version of a 58 ish fender duo sonic. Not very accurate at all though.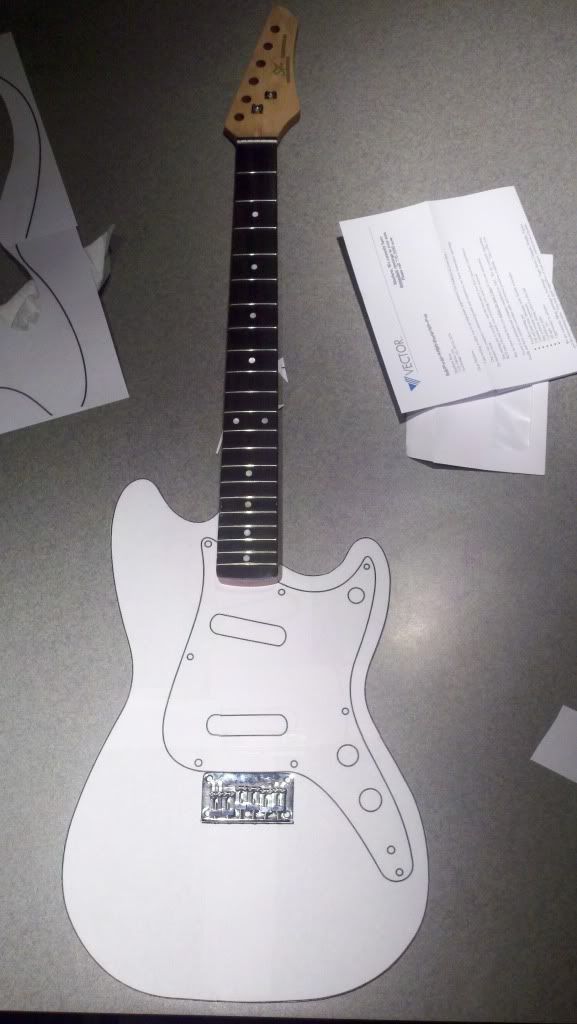 Tight pocket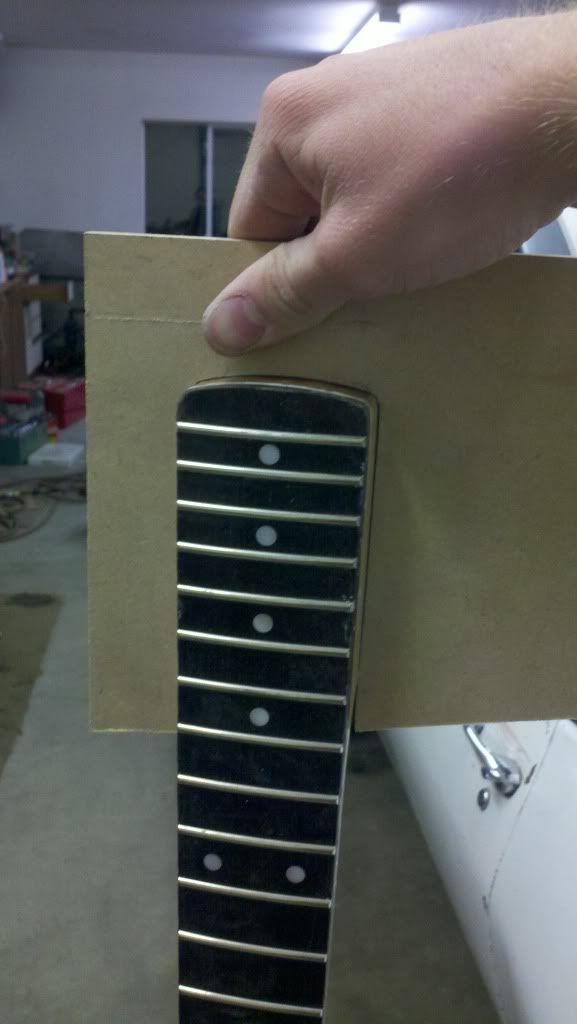 Test pocket, looks good!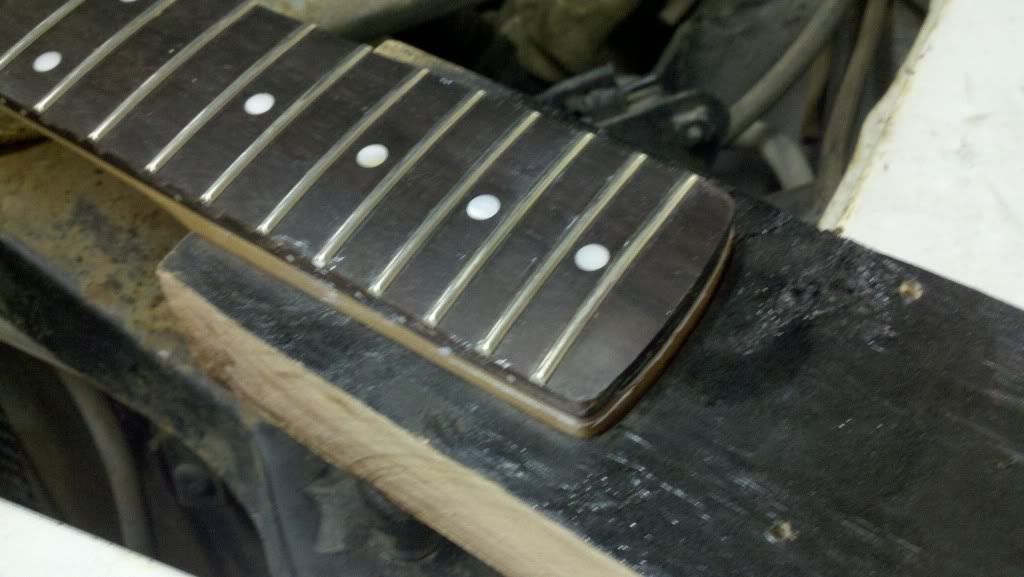 That's all for now folks. Lots of building jigs and templates. But that should help me with future builds!

I got lots done today: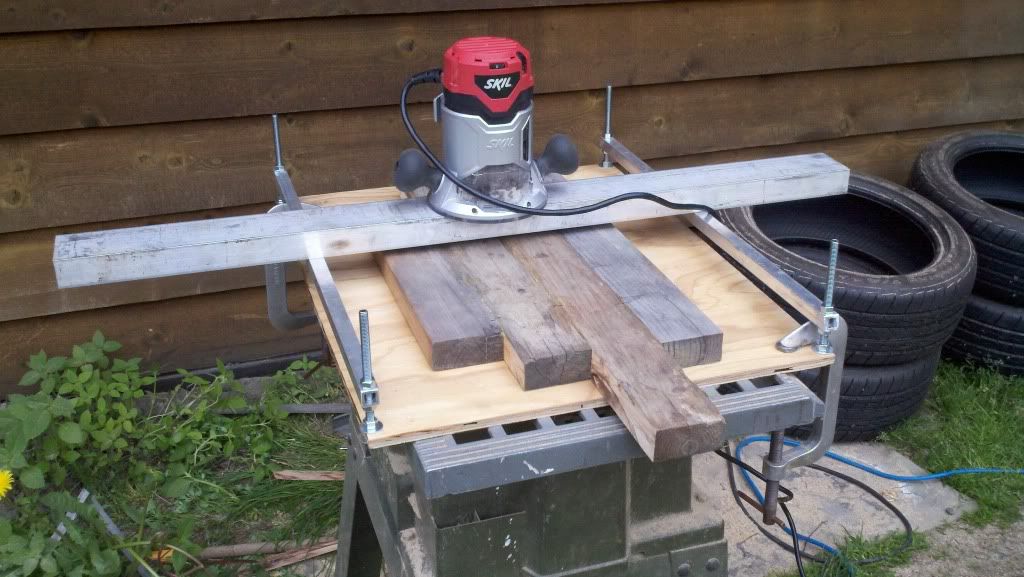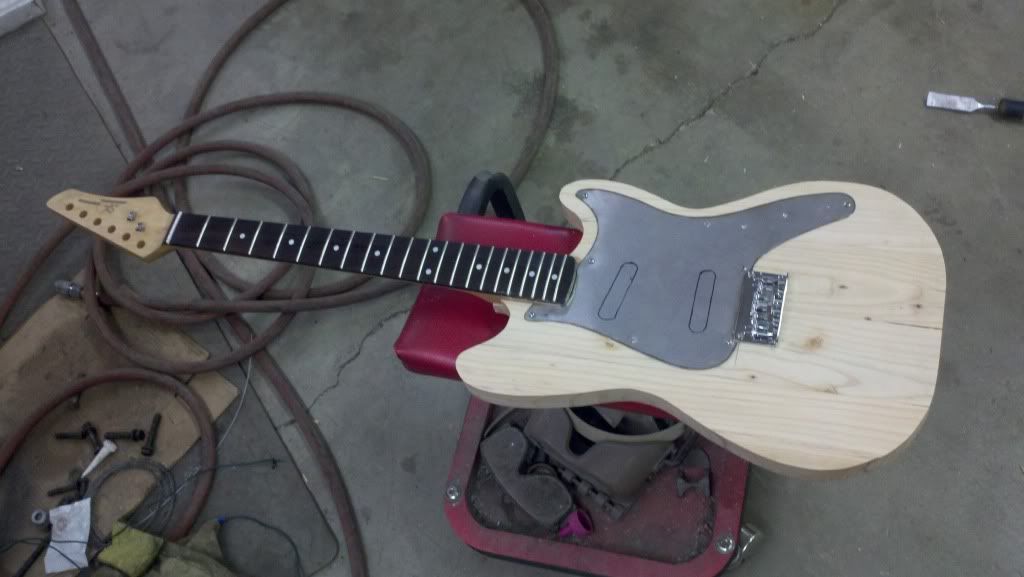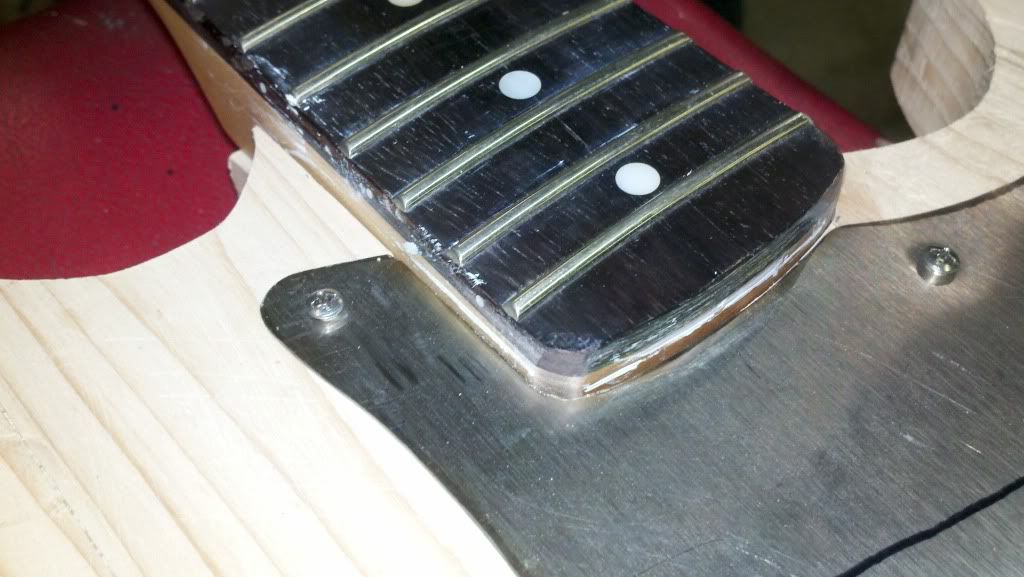 Join date: Dec 2009
1,897

IQ
Alrighty, lots got done today. Hopefully I can do the roundover tomorrow and start with all the filling that will have to be done. Oh I also ordered a set of alnico magnets to replace the ceramics in these pups. Should be interesting to see how well that works.
Pickups cut into the pickgaurd and mocked up. I think I might make some fully covered covers later. Although these smokey old covers are kinda cool.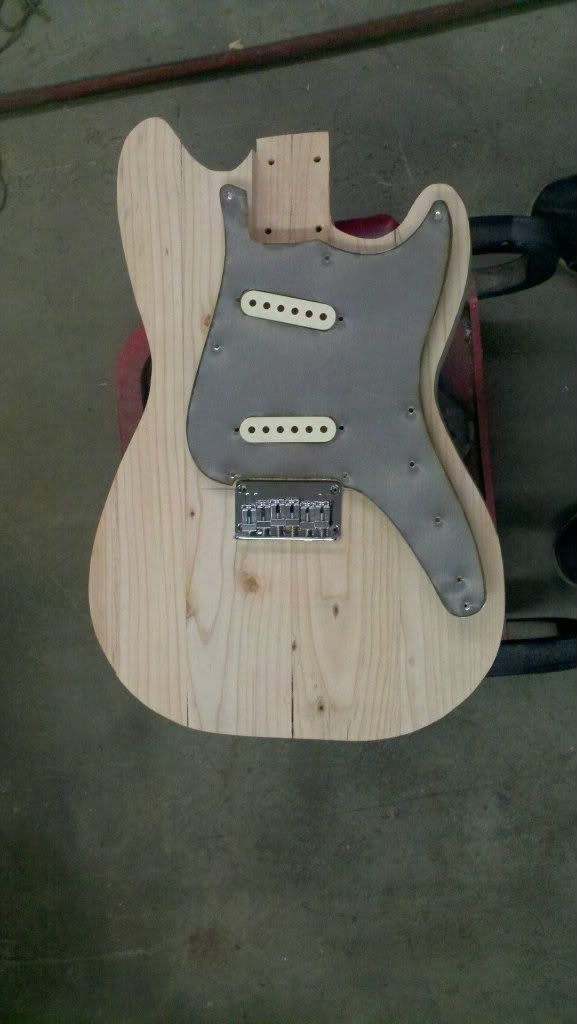 Hogged out the cavities
Then it started raining, so here's my rig for routing in the rain!
Yep, it worked!
Control cavities
Oscilloscope. Wait, what? Oh well, I just got it at a garage sale and it's way cool so I thought I'd share!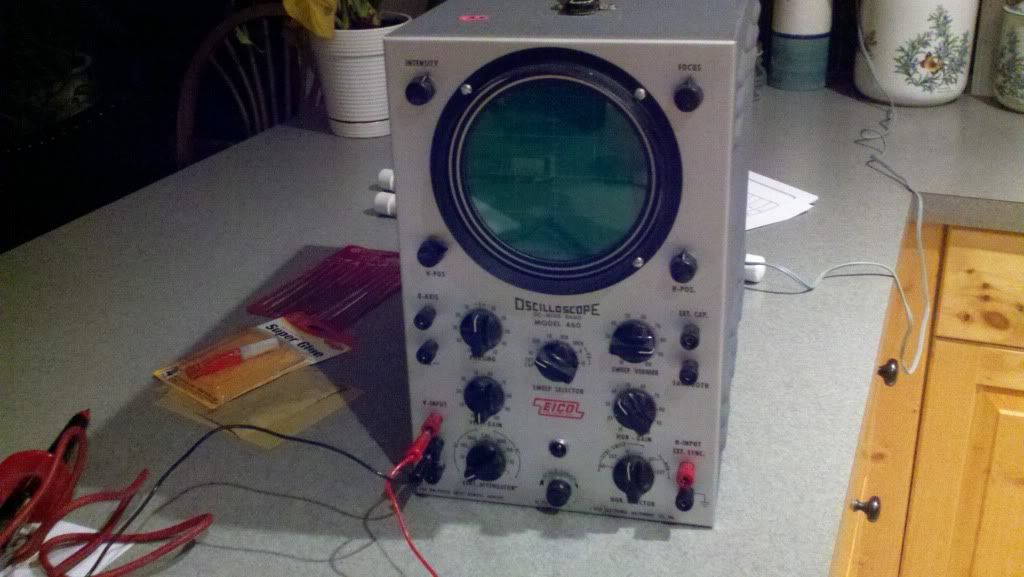 Wow! Looks cool all put together, can't wait for the roundover!!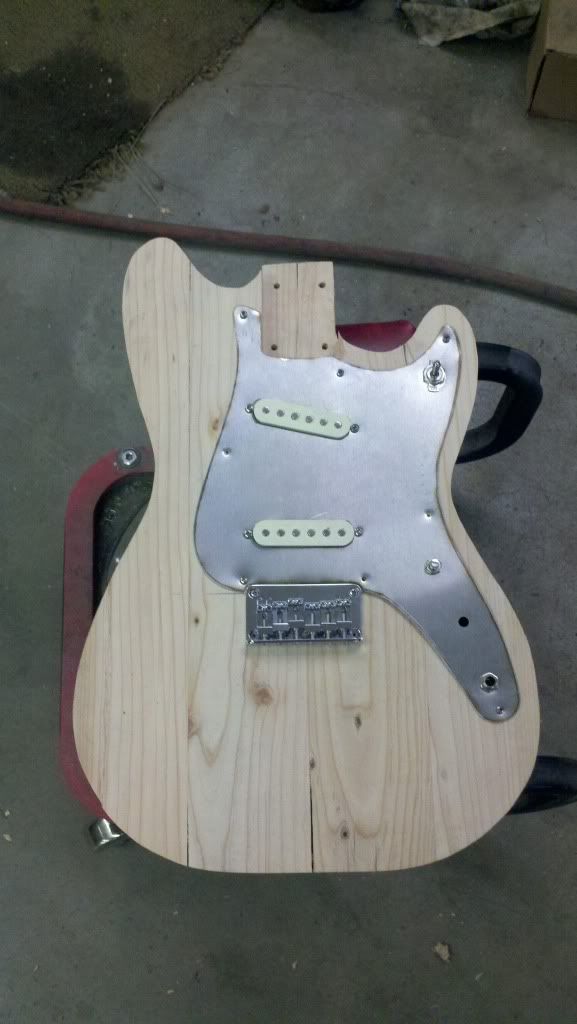 The beauty shot

Join date: Feb 2011
1,177

IQ
The body has a nice grain in it. What is it old Pine?.

And how about some pics of that Camaro build goinig on in the back ground! what is it a 69?
The wood is from some old 2x4s, so yeah probably pine or fir. The camaro is my dad's and yep it's a '69! original big block four speed rs/ss car. Still needs a full blown restoration including rust repair. Right now we're just trying to get it on the road, it's got a cracked block in the 327 small block it currently has.

Join date: Feb 2011
1,177

IQ
Nice!
Yep always wanted a 69 Camaro, but could never affor one, all I could find was a 69 Firebird with a 400, but that was sold 10 yrs ago before I became a DAD.

Join date: Jun 2010
671

IQ
nice man, i love the aesthetic. what did you make that pg out of? oh, and i personally love the current pup covers, i wouldn't change them if i were you.

also, dont let the fact that its all 2x4s make you do any less planning, you should still come out of this with a beautiful guitar.
I made the pg out of some stainless steel sheet. Although it would have been better to make it from aluminum that was a bit thicker. I painted the pg with duplicolor metalcast today and it looks okay, but the color is off which is my fault (they only have orange and i was aiming for gold). The stuff works great for an anodized look! Ill post pics later.
More updates, got the color on the pickgaurd. Looks cool, not what I was aiming for but close ish. Oh well, the color on the body will be way off too haha.
Then after a bit to much buffing, it's aged now haha
And then sanding sealer
Well it's finished. Nothing amazing, but it works. Just needs a bit of a setup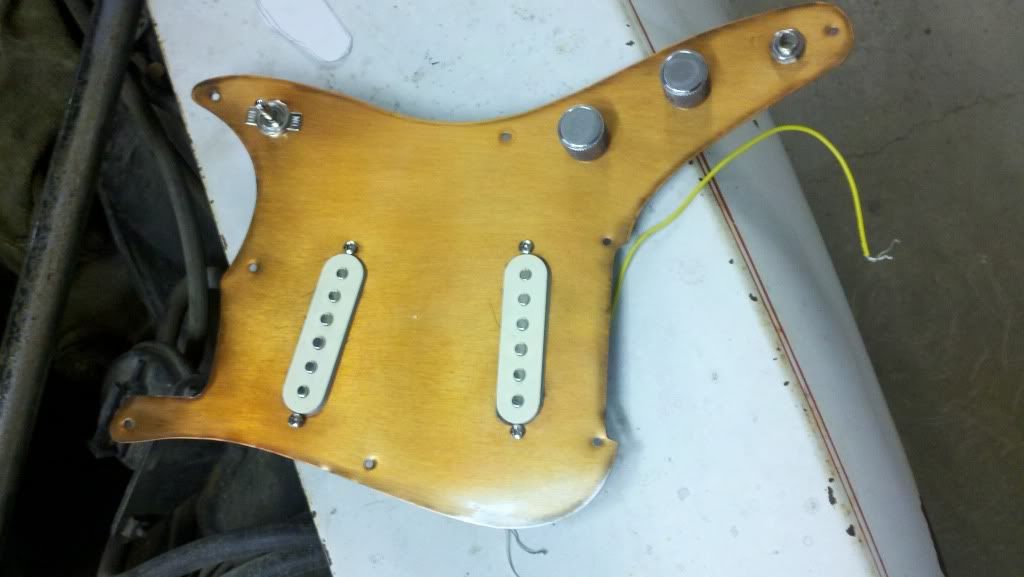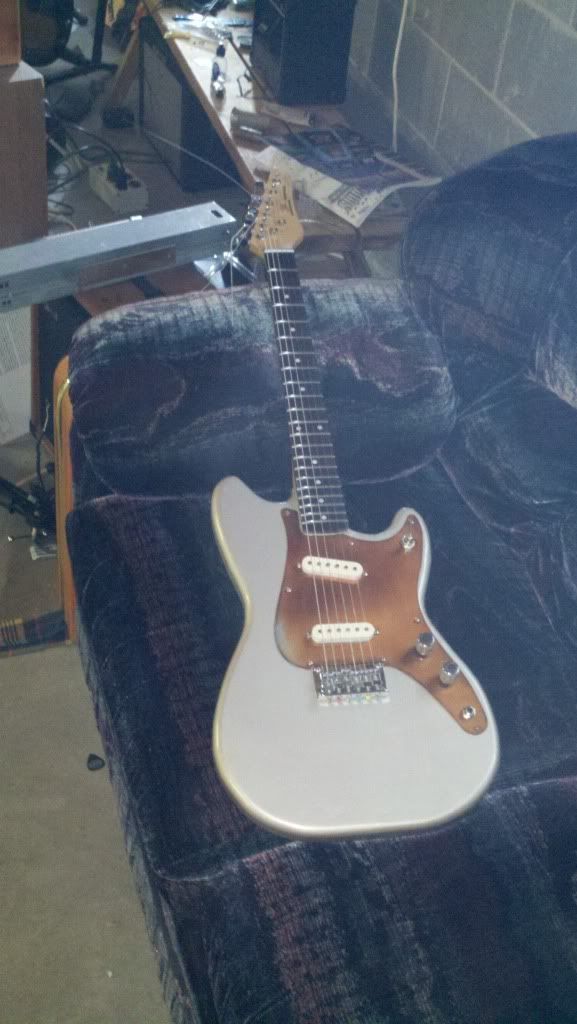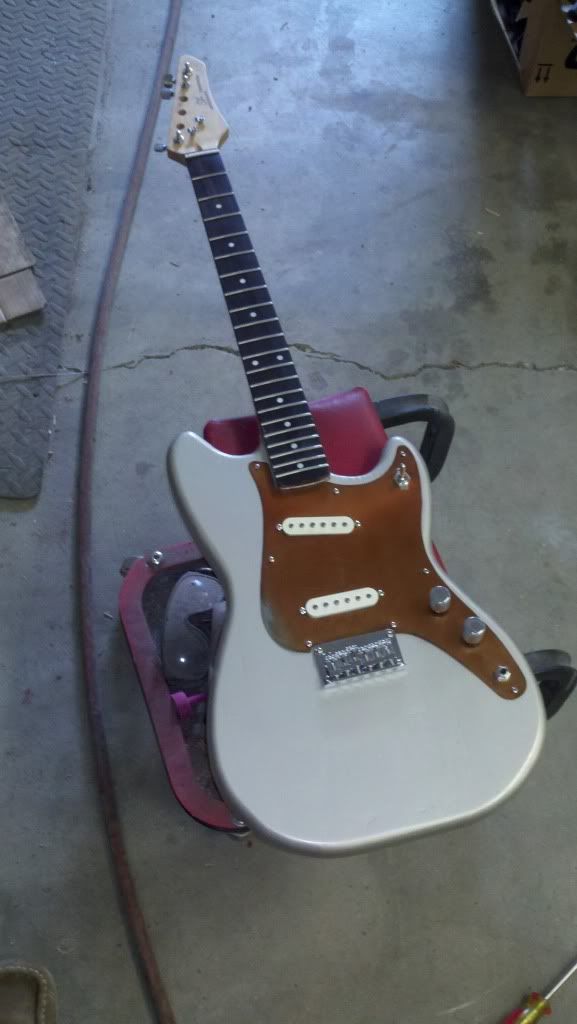 Join date: Mar 2012
357

IQ
I love it! I've always been a big fan of duo-sonics.

Join date: Sep 2009
387

IQ
I like the pickguard, looks cool, what was your total spend on this?

Join date: Jun 2010
671

IQ
Yeah, I like that a lot. nice job. I love offset guitars in general, and this is no different.
I didn't spend much on it, I saved all my receipts so I can total it all up, I'd have to go look though. I might blow it all apart again and try and fix the finish because it's reallly bad.

Join date: Jun 2012
10

IQ

Join date: May 2009
2,300

IQ
Nice work. 2x4s huh?

I've got some old strat pickups lying around.... Hmm... How does it sound?
EDIT: Sorry for bump..
Last edited by IronMaiden76 at Jul 10, 2012,

Join date: May 2007
1,014

IQ
Wow, that looks really cool. Nice job. I might have to saunter down to B&Q and get some 2x4!

Join date: Jan 2011
1,050

IQ