The Anchor

Join date: Jun 2012
30

IQ
That is just beautiful. unbelievably beautiful. I love how the headstock turned out, and how the body looks, and the fretboard. oh man. so beautiful.

Join date: Dec 2007
140

IQ
All the inlay work is just stunning. The design would be very nice if it was simply painted, but the fact that everything is inlaid is just breathtaking. Simply stunning.
Ive been looking for away to get my logo onto the headstock and I finally ended up ordering this Dass sauce stuff and im pretty happy with the results. Heres the test run:
You mix the concentrate with alcohol and let it sit for 4 hours, then you have the transfer solution that will take an image printed, by your standard printer, from the transparency to another surface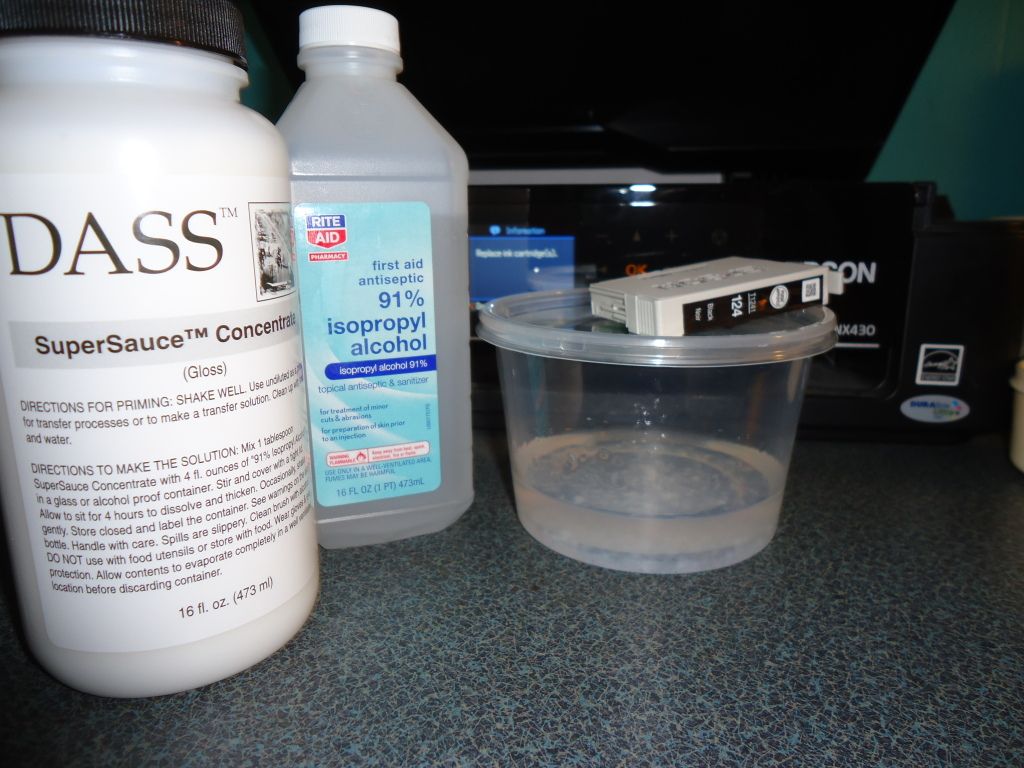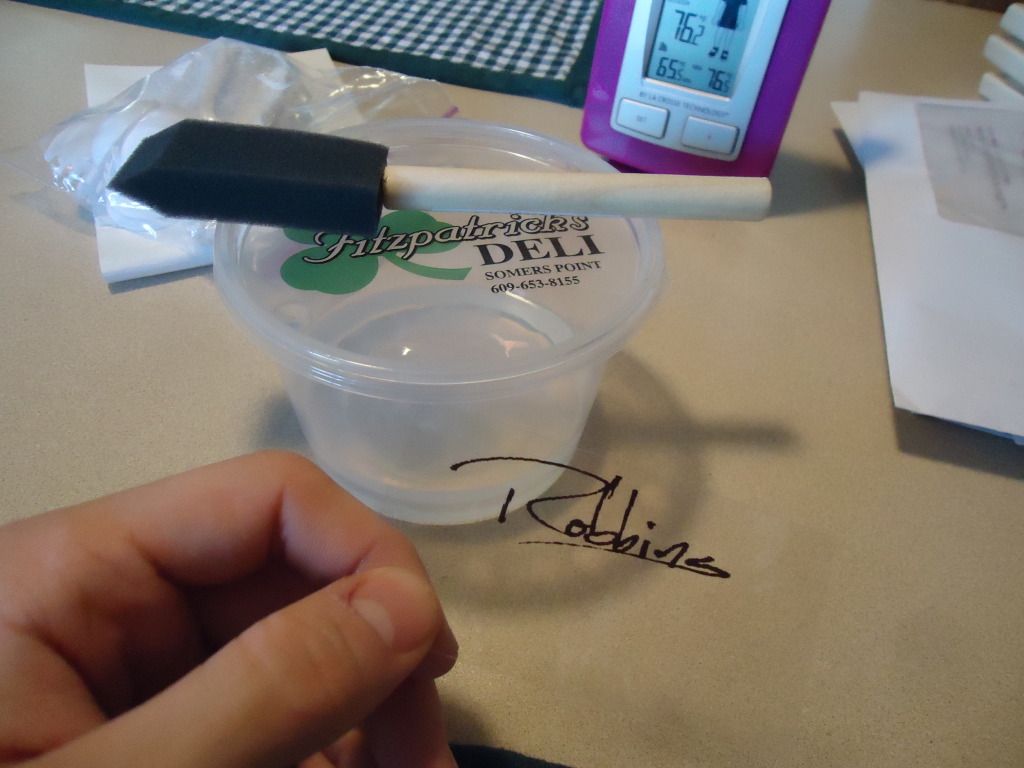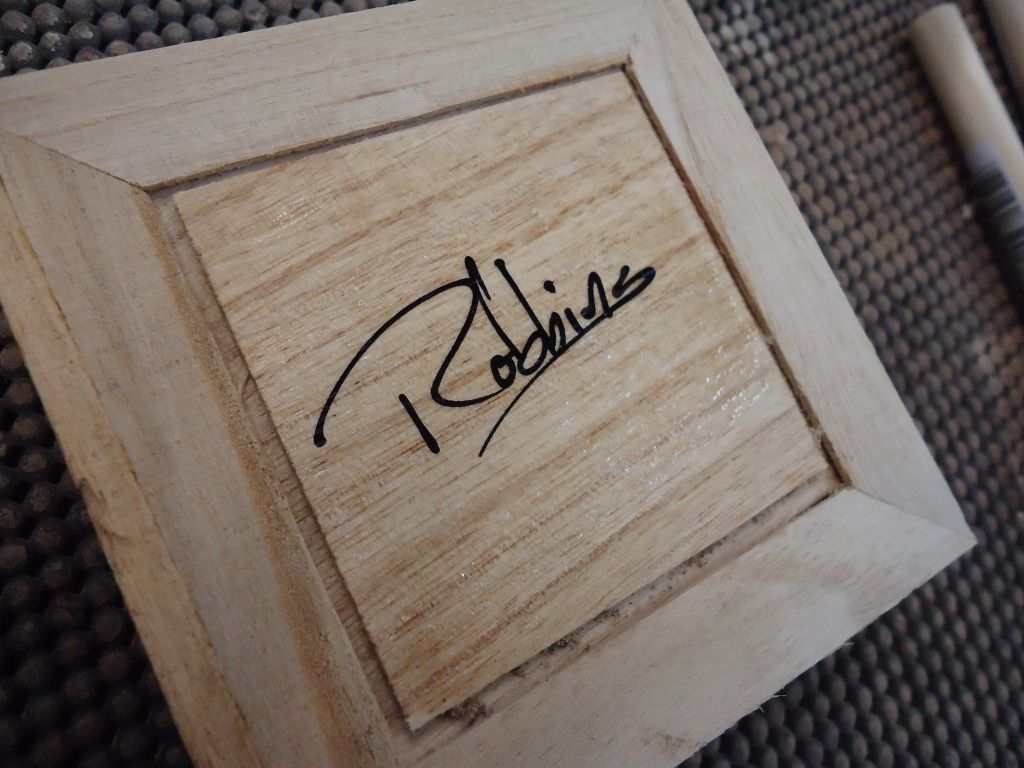 I think this will be where I will put it

Join date: Dec 2007
140

IQ
If its a custom wouldn't it be more proper to put the logo the back? Either way, I think that would clutter up the headstock too much, theres a lot going on there already.
Designed the pups I'm going to be winding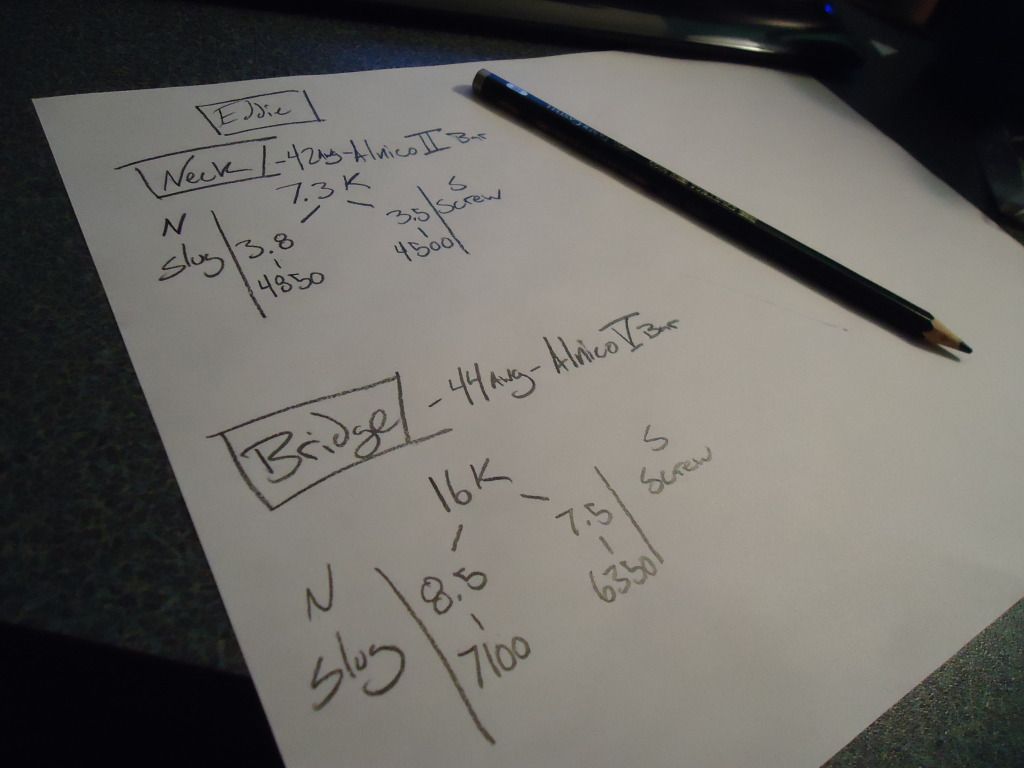 Very nerve racking to say the least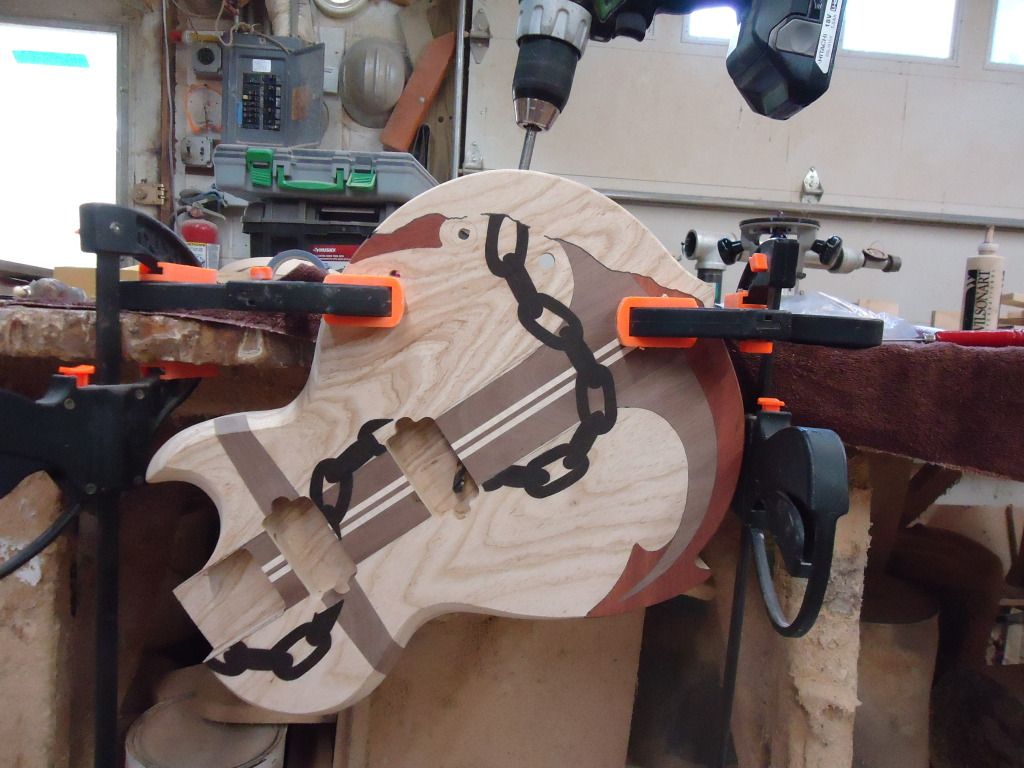 Creating the fall away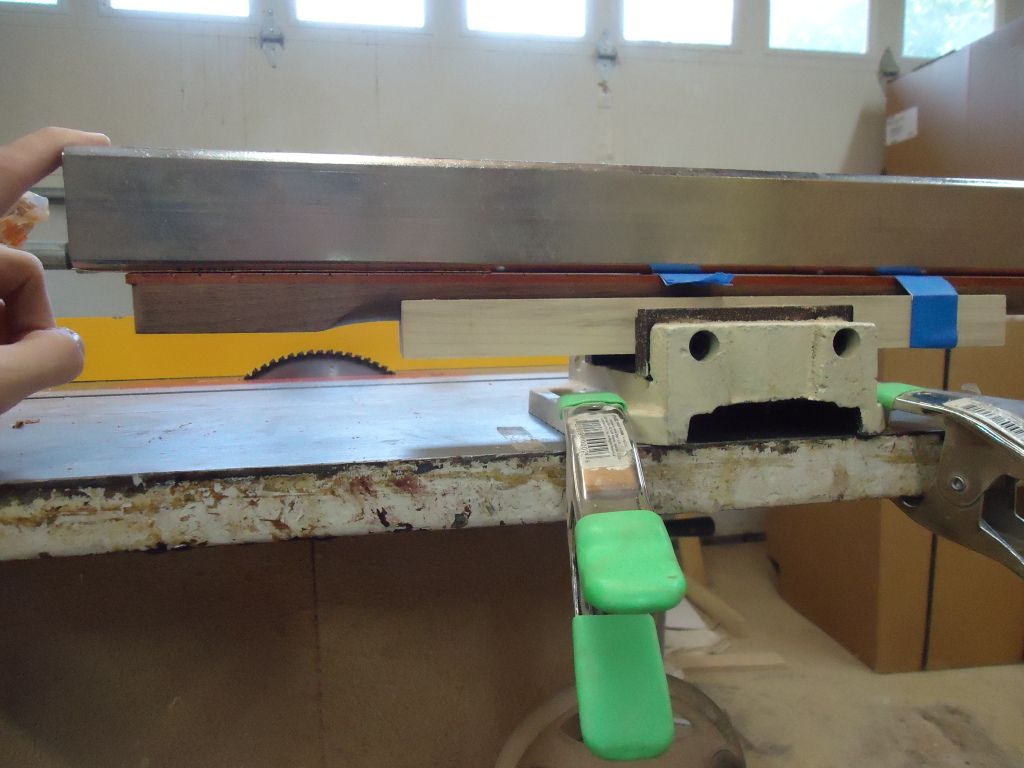 sanded to 3200 but lets keep going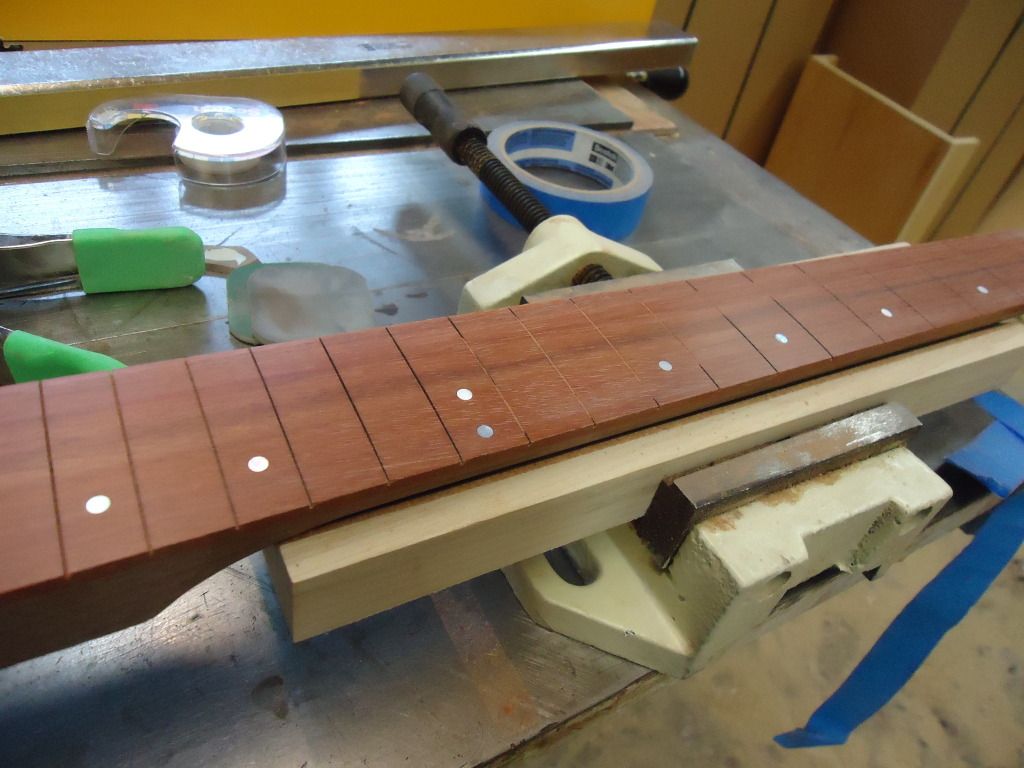 12000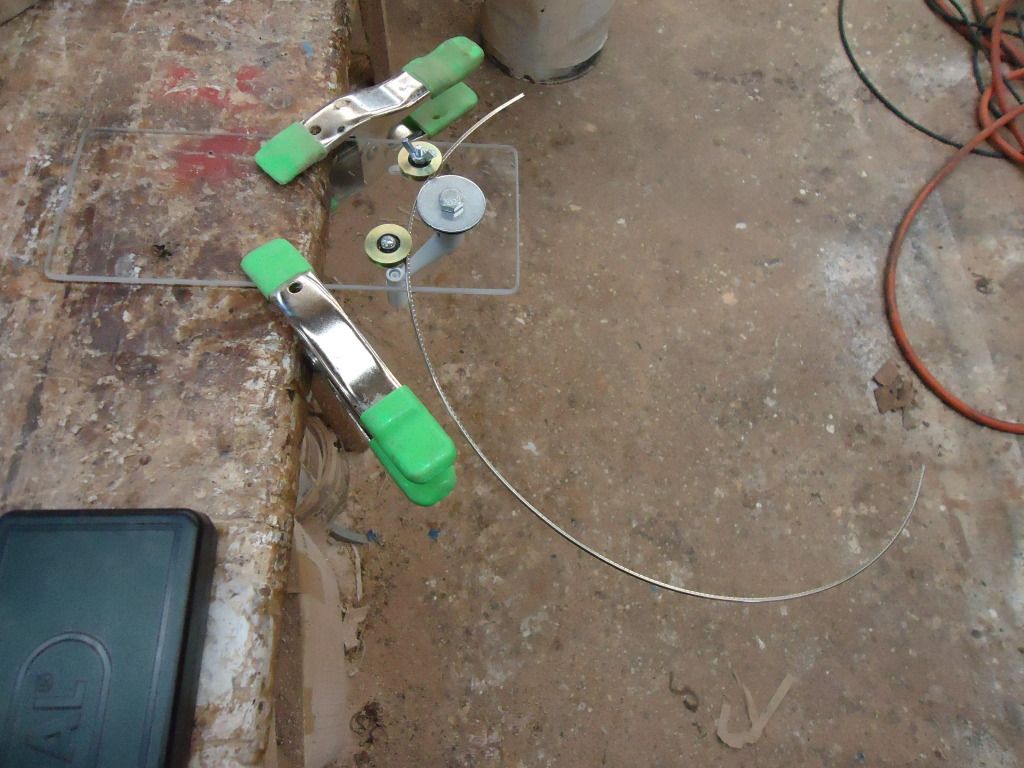 I ran out of time to fret today but just so my holder dosnt fall over and mix them all up I just used a piece of tape to keep them in order, just in case
12000 grit? You have way more patience than me, my friend. Looking great though.

I agree with the guy above though, putting that signature on there might leave the headstock a bit cluttered by the time you get the machine heads on and everything. Where else to put it though? You call, anyway.
Alot of people are worried about the cluter on the front so for this headstock ive decided to put it on the back with a white ink.
Good idea. I think it will look good there.
I forgot my camera at home last night so I dont have pics of the actual fretting but heres the end results.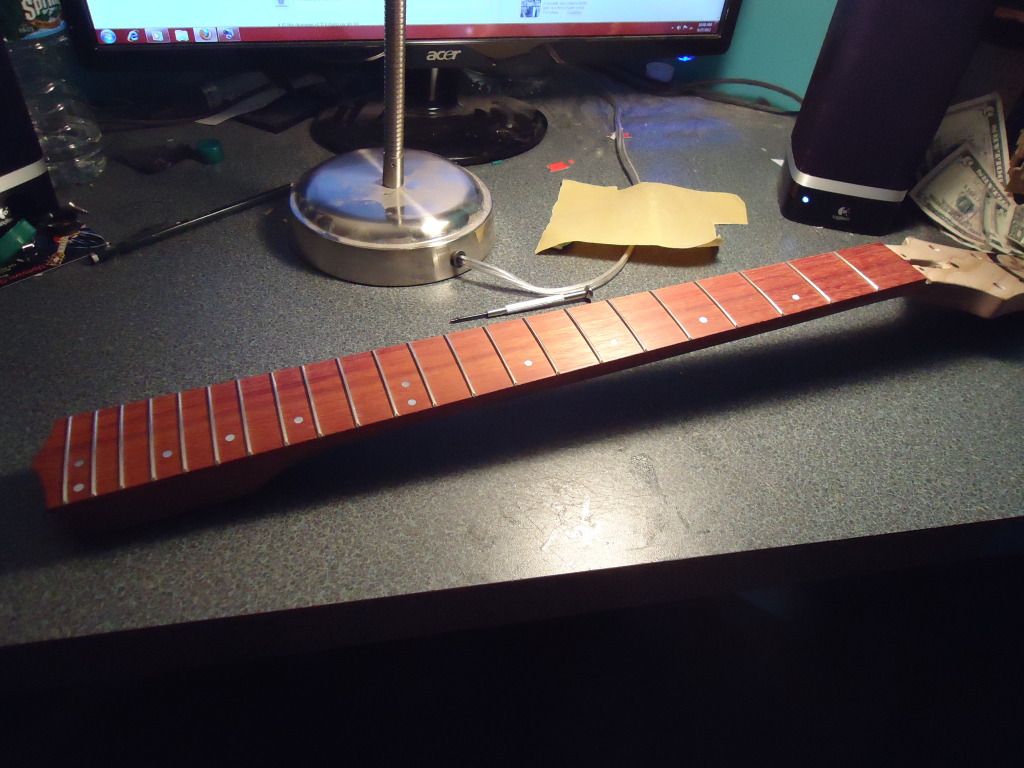 30 degree bevel
Taped up to protect the board while polishing
I brought each fret up from 400 to 12000 to get that mirror shine. Each one took about two and a half minutes.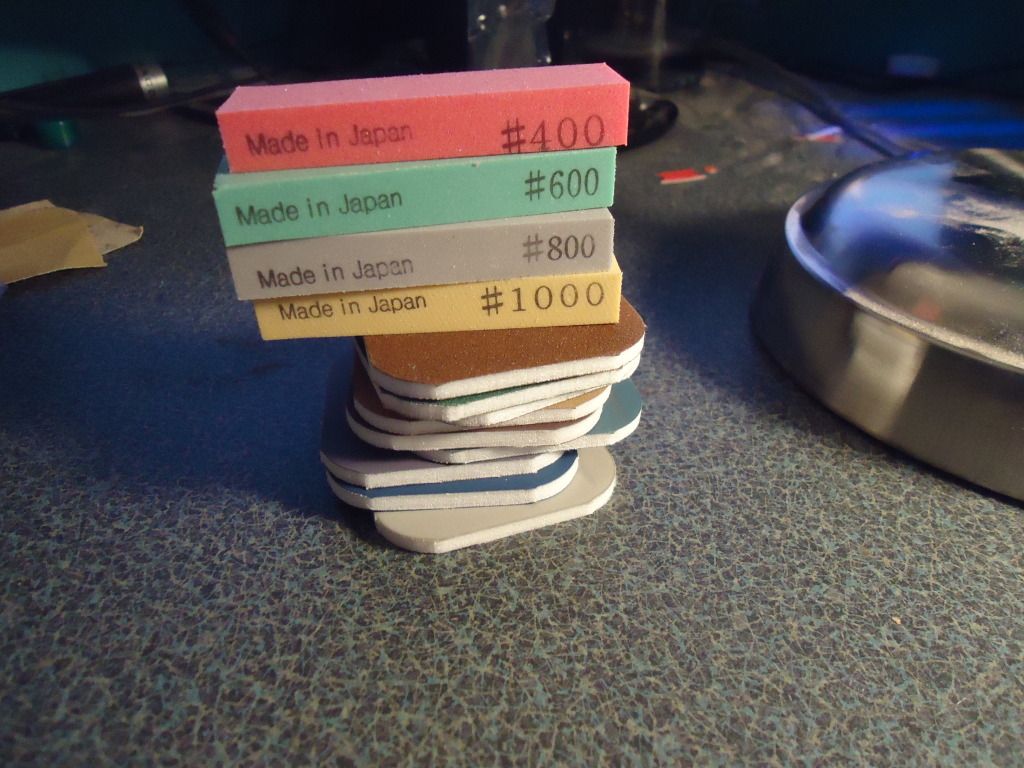 Heres a comparison between a fret at 400 and one at 12000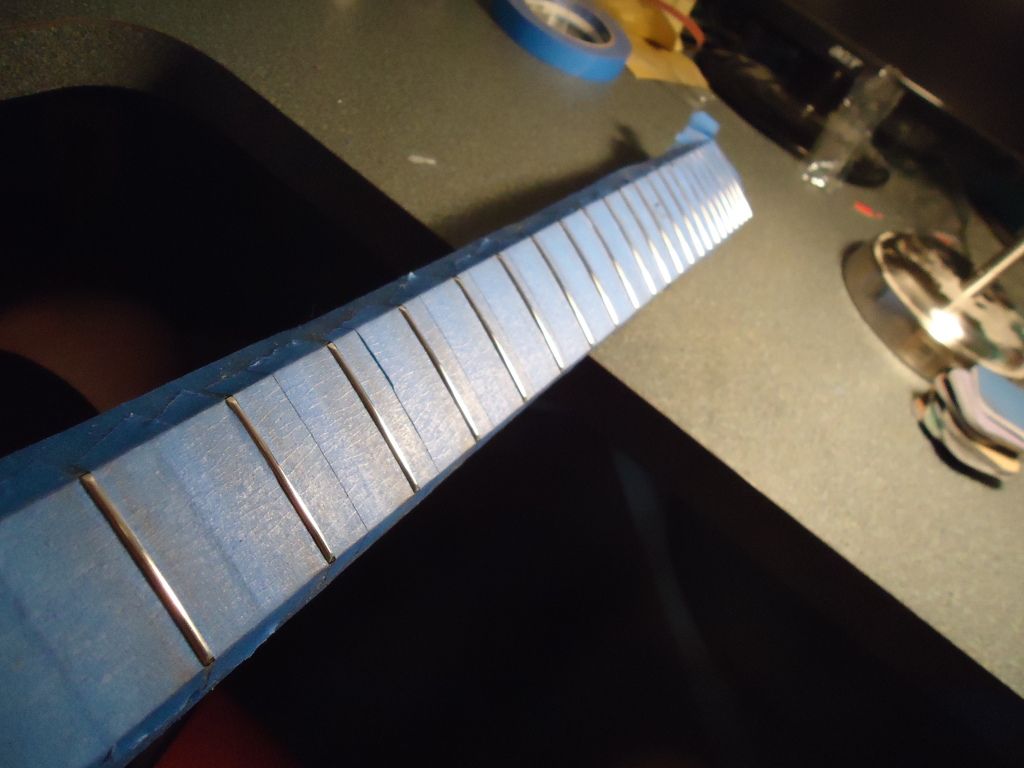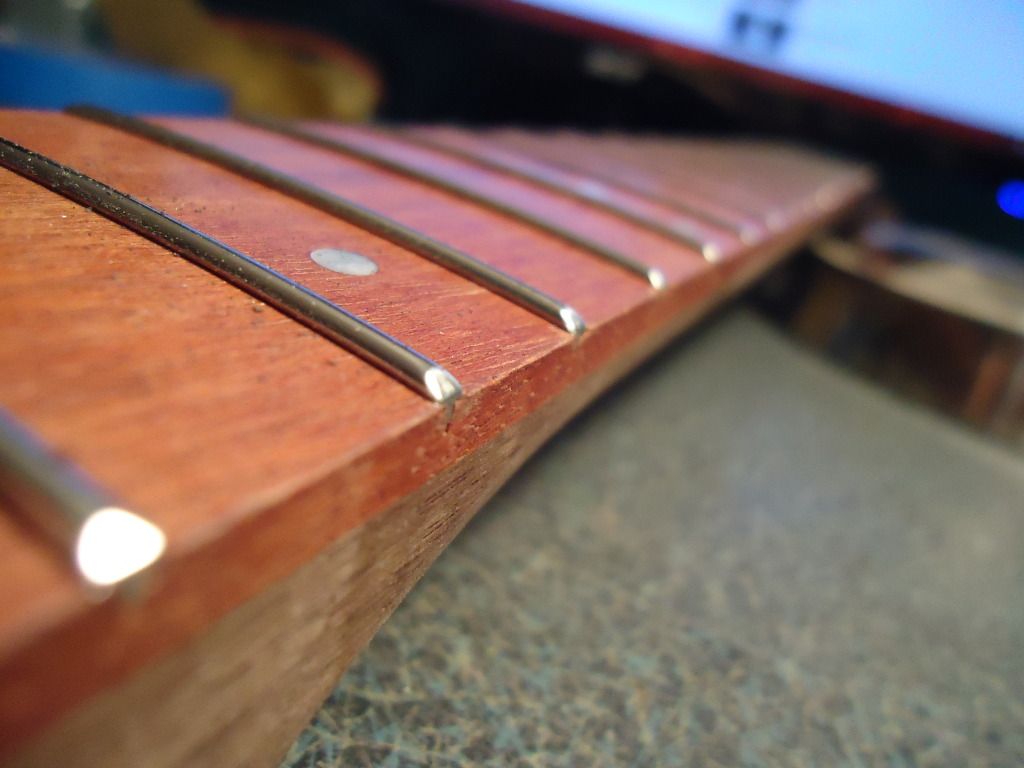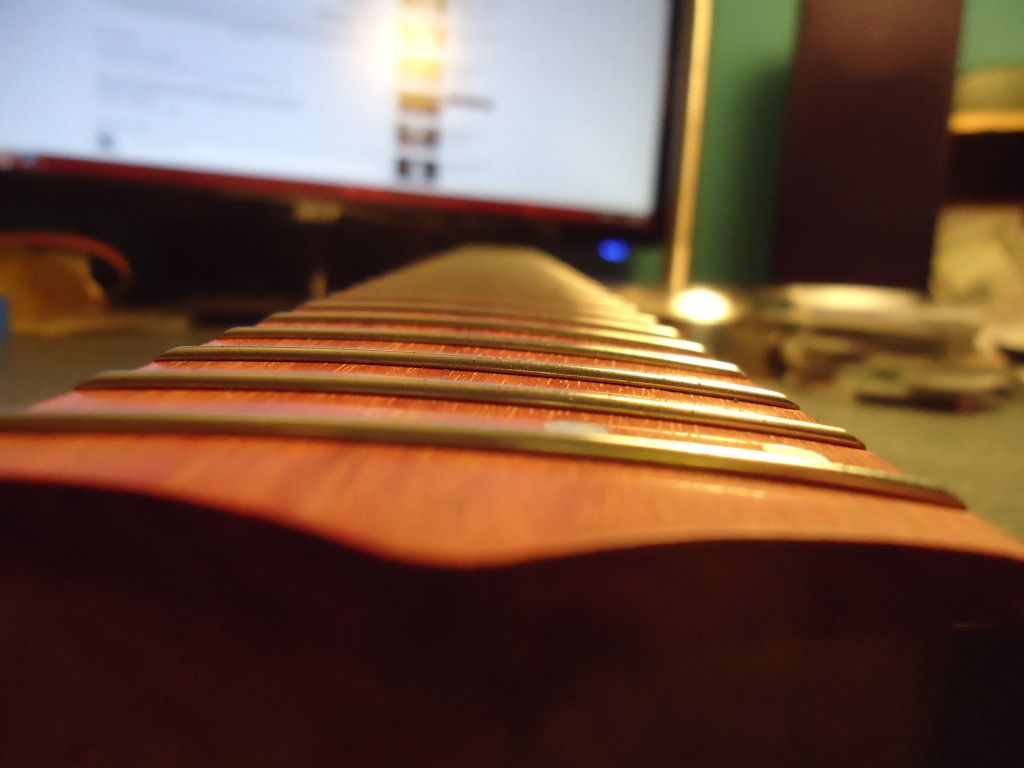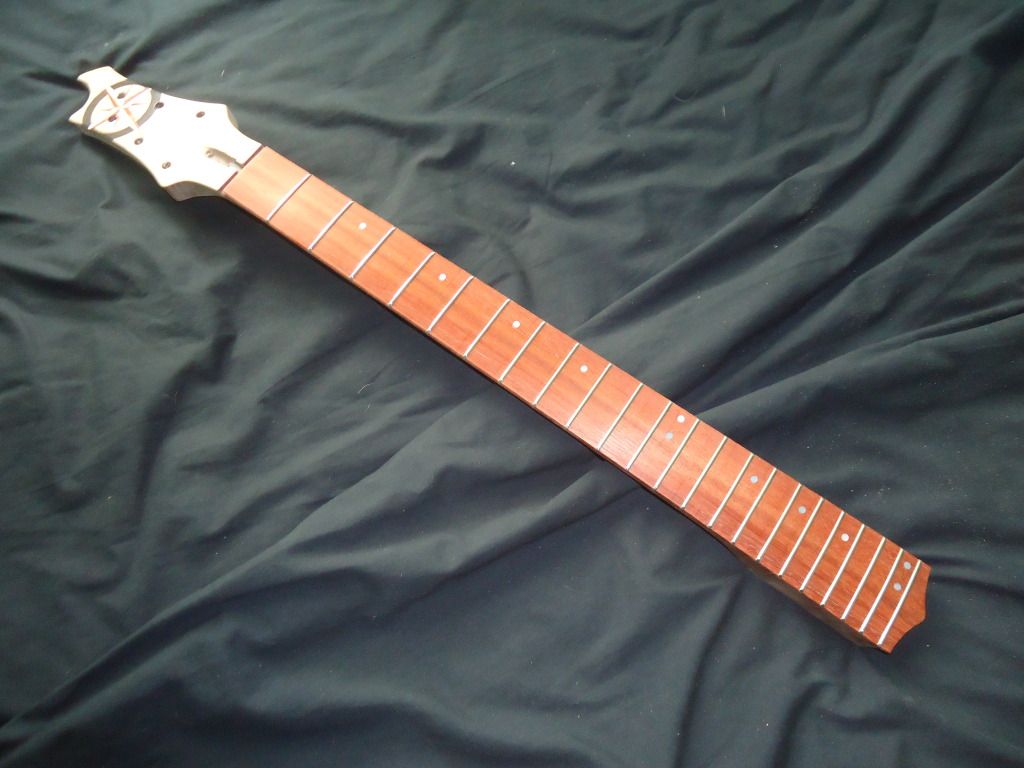 Humbucker time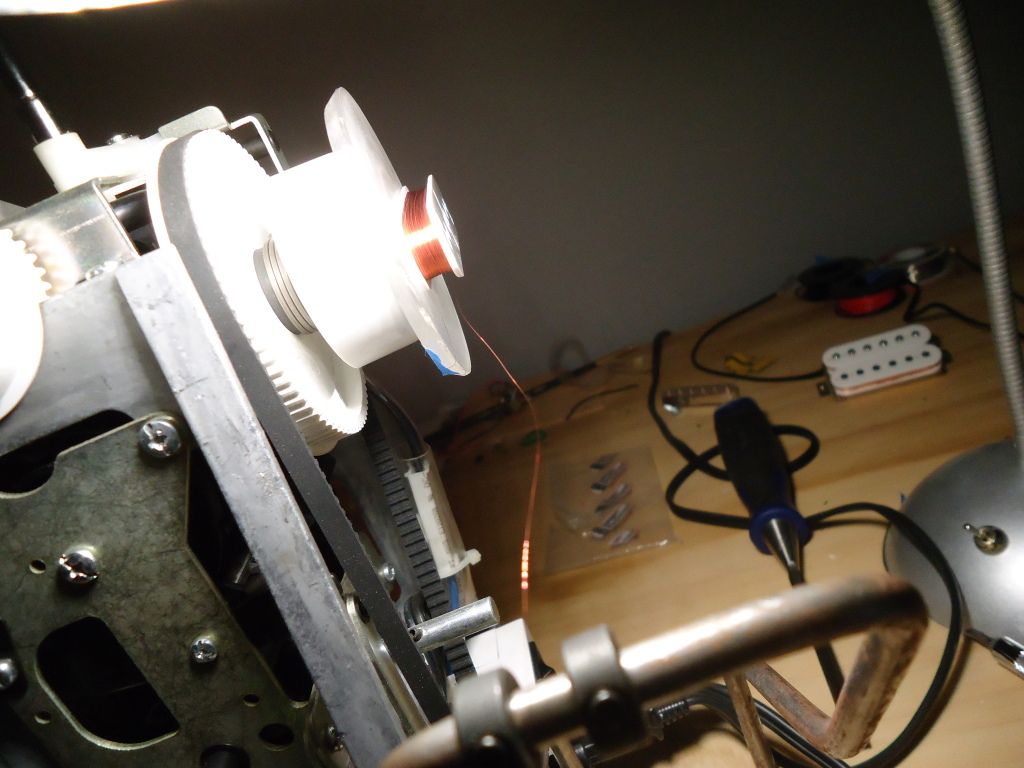 Finished this bobbin with 6500 turns and broke the start lead wire while removing it from the winder making it useless. Had to cut it all off and start again.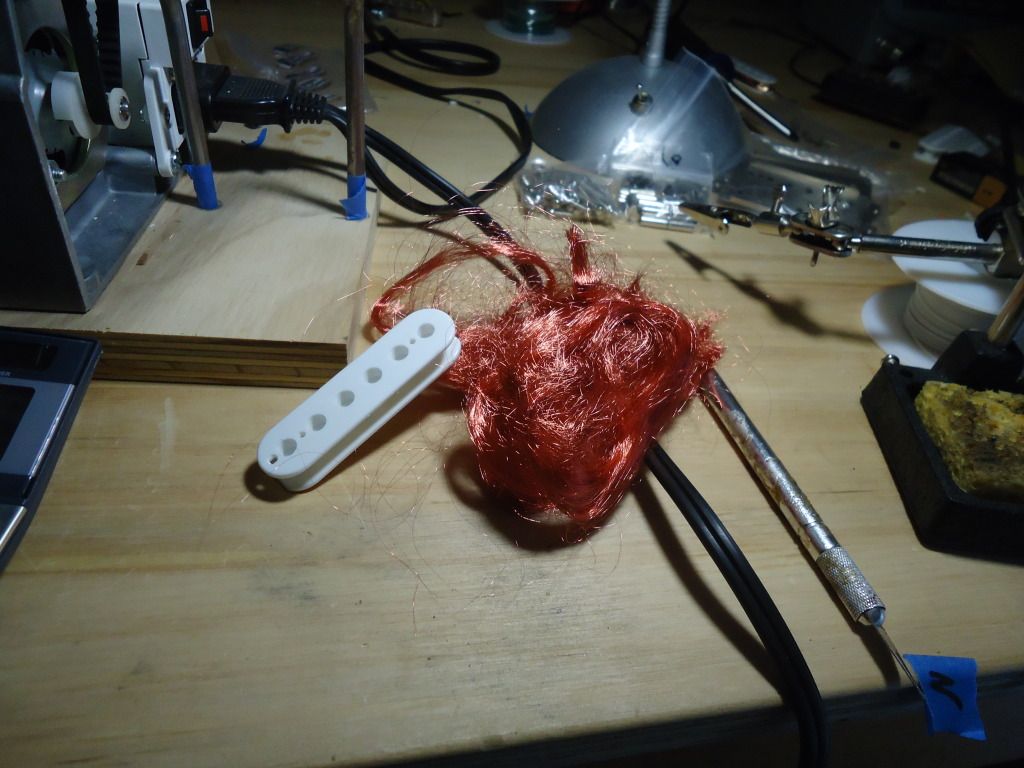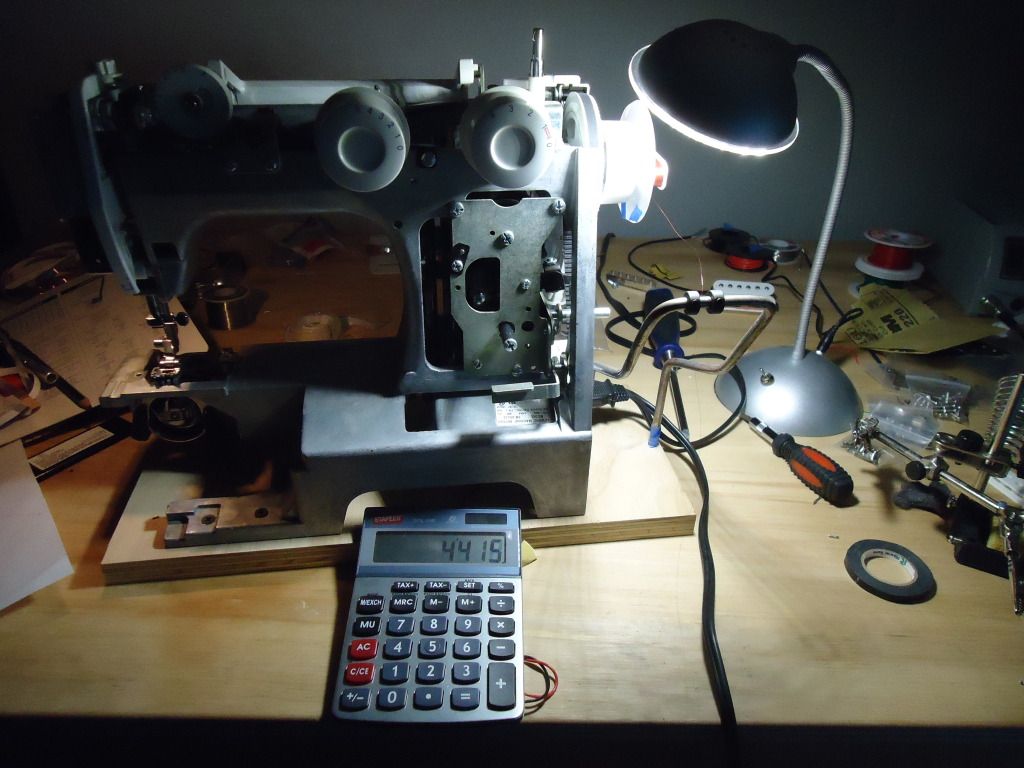 leads soldered and coil taped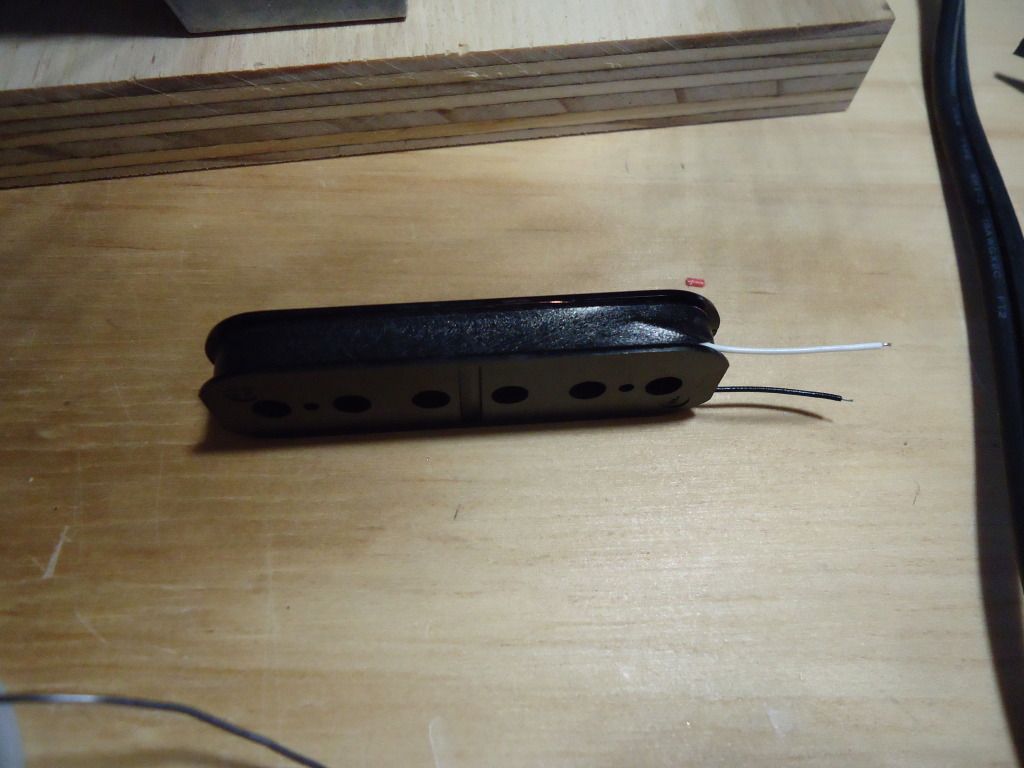 I use a layer of copper tape around the coil itself to help shield it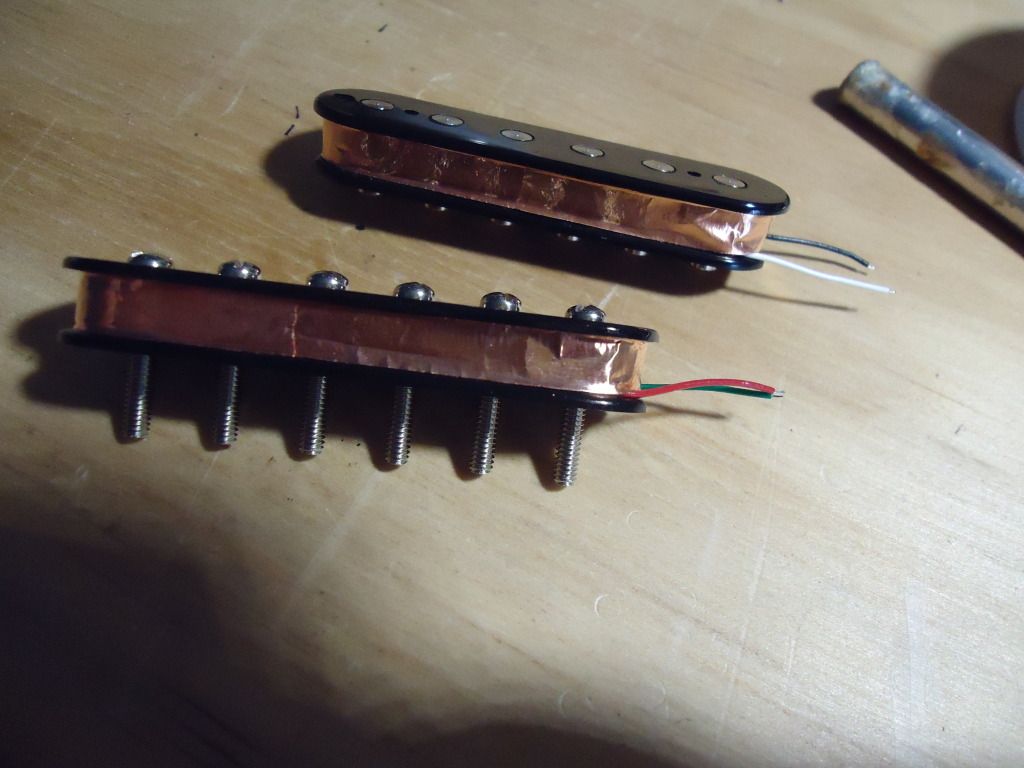 Grounded to the base plate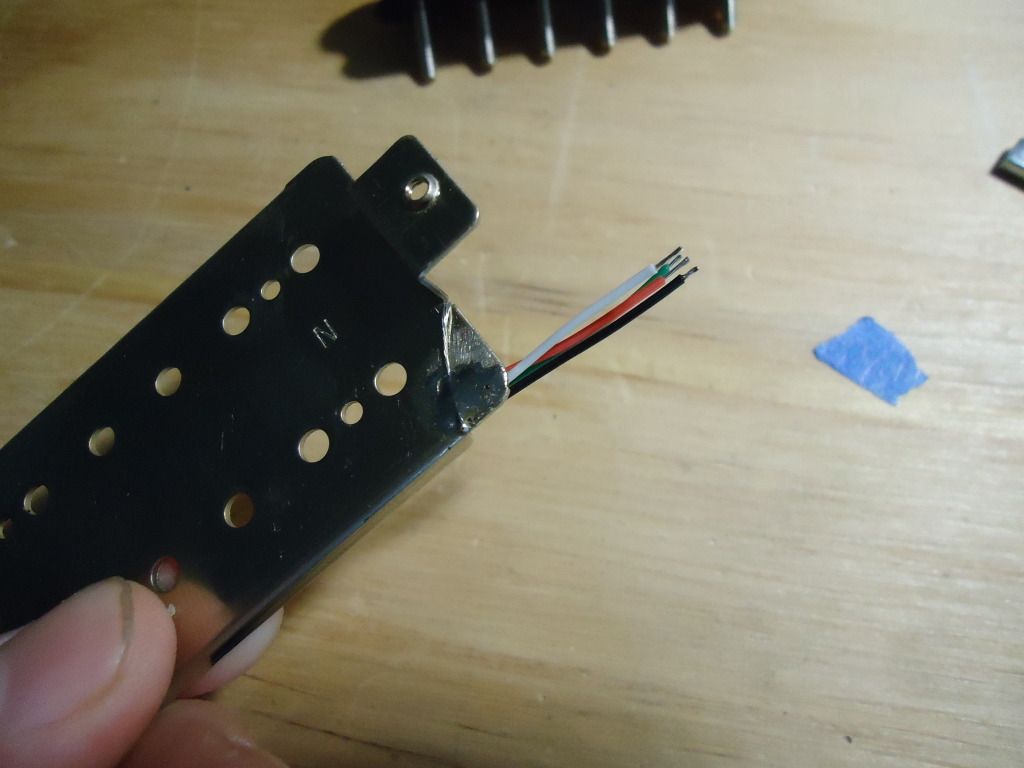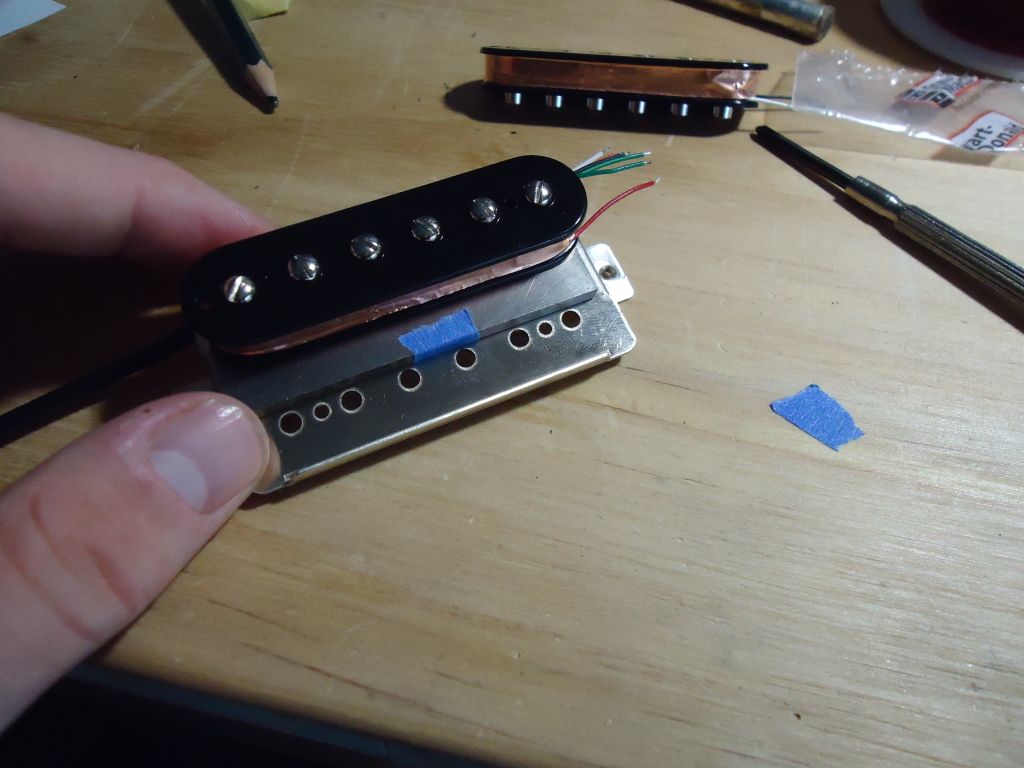 soldered and taped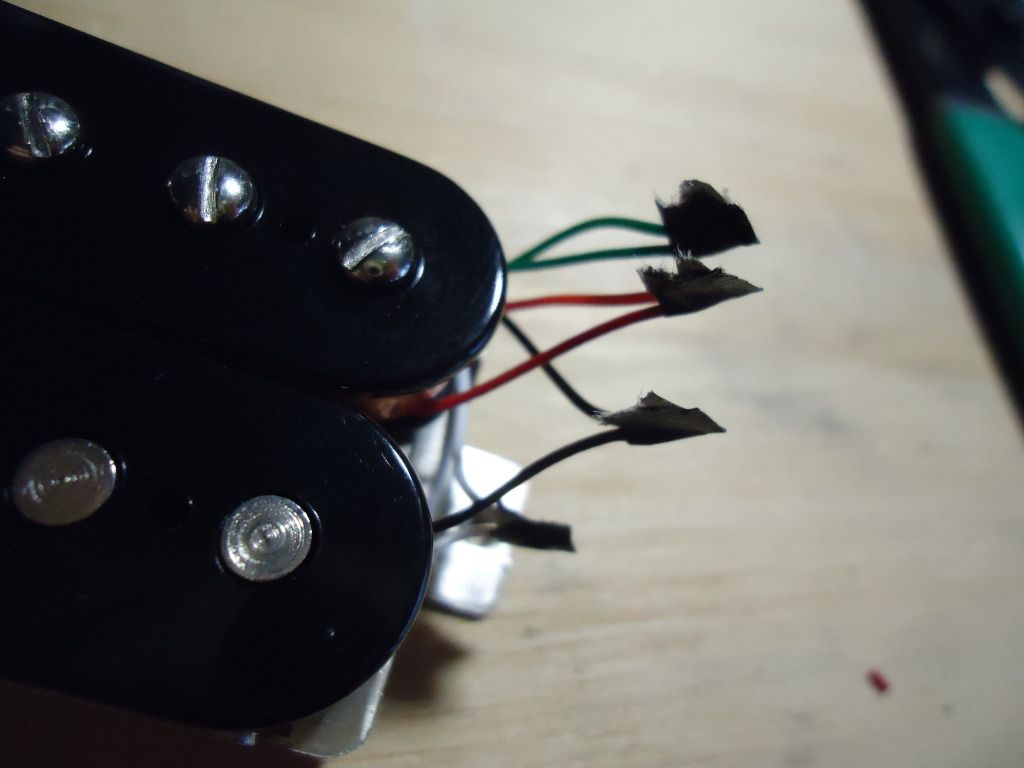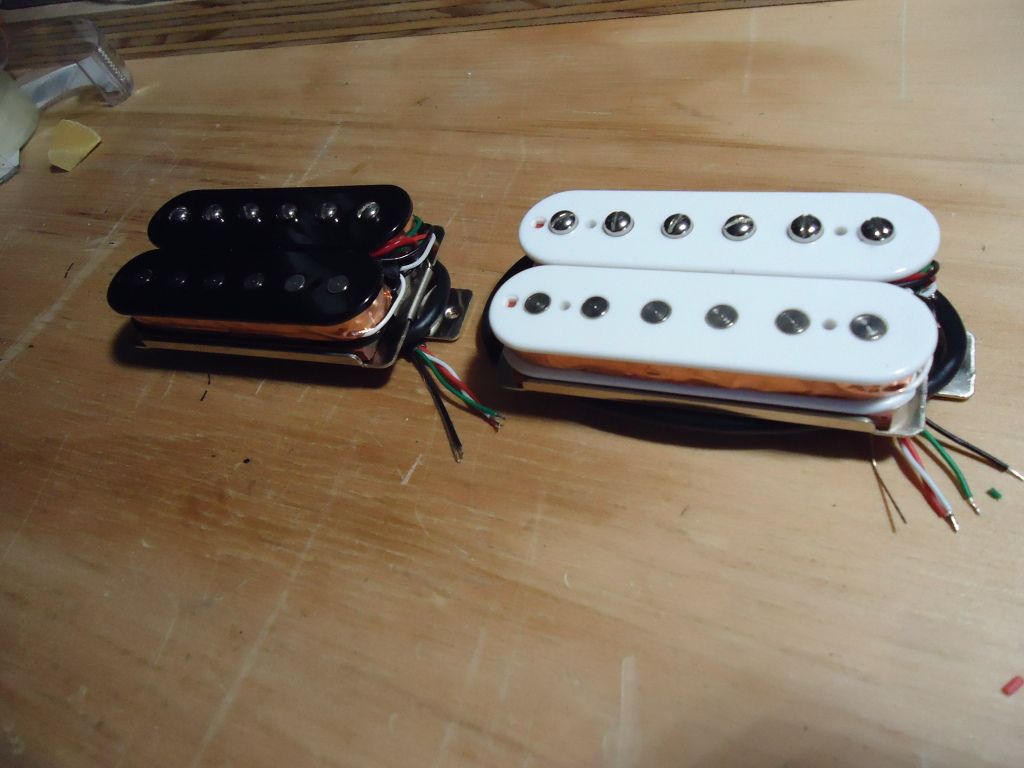 I ordered bare nickle covers by accident and I kind of like the finish but its not the best quality. There are a few blemishes. I may order the ones that are shinier to see if they come out better, if not I will have to call mojotone and yell at them haha.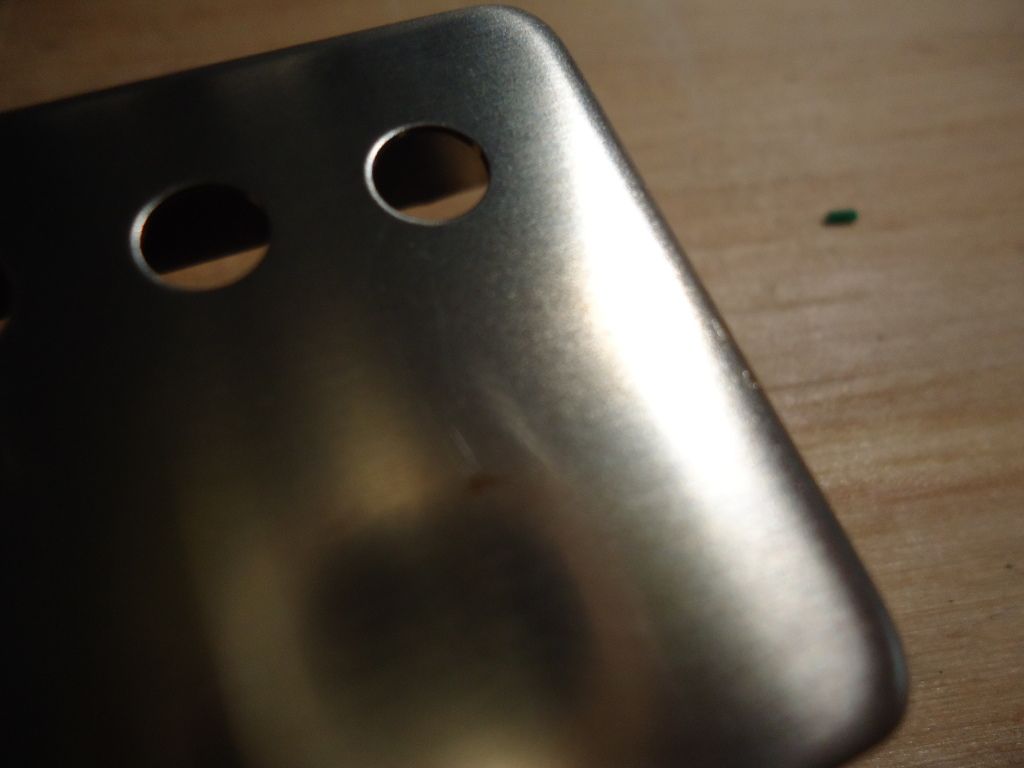 Join date: Jan 2009
30

IQ
I understand the N/S poles and the resistance of pickups but what is all of that other math you've got going there?
The total resistance of the humbucker needs to be divided between the two bobbins and I usually do the slugs with a few more winds the the screw just because they are non adjustable. Once I have the resistance I am aiming for for each bobbin I put those numbers into an online calculator that tells me roughly how many winds I will need to get what I'm looking for (the numbers that are lowest on the pyramid thing are the number of winds). Its very tricky and you basically have to guess at it and record your results then down the line you'll be able to look back at how many winds gave you what and you can become more accurate. I've only done 10 buckers so far so its still hard for me to be exact.
Looking good, though as far as pickups go I can offer no opinion. I can barely solder, let alone wind them.

Any thoughts on the finish?

Join date: Jun 2012
30

IQ
Wow, it's pretty cool that you're custom winding the pickups for the guitar!
Also, the guitar continues to astonish with it's beauty
Join date: Sep 2011
170

IQ
did you buy that winder or build it? if you bought it where did you get it?
did you buy that winder or build it? if you bought it where did you get it?
Well, it looks like a modified electric sewing machine to me...
Holy Hell, I hope I can do that some day.
Eddies right, the wider is a sewing machine that I tore apart. To buy a winder its like 400 bucks or more and I made this for less then 40 and it works well. If you want to make one just google it, there is all kinds of info about how to make them, and of course feel free to ask me anything and ill do my best to help.
Join date: Sep 2008
30

IQ
So is this still being updated? I bookmarked it, I really want to see the final product.
Most awesome thread on UG.
I'm currently sanding and preparing everything to be cleared. I will post pics once it is completly finished in the next week or so, sorry about the wait guys.

Join date: Jan 2011
50

IQ
Dani Evans from Alestorm needs a guitar like this haha looks great man
Been following this for ages. It's amazing.

Any updates?
Sent the guitar to the shop to be cleared today hopefully Ill have it back within a few days. I'm just gonna leave you guys with a little teaser now. I put some naptha on to show what the woods should look like with a finish. These will be the last pics of the guitar until its complete.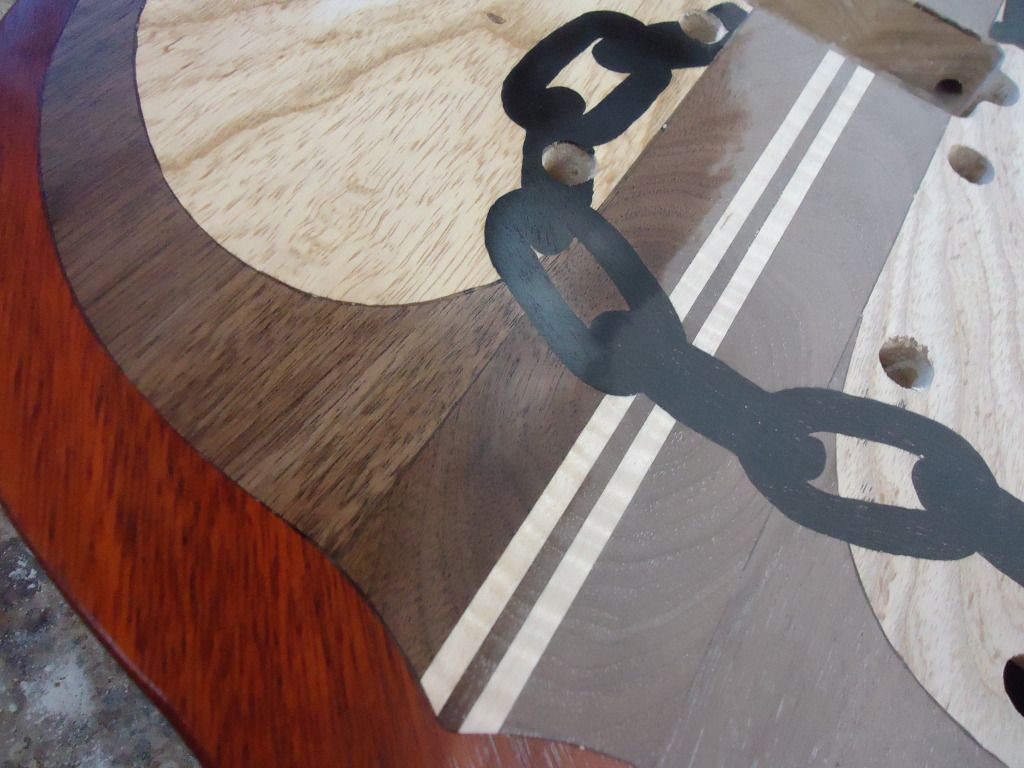 When I make a new jig or come across one that works really well for me I like to show it off with the hopes that it can help someone else who might be having the same difficulties as me. Up until now I have been cutting the fret board tapper free hand and spending a lot of time sanding it to get it perfectly straight. Today I made this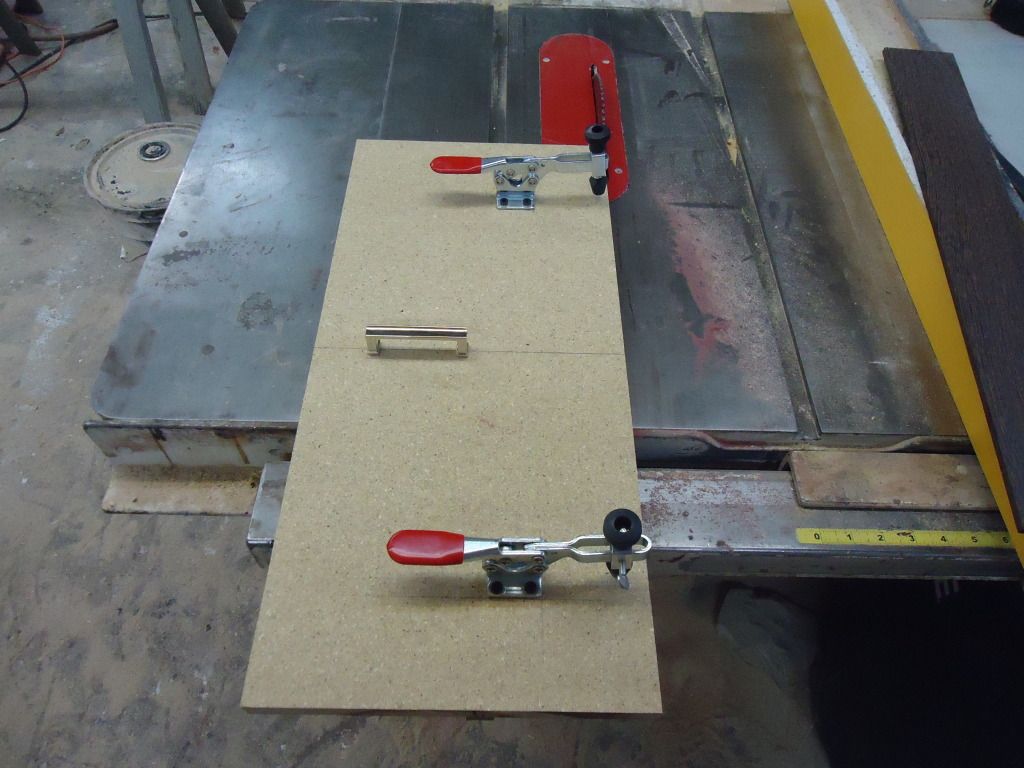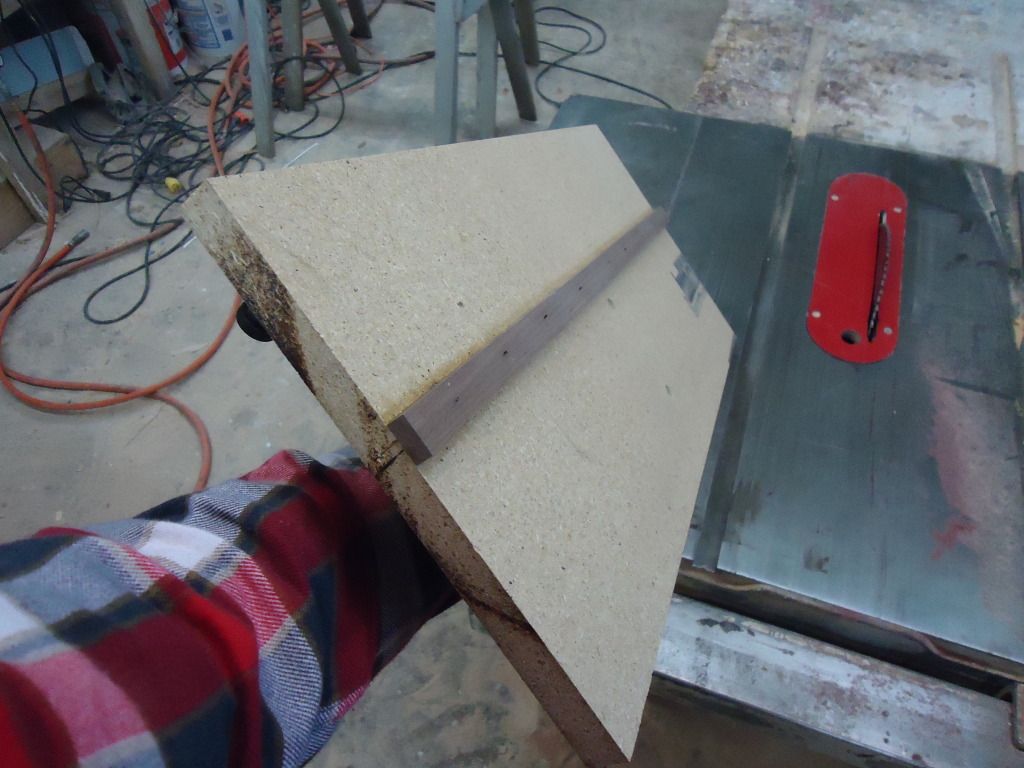 Its a board with two hold down clamps from rockler and a rail on the bottom that guides it through the saw blade. Its zero clearance so what ever you line up with the edge of the platform will be cut. You simply mark your fretboard taper, line it up on the platform, clamp, and cut. Cuts a perfect taper every time in seconds.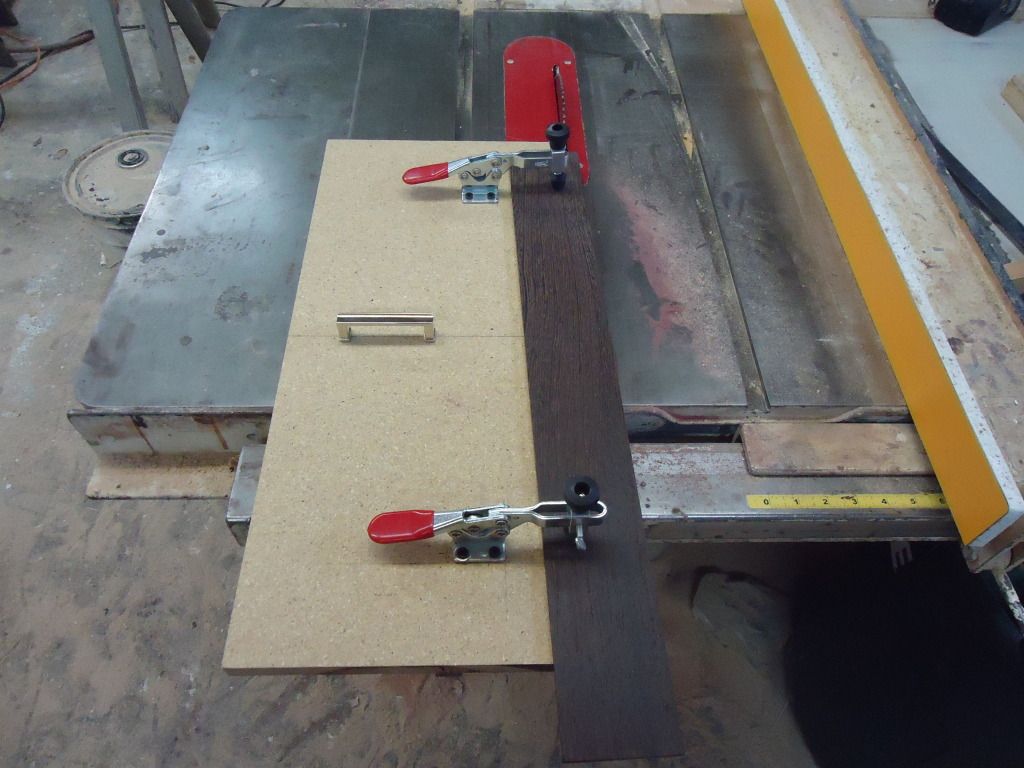 No more pics till finished? you mean I'm going to have this boner for days?

Ran into a slight problem today. I got the guitar back from being cleared and as I was putting the hardware on I realized the pickups don't fit at all. I used a template for a humbucker with out a cover and since these have covers it doesn't fit. I now have to make the cavities bigger which is not that hard but I'm going to be freaking out trying not to mess up the finish. I'm going to tackle this tomorrow and hopefully not ruin everything, wish me luck!
Good luck and god speed sir.

Join date: Feb 2009
90

IQ
Holy cow this is the best looking LP I've ever seen. Good luck man, don't keep us waiting!
Just to let you know, everything went well with the re-rout. Should be playing it by tomorrow afternoon with pics to come shortly after!

Join date: Jan 2009
30

IQ
Just checking in to make sure this build still kicks ass. Carry on.
Just to let you know, everything went well with the re-rout. Should be playing it by tomorrow afternoon with pics to come shortly after!
Just to let you know, ****ING AWESOME!!!!


Join date: Nov 2011
330

IQ
Just to let you know, everything went well with the re-rout. Should be playing it by tomorrow afternoon with pics to come shortly after!
I expect to spend tomorrow afternoon with a tab featuring GB&C, and frequent use of the F5 button.

Join date: Feb 2007
36

IQ
ive worked in a wood shop for 5 years and i cant even come close to your craftsmanship.
Hey guys I'm running late for work but I promised pictures so here she is all strung up!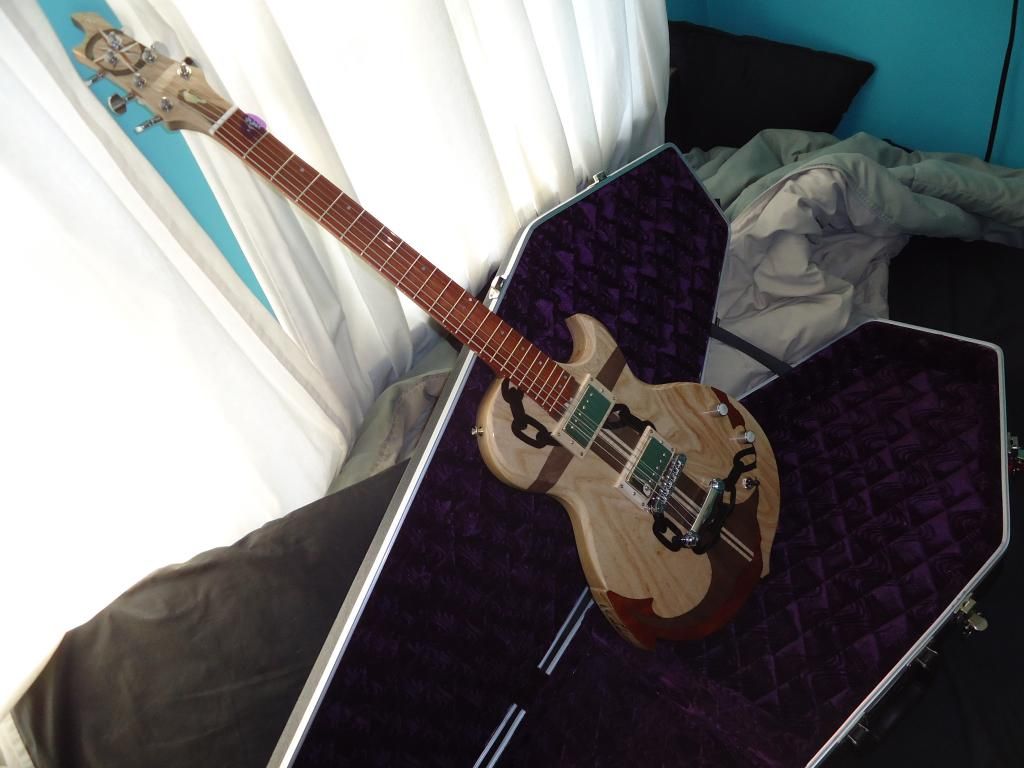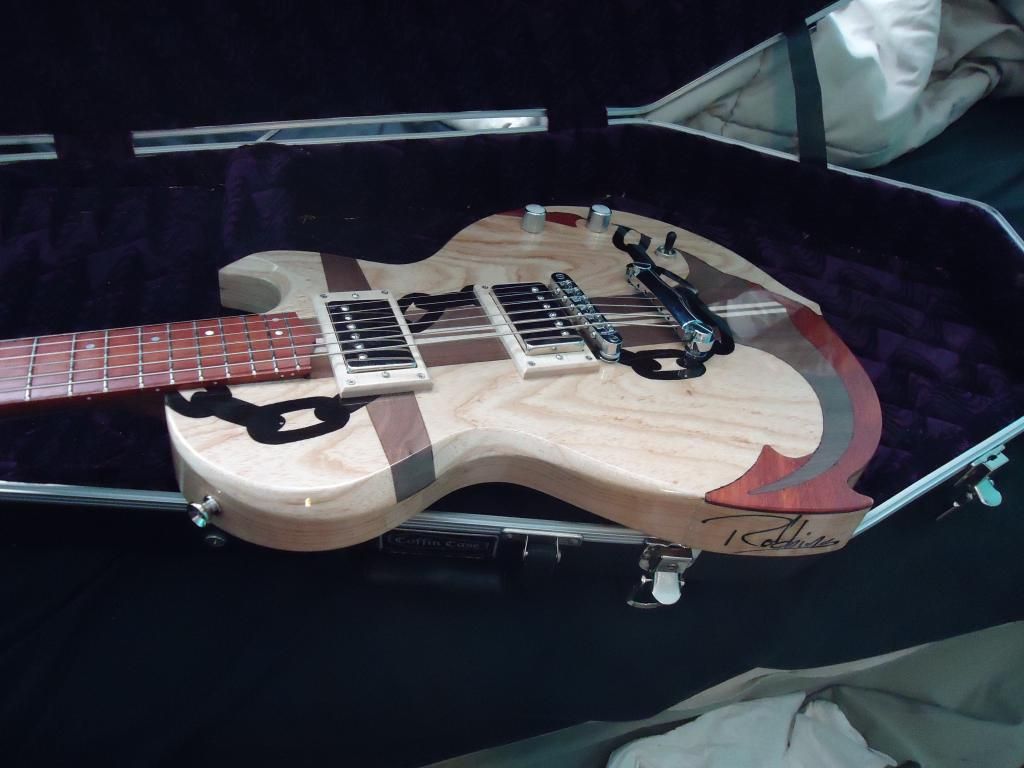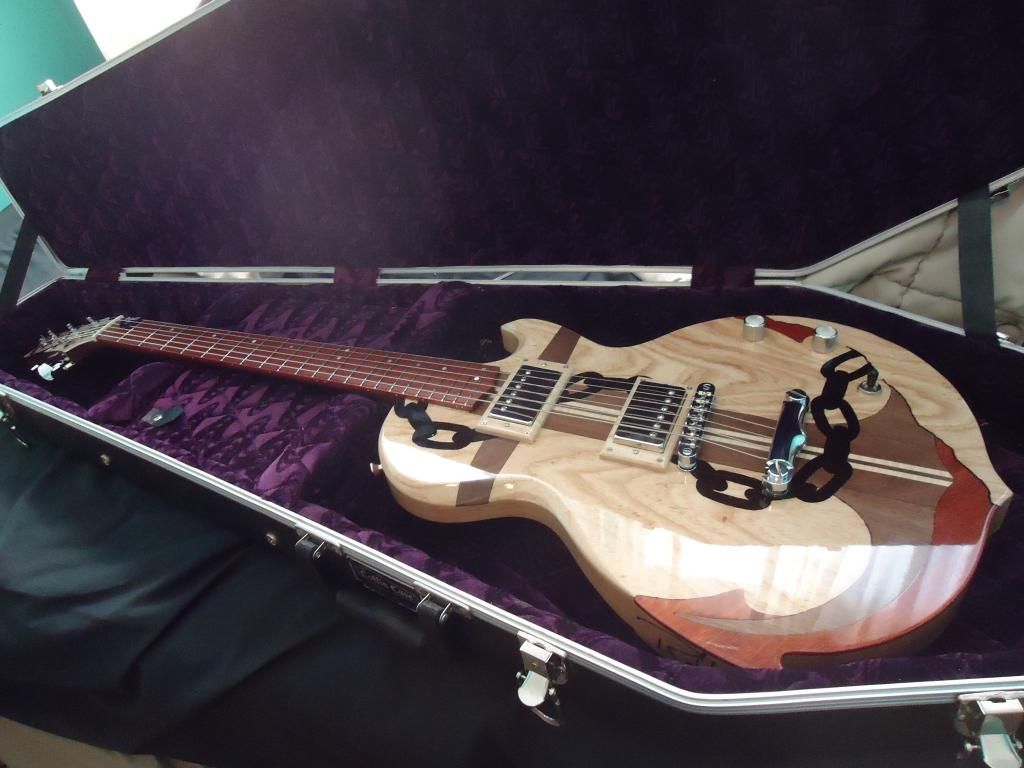 It plays and sounds fantastic even before I gave it a proper set up! I'm very happy with it and almost sad to give it away haha.
Ill post the other pics I have that led up to the finished product tomorrow and a friend of mine will be taking profession pictures within the next few days. I will also try a get one of my friends who can actually play guitar well to do a demo for me so you guys can hear it for yourself.

Join date: Feb 2009
90

IQ
HOLY ****. This is nothing short of INCREDIBLE. Wow. Amazing build. Why do you have to give it away though?

And what's the scale length on this thing?