metal-matt's build, guess the shape!, anyone remmember me?
hey guys, been a while since i've been on these forums, i see a few i remmember from when i was last here..
but anyway i'm back and i'm starting a build!
i'm just building the body though, neck will be a eden neck (have to cut the headstock but its basicly prebuilt)
however, specs shall be as follows if all goes to plan!
eden neck, maple + maple, black shark fin inlays, reverse headstock, hopefully it will be decent quality, eden seems to get rather good and sometimes kinda bad reviews.., but it was a good price, and currantly the only thing bought for it, waiting on it getting here!
probably guitarheads zebra megametal humbuckers (i'm a sucker for bladed pickups

)
and a bass pickup (p bass 5 string pickups have one half with 6 pole pieces, near enough to guitar pole distancing from what i understand, if anyone has one to measure and double check that'd be awesome)
in a HSH setup, ofc
wireing will be 7 or so switches, each coil (5 coils all up) toggle on/off, and another set of 2 for series/parrallel wireing per HB i think
then 3 vol for each indervidual pickup, im gonna bet the humbuckers will output a ton more volume so using the bass pickup might mean i have to roll them back, either way more options the better eh?

probably mahogany body, however this is where i'd like some input/help from anyone in perth, western australia.
basicly i'm looking at blanks from the other side of aus, mahogany for $85 all up (postage included), however i'm wondering if theres anyone local who could do something simular (make a body blank for me, size is standard im pretty sure) for a simular price, if theres anyone nearby it'd be great

jack probably flush mouted on the top, finish might be a dark purple kinda colour
bridge i'm looking at is a 'ibanez lic floyd' may or may not be a real ibanez though.. and non reccessed, wont be floating (dont really like floating and the quirks it provides, but dives + fine tuning will be nice)
though bass pickup you say, you're crazy i hear them say..

nah, i just plan to use .17-.74 strings for E tuning, but urr, whole octave down. (doing this on my ltd m-10, and its awesome for 'dat low down doomy drone sludge etc )
anywho i think thats about the spec i'm planning for now, shall we play a game of guess the body shape?
mockup time!

and yes i'll be using my own templates for this build.. seems the apropriate thing to do?

though, how about i show you my other builds/mods before this build thread gets going (due to money/getting stuff/postage, will probably be some weeks/months

)
so here is my very own creation (from kit mindyou).. i present the SPACEBASS(tm)

it started out as a kit, but was left untouched for many months (bout 2+ years) and at some point i suddenly got the urge to finish it, but do something
differant
and so, i pulled out the frets and painted it with a spacy theme also has a killswitch that can be used like its normaly ON or normaly OFF (the two switches do this), went pretty well, and my freind was so impressed he wanted a space bass too! so i've got a 2nd space bass that was just finished yesterday here!, fretless too, but added active EQ switch, and no volume knobs (3 switches + eq switch, looks pretty cool)
pics later of that i think
anywho i'd like to see what you guys think of my madness and if anyone here has made anything from my templates i'd love to see! (still getting like <10 downloads a day even though the thread is closed and all )
Join date: Dec 2009
190

IQ
Those switches won't get in the way?
well, potentialy but i dont really think so, they'll only be the small toggle switches so not very tall, about the hight that the pickups are
if later on seems they'll be an issue i'll probably move them though (preferably before i drill the holes needed :P )
Join date: Dec 2007
150

IQ
Do you call it the spacebass because of the gap between the neck and the neck pocket?

Do you call it the spacebass because of the gap between the neck and the neck pocket?
haha nah that's actualy just wood on the neck i forgot to paint, the neckpocket was actualy pretty tight (for a kit, and thats what she said i guess?

)
though just uploaded a picture of the 2nd one, turned out a little nicer than the first imo and its owner (doing this for a freind) shall hopefully be impressed!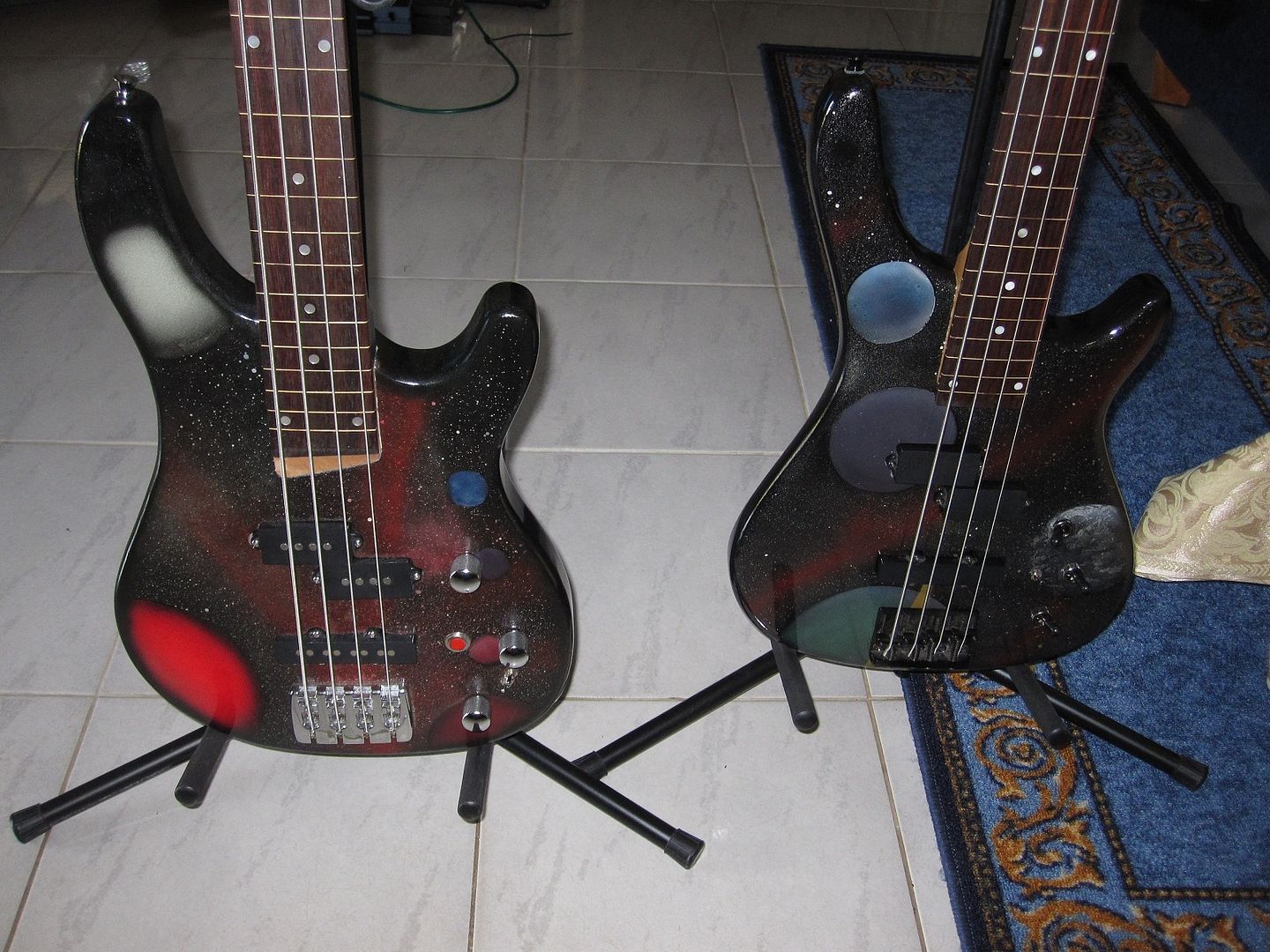 Join date: Jan 2009
260

IQ
I'm way too tired to read your post but I remember you.

Join date: Apr 2008
130

IQ
What are all the switches on that top template?
well, there's a switch for everything!
i've sorta rearanged the plan and added 2 more switches since then (maybe even a killswitch? :P)
but yeah, swiitch for everything, something like so;
southbridgecoil on/off --- northbridgecoil on/off --- middlebasscoil on/off --- southneckpcoil on/off --- northneckcoil on/off
bridge phase switch toggle --- bridge series/parallel toggle ------ neck phase switch toggle --- neck series/parallel toggle
then 3 volume knobs (bridge - middle - neck) for mixing (im going to bet the bass pickup wont have quite as much punch as the 'megametal' pickups, and so rolling off the others migth be handy, but i guess we'll see)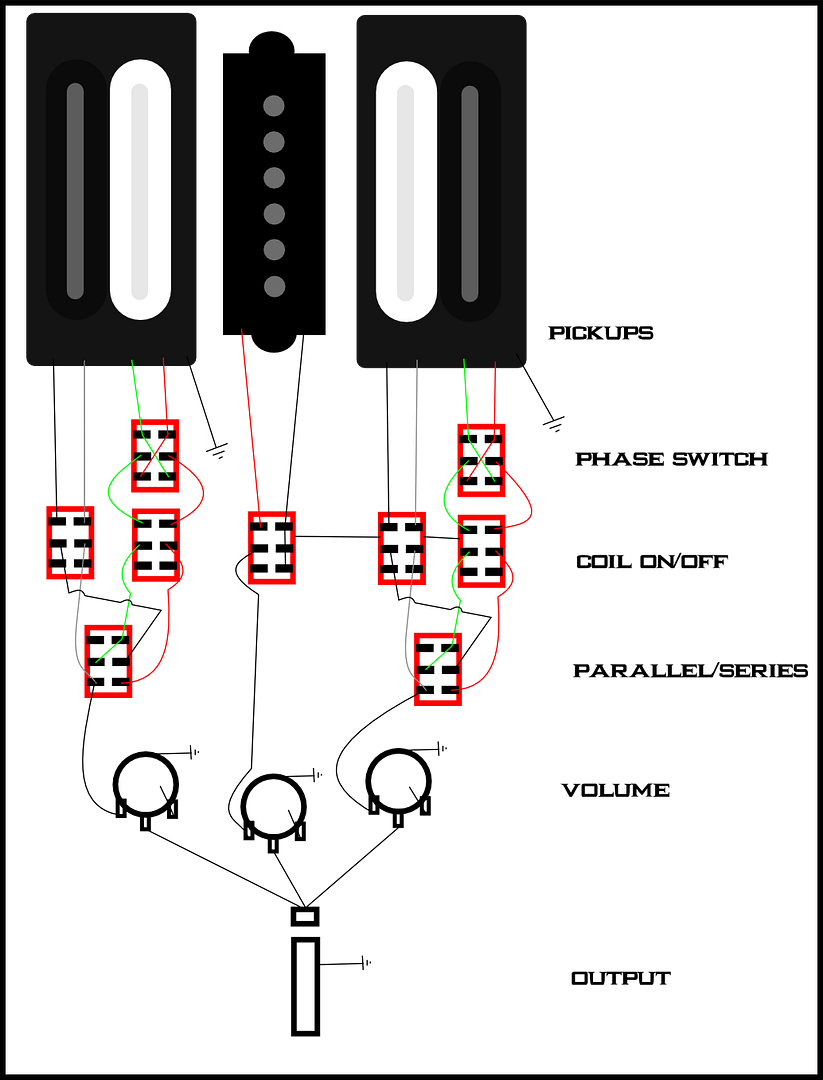 thats what im thinking will work, if anyone wants to double check it will work, feel free

edit, i noticed noone has guessed the body shape, guess i could have shown a little more, but yes its not a standard shape, though from that angle it does look almost SS/RG like, but nope!
Last edited by metal-matt at Aug 23, 2012,

Join date: May 2011
50

IQ
I signed up years after you, so know clue who you are but something like
this
for a shape? just going off the name.


Join date: Jun 2012
30

IQ
No idea on that guitar body shape.
However: you definately need a master series/parallel that puts whichever coils you turn on in series (not sure if this is even possible). b/c you know that someday you'll regret not being able to get 5 pups in series at once.
@metalhead, brand was right! shape not quite..
ahwell this could go on for days, it will be an ignitor! one of the few BCR shapes that isnt in production/hasnt been for quite some time, atleast other than the custom shop, only other guitar i can think of is maybe the wave, the horns are simularish to the ignitor, too
slightly differant idea for the switches here,
@loki, yeah that might be an idea, might have a look thru what switches are avalible to do such a thing, could be interesting :P
sooo, guess what came in the mail a few days ago?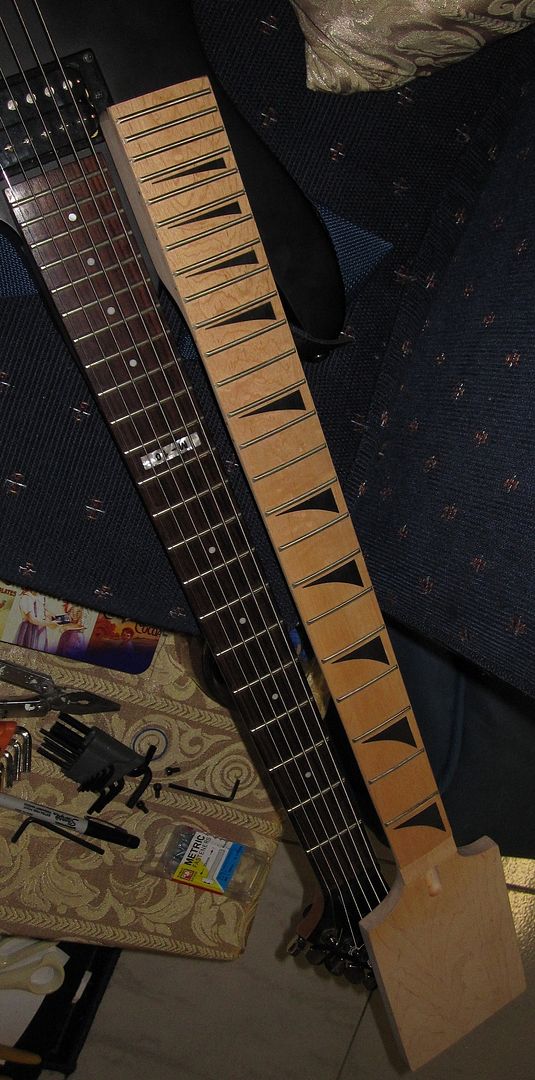 not too shabby, looks like it shall work well with a little bit of work!
(eden neck, posted to me in less than a week (HK to AUS) so i'm pretty happy with that
did some work to it today, too (and visited a place where hopefully i'll have some work to earn some money to buy more stuff for this

.. and hopefully something quite special)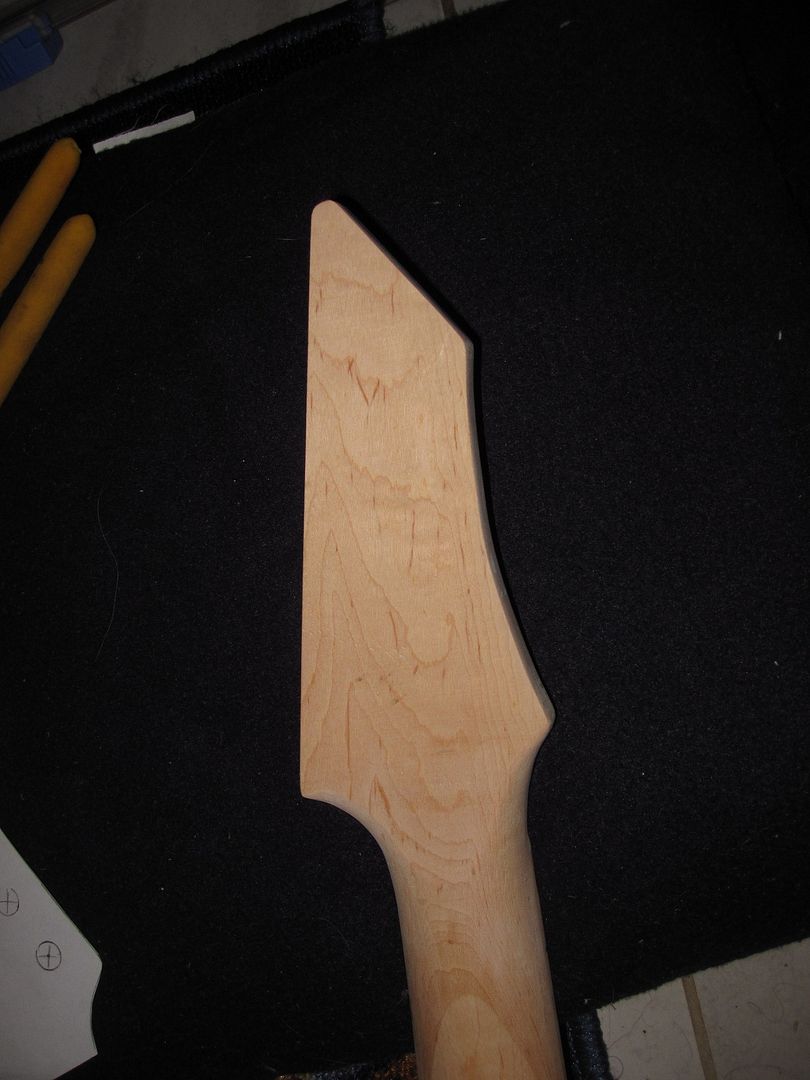 headstock is a reverse, somewhat my design (shamelessly based off the BC Rich pointed headstocks, well one of them, there seems to be like 4 diff) but its a little less agressive in angle and a few other things, then a freind of mine said, why not add some shape too it?
so then this happened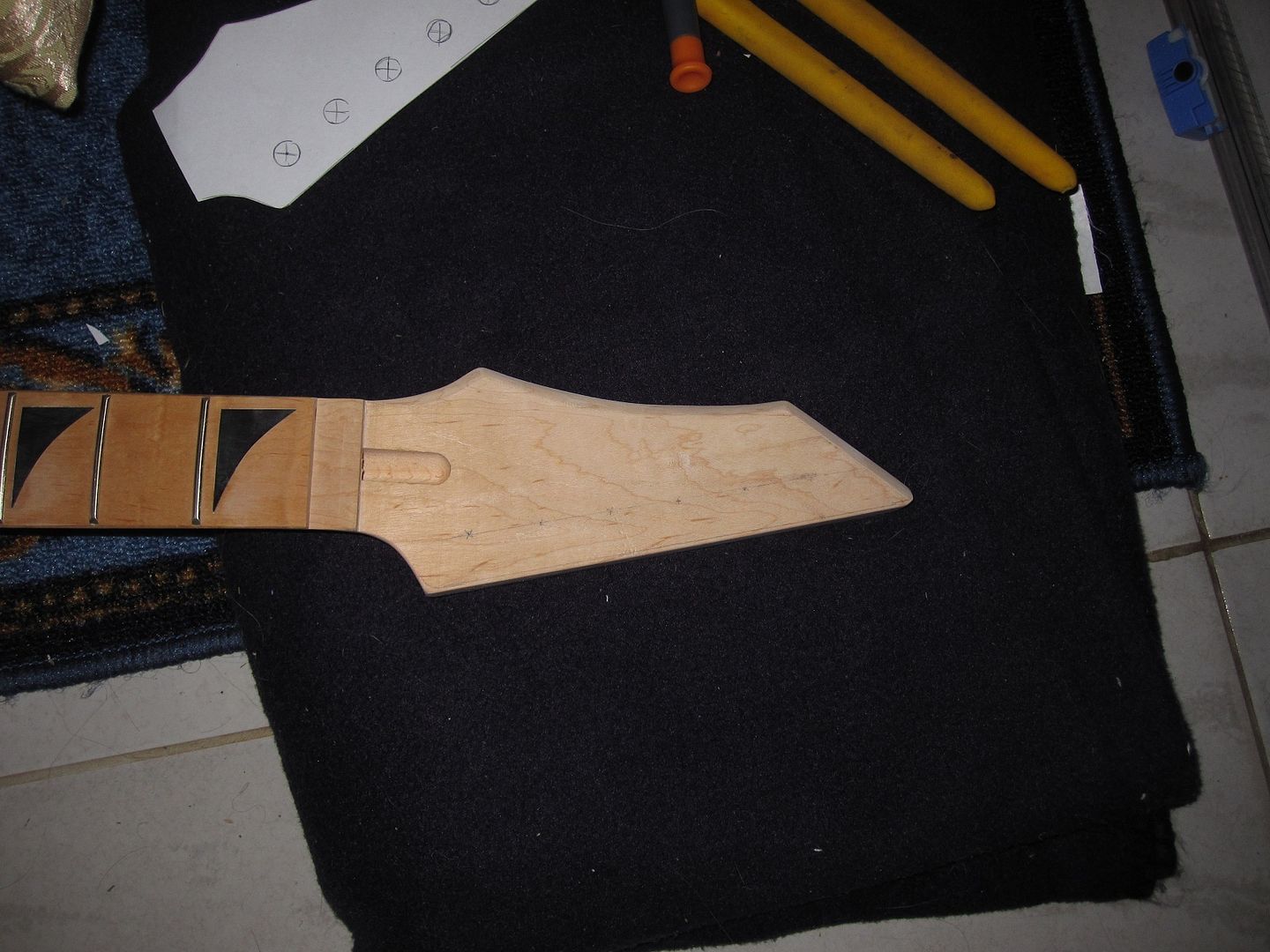 well, the body is (going to be) beveled so why not the head, too?
looks fairly good imo, rough WIP atm but you get the idea!

Last edited by metal-matt at Aug 29, 2012,

Join date: Apr 2006
10

IQ
Why don't the frets reach all the way to the edge of the fretboard?

Join date: Jan 2009
260

IQ
Is that neck from Eden parts on eBay?

Join date: May 2011
50

IQ
The headstock feels more like an ibanez to me, then again bc rich immediately make me think of the widow headstock. I like this one a lot better.
@absent, yeah i did notice this, shouldent be a huuge issue (though i guess them being a bit long and filing them down might have been nicer)
@timbit, well yes it should be, though the logo isnt there as i've seen other eden necks have (googling and seeing threads a few years ago so it might be a differant eden)
from what i heard they can be good or bad, but if you've got some common sense and neck finishing (trussrod/fret) skills then you should be ok
@metalhead, yeah bcr seem to be doing more of the 3+3 headstocks nowadays but they did do some pointed headstocks like this, (actualy about 3 + differant ones i think looking at pictures)
it's pretty close to this one
though i've added the bevel part to see what it'd look like, looks pretty good, either way would work though


Join date: Apr 2006
10

IQ
@absent, yeah i did notice this, shouldent be a huuge issue (though i guess them being a bit long and filing them down might have been nicer)
Just check to make sure the string spacing on the tremolo nut doesn't cause the strings to fall off the edge of the frets.
so, mail time again!
and an update to the neck, been oiled and stuff, looks/feels pretty good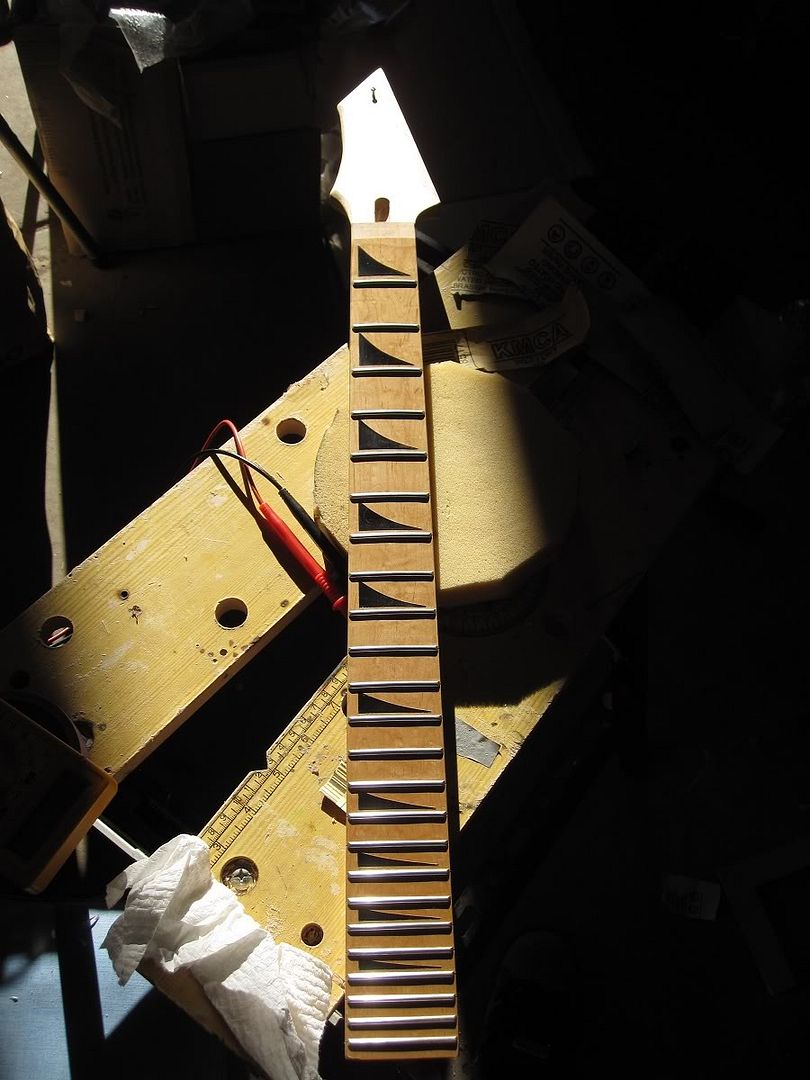 moar mail;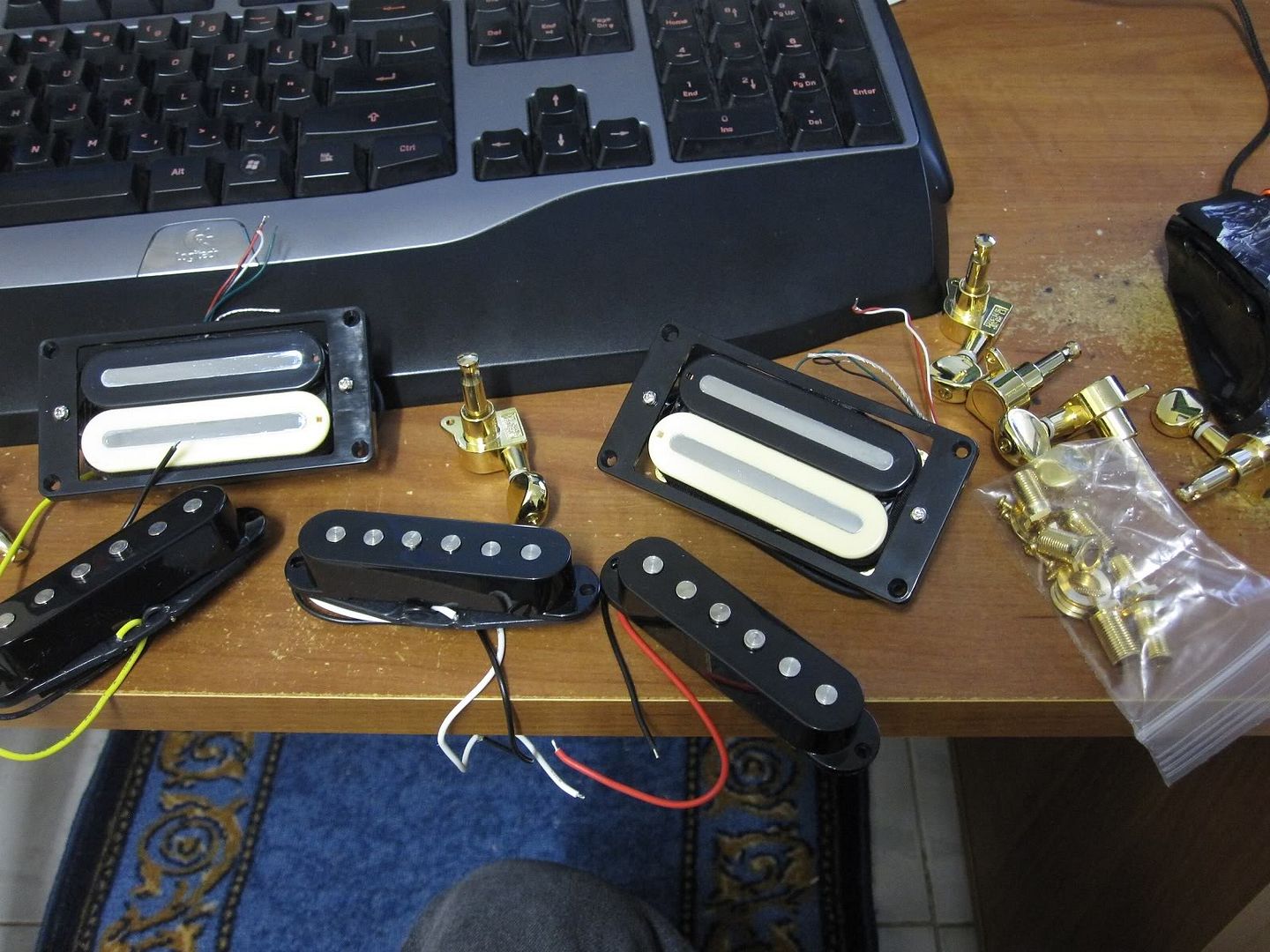 from GFS, pair of power rails, zebra, set of overwound single coils fyi not gfs but they're selling them in the clearance section i think (going to use the hottest(bridge) in the middle, the rest are spares for w/e)
installed, pretty slick i think

hopefully in the next couple weeks ill get it finished!

Join date: Mar 2009
30

IQ
I like the body shape you've got there. When are you going to start it? XD