That Early Sabbath Sound
Hi guys and gals :-)

Compiling a thread on your personal taste in regards to guitar amps,settings, pedals, pickups and technique for that holy grail of early sabbath sounds.... think Fairies wear boots, war pigs, iron man, children of the grave, sabbath bloody sabbath, black sabbath.
Ill start with what I know,

the story goes that when Iommi was 17 he cut off the tips of his ring and cursing finger ( what else would you call it? ) on his right (fret) hand
This lead to him having to change his playing style.
Whilst his fingers where healing he made some leather thimble type things to cover the scars.
I know on the later albums with R.J.Dio he was down tuning, but i believe in the early days he would use the lowest gauge strings he could find as it would be easer for him to bend and play in E tuning. also playing most parts on the low E string and high up the frets.
this is i guess where a lot of the drone type sound comes from.
thats about all i know, and thats probably from 'pub talk' so most of it could be bull crap.

Join date: Apr 2009
130

IQ
i hear he used the bass input of his laney amp and a rangemaster
The main thing is P90's into a large old Laney valve amp cranked up to demolition levels for some serious power amp distortion. With your GH100TI, turn the volume up full and use the gain knob as your volume control - then turn it up until it hurts.
Last edited by Cathbard at Sep 28, 2012,

Join date: May 2008
2,050

IQ
There's a big lack of mid in his tone, with a bit of treble but mostly full bass. The bass input thing is supposedly true as well.
turn it up until it hurts.

I thought there wasn't masses of gain involved though my GH100TI is a gain monster

I need to get some p90's, im just unsure about retro fitting them in my Sg.
Ill be honest, when i got the TI i wasnt a massive sabbath / iommi fan. It was just at the right price and different. now though, I am a huge sabbath fan. its crept up on me.
I was brought up on rainbow LP's to mute out my screaming as a child, hence my Dio obsession as a teenager :-) which led me to Sabbath properly. of course every young metal head learning guitar knows paranoid... but thats not 'proper' sabbath hahaha.
I found rolling the tone down on the guitar, and the bass up on the amp gets me somewhere near, but like i say not masses of gain. but thats what i think, though @ Cathbard the guitar tech.... you have the experience !
He used a rangemaster.
Most of the bass was from Geezer.
Often Tony would also play clean and dirty and mix, generally with dirty just a bit more prominent on one channel and the clean a bit more prominent on the other channel.
His clean signal was quite a bit on the treble side.
The dirty side was where most of his bass sound came from.
Iommi was downtuning to C# long before the Dio years - Master Of Reality, Vol. 4, Sabbath Bloody Sabbath all feature examples.

The sound is largely in the fingers, not just the equipment. When he plays a lead line to emphasise certain notes his pick attack is often halfway towards a pinch harmonic.

Tony has a distinctive vibrato (which I copied unconsciously. It's mine now!)

He used trills a lot in the early days.

Light-gauge strings, bridge pickup. I don't think he used too much distortion. Try playing the arpeggio sections from War Pigs or Snowblind. If it's too mushy-sounding then the distortion is too high.

Join date: Mar 2009
40

IQ
he used a Treble Booster pedal too if im not mistaken
The thing about your amp is that it has more gain stages than the old Laney that Iommi was using. That's why you need to crank the master volume and then add in the preamp gain gradually until it all starts to scream. Otherwise the ratio of preamp distortion vs power amp distortion is all wrong. He had both sections pumping hard, to do that - volume up, gain down.
It will never be quite right but it will be your best bet to get close. For newer Sabbath you've got the exact right machine. Awesome amp btw, I love the TI's.
You can get humbucker sized P90's that will fit your guitar. Take a look at what GFS have to offer.
You should be able to copy Iommi pretty well using a fuzz pedal as well, will give you that really thick tone on the first Sabbath album.
You should be able to copy Iommi pretty well using a fuzz pedal as well, will give you that really thick tone on the first Sabbath album.
He's got a GH100TI so thickness is not likely to be a problem.
@Cathbard what humbucker sized p90's on guitarfetish.com would you recommend? oh its thick alright..... if the 6260 bugera where water , the GH100TI would be syrup :-)
Last edited by tmjns796 at Sep 28, 2012,
Last edited by Cathbard at Sep 28, 2012,
Not the Mean 90's? better off with the more vintage output?
With your amp, yeah. The last thing you need is high output. You'll probably have to cut back on the guitar volume even with the normal output ones.
For the early stuff, neck pickup for rhythm, bridge pickup for solos. Boost the mids.
Got a good sound today for 'war pigs'
Using the neck pickup (HZ) on my M600 coil tapped, Turned the tone down on the guitar to about half way and boosted treble with a old pedal i had up in the loft that's about 20 years old :-D
the part in the intro with the hammer ons and the pre-solo 11/12/11/7/5/7 bit just sounds awesome! it always used to sound less prominent, somehow it shines through a lot more now :-)
Im really enjoying trying to emulate different sounds and tones, what a feeling when that stack is roaring away jut how you want it :-) Fukcing great!


Ordering the dream 90's in the nickle covers for the Epi sg cant wait to hear it!
Last edited by tmjns796 at Sep 29, 2012,
They're so cheap that it's a hard one to turn down, huh? Worth it just to see what it does.
I've never been a fan of HZ's. The Dream 90's are going to make quite a difference to your sound.
These are the first gen of the HZ's,I think the later model are the ones that look like the active emg's and have alnico magnets. My type are the open pole type and came stock in the guitar.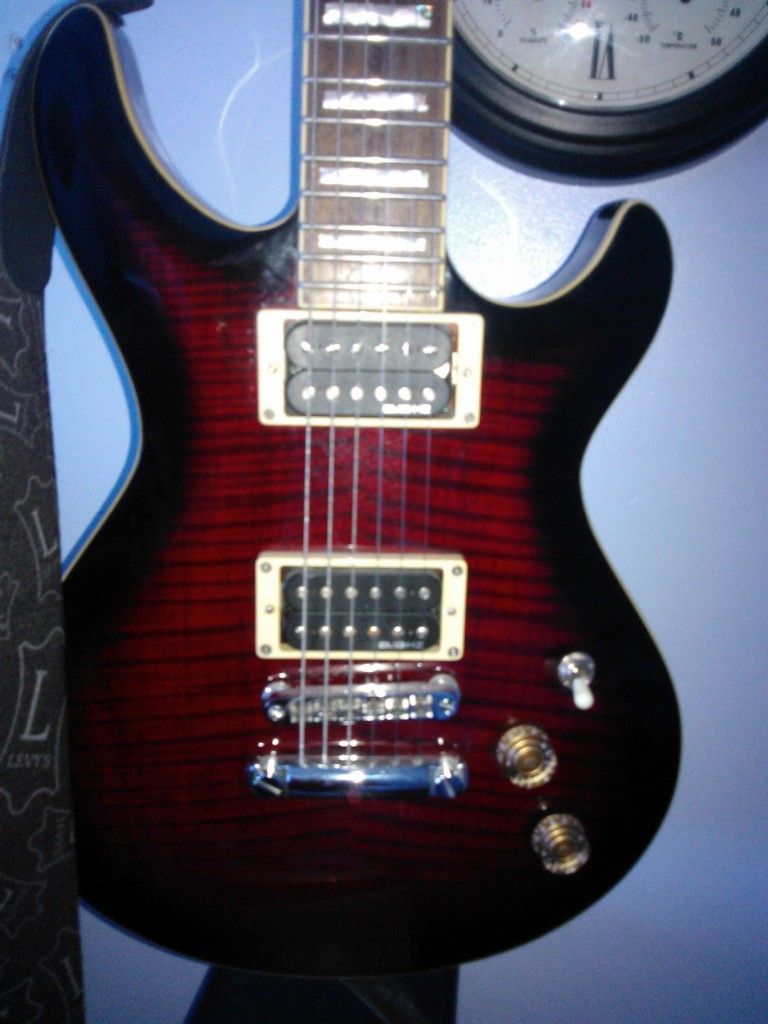 Honestly, I love them for classic rock and some heavier stuff. I have a Les paul with 81/85's but its definitely more of a one trick pony than the cort, Could play three blind mice and it would sound like some 80's era metal stage act ;-)
Even with the postage, those p90's are quite cheap to the UK.
I had a few bits off them years ago, when i did up an old tele. very helpful customer service.
Last edited by tmjns796 at Sep 29, 2012,
I've contemplated putting some of those Dream 90's in my Iceman actually. I may one day, they're a pretty sweet pickup and for $30 they're hard to resist.

Join date: Dec 2011
30

IQ
Nice, I have the same Cort with the Hz pickups. My problem with them is the louder my amp is the more treble there is. This doesn't seem to happen with my other Cort.
I've actually been trying to get a "Into the Void" tone with the M600, getting pretty close. The problem is I have 11"s on the M600 and tuned down, when it's tuned down it sounds very thin and hollow. Not sure why.
Anyway I can get earlier Sabbath tones with my Cort G260 into my amp loud. My dad builds pedals and built a RangeMaster for me. The RangeMaster doesn't really help for Sabbath tones but does really well on Rory Gallagher tones

I havnt down tuned the m600, only to Eb a few times. and I am playing with slinky skinny top heavy bottoms... so not ideal for sabbath either.
I havnt got a problem with too much treble either, as you state. I havnt noticed it anyway.
One day soon I shall upload a clip of the SG with dream 90's and 8's on through the 100TI ....................... one day soon :-)

Last edited by tmjns796 at Sep 29, 2012,