MXR Blue Box mod

Join date: Oct 2008
1,372

IQ
<blue box build : mods thread!>
So I want to mod the MXR blue box to :
1. have an octave on/off toggle switch. ie. use it as a regular fuzz and be able to switch the octave in/out.
the "Blend" control already allows that. All the way counterclockwise its just fuzz, no octave. If you want to add a switch to do it, make the switch disconnect pin 1 of the blend potentiometer.
2. not have a volume drop
option 1. Clip the c11 capacitor (the one connected in parallel with the blend pot). This is c9 on the tonepad layout. Warning : This changes the tone of the blue box quite a bit, so try it before you permanently clip it!
option 2. Add a booster circuit after the blue box to increase it's output. (SHO, LPB etc are fairly small and simple circuits)
3. be able to have either one octave down or two octaves down
Connect a switch between pins 1 and 13 of the flip flip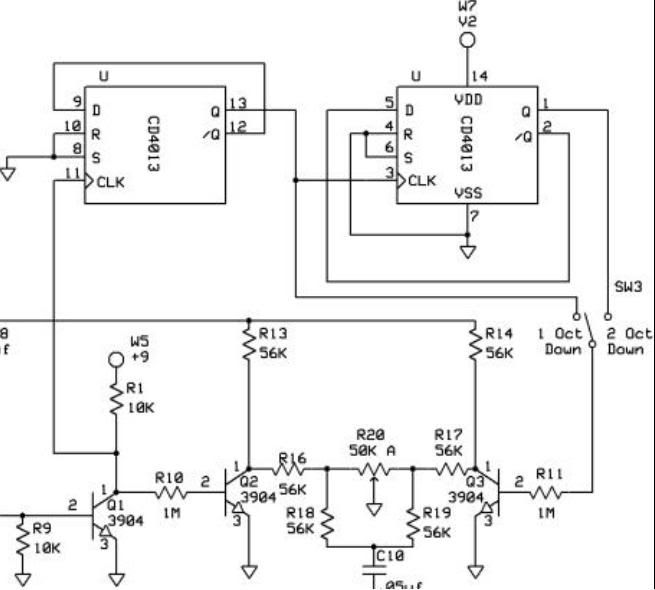 4. have a "fuzz" control
----
Other reported mods :
100K Linear pot in place of the 50K blend makes it sound "deeper and doomier"
Vero layout :
http://www.sabrotone.com/wp-content/uploads/2011/09/BlueBox.gif
Schematic :
http://www.tonepad.com/getFile.asp?id=73
Can you guys think up any more mods we can add to this?
Also, if you have any solutions to the unanswered mod questions or any mistakes/improvements to make for the ones I've put up, please post them here and I'll add them to the OP.
Last edited by unet at Oct 28, 2012,