Ngd!!!
its been a while since i have had a new guitar day. so here it goes. went to my local shop today to see what was hanging around and i saw this bad boy.
its an ltd eclipse 256p!
here is another pic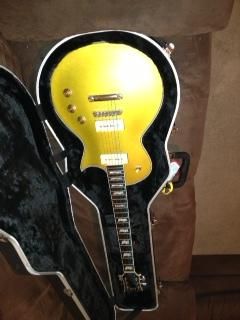 here is the fitted gator case i got for it for 80 bucks!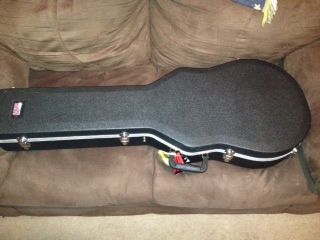 review:
guitar: overall this is a fantastic instrument. this guitar is quite the looker as well as the all around workhorse guitar. i picked this up used but did perform an a/b test with a brand new one. i must say the used one was much better. something was lacking in the new one. im not sure what it was. anyway. 22 extra jumbo frets with abalone flag fret markers 3 ply binding gold sparkle finish esp tuners esp soap bar pickups TOM bridge and 2 master vol and 1 master tone.
sound: i played this through a blackstar ht 40 and a vox night train and i must say the soap bar pickups do deliver. the guitar is solid mahogany with a mahogany neck and i think a rosewood fret-board. the soap-bars are a great fresh breath of air in my normal humbucker filled life. they deliver full yet crisp tones on clean and raw but clear tones with some grit on them. they are obviously not meant for drop tuned metal but in standard tuning drop d they deliver a nice punch. my main rig is a carvin legacy and i can say that it delivers. this is a winning combo here.
finish: not many flaws in this guitar. some parts of the binding could have used some more attention to detail but overall its not much to complain about. the gold sparkle really shines under the light and looks a million bucks. overall the finish is quite nice.
overall: im pretty impressed with this line of guitars. it blows my other ltd eclipse out of the water and i paid 700 for that one and it came with Seymour Duncan pups. i paid 176 for this one that was used and the new one was 320 usd. ltd has really knocked it out of the park on this "cheaper" model eclipse.
more expensive isn't always better. congrats!


Join date: Dec 2011
130

IQ
Diggin' the P90's man! HNGD!
Lots of NGD theads today.

Looks pretty cool. P90s are sweet.
Nice!

the p90's through the legacy = teh secks!!!!

did i mention that it has bright blue strings on it? i love dr colored strings