New amp design/build
Hi everyone,
I don't know if anyone remembers me, I used to be pretty active here about 3 years ago. Life took a turn, I haven't touched guitars in about 3 years now. Life has taken another turn, and the opportunity to get back into guitars and amp design has arisen. I've spent the last few months blowing the cobwebs out of my brain...and on that note, here we go.
The design is probably a bit overly complex, but that's OK, it has some ideas I've always wanted to try. It has 4 tubes - 12AU7, 6SJ7 (pentode), 12DW7 (one 12AX7 triode, one 12AU7 triode in a single envelope), and the output tube (current options: 6K6, 6V6, 6L6, KT77, and a few others).
So...5 preamp tube sections, and the design only has 2 gain stages. The goal is to make a very bluesy amp. The input section is an ultra-linear cascode. The idea is massive gain to get the signal off the noise floor ASAP. It also lends itself to something of a novel "bright" control too, so we'll see how that goes. I've used the 6SJ7 before and it tended to be dark sounding, so a good bright control ahead of it seems to be a good idea.
Second section is a parallel 12AU7 section and the 6SJ7. A friend of mine tried a 12AU7 and 12AX7 in parallel and loved it. Same idea applies here, only a 6SJ7 instead of a 12AX7. The 12AU7 will be biased warm and 6SJ7 cooler - the goal to get a nice clean > warm > gritty transition.
The 6SJ7 has a control on it called "Preamp Mojo" - it changes how the 6SJ7 acts, and all I can say is it's awesome. Great for changing the character from a real stiff gritty sound, to a compressed lead sound, to a stiff warmer sound. Good stuff.
These drive a 12AX7 cathode follower that is bootstrapped to them - more gain, wider frequency response. Might be too much gain with the 6SJ7 there, we'll have to see. The cathode follower works to "round" out distortion and make it less harsh.
The CF drive a tone stack. Typical fender master volume, other than the fact that it has a slope pot so that i can change the frequency that the mid pot is affecting.
Poweramp is a "standard" single ended arrangement with a bias pot so I can run a variety of a power tubes. Only "trick" here is an LR8 high voltage regulator on the power tube screen with a pot to change the voltage. I did this before, and it acts something like a "headroom control" - I'm calling it "Poweramp mojo" control because, well, why not?
Trying to upload the schematic and layout picture, something is not working and I'm getting tired, so I'll get to that tomorrow.


Join date: May 2006
120

IQ
Welcome back. This sounds like a very interesting build. Looking forward to it.
Finally got photobucket to work. Fix: Install Chrome.
EDIT: Link fixed
Last edited by DLrocket89 at Nov 15, 2012,
And a virtual layout, as designed with the freeware DIYLC (DIY Layout Creator).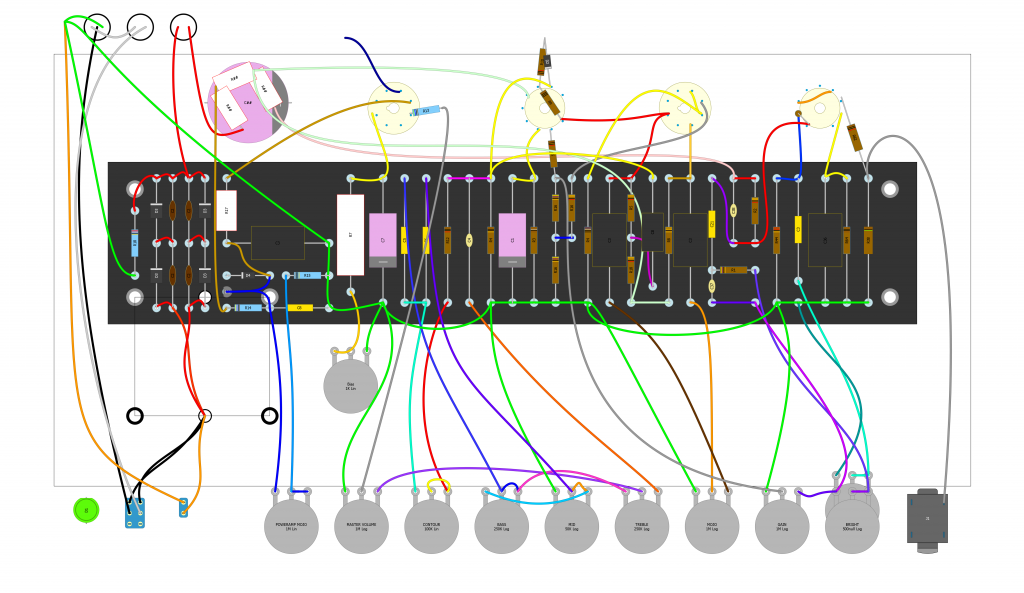 Not included: output transformer, heater wiring, labels. The extra space on the board is for a mixer that I may or may not put in some day - the idea would be a reverb pedal that is dedicated to this amp that mixes in at the power amp so the reverb stays clean. Should be pretty awesome if I get around to it.

Parts arrived today. Out of town for the weekend and then traveling for work next week, Atlanta monday through thursday, so no work will occur then. Excited to get this thing going though.
Just caught a major f*%& up on the layout - the bleed resistor to bleed the power supply caps (farthest left on the board) is set up in front of the fuse, so that if the fuse pops with the power supply capacitors charged the caps won't discharge. Fixed.
The build hath begun.
Marked out turretboard:

Turreted turret board: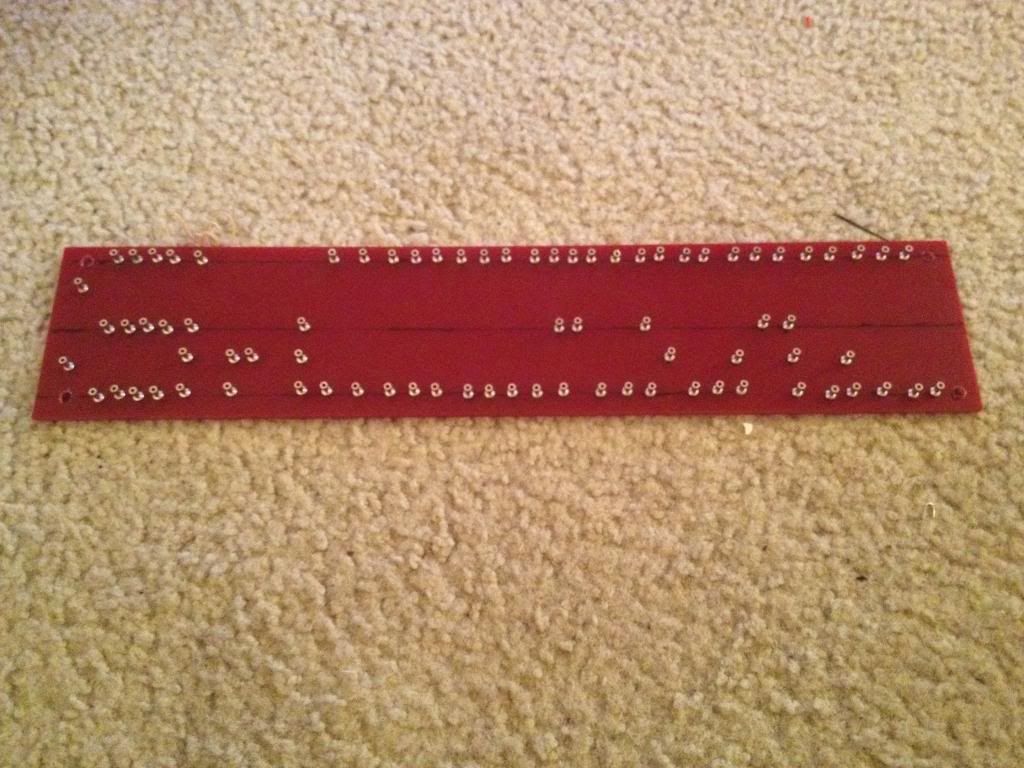 Tomorrow morning I fly out for Atlanta for work, so I won't be touching this for a week. And when I get back, my new guitar will have arrived, so I'll probably end up jamming out for awhile. Haven't played in 2+ years now..

Back from the trip, got my guitar. Played it till I can't move my left hand anymore, now firing up the soldering iron to get going on this build. One issue I've found, the resistors that I bought have too short of leads, so I'm going to have to add wire to each one to span the gap I have for it.


BTW - Douglas Spad from Rondo Music, definitely recommended. Nicest $169 beginner's guitar I've seen. Well balanced, nice neck, and coil tapping. Looks awesome. Good stuff.

Join date: Mar 2007
200

IQ
Nice man! I'm glad to see you're getting back into it!

What guitar did ya pickup?

Amp build looks like its going well also!
picked up the Tribal Purple Douglas Spad:
Douglas Spad
Amp board is coming along as well:
Gotta find my "mojo" for the poweramp, ie a Supertex LR8. I thought I had some, but can't find it right now.
That'll have to wait till next payday. In the mean time, I get the joy that is drilling the chassis.

EDIT: and as an aside, I've missed the smell of solder rosin...

Last edited by DLrocket89 at Nov 15, 2012,
I bolted the board in for a "feel good" moment - then started marking out where the controls will go. Went to drill the first one and it was too loud for the neighbors, so I quit. Going to drill all of the holes in the chassis tomorrow, then wiring can commence in seriousness. My main issue right now is how to drill the large holes for the 8 pin tube sockets and the can cap. I have a stepped drill bit for the 9 pin (which, curiously, are smaller than 8 pins). I think I may end up using a spade drill bit that I have (used for boring large holes in wood) and just live with the fact that it'll be dead after three holes.
In any case, progress:
Hey, cool, the biggest they used to go to was 1 1/8". The 1 3/8" is perfect for can caps.
For the purposes of this amp, I've procured a hole saw set, but those step drills are perfectly sized for amp making.

That's a very interesting preamp. Seems like you threw about every trick at it aside from LED biasing or adjustable resistors on the bypass caps.

It's a few different ideas tried together. LED biasing is fun, but the tonal variety you get from LED to LED (not just red to green, but between different red LEDs) is pretty startling and hard to predict. Also, it's the equivalent of a massively large cathode resistor bypass cap, so it lets all the low frequency through, so there's no way to adjust the frequency response of the stage. Because of all of that together, I (usually) keep away from LED biasing.

Just out of curiosity - why did you go with classic style tonestack with all these other non-traditional things floating around?
Because I need something "normal" to base my ears on. I have a crazy looking poweramp drawn up that I wanted to include, but since most of my work thusfar has been with single ended amps, I decided to go single ended here so I had something to base my auditory experience on. Same reason with the tone stack - I know how a FMV tonestack is supposed to sound, so if something sounds out of whack it's the preamp's fault, not the tonestack.

Chassis converted to swiss cheese as required.
Stuff bolted on, soldering iron warming up presently.
Progress
Goal is to have it making noise by the end of the week. Hopefully good noise.
The goal for this is a blues amp, which isn't really my style. So, once this is done, I'm making a heavy metal amp that is less than half a watt but a true push-pull poweramp with signal pentodes. The problem with that is that normally small signal pentodes drive way too easily, but I've figured out a way around that. I think.

Almost done:
Just have to put some stuff in for the cathode follower. Been awhile since I've done this, so I'm not going to fire it up until I have a friend here so if I get shocked and die I have someone here to notify the family.

Last edited by DLrocket89 at Nov 30, 2012,
So, a new amp took its first breaths tonight. Had a friend over, a guy who's a real "music connoisseur". Really into blues, which is what this amp was aimed at.
Several features didn't work with how I intended it. First of all, the "bright" control doesn't do shit. Doesn't really matter though, the amp sounds fine as it is. Secondly, there isn't enough gain to really drive the 2nd stage (12AU7 || 6SJ7) how I wanted to. One possibility is that I cut the gain going into the 6SJ7 too much with the voltage divider I put in, so I'm going to monkey with that some.
Here's the final build:
My friend was here and was really jamming on it. Said, "man, I wish the gain went to about 12". So, I cobbled together this, an LND150 booster:
I plugged/cobbled it in. My friend plugged his Strat in and played for about 10 seconds. He stopped, said something like "Duuuuuuuuude.......wow". He then started jamming on it and wouldn't stop for about 20 minutes. Was pretty awesome. I love the tone, great blues tone.
Also, it's touch sensitive like all hell. That ultralinear cascode input is the shit.
Got some tweaks as always, but damn. Really like this amp. And wow it feels good to finally be "back in it".