want me some TUNA! Tuners...
Another thread in my on-going quest to make my guitar better, this time the tuners!
I'm getting my Hutchins Regal (bastard lovechild of a Gretsch and a Gibson ES-335) rewired, re-tremolo'd (bigsby B7), re-nutted (Graphtech Tusq XL), and thought it'd be worth going for new tuners as well!
It looks to have some imitation/no-name Grovers on there at the moment, more-or-less identical to the stock Grovers on my Epiphone. A few photos here (blurry webcam, sorry, couldn't be bothered to find my camera! Hopefully clear enough):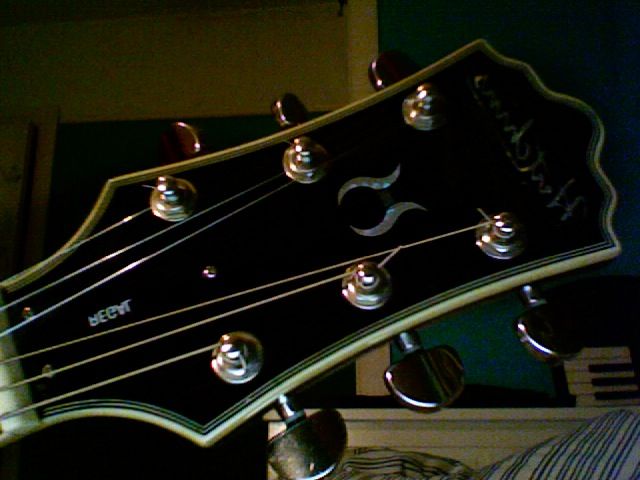 Should i go for locking? As tuning stability has always been an issue, and i do want to get the most out of my Bigsby.
My Jazzmaster has always been great at staying in tune, without need for locking tuners (although the vintage fender-style tuners are hell for restringing).
I don't want to spend a great deal, as most of the money is going in to the Bigsby and the rewiring, but i'm sure any tuners will be an improvement.
Around the £50 mark, but willing to go a bit higher if it's really worth it.
I love the look of the more vintage gibson style, trapezoid tuner pegs, but that's merely an aesthetic standpoint, although the kluson style tuners on my mate's 'Les Paul Studio 60's' were great, look the part, and the turning ratio was really nice and responsive.
Something like this perhaps?
http://www.thomann.de/gb/schaller_st6k_top_mount_tuner_nickel.htm
or this:
http://www.thomann.de/gb/gotoh_sd90mg_nickel.htm
But i'm not sure of the sizing or quality of either.
If i have to go for Grover style to fit the holes already in my headstock, then perhaps these are a good way to go?
http://www.thomann.de/gb/grover_rotogrip_502c_chrom.htm
I'm in the UK, so UK or EU based sites are best.
Cheers for any advice
Hey guys, i hate to bump, but i really want some advice on what tuners to go for, as i'm uncertain of whether a particular size is needed.
Rights now the Schaller (
http://www.thomann.de/gb/schaller_st6k_top_mount_tuner_nickel.htm
) is looking a good bet for me, but i'm worried if the pots will be too small as i have a chinese made guitar.
Will this be an issue? They secure on both sides of the headstock.
Thanks for any help, if you guys think i'd get better advice in GG&A or EG, let me know and i'll close/repost this thread