Unique guitar in sound and looks?

Join date: Jan 2013
223

IQ
Epiphone Nighthawk Custom Reissue!
It looks like a Les Paul on a diet. The guitar is thin and lightweight (comparable to an SG), and has an awesome neck (1960's SlimTaper "D" profile), nice MOP inlays, and Grover tuners. Curiously, it has a 25 1/2" scale length like a Strat or Tele instead of the usual Gibson/Epiphone 24 3/4" scale length.
Its versatility....
The real magic of the Nighthawk is its versatility. There's a mini-humbucker in the neck, a single-coil in the middle, and a slanted humbucker in the bridge. Pickup selector is a Strat-style 5-way blade switch. Both of the humbuckers can be split into a single-coil by pulling up the tone knob.
All this gives you 9 distinct sounds, and each sound very different. You can get Les Paul-like, Stratocaster-like, and Telecaster-like sounds because of all the different ways to choose which pickup(s) to use. Of course these sounds are not perfect replicas of the aforementioned instruments, but you can get pretty damn close. And the Nighthawk has a unique sound of its own as well.
And upgradeability....
The stock pickups get the job done, but there are options available to replace all 3, even the slanted bridge humbucker. Seymour Duncan makes a drop-in 59 and JB slant humbucker, and if the 59 or JB aren't your cup of tea, they can make a drop-in version of any of their humbuckers in the custom shop for not that much more than the production 59's and JB's. People have also had success mounting Stratocaster-sized humbuckers ("F" spacing / Trembucker / etc.) to the slanted mounting plate. Since the string spacing on the Nighthawk is tighter than a Strat, the pickups line up correctly when slanted.
On to looks....
The Epiphone Nighthawk Custom Reissue looks absolutely gorgeous in my opinion. Some people don't like it and call it a "bastardized Les Paul with an identity crisis", but I absolutely love it. The mahogany body and a beautiful AAA flame maple veneer gives great sound and looks. There are 4 available finishes -- Trans Amber, Trans Black, Fireburst, and Honeyburst. My favorites are the Fireburst and the Trans Black. Both are absolutely stunning and it was a very difficult choice, but in the end I went with Fireburst.
And finally, value....
$400 is an amazing value for this guitar. There is no other guitar anywhere near this price that is so unique, so versatile, so beautiful, so playable, and so good-sounding.
Here's mine (Fireburst finish):
(Note: These photos were taken by Sweetwater before I purchased the guitar, so the plastic protective sheets are still on the pickups, truss rod cover, etc.)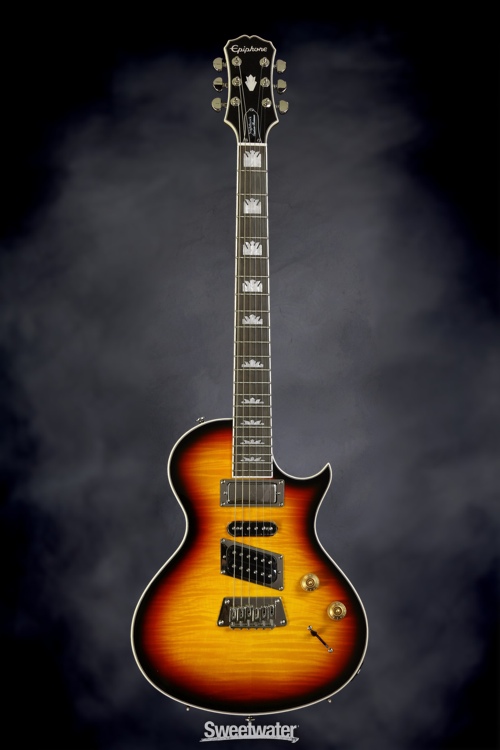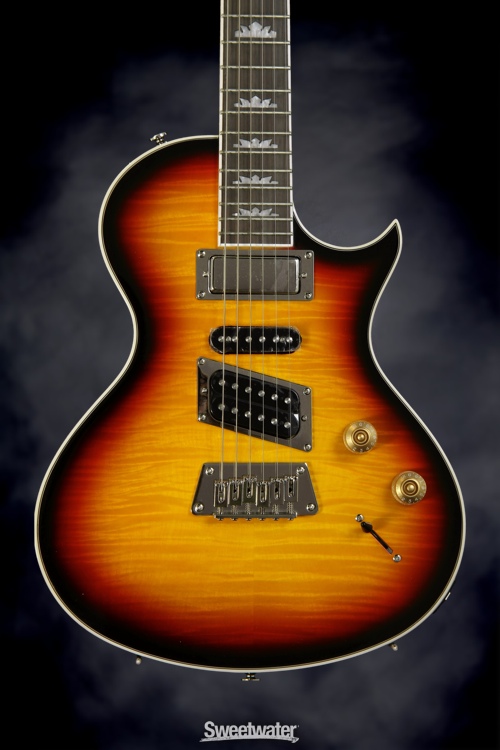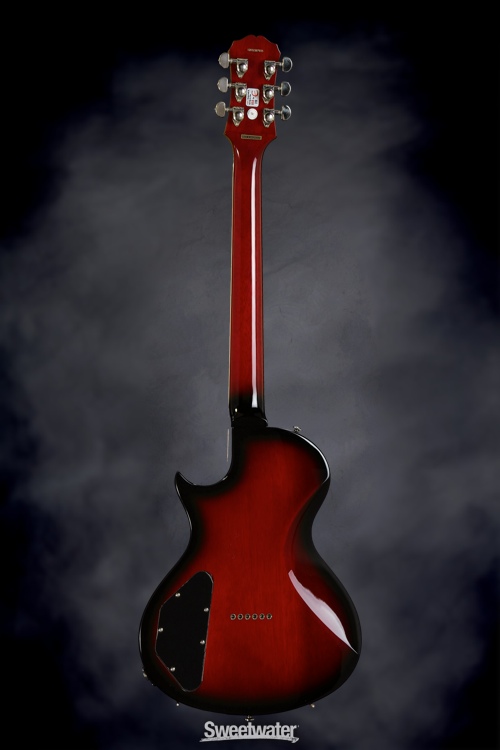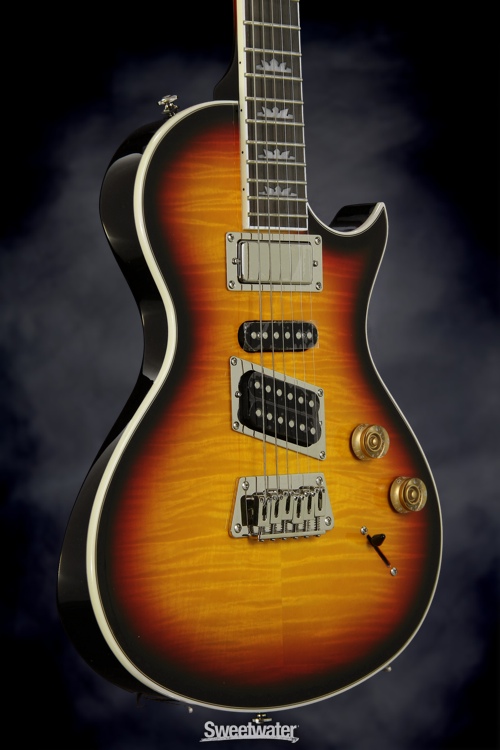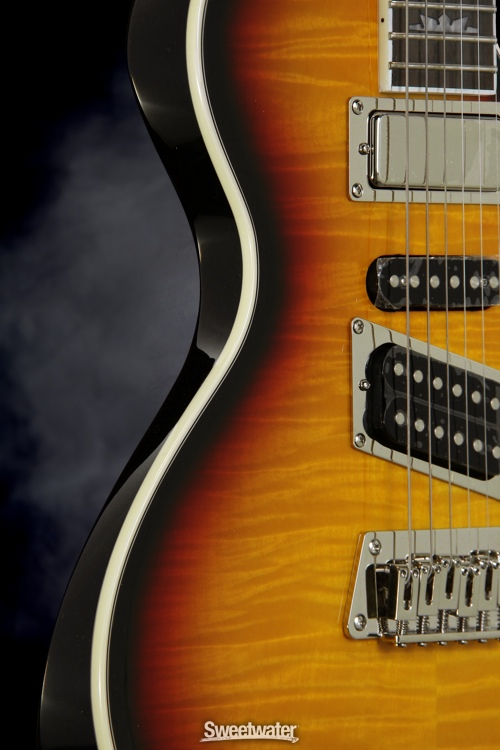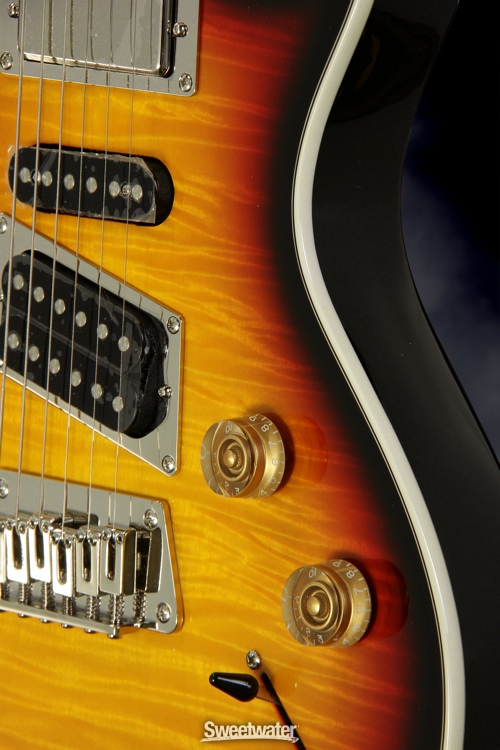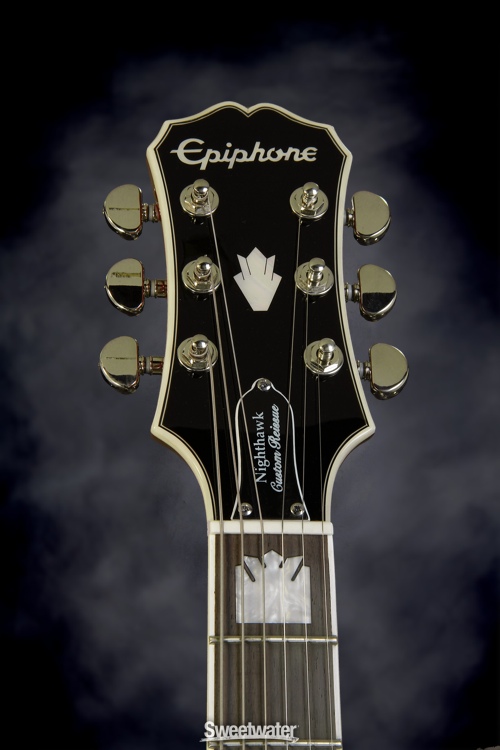 Last edited by Justin L Franks at Jan 31, 2013,