NGD!!! Pointy edges inside!
So I ordered a guitar offline from Guitar Center to get shipped to my house a week ago... and it finally came in!!!
Was kind of thrown off by the Fender box... guess they had to find something to ship it in.
BIGASS case it came in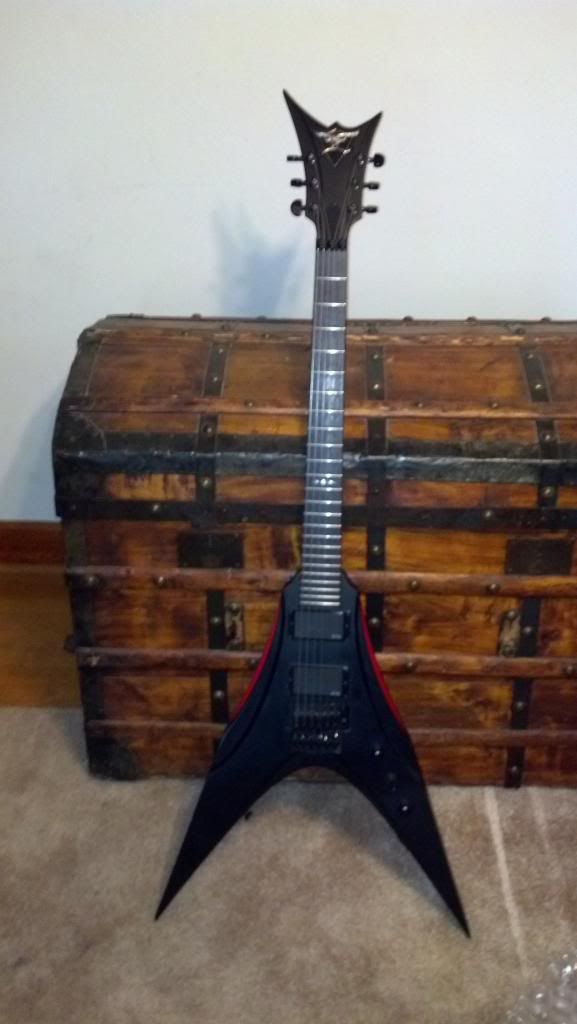 Here it is! Its a DBZ Venom!
I mainly picked up this guitar because of how cheap it was going for online. They normally retail around $899, and GC had it listed as a DBZ Venom 2, which is the lesser model of the line. I contacted DBZ and they informed me it was the higher end model, so I picked it up for the tiny $275 they were asking without question.
This thing has a full mahogany body and neck, rosewood fretboard, EMG 81/85 combo, and an Origainal Floyd Rose trem. The pickups and trem itself are worth more than I paid for the thing! When I got it out of the box, there was a very loud humming noise when I plugged it in, and the tone knob was very loose. Turns out the knob got twisted so hard the bridge pickup got unsoldered from the pot. A dab of solder later, it was completely quiet, and 100% functional again! It came tuned to C standard, and had some flat wound strings the size of tow cables, and it still played great! After a setup, a set of 9-46 gauge strings, and tuning it to standard, the thing still plays beautifully, and sounds great through my Egnater Vengeance head. It is a little neck heavy, but Im betting a real leather strap will help out with that, so its on my Christmas list now, as well as a good set of straplocks for it.
For what I paid, it can't be beat, it plays just as well as my LTD EC1000 and Schecter Hellraiser, and I picked it up for a fraction of the price! I will post more pictures and maybe a video or two on here later if I get the chance to make one! Thanks for looking at it.