NBD!!! Short scale content (huge pics)

Join date: May 2010
120

IQ
Finally got my Squier VM Mustang.
Specs:
Basswood body (3 tone sunburst)
Bolt on maple neck
maple fret board (19 frets)
1X volume 1X tone controls
split coil pup in the mid position (Duncan designed)
30" scale length
I originally got this due to long scales killing my wrists and hands, so I got this in hopes that I could still play and not be in pain.
Review:
This thing is built very well with a lightning fast neck, which is a little thicker than I expected. Surprisingly I will only need to make a very minor tweak to the truss rod to get the action perfect, but still it's very playable.
The finish on the bass is perfect. No runs and no glue overflow. It's a bit darker than I expected but I think that just adds class to this little boomer.
The tone is a little brighter than I expected, but that will change once I let the strings age (Yes i rarely change bass strings) Also the strings are not bad at all either. Better than I expected in fact. The bass came strung with Fender Nickel plated steel strings (40-95).
The pup has a beefier tone than I expected as well. I can get almost all treble, deep and many shades in between.
One thing no one can say is that the pup is weak. it's very well balanced and has a nice output to boot. The VM Mustang sounds bigger than it is.
As far as comfort is concerned, I can play this thing with little to no pain in my hands or wrists, which is what I was hoping for. It almost feels like a P basses midget cousin.
It's a little heavier than I expected, but still lighter than my MIM Fender P bass.
If I get enough requests I will post audio clips so everyone can hear what she sounds like.
Pics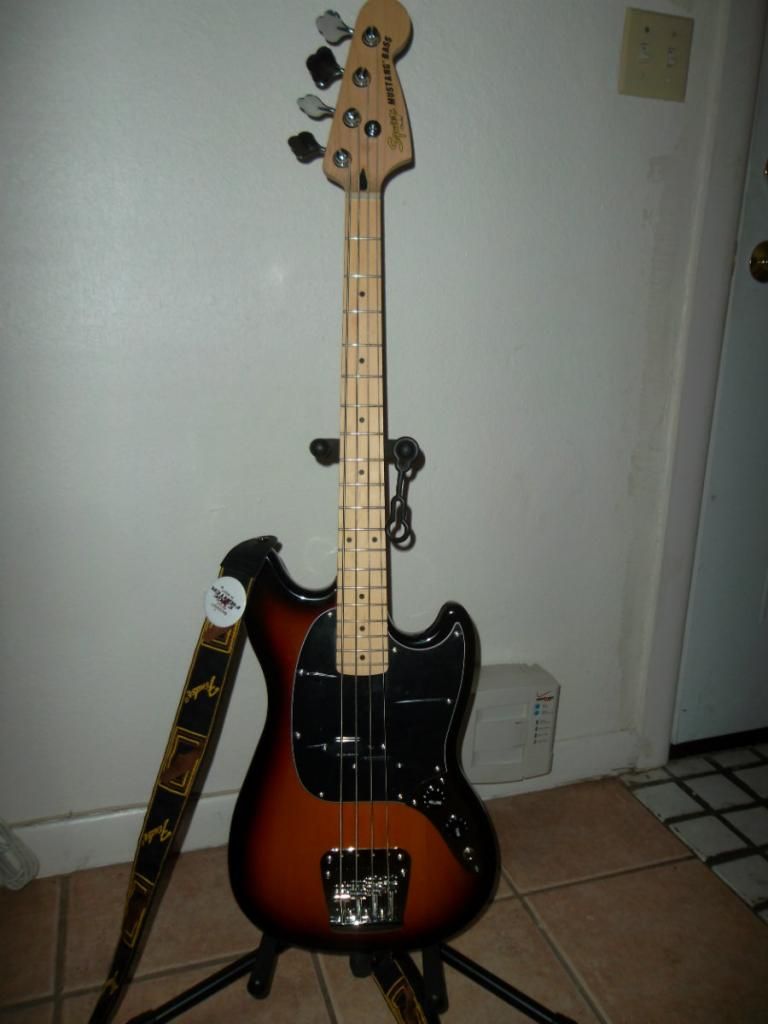 Mmm, very nice. Merry Christmas and a happy new bass!


Join date: Aug 2009
30

IQ
I'm a pretty big fan of Squier guitars. They make a damn fine instrument for the price that they charge.

Join date: May 2010
120

IQ
Last edited by Alucard817 at Dec 25, 2012,