NGD Tele. with Q
hey guys, picked this up for £80gbp. First the pictures...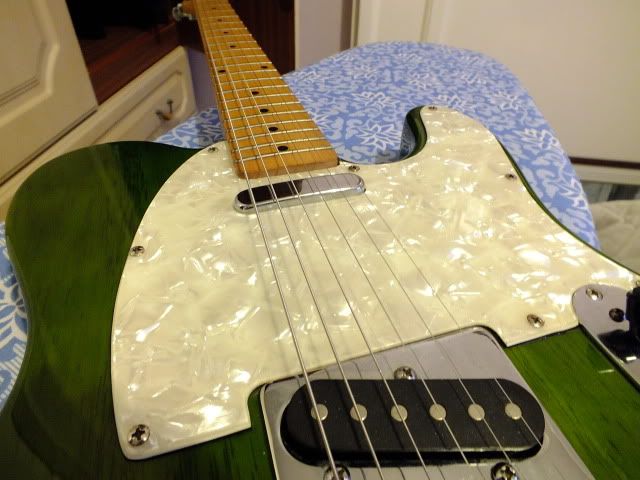 so, Tanglewood Quomaster custom eh. ??
the headstock is tele shaped, leading me to believe its an earlier model.,
it plays fantastic, the neck has a D profile neck, and the fingerboard aint too chunky .
the guitar is super light, and the pickups are pretty decent, there is a big tonal difference between N and B N being mega buttery, and great for blues, really good, the bridge is a little jingly, not too bad sounding.
the build quality seems good to me, all frets are dressed nicely, the body/neck join is nice and tight, the action is very good. no buzz anywhere, the strings have a comfortable action ( this was preowned)
i find the tuners slipping a little bit when pulling off large bends, the intonation was great apart from the high e, at the twelfth fret, the intonation was a semitone out. Yuck. that was a quick fix though.
i will record a video soon!!
Also, I am really keen on Dimarzio injectors, but have no idea how to fit an injector to a tele, the mounts are all wrong? what is my best option there. ?
I play in a hard rock band, and really want to use this live as it is so nice to play.

Join date: May 2010
110

IQ
I demand more pics!

That is one of the sexiest Teles I have seen in a long time. I love the green finish man. Great score.
Wow man that's sweet!Iv always been a sucker for green finishes.

Join date: Jan 2005
616

IQ
Pretty sweet, man. How is it? I've heard those Tanglewoods are about Classic Vibe quality?
I am really keen on Dimarzio injectors, but have no idea how to fit an injector to a tele, the mounts are all wrong? what is my best option there. ?
I play in a hard rock band, and really want to use this live as it is so nice to play.
well the injector is a strat pup right? does Dimarzio make a tele version of the pup?
i'm assuming you mean the bridge position, correct me if i'm wrong.
do you know how the guitar is routed under the bridge plate and pick guard? that will tell you a lot about what you can do under there.
congrats on the tele, looks nice.

very nice


Join date: Apr 2012
70

IQ
great score man- reminds me of W4RP1G's shred-o-caster build.
HNGD!!!
thanks fellas I have been a little web-absent lately, but i thought i'd share something nice!

Gregs, no unfortunately they don't offer a tele version, although i thought single coil + <3 for PG = injector, what will offer a similar sound, im looking to keep a little of the twang, whilst making the guitar accessible to higher gain stuff. ideally looking for a noiseless Sc or a stacked. i will shoot some more photos when the lighting is better. damn winter.

I think its a shift up from the CV imo. the CV's are really nice, but may be just this particular one feeling particularly good.


best

James
Nice finish. Congrats!

Green sure is my favorite guitar coloc :O

Join date: Mar 2010
81

IQ
Very nice. Teles are awesome and that colour

But you probably want to get better tuners btw (assuming they're stock). Tanglewood's tuners are a bit dodge in my experience.


Join date: Feb 2011
310

IQ
I have a tele with a JBjr in the bridge. SD doesnt make this as a tele pickup, but the pickup can be modified. You just have to remove the baseplate from the stock pickup and remove the base plate off the new pickup. then you (or tech) mount the new pickup to the old base plate.
after a bit of careful thought i was thinking of an area hot t, does anyone here have this pickup?
Seymour Duncan make a lot of hotter, noiseless Tele pickups; I tend to favour them over DiMarzio when it comes to Teles, Because Teles are a guitar and pickup type that SD really focus on, whereas DM tend to pay more attention to super-Strats and Teles seem to be an afterthought for them. In fact I'd also take Fender's own stacked Tele pickups over DiMarzio's. That said, any overwound, stacked Tele pickup should do what you want.

And as for the "tuners slipping", tuners can't really "slip", unless something has gone severely mechanically wrong with them. The "slipping" is being done by the string, either because it's not been fastened to the tuner post properly or because somewhere along its length it is getting caught on something, most likely the bridge saddles or nut slots. Check how you're restringing and check the bridge and nut; the tuners themselves are probably fine, it's very hard to make bad tuners.

I love the name, 'Quomaster'. I don't think I could stop Quoing if I had one.
looking at them they are much cheaper too, i have lubricated the nut a bit, and its much better now too.
probably going to go seymour duncan, reasearch time!
I love Tele's and that is definitely a sexy Tele, congrats man, happy NGD.