NUGD!Large pics ahoy!
So, for a while I've been wanting to get myself a new guitar, with a specific kind in mind. An opportunity came up, and with holiday money in my pocket, I couldn't resist.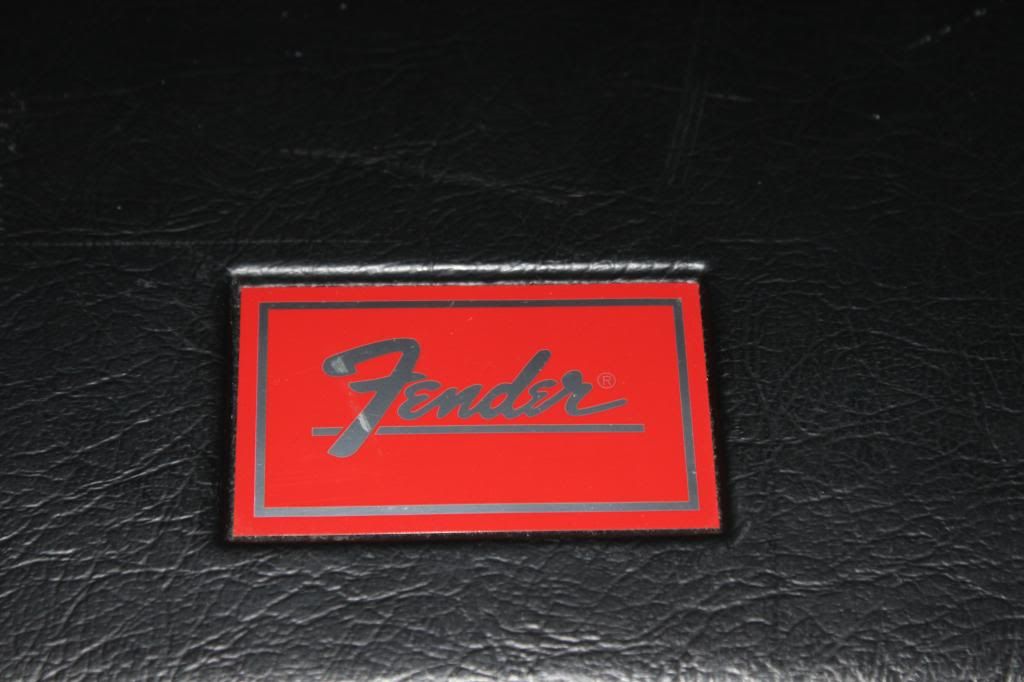 More photos on the way in a minute or two, almost all of them are still uploading because my internet connection here is horrible, but anyone want to wager a guess in the meantime?
Last edited by necrosis1193 at Jan 3, 2013,
So I did not realize how big that first image was, so from now on they'll be in spoiler tags to avoid stretching screens needlessly.
What could be possibly be in here? Only one way to find out...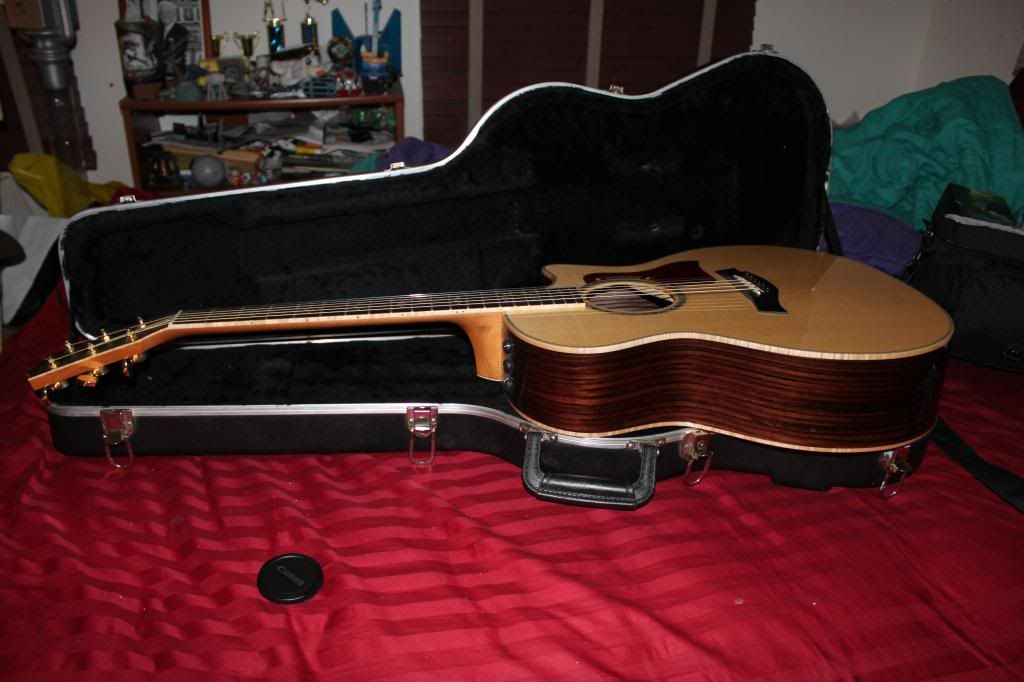 Well, that's...not what I ordered. Not that I'm upset, but still.
There we go! Ignore the mess behind it, this room has not been used for more than storage in years, I had to vacuum the bed of dust for all this, I wasn't cleaning the whole room for photos.


A 1997 American Standard strat, in wonderful condition, and what I believe is a discontinued Ocean Turquoise finish!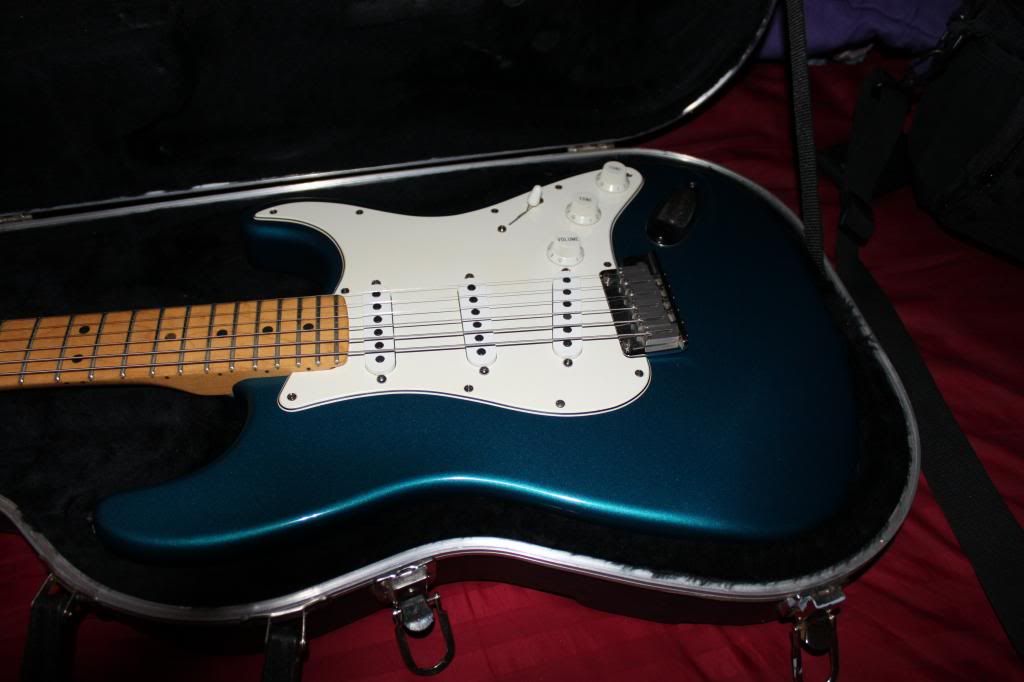 Don't understand why it was discontinued, it's gorgeous...camera does not do it justice, especially in this lighting.
Will try to get some photos in some real sunlight tomorrow, review being typed up now, may get some clips later tonight.

Last edited by necrosis1193 at Jan 3, 2013,

Join date: Jul 2009
70

IQ
nice looking strat, enjoy
OMG! I have that same red sheet!!!
Very nice! My favourite colour combination on a strat.
Sweet!

Cheers for the kind words guys.

Right, review time! Be aware that I am most certainly still in the honeymoon stage.
Features:
It's a strat, most people know how these work around here. Outside of the guitar, allen keys, and case, the purchase didn't include a whole lot, but for $650 used, I am not complaining at all. It also turns out that '97 was the first year they started wiring the tone control to the bridge instead of the middle, so it has that as well - more on it later. The previous owner also popped a set of Sperzels on too, locking tuners are always nice.
Sound:
I had been using a stock 2002 MIM for strat needs until now. People who say that you only get a name when you buy the American version have no idea what they're talking about. I still like my MIM, but goddamn did this thing blow it out of the water. The highs are clearer, the lows more defined, and it has a comfy area of distortion instead of going from clean to over-saturated with a just little overdrive.
The best part about the sound on this though for me is the bridge pickup. As said above, the middle tone control is wired to the bridge pickup, and it is a godsend - if you're thinking of modding a strat with traditional wiring for this, do it. Being able to control the icepick bridge pickup with it makes all five positions great. I always hated the bridge pickup on my MIM for being shrill, but putting the tone control at six on this thing gets a wonderful sweet spot with enough treble to cut through, without that usual ice-picky tone.
Action, fit, & finish:
Can't judge what Fender will do to a new one since mine's 16 years old, but the action on mine was a little wonky, as it hadn't been touched in years - the first owner was one of those cases where he forgot it under a bed for a while, and the second owner never got a chance to play it because of work - but that was a fairly easy thing to fix after an hour or so of work. Once it was set up, it's been playing like a dream, easy to move like lightning on, easy to bend a string to hell and back. It was staying in tune alright when playing with the tremolo, normally I prefer to lock the bridge down, but I may float it a little bit and mess with actually having the tremolo system available on it.
The same circumstances that left its setup in disarray however also left it in remarkable condition for a 16-year old guitar. The frets are like new, there's only a handful of scratches on it, the pickguard's barely faded or yellowed, and when I took the back plate off to adjust the springs, the finish wasn't worn any more than the rest of the guitar, it's been kept in absolutely superb condition.
Reliability and durability:
I had a bit of trouble with the low E tuner, which got stopped up from sitting in position for a few years I imagine. A little trombone oil cleared that right up, and outside of that it seems to be as reliable as any other strat, or in other words, it'd still be here had the Mayans been right a week ago. The damn thing'll take a beating if I'm ever unlucky enough to have it see one.
Overall:
Very happy with the buy. It looks gorgeous, feels gorgeous, sounds gorgeous, and because of the previous owners, it's more or less a new American Standard, but for about half the price! As said, still in the honeymoon stage, but I've bought guitars where I hated them in the honeymoon stage before, and so far it's given me no reason to think that'll happen this time.

HNGD this finish is amazing. I don't why they discontinued it, Ibanez had a similar one and did the same

Join date: Dec 2010
30

IQ
That is a very, very nice shade of blue

happy new case day! ! ! ! ! ! ! ! ! ! !!
happy new case day! ! ! ! ! ! ! ! ! ! !!
Thanks! The case is immaculate, but I think the original owner must've been trying to get rid of something, there's this weird block of wood in it.

Thinking of returning it.

Join date: Oct 2010
450

IQ
Awesome catch, man.


Join date: Dec 2009
190

IQ
That is the third best finish a Strat could possibly have (IMO).

But seriously, that is nice. HNGD.
Join date: Sep 2009
223

IQ
...
...
...
...
...
damn, son.


Join date: Dec 2010
240

IQ
Nappy New Strat Day! The color is amazing!

Join date: Sep 2010
140

IQ
Love that finish dude! Fender has the best blue finishes imo.

HNGD
Join date: Jan 2005
606

IQ
Back when they still used the 12" Radius on the one piece maple, right? I had a '99 for my first MIA. Very comfortable necks.

Join date: Jan 2008
120

IQ
Very nice!

I was going to guess a Jazzmaster from the first case shot.

I love strats though, so nice surprise!!

Cool color too!
great looking label on that case.
Back when they still used the 12" Radius on the one piece maple, right? I had a '99 for my first MIA. Very comfortable necks.
Wait, is it?
I've always been between 12" and 9.5", so I'm comfortable on both, but Google seems to say they were 9.5" in '97.

Join date: Jul 2009
70

IQ
Wait, is it?

I've always been between 12" and 9.5", so I'm comfortable on both, but Google seems to say they were 9.5" in '97.
most strats post 1986 have a 9.5" radius. some of the reissues use the 7.5" and a couple of specialty strats are 12" (eric johnson and kenny wayne shepard come to mind).