Dual Fuzz Face Build
Who likes fuzzes?! I'm not sure if I do. But I'm going through a Hendrix kick, so I gots to have me a fuzz face. I bought parts to build two fuzz faces and the plan is to build one for me and one to sell and in the end I break even

!
The parts: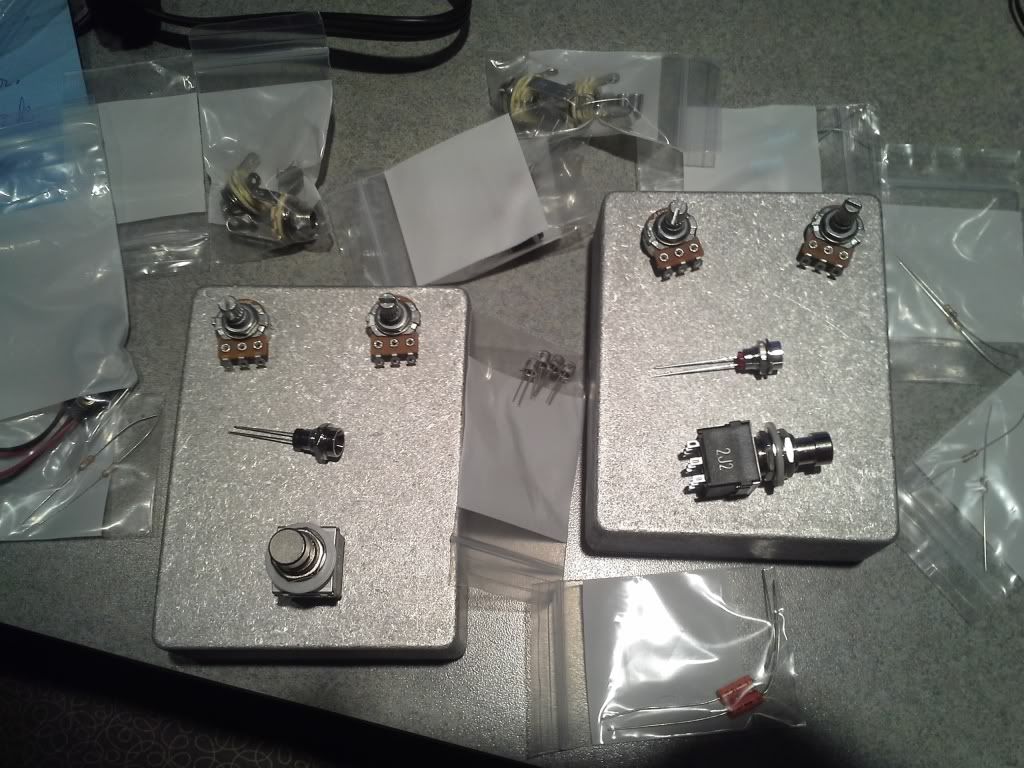 The toner transfer:
PCBs done and soldered! At least the components.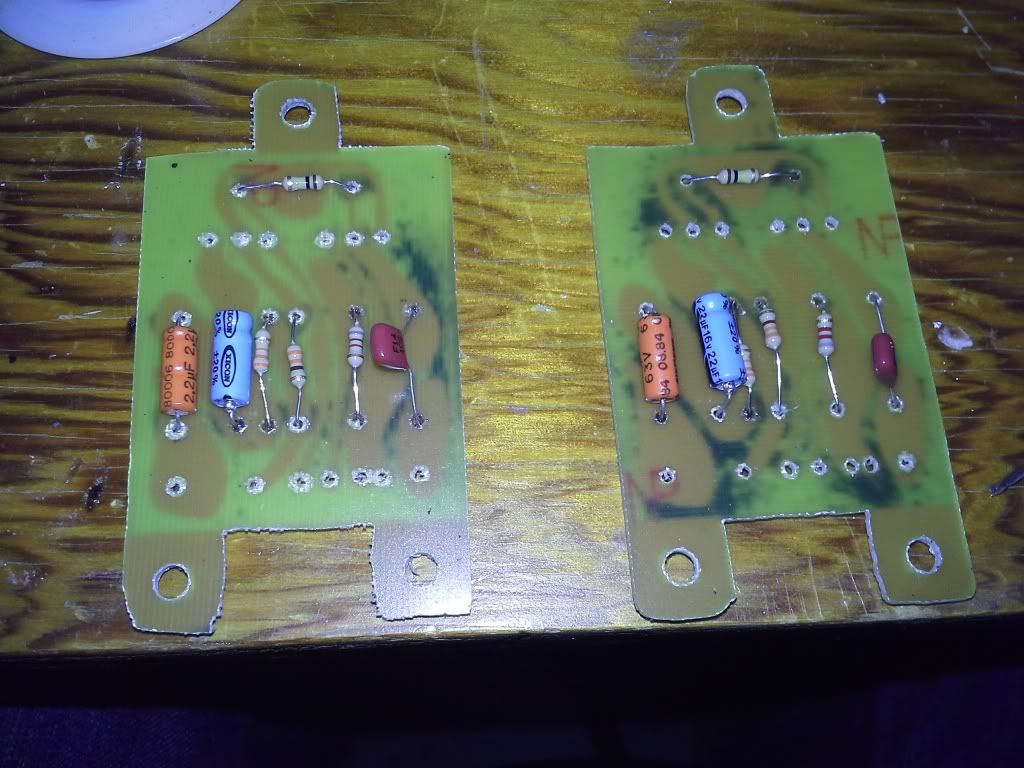 And the parts mounted in the enclosures:
Should be fun! Here's what the front will look something like: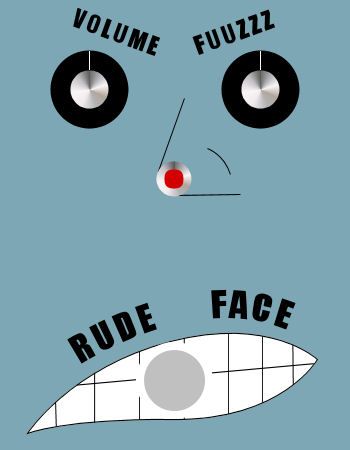 Join date: Aug 2007
151

IQ
Tried to make one of these today. Got the wrong transistor so it just made fart noises

But! I ordered the right ones today so hopefully mine will work (and yours too)
But why the huge enclosures for such a small circuit?

Join date: Jun 2007
260

IQ
If you are using germanium transistors you're going to want to replace the 8K2 collector resistor with a 20K trim pot.
BC108's, silicon. I went with the big enclosure just so that's easy to stomp on and such. Also, still smaller than an original fuzz face haha. And the board barely fit.
Why the large and rounded blob-like traces on the PCB? Not sure if it will be an issue with your build, but the parasitic capacitance will be quite high on this board.

Either way, DIY pedals are always fun. Is this a kit you bought or did you just yank a schematic online?
Because they look cool! Haha that is all.
Woah! I forgot! I finished these guys. Here are the obligitory pics.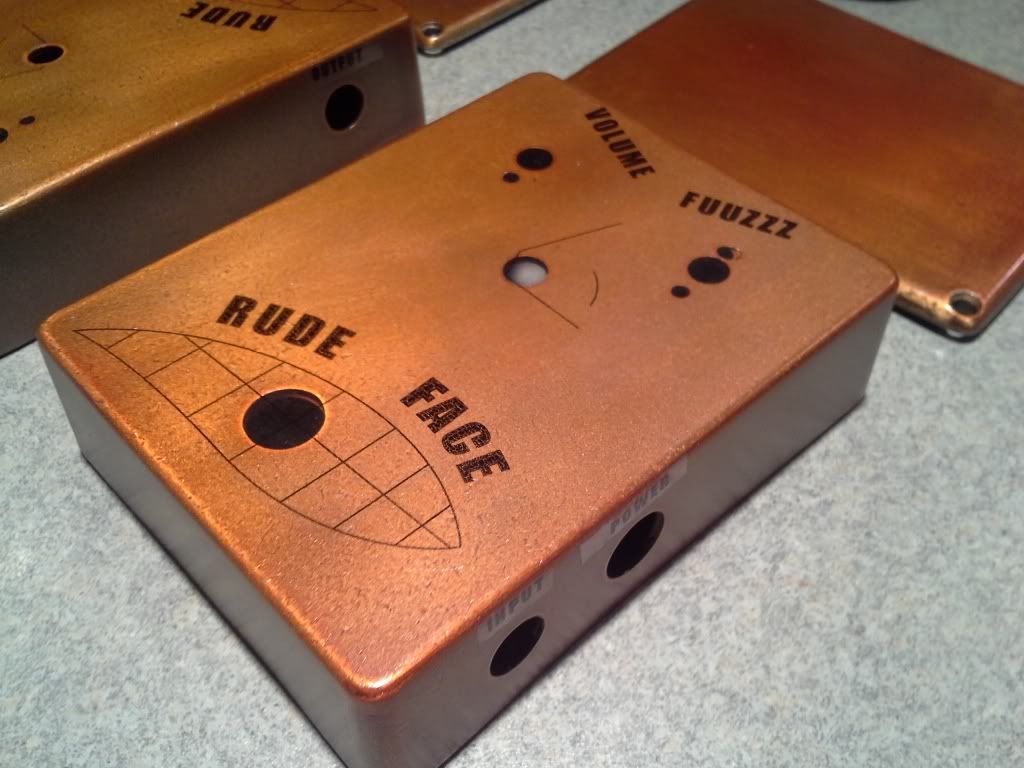 Also, in the end I ended up doing one little mod that made allll the difference to me. They now live up to the name of rude face haha, they can get nasty!

Join date: Jan 2012
300

IQ

like the face

Join date: Jul 2009
10

IQ
Ahh! When I read the title I thought it might be two versions of FF's in one enclosure. I'm in the process of building one for someone. It's a NPN and a PNP in one enclosure that share common in/out jacks. The NPN or PNP circuit is going to be selectable via a switch and it will have a single bypass switch. I hadn't seen a project like this before and I thought someone else might have tackled it.
Very cool graphics on the enclosures. They look nice.
Hey thanks, that's a cool idea to have both in one box. I'm still workin on getting those decals working right.

Join date: Jul 2009
10

IQ
In one enclosure you could do kind of a Two Face from Batman type graphic.

The challenge with both PNP and NPN in one enclosure is dealing with power polarity.
Yeah that would be tricky. Transformer isolation maybe?