NGD (SG Content)
After spending a serious chunk of time debating on the merits of different guitars at different price points, I finally decided to bite the bullet and buy my dream guitar.
It's a 2013 Gibson SG Standard.
I'll skip the unnecessary information on specs and cut to the stuff that is new for 2013.
-Smaller "61 pickguard. I think it looks quite a bit better than the old "batwing" monster.
-Compound radius neck. Nice and chunky at the low frets for chording, flat and fast for lead work closer to the body.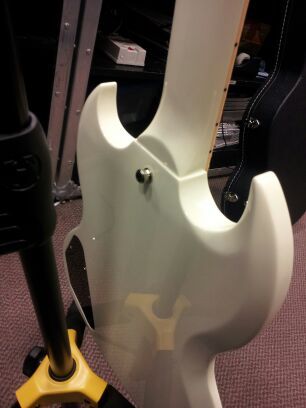 -'60s style neck joint, with the smaller heel. I personally love this, maintains high fret access even with a straplock installed.
-Classic '57 pickups. Much smoother than the departing 490 and 498.
I don't even know where to begin for a review. It plays beautifully. The neck is remarkably fast yet still comfortable. I've never come accross a compund radius that I liked before, and this one blew me away.
It's very light and comfortable. Nice thick leather strap solves the balance issues inherant to SGs. I'm used to LPs, so I'm looking forward to not being nearly as worn out after a show.
The pickups are phenominal. Lots of bite, but extremely dynamic, especially with a little volume rolled back.
I'm very pleased with it.

Join date: Dec 2008
380

IQ
Sharp!

Sweet dreams!
Last edited by dannyalcatraz at Feb 2, 2013,
Join date: Jun 2011
20

IQ
Nice, I love white SGs. It's only gonna look cooler and cooler as it gets older.
Nice, I love white SGs. It's only gonna look cooler and cooler as it gets older.
this.
HNGD!

*HNGD pic*
aw dude, that's epic

HNGD dude, sexy guitar and I too dig the smaller pickguard.


Join date: Dec 2008
380

IQ
If her pickguards were any smaller...
Join date: Jun 2009
300

IQ

This should be an automated message from UG anytime someone mentions they got a new guitar, no matter what subforum its in. just have this chick pop up lol
but HNGD! I'm contemplating getting an SG for my next guitar. I think I'll get one with a bigsby though, love the look of the two together.

Join date: Sep 2005
170

IQ
Man, the white SGs are the best. Doesn't get much sexier than that!

HNGD!

Join date: Dec 2008
110

IQ
Looks like the standard line is making a step in the right direction. Those are all great new features, except.... the freaking '61 pickguard! I can't stand those things. Bring on the batwinged monster.
Last edited by Mephaphil at Feb 3, 2013,

Join date: May 2008
80

IQ
HNGD. Welcome to the SG club, I must say it's more like the old 61 re-issue than the standard, but that's not a bad thing at all.

Join date: Dec 2011
130

IQ
Thats my dream guitar man. Major envious vibes over here.


But seriously, happy NGD.
That is one beautiful SG right there man! Give her some love

I'm seriously considering getting an used SG right now. Shoulda not sell my last one

very nice


Join date: May 2009
160

IQ
HNGD!

Nice to have a bit of variety other than the typical cherry and ebony models.


Join date: Aug 2012
20

IQ
Man you got me grape jelly over here! HNGD!

HNGD! Liking the choice of colour.

Yeah, the color was a no brainer for me. Black is boring, red is cliche, and the natural burst didn't really fit me.

Thanks everyone.
Sweet!