NGD - Warmoth Tele Build
Hey all,
So as the title says, this is a warmoth telecaster. Body is a quilted maple top, and a black korina body. The neck is also maple, and has an ebony fret board. Neck pickup is a seymour duncan vintage tele, and the neck is a JB sh2. Most of the other parts were straight from warmoth, though I did get the electronics from stewmac, and the dye from lmii. Really can't say enough good things about all three places, had to call around and all three were fantastic to deal with
Full disclosure, I'm not 100% done with it, still want to do some touchups on the clearcoat in spots, as well as do a proper polish on it as well. Just got tired of working on it and figured I'd toss it together, snap a few pics. Turned out pretty well, though the colour on it can't be photographed properly if i tried. It's actually a really dark purple/black combo, but for whatever reason, when ever i take a picture, it just looks like it's purple/blueish but i swear it's a dark, manly purple haha
Anywho, hope you enjoy it!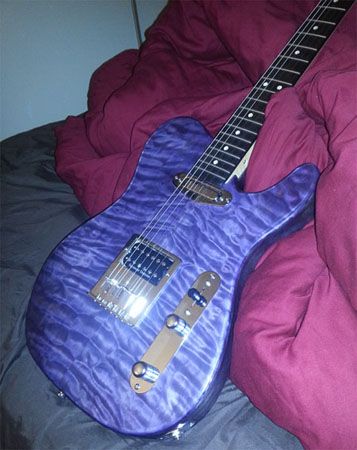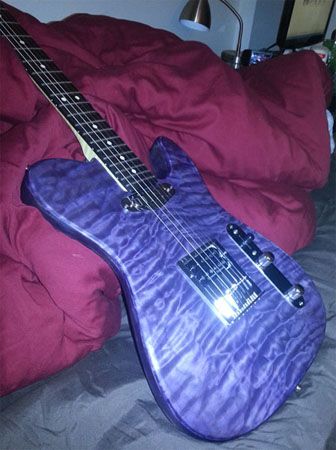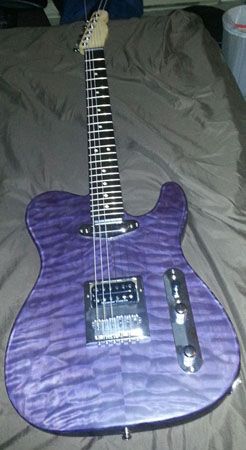 Just for reference, this is what I'd started with. Had them route the bridge to a humbucker, just to switch things up hah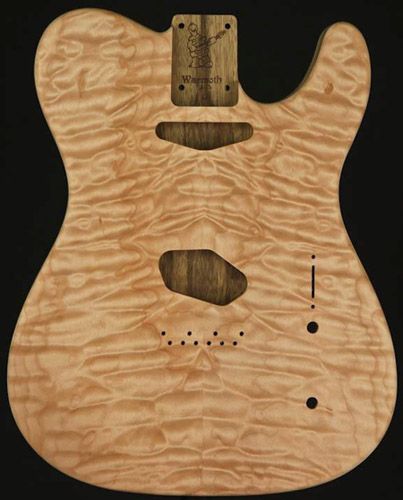 Looks sweet!


Join date: Oct 2008
80

IQ
If you turn off the flash, and use another light source (lamp on the side, etc), it will help capture the brilliance.

Looks really cool though, I bet it's even more kickass IRL.

HNGD!
Yup, don't use flash. This is how to solve 90% of crap photo problems. Flash should only ever be used as a last resort. Learn how to bump up the ISO, use a larger aperture or a slower shutter speed, instead. Even if you're stuck with automatic settings and few controls, taking an under exposed image and making the picture brighter with software is often better than using flash.


But yes, nice axe. Good call dying it yourself, Warmoth's purple dye is a really nasty rose colour (not to mention horrifically overpriced).
Awesome. Nice build.

Also the red background made it look blue. See how in the pic without the blacket it looks more purple?
Last edited by gregs1020 at Feb 12, 2013,

Join date: May 2010
110

IQ
Thats one of the nicest teles I've ever seen, great job HNGD

Join date: Mar 2009
110

IQ
Great build! Nice choice on the color.

HNGD

Join date: Oct 2007
250

IQ
i was gonna ask if that was a ebony fretboard, but you already told us. great choice.
it looks like you got the forearm cut on the body, did you get the tummy cut too?
man, you should have gotten the controls routed on the back so you can see more of that quilted maple top. awesome get dude!


Join date: Nov 2007
410

IQ
Lordy lord that is a NICE top.

HNGD