My DIY Jem-Inpired Build
So I have already documented this entire build on another website, but I figured I would give you all a summarized version. Its my first ever build, so there has been plenty of mistakes along the way.
This started when my parents got my a cheap Jem-style kit off ebay. Most likely from china.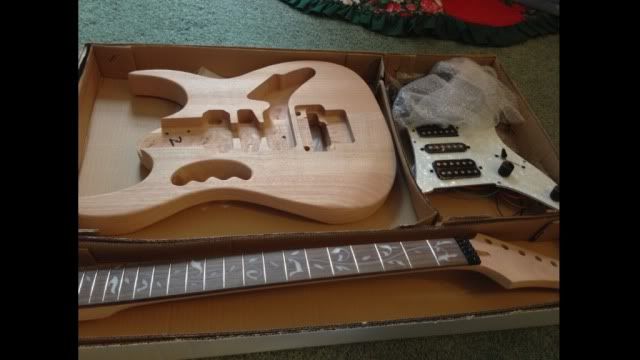 I wasnt happy building a crappy china-parts guitar, so I began sourcing new parts, and finishing the body and neck.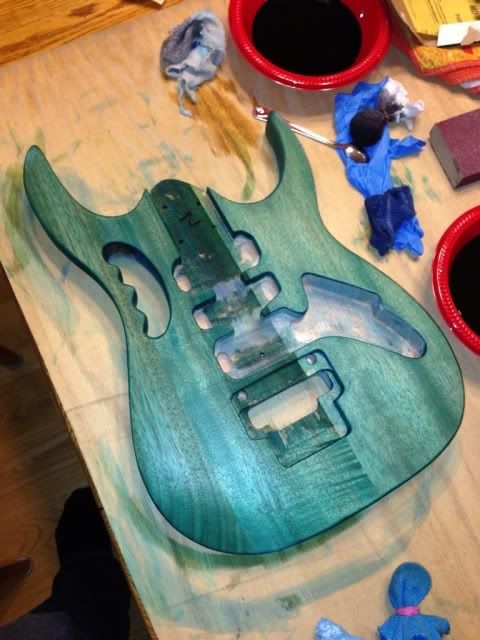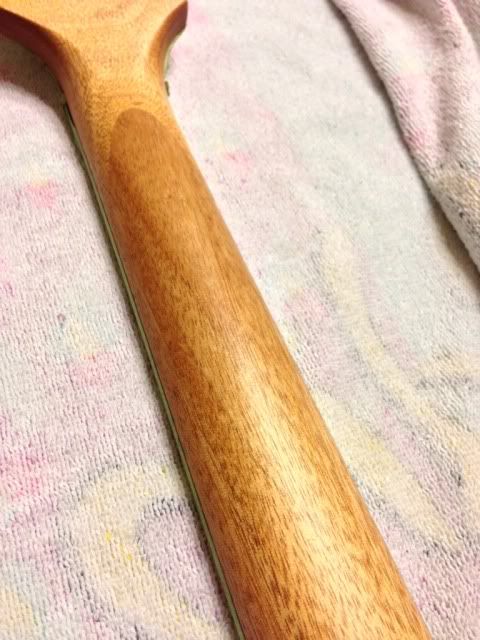 I used try-oil for the neck, and peacock blue/green wood dye for the body and headstock. I first layered navy blue to bring out the grain, and then the lighter color.
Next main step was to fix the electronics. I got a set of Dimarzio evo pickups, new pots, switch, kill pot, wires, and jack. Also, fender style knobs to replace the metal ones that it came with.
before: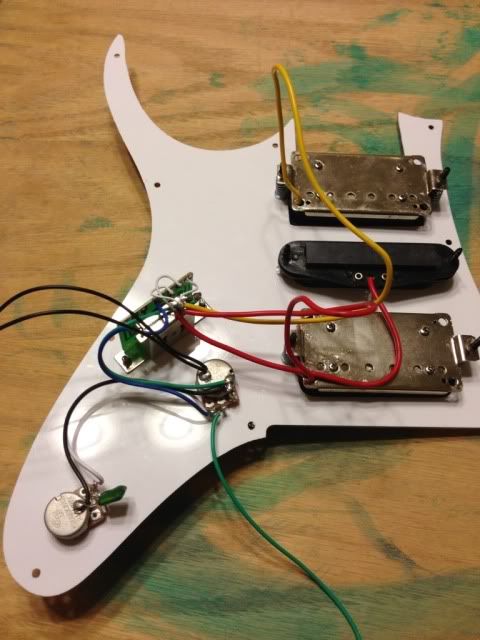 After:
I shielded the cavities, and installed the pick guard after the clear coat had dried.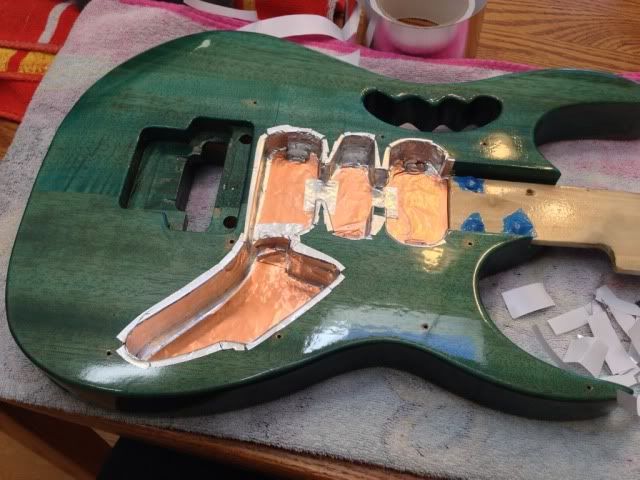 While doing this, I worked on clear coating the body.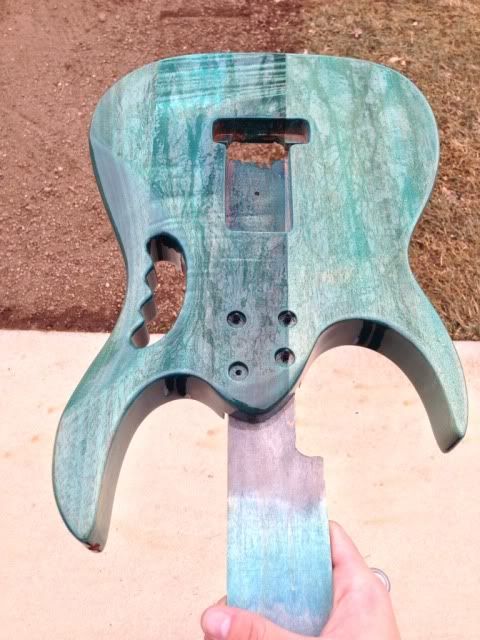 I created a design for the headstock, and put it on, using waterslide stickers, over a couple coats of lacquer.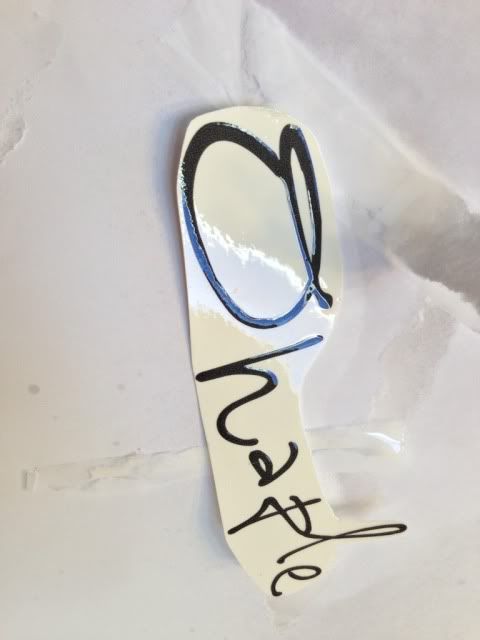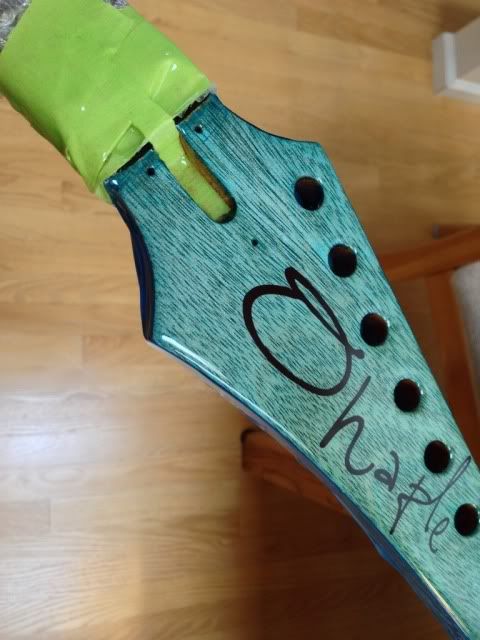 Next, I decided to make my own wooden spring cover, in stead of bolting on the plastic one. The wood one is dyed darker, and held with velcro.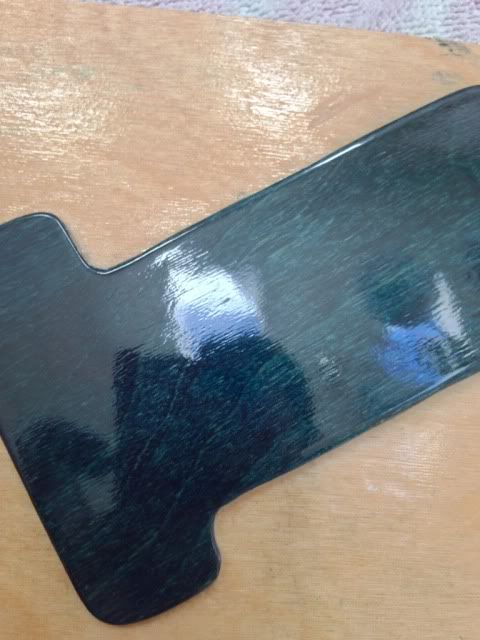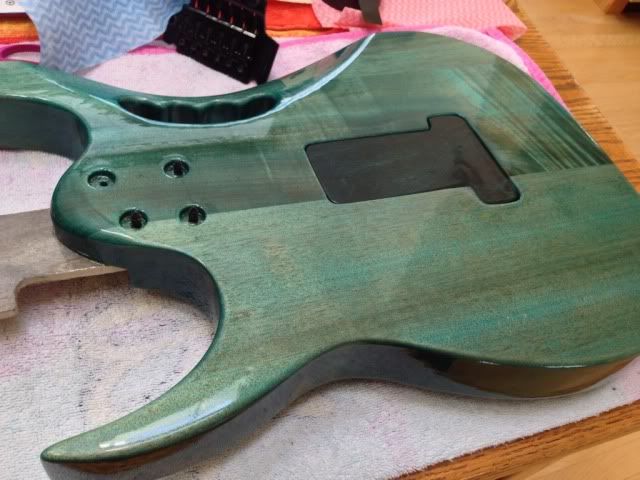 The clear coat had a good chance to set, I finished spraying on Jan 22.
I dont have any pics to demonstrate, but I also took off the sharp fret edges, leveled the frets, and polished them.
Next step, installing the new tremolo. I bought a gotoh tremolo off of ebay, and had to make several mods to the bushing holes to get everything to line up properly, but I like the gotoh way better.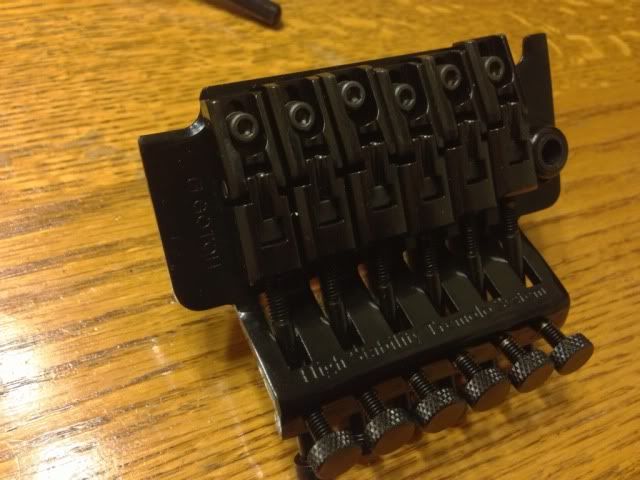 All is good, except I decided to add a retainer bar above the nut, since the kit didnt come with one. I ordered a new truss rod cover to fit it as well. The truss cover hasnt come in yet, so it isnt installed.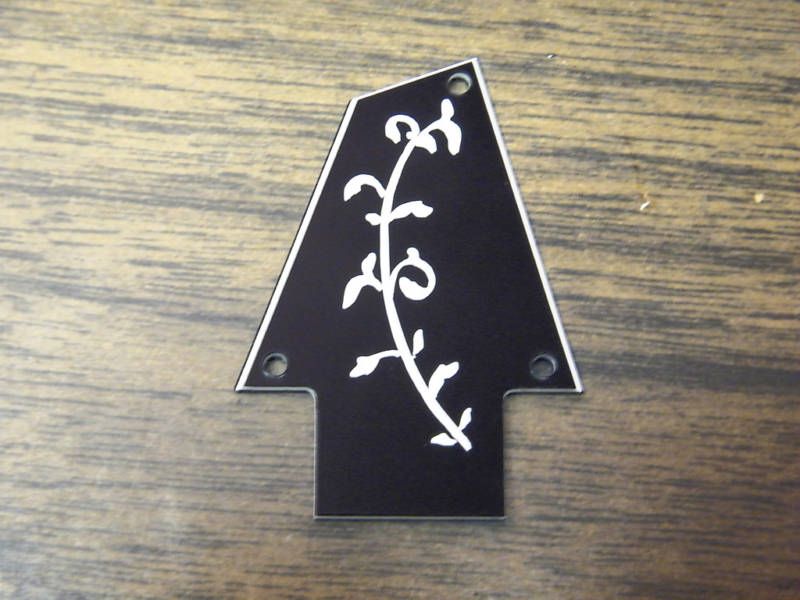 Another addition is a trem stop. I got the idea from lonephatom.com to use a barrel bolt for a trem stop, like this. I will install it when the strings are on and everything is setup.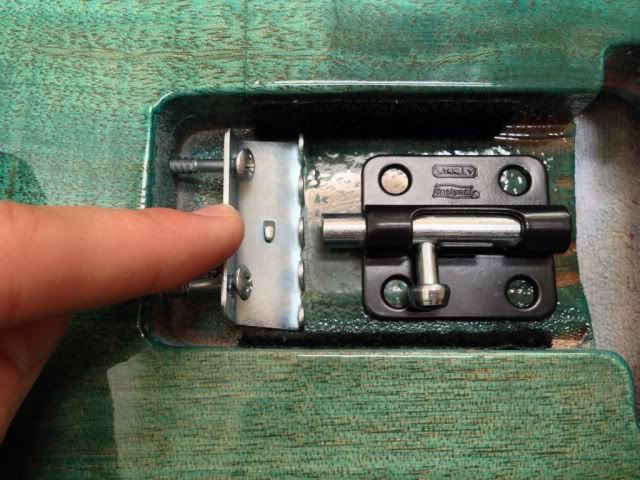 The last primary step is installing the neck. It fits nicely in the pocket, I just need to drill holes and bolt it on. I measured the scale length, everything looks to be in order.
I set the holes for the neck, drilled the holes, and screwed the damn thing on.
Went on perfectly. No issues, looks good. Feels solid.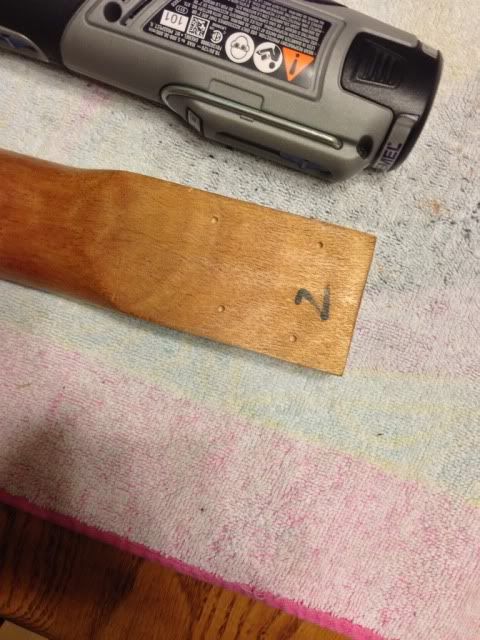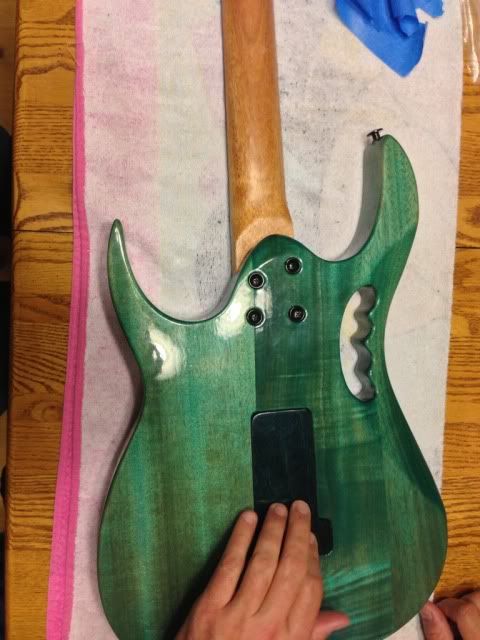 First time on the stand like it was meant to be.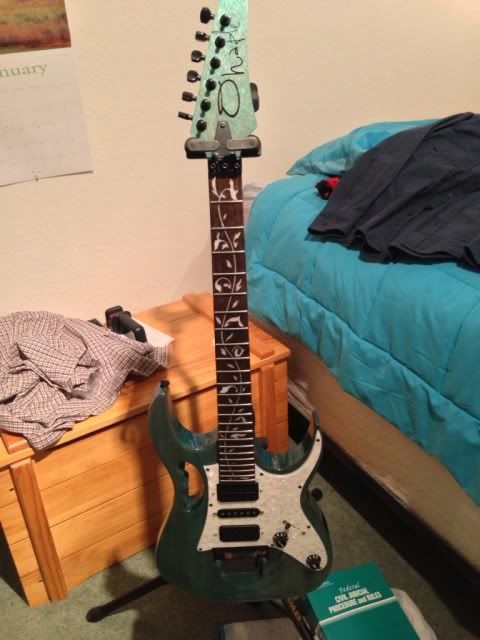 On the display wall.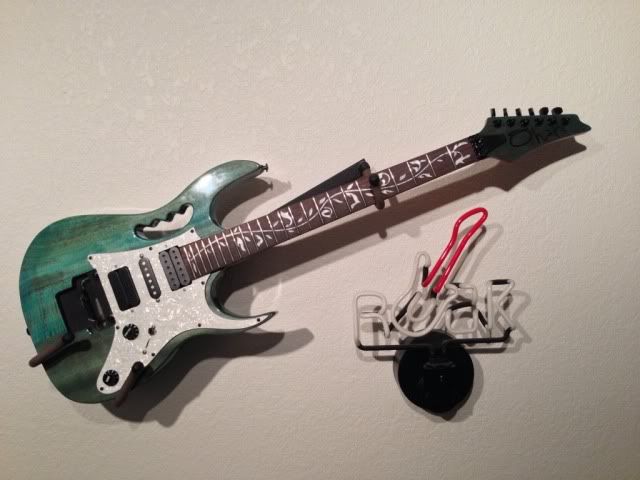 Now the issues..
Some combination of the nut width, the bridge location, and the bridge width makes it so that the low E doesn't fit on the fretboard. This isn't made any better by the flat angle that they cut the frets at. I will likely need a new nut, relocate the bridge some, and possibly a new bridge. A major setback.
It's hard to see from the pictures, but it's there.
Tested it out. Not as bad as it appeared.
I strung it up and went to test it out. If I move the bridge about 1 mil towards the high e side, it will play beautifully. Need to fix some noise that is occurring off the tone knob. I'm sure it's a grounding issue. It's a really annoying noise. Here is a test video, before fixing anything, just my first time ever playing it. Haven't adjusted anything on it, just roughly strung up and halfway tuned...
http://youtu.be/bMJtMUpjRWU
Not the best playing or tone, playing through a Roland cube 30. A lot of it is just me figuring out what tones I can get out of it, so the sound doesn't always match the song lol
Also, here is a 360 view
http://youtu.be/JJJRvgbdUqI
I decided that the tone pot wasn't working well ( being linear) I went out and got a audio taper 500k push pull pot in stead. The idea with the push pull pot is to install a passive clipping or distortion circuit. I got two Schottky diodes, and installed them, along with a new capacitor in this configuration.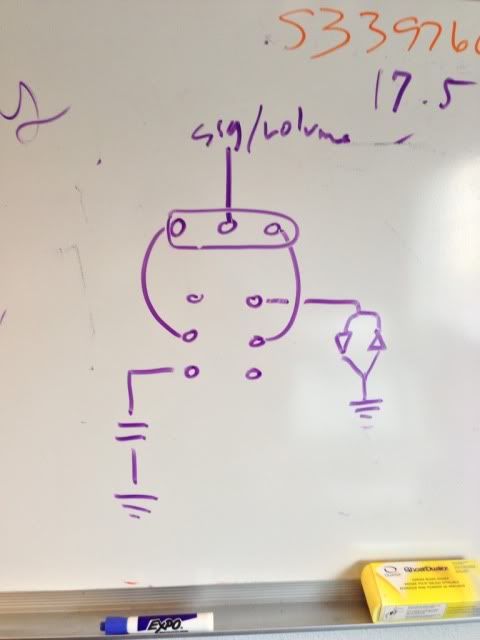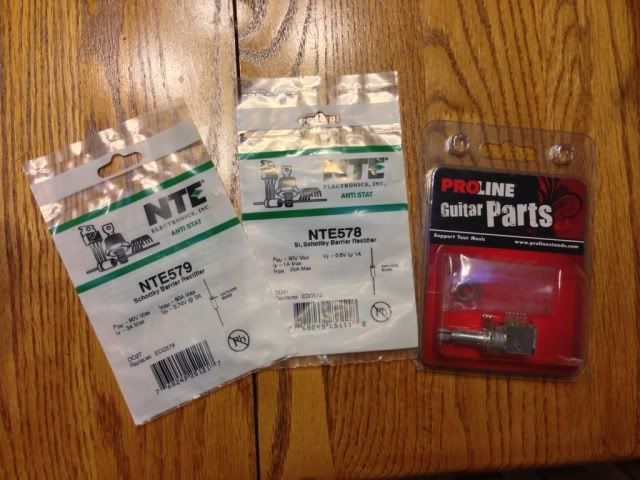 Here it is when it's wired up.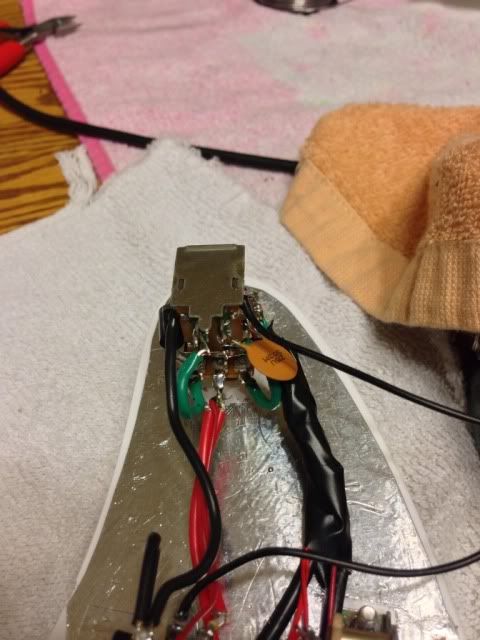 In order to install this new longer pot, I had to Dremel the cavity a couple mil deeper as well. It's installed, and I gave it a rough test.
The tone pot now functions as a tone pot when in, and controls the amount of distortion when pulled out. The volume is also a killswitch. So now I have a 5 way switch, a volume, a kill, a tone, and onboard distortion. But visually it's one switch and two knobs.
very nice work there

yeah the gotoh trem will slay whatever was originally in there, it's a really good trem
Yea its a pretty damn good job you done there. Awesome.
Hope to have the bridge fixed (need moved like 1 mil toward the high E) this weekend. Once the bridge is fixed and the new truss rod cover and retainer bar are installed, it will be done, and I will set it up and post a video here of the final product, including overview of the features and tones.
Depending on how tight the neck pocket is, you might be able to tweak the neck just enough to line that string up on the fretboard. Loosen the neck bolts a bit, push the neck towards the high E, and re-tighten the bolts while continuing to apply pressure on the neck.
The neck is tight in the pocket. I may be able to move the angle slightly, but even then it won't be quite right, the bridge is just a bit off, from the pickups and neck pocket and everything.
Very nice! I'm currently doing something with a Flying V kit I got from BYOG.com, and I was pretty letdown by the quality of the kit. By the time I get done with it, it should play and look much better than it would have.

I'm curious what you think about the onboard fuzz. I bought some of those diodes to do the same thing, but I don't have a guitar that I'm willing to mod right now.
I think it's worth installing them in a push pull pot. It doesn't detract anything. How it sounds will completely depend on your pickups and the diodes you got. Put them on your hottest pickups. I personally like having some more control, and the fuzz adds some neat sounds. I think it would be easier to install on a rear route guitar, it's a pain dealing with all the wires on the pickguard. But once it's in it's great.

Join date: Aug 2006
70

IQ
Really nice job man, looks great.
Thanks. Anyone have any questions/suggestions/advice?
I think it looks fantastic. Great upgrade options for the pups and bridge. Thats the way i would do a JEM if i was to own one. I was - < that close to get one but i got my new amp instead. Great idea for the TREM stop that shiz is genious i have to remember that for future advice. Great Build and thread bud.
Actually I do have a question for you. If i was to get a kit guitar to start a project like yours where would you suggest to purchase from? Mind you i will mod the crap out of it anyway but any advice on the subject will be helpfull.

Edit: Guitar type would be a Strat Copy or JEM copy. Thanks
Last edited by bburritt1 at Feb 23, 2013,
eBay is going to be the cheapest place to go, but you really have to be careful. Everything looks fine, but as I've found, some cavities are misrouted, holes are slightly off.. The cheap body and neck cost me a week or two worth of time. But if you are willing to do the work, it should be fine. There is very little you can't fix when it comes to wood. If you are painting it, it should be fine, but the wood cuts used aren't that great for natural finishes.
Here we go: all done and assembled. Need to do the setup stuff like intonation, but other than that, she is done. Let me know what you think. Once I set it up, I will post a video of how it plays, plus the features.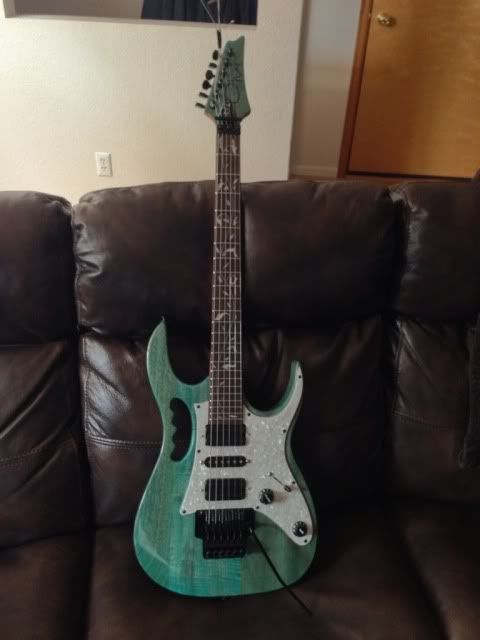 very nice

Thank you very much sir. Yeah i didnt think it would be like ok its here it will be perfect in a couple of hours or else everyone would be doing this. Again thanks for the heads up. I only saw a one company do the JEM and it intrigued me for sure. That and i would love to have another strat project. I love modding guitars. I just never know what to get! But thats half the fun.

Enjoy that fiddle man!

Join date: Jul 2010
130

IQ
I seriously had my cart pulled up to place my order for a Treml-no.
You saved me $70 by posting on this forum!
You have my thanks!
haha. Glad to hear it. The one I bought doesnt work. Make sure to get a barrel bolt as small as possible, the kind for bathroom doors.
I seriously had my cart pulled up to place my order for a Treml-no.
You saved me $70 by posting on this forum!
You have my thanks!
RIGHT! That shit is genious! I never would have thought of that. Whoever's idea was that originally i

to you!