Daughter needs a starter amp
1) She doesn't need a lot of power: I'd cap my search at 30w or less. And honestly, 5-20w is plenty.
2) Tube amps sound a bit better to most players, but solid state amps are eating better. I know some veteran players who have gone to SS amps and still sound quite good.
Tube amps still have the tonal edge, though, until you start getting into the higher end SS amps.
SS amps shine in being nearly impossible to kill due to rough treatment, and are generally the go-to foundation for effect modeling. Effect modeling is a surprisingly effective tool for promoting practice- if there is a guitar sound you are trying to emulate, modeling amps let you dial it in without spending thousands on pedals.
For tube amps, I'd look at small Fender, Vox, Peavey, Egnater or Carvin amps.
I don't know small SS amps too well, but I have heard some OK things about the Fender G-Dec amps.
3) That said, there is another path. When I started playing electric after years playing cello and acoustic guitar, I did NOT immediately buy an amp. I bought good headphones and a portable digital amp/effect modeling device called a Korg Px4. There are many of these things on the market. An (incomplete) overview:
Boss Micro-BR 4 track
http://www.guitarcenter.com/-i1169092.gc
Pocket POD
http://www.guitarcenter.com/Line-6-Pocket-POD-Guitar-Multi-Effects-Processor-104391875-i1173933.gc
Tascam GT-R1
http://www.guitarcenter.com/TASCAM-GT-R1-Portable-Guitar-Bass-Recorder-105125306-i1401677.gc
http://www.guitarcenter.com/TASCAM-DR-1-GT-R1-Accessory-Kit-105020473-i1402140.gc
Korg Pandora Mini
http://www.guitarcenter.com/Korg-Pandora-Mini-PXMINI-Guitar-Multi-Effects-Processor-H70754-i1746466.gc
Korg Px4
http://www.guitarcenter.com/Korg-Pandora-PX4D-Guitar-Multi-Effects-Processor-103381554-i1124641.gc
Korg Px5
http://www.guitarcenter.com/Korg-Pandora-PX5D-Guitar-Multi-Effects-Processor-104821715-i1387080.gc
Here is a visual comparison of (left to right) Tascam, my PX-5 and one of my Px4s to my old Aiwa cassette player: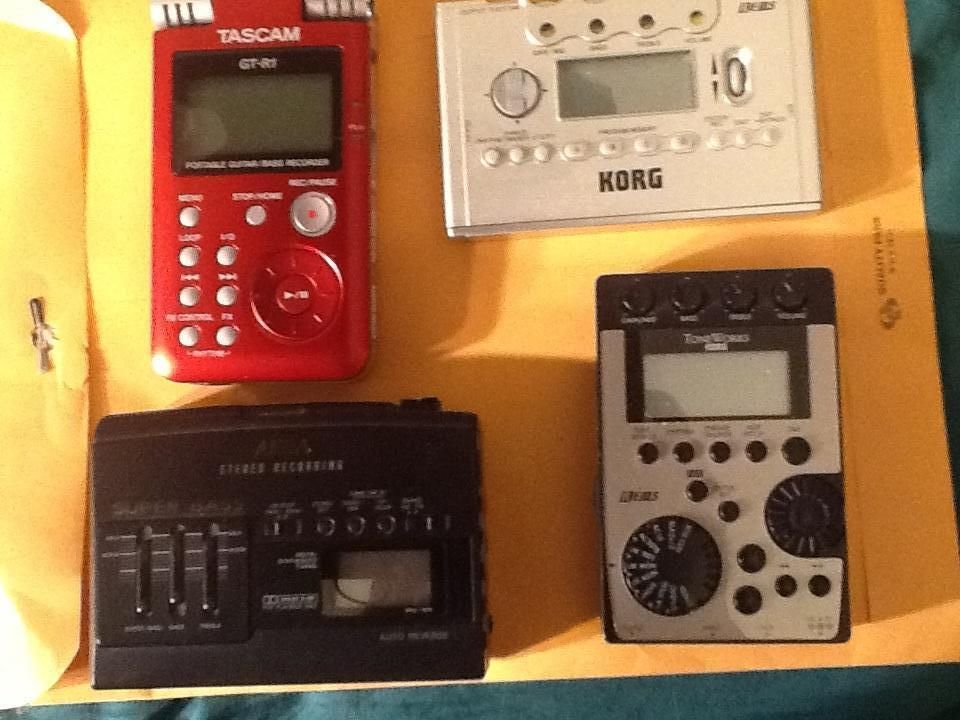 With the exception of the Tascam, none of the devices I pointed out has decent acoustic recording capacity. What they DO have are features like tuners, metronomes, drum synthesizers, and digital amp & pedal modeling.
So with decent headphones, you can rock out like you were playing Texas Stadium. And yes, they are all about the size of an old Walkman.
The ones I own: the Tascam has the external mics, a phrase trainer (loop & slow down stuff for practicing), and takes SD cards. Both it and the PX5 can connect directly to your computer via a USB port. The PX4 is discontinued, but it can still be easily found. It is less powerful than the PX5, but, oddly, the PX5 does not have a belt/strap hook.
The ones I don't own: The Line6 PocketPOD is, I believe, the most popular device like this; the Boss might be the most powerful (and priciest); the Pandora Mini is the smallest (its about the size of a stack of business cards), cheapest, and least powerful.
Last edited by dannyalcatraz at Mar 16, 2013,