NGD: The vibe is a classic one
Just got a new guitar today. It's a mixed feelings buy though because it's something for me to use for now because my beloved Eclipse fell from its stand and cracked its neck. I haven't had it checked out yet but I will after the weekend. I've never been as devastated about any material thing before. My little baby is almost dead...maybe it can be fixed, maybe it needs a neck replacement, but I've got a feeling it's never gonna be the same guitar again. I hope I'm wrong.
Anyway, like I said I needed a quick replacement as I'm playing at this church every week these days and I needed a guitar for tonight. I've been hearing all these rave reviews on the Classic Vibe series so I thought I'd give it a try and I was sold as soon as I tried it. Amazing bang for the buck. Even a better build then the Mexico made Strat I had.
The neck is especially well done on mine. Fret job is amazing and the finish is flawless. It sounds great but I already know I'm gonna be missing the humbuckers a little bit. The beautiful Tele twang is there though and it's well worth it. Middle position on a Tele is an otherworldly experience I must say.
Anyway, enough rambling. Here's the porn: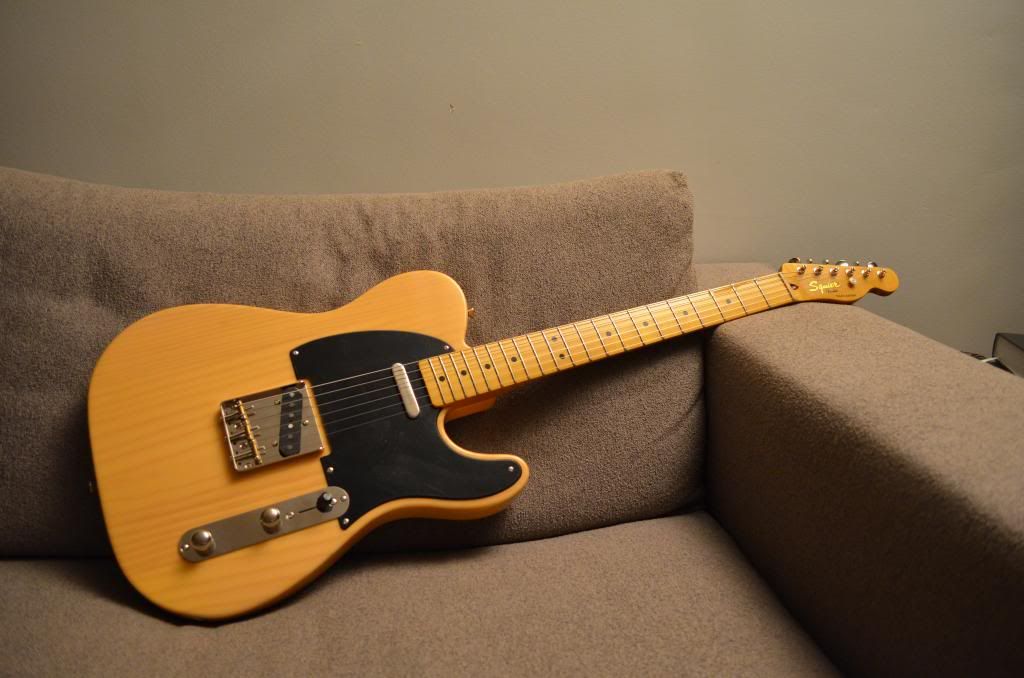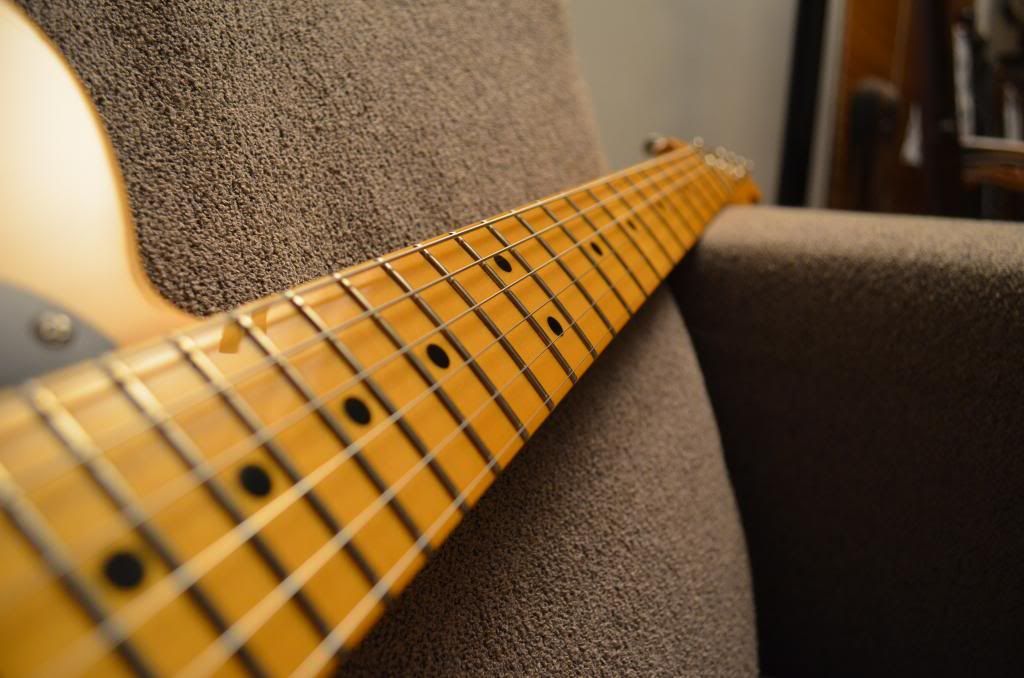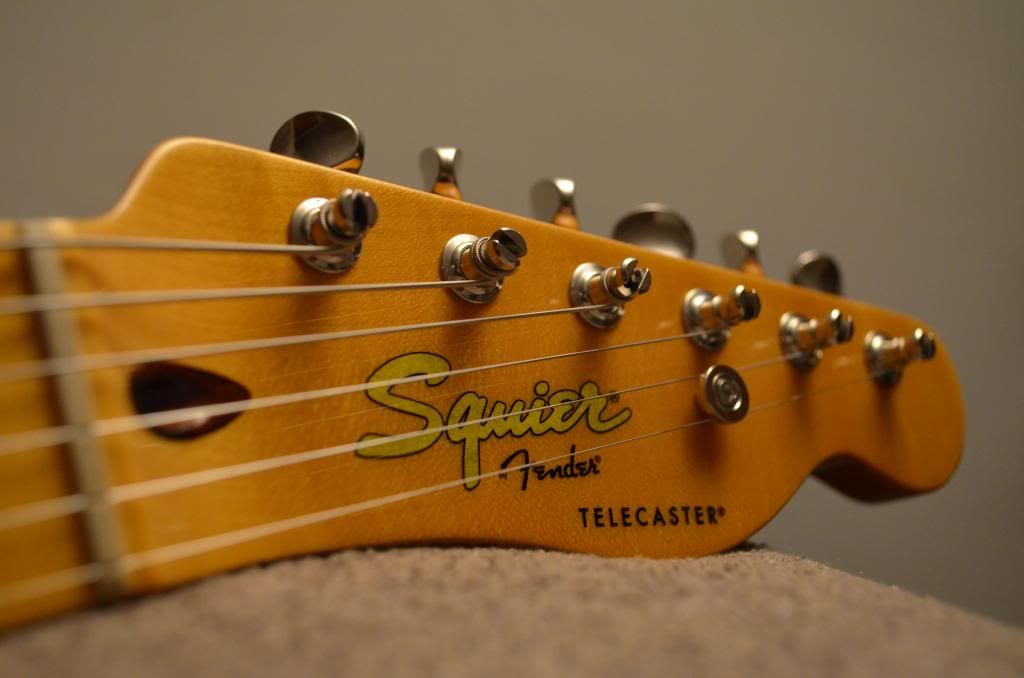 Pretty cool serial number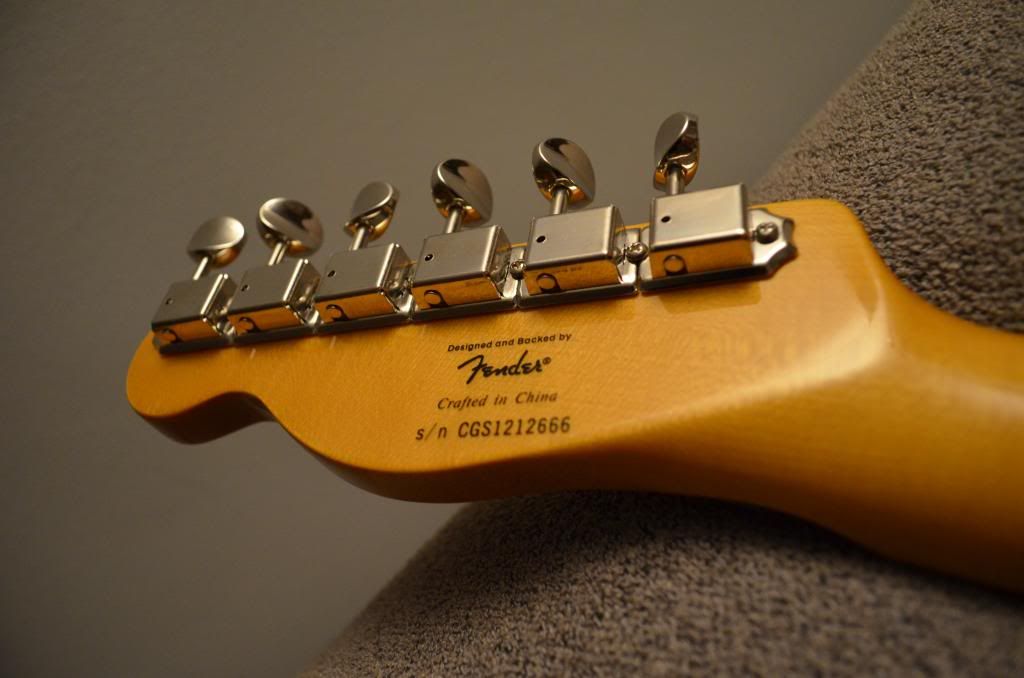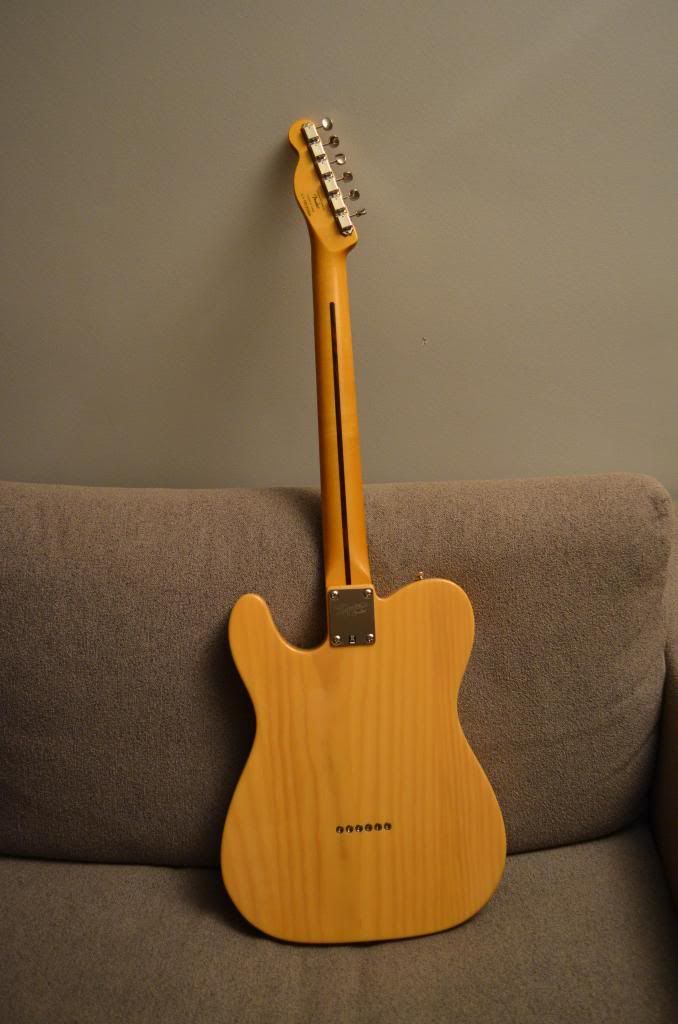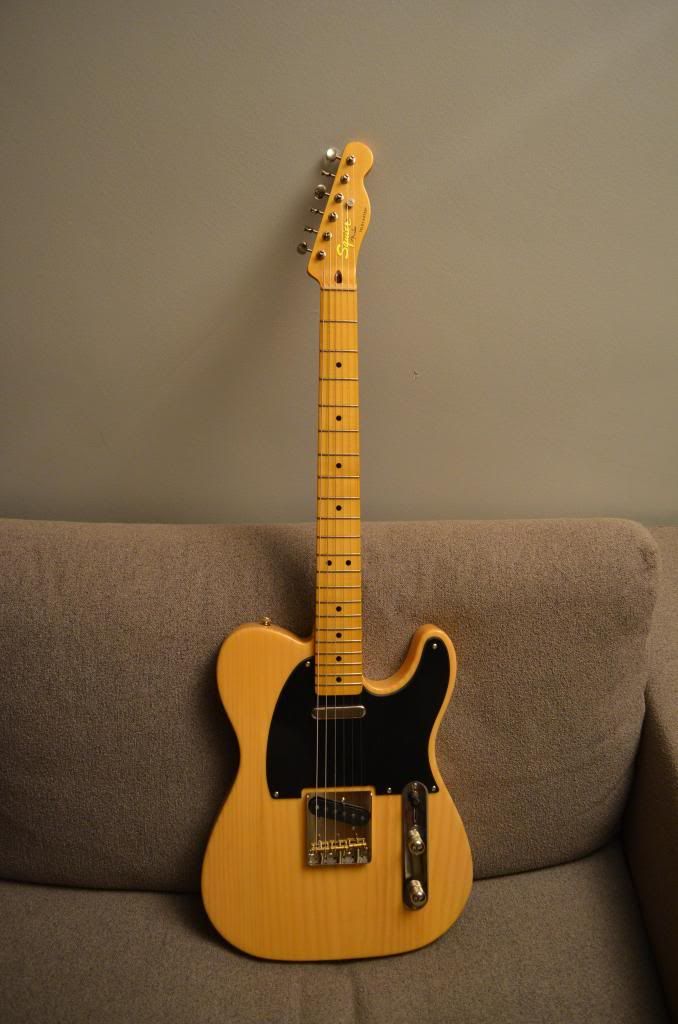 Hope you like it.
Holy crap. That wood grain

nice! HNGD!

Join date: Dec 2008
350

IQ
A moment of silence for your fractured axe.


HNGD!. That is about as classic looking as Teles come.
awesome serial number.


HNGD

Join date: Apr 2006
173

IQ
Very nice, I want that same guitar.
Hope you get your other lady fixed, still that is a lovely Telecaster.
That tele will turn make nuns get all wet over you

HNGD!
Congrats!

awesome serial number.

HNGD
+ 311

Join date: Apr 2009
10

IQ
My first though when I saw this was "please let this be a Tele" glad I wasn't dissapointed those things are great
HNGD

Join date: Jan 2013
70

IQ
awesome serial number.

HNGD
lol .... yep , the "BEAST" will be in church , hope they get along
sweet guitar !!

Join date: Feb 2013
50

IQ
i always hated squire ever since i had a bad experience with the several years ago... until i tried a classic vibe.

these things really surprised the hell out of me, the vintage modified ones too.i cant beleive im saying this but im actually thinking of getting a squire in the near future
They really are impressive for the money. I really love the stain or coloring they're using on the necks, looks so much nicer than 5 or so years ago when mim and mic fenders and squiers had that really pale maple that just looked cheap. I'm sure its basically the same wood now, but with the coloring it doesn't look as cheap.

BTW, can you tell how many pieces the body is? Hard to tell from the picture, but I'm guessing it isn't more than 2 pieces judging from the grain.
Thanks guys!

It's actually a four piece body Kevin, it's just very well put together, all the pieces meld like one. The only clear way for me to see how many pieces it had was to look at the bottom. I couldn't see it on the top, front, or back.

So I played it last night. I was fairly impressed. Used my Vox Night Train and my 2x12 Rectifier cab. Sounded really good. I might wanna change the bridge pickup though, but only maybe. The reason being; I thought individual string sound was kinda getting lost when I introduced some gain.

I also missed my Eclipse last night because of one thing: tuning stability. My Esp holds its tuning like a beast so I'm probably spoiled. But I had to tune a couple of strings twice in mid set yesterday. In defense of the Tele I can be a really hard hitter though.

What would you guys recommend to swap for a better tuning? Tuning pegs? Nut? Both?

I had it set up yesterday by my dealer for a set of 10-46 strings, maybe the neck is just still adjusting to the change?(I'm a n00b when it comes to guitar set-ups)

All input much appreciated!
that looks awesome

awesome serial number.

HNGD


Join date: Feb 2012
170

IQ
Holy crap. That wood grain

nice! HNGD!
No kidding! That is a sweet looking guitar! HNGD indeed!
Definitely the nut. I can't stand having a guitar without having my tech down the street toss a bone nut in it. Its one of the most common culprits of tuning instability, especially when you're talking about cheapo plastic nuts. Not to mention that bone nuts just play and sound better than plastic.

Join date: Sep 2009
50

IQ
dude that awsome! i have never seen one like that before. Congrats!
Thanks guys!

Yeah Kev I'll definitely change the nut! Appreciate the help!
Good deal, make sure you play the shit out of it before you get it changed, the difference is phenomenal, imo, especially unplugged.
Damn i'm sorry to hear about your Eclipse, man.
^ oh wow i missed that. That sucks