NGD: Bacchus Korina V Day BFV-2010K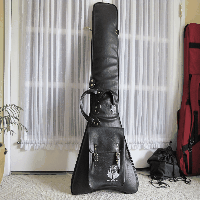 i officially suck at gifs
so first i gotta thank harold who found it on digimart and suggested i contact dangerdog if i wanted it. huge thanks harold.

i also have to thank meestursparkle aka dangerdog. i couldn't be happier with the service i got. he picked it up, sent great quality pics because he happend to be set up for it - bonus, weighed and shipped it fast, very well packed, like hurricane proof well packed. i don't have to buy bubble wrap for a year. seriously.
here's what he sent me, his is pictured in the pics with two of them. he scored one as well.
SlickPic - Jamesporter's Gallery
thank you james, i really appreciate it and congrats on yours!

here's the take.
according to the warranty card it's a BFV-2010K.
got a bit of flame in there.
Last edited by gregs1020 at Aug 3, 2013,