little help please
Alright, about ten years ago I wanted to learn guitar. Went to my local shop. Bought a guitar. Put it in my closet. Fast forward... I drive truck long haul. I got a lot of down time. So I've been learnin me some geetar.

My ax is an Indiana IS-400. It has 3 humbuckers, 2 tone control 1 volume. 5 way selector.Whammy bar.

For an amp I got a Marshall MG10 but there's no outlet to plug to in my semi, so I got a Fender Mini Tone Master.

Now my issue... My E and A strings (top 2 or thickest) sound like ass. I put on a fresh set of EB Slinkys and still horrible sound. Its like a muffled fart. So next I thought this amp is junk. Speakers blown. So I connected it to my stereo in semi via 3.5mm cable. Wouldn't ya know it, still crap. I read to adjust pick ups, so I moved them up and down. Still... I'm so frustrated.

With the selector all the way to bridge. And gain turned down to like 0.5 its almost tolerable. Any other position or any more gain and I can only play 4 strings.

So what do I do?

Join date: Dec 2009
240

IQ
the MG-10 is a fairly terrible amp, but your guitar could be the issue... it could be poorly set-up (which could cause the strings to not vibrate cleanly- hitting the frets unintentionally) or it could just be a victim of shoddy build- indiana guitars aren't really that good.

anyways, if you could get to a shop with a decent amp in it, you could answer a lot of those questions really quickly.

also, you could pop for a 12 or 24V inverter for your truck (depends on what sort of DC outlets you have in the cab). that way, you could actually plug a reasonable amp into it.
Never heard of the brand of guitar before, could be uneven frets maybe? If you're putting EB's on it, and it still sounds rough, it's probably the guitar. Maybe see about getting it set up. Im not sure about the amp, it could be that too...
Yeah the more I learn the more I think I was a sucker. The fact that my tone knobs make no difference in sound at all. But ten years ago, those triple humbuckers just looked so impressive.

The MG10 wouldn't last in my truck. I've already re-soldered the input jack. These rigs tend to beat the crap outta anything inside. I stopped at a guitar center not long ago, I played a Charvel guitar to test out the mini tone master. It sounded ok there, for a pocket amp.

As far as set up, Ive read some on checking a truss rod, didn't adjust it tho, seems good. Action is nice and low, it doesn't buzz. I have a Korg plug in style tuner that I used for setting/checking intonation. Just the top two strings don't have a defined sound. More like a rubber band. Maybe pick ups are just getting wore out? Is that possible?

Maybe time for a new ax?
Can't help you with the guitar issue.
However, since you're on the move a lot, a good pair of headphones and something like one of these might be a better option for you:
Boss Micro-BR 4 track
http://www.guitarcenter.com/-i1169092.gc
Pocket POD
http://www.guitarcenter.com/Line-6-Pocket-POD-Guitar-Multi-Effects-Processor-104391875-i1173933.gc
Tascam GT-R1
http://www.guitarcenter.com/TASCAM-GT-R1-Portable-Guitar-Bass-Recorder-105125306-i1401677.gc
http://www.guitarcenter.com/TASCAM-DR-1-GT-R1-Accessory-Kit-105020473-i1402140.gc
Korg Pandora Mini
http://www.guitarcenter.com/Korg-Pandora-Mini-PXMINI-Guitar-Multi-Effects-Processor-H70754-i1746466.gc
Korg Px4
http://www.guitarcenter.com/Korg-Pandora-PX4D-Guitar-Multi-Effects-Processor-103381554-i1124641.gc
Korg Px5
http://www.guitarcenter.com/Korg-Pandora-PX5D-Guitar-Multi-Effects-Processor-104821715-i1387080.gc
Here is a visual comparison of (left to right) Tascam, my PX-5 and one of my Px4s to my old Aiwa cassette player: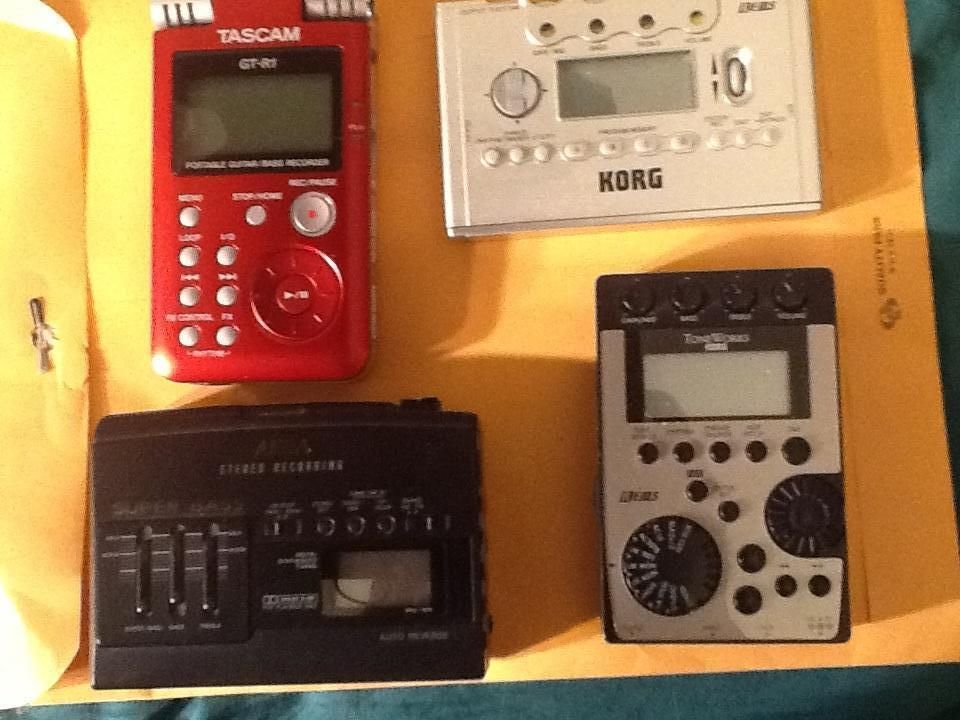 Only the Tascam has decent acoustic recording capacity. All DO have features like tuners, metronomes, drum synthesizers, and digital amp & pedal modeling.
So with decent headphones, you can rock out like you were playing Texas Stadium. And yes, they are all about the size of an old Walkman.
The ones I own: the Tascam has the external mics, a phrase trainer (loop & slow down stuff for practicing), and takes SD cards. Both it and the PX5 can connect directly to your computer via a USB port. The PX4 is discontinued, but it can still be easily found. It is less powerful than the PX5, but, oddly, the PX5 does not have a belt/strap hook.
The ones I don't own: The Line6 PocketPOD is, I believe, the most popular device like this; the Boss might be the most powerful (and priciest); the Pandora Mini is the smallest (its about the size of a stack of business cards), cheapest, and least powerful.
Are the two top strings tight when you strum them? or are the flimsy and sound like a bass guitar? could be your tuners are shot.
@dannyalcatraz thank you for the suggestion... And links. Now allow me to look stupid. What exactly am I checkin out? Does the guitar plug in to that? Is it like an amp with no speakers? I see they have "hundreds of effects, drums, recording, etc" I'm just not really sure what to do with all that.
@equilex yeah string tension is good. Tuners are a tad loose but it will hold tune for around 4-5 hours of playing.
@dannyalcatraz thank you for the suggestion... And links. Now allow me to look stupid. What exactly am I checkin out? Does the guitar plug in to that? Is it like an amp with no speakers? I see they have "hundreds of effects, drums, recording, etc" I'm just not really sure what to do with all that.
Yeah, using a standard (but usually shorter

) guitar cable, you'd plug into one of those device's "Input" jacks, and your headphones into the "output" jack. One of those will fit in most guitar cases.
I got my first one because of that- I could practice anywhere I could take my gear.
The effects and amp modeling help you shape your sound like pedals and different kinds of amps would. That way, if you want to play a surf guitar song, it will sound like a surf guitar song; a metal piece will sound like metal; a country tune will have a twang to it. It won't be perfect, but it will be a decent approximation.
Personally, I think they're the perfect practice tool, ESPECIALLY on the road...or any time you want to play without disturbing anyone.
And they can be used with a standard amp like a pedal would, too, though I personally don't.
Join date: Apr 2010
1,600

IQ
i have a korg toneworks floor MFX. if you take your time to tweak they can get pretty nice sounding. mine is older so i am sure danny has a newer model which likely sounds better. they work, and run off of 9VDC (or adapter).
Actually, I don't.

For travel & quiet practice, I have my Pandoras and the Tascam. For everything else, I play through a Fender HRD combo with a carpet of pedals.
To conclude... I bought a Digitech RP70. Cheapest one they had at GC. Hooked it to the fender mini tone and was surprised how much clearer the lows could get. Now I bypass the fender and just run a 3.5mm cable from the headphone port to the aux in on my radio. Rockin in the semi.
Note to self: if I hear "Highway Star" outside my car while I'm on the interstate...get out of the way!