Hilariously Bad Tattoos
So, with the advent of stupid people having access to the internet far more readily, as well as the mass social monopoly of Facebook, already a few years under our metaphorical belts - I saw a prime example of the way life is these days, via something shared by my girlfriend's cousin, on Facebook and after failing to find a similar thread with the holy searchbar, I decided that we totally need a thread to post hilariously bad tattoos... or something like that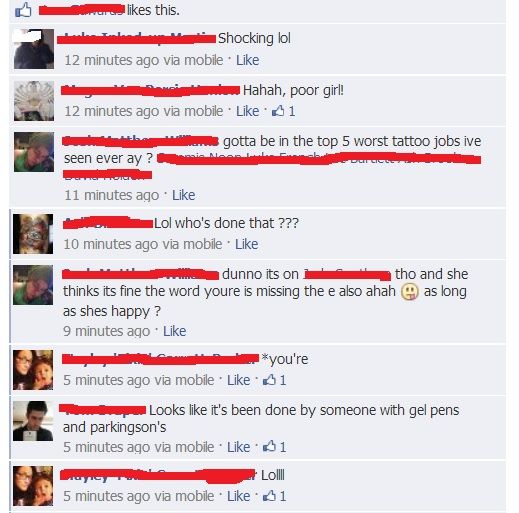 Added later:
So, her cousin probably shouldn't have shamed somebody else's work so publically (names were included; I have removed names therefore I have some moral high ground, right? Right?

) but he's a tattooist too and I understand people are passionate about stuff like that and are horrified that other people get paid to butcher people in such a way... but, terrible grammar and spelling from several people aside (not just that girl, but also 'parkingsons' kid), do tattoos like the above make you cringe and despair for humanity?
I seriously can barely comprehend there are so many people who are happy to almost-permanently brand themselves with something so poorly-thought-out that they would not only have it done pretty unprofessionally (not exactly neat, is it?) and even show up their inability to use basic grammar.

So yeah, post more pictures of said atrocities, or just complain and insult everybody as is often typical Pit tradition

P.S 'inb4' check out
that
sideboob...