Amp Wont turn on, New power tubes? *PICS*
Been a while since I posted anything! But I figured any amp builders would understand the circuitry and process of rebiasing more so than anywhere else.
Anyways, I love my amp. Great amp for the price and I have had it for years and have yet to need to replace the power tubes (I had one pre-amp tube that was replaced, but the amp was still under warranty and I got it fixed for free)
Anyways, I checked the fuses in the back of the amp, and the two fuses on the circuit boards underneath the amp. And from what I can tell, the tubes also look good. Although a bad tube can still look find if they lost their vacuum (as far as i know...)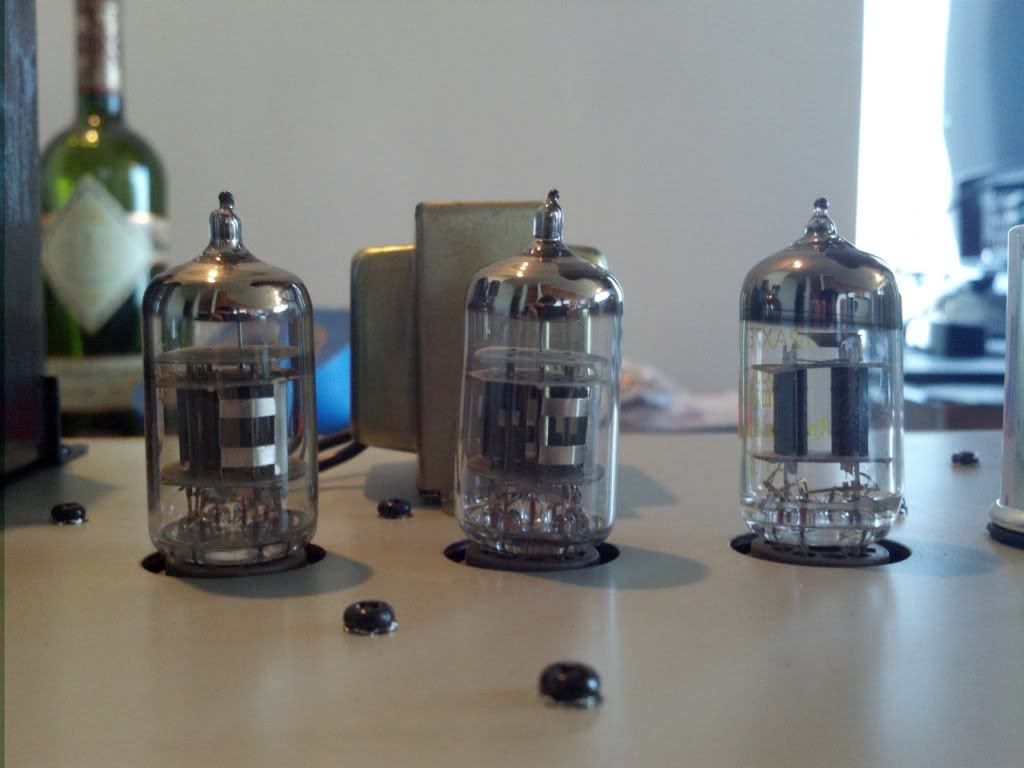 I am fairly confident I can replace the tubes myself. I have read that if you replace them with exactly the same type of tubes, you may not need to rebias the tubes, but most people recommend that you check anyways.
The amp has been unpowered for days, but I am still being wary of the capacitors, as I know they can store enough voltage and current to kill someone.
If anyone has any advice or any suggestions I would appreciate them!

Join date: Feb 2011
310

IQ
Pull the tubes straight out of the sockets.

Spray the new tubes pins with Deoxit (or other electrical contact cleaner) and push them in and out of the sockets a few times.

You don't have to rebias your amp, but rebiasing will get the optimal tone from the new tubes
The amp will not power on with the main switch correct? Are you SURE the fuse it ok. Normally there is a "main" on the back panel, and maybe an HT fuse as well.

Join date: Aug 2005
210

IQ
Dont rely on a visual inspection to check fuses. i've had fuses look perfectly fine but have no continuity--my arcade machine does this to the main fuse (it uses like 7 fuses and they all need to be slow-blow types for this reason).

Also if you look at almost any tube you'll see a shiny metallic substance deposited on the inside of the glass envelope. this is called the "getter" and its job is to absorb any gas that gets inside the tube. as it absorbs gas molecules it turns white and cloudy. a partially spent getter usually means a gassy/useless tube.
So im embarrassed to say it was a fuse!
Although not one of the three I thought it was. There was a fuse hiding in the power socket I had no idea about and thats what blew.
Been fixed for several days now without any problems. Im gonna chalk it up to a lighting strike or something