(Belated) NAD - Vintage content inside!

Join date: Apr 2005
680

IQ
Hey all,
So, although I think it will need just some minor work (it was at least re-tubed!), I picked up this old-school gem on the cheap over the weekend. Since there's nothing for me to unpack, being used gear, I'll skip my usual "comic book" style of presentation, and just get straight to the point here!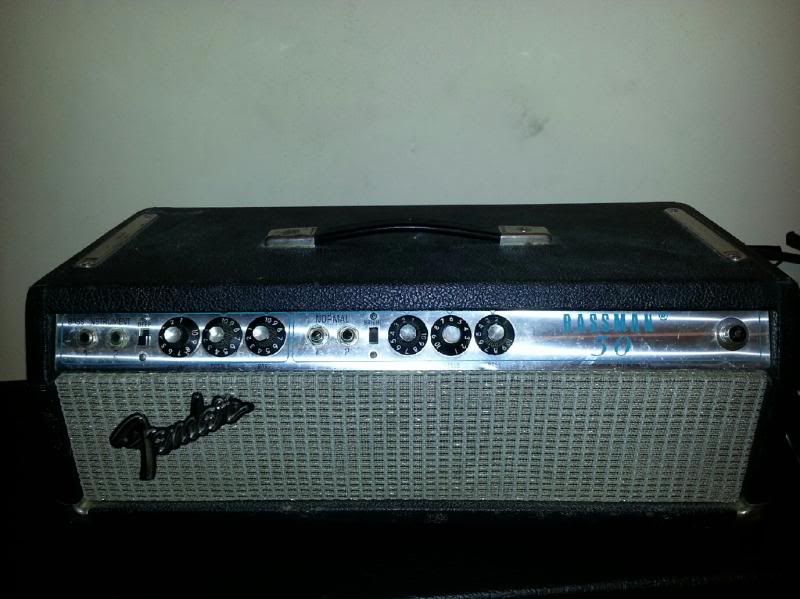 Behold! A circa 1971-72 era Fender bassman head! I primarily picked this one up to play other genres of music that my ENGL isn't so good for (so basically, anything non-metal

), but also figured it'd be a nice amp to have for recording cleans in the studio with too. Due to my limited play time on it (mainly due to my only working electric atm being my 7-string w/EMGS - crappy cleans! Need to get the others fixed), my review will be a bit more brief than usual, but should still cover what needs to be said well enough. Going by features/tone/overall value here...
Features
- As you can see here, this is definitely what you call a no-frills, straight to the point kind of amp. No channel switching (albeit multiple inputs), no effects loops, and minimal extras - Just the way I tend to like amps, myself! You have a "bass input" channel, and a "normal" input channel, each w/2 jacks. Each "channel" has volume, bass, and treble knobs. The bass input has a "deep switch", and the normal input has a "bright switch". For those who like to just plug in and play, it doesn't get much better than this.
Tone
- For such a simple amp, there's a fairly wide variety of tones on hand. When I tested the amp out, I played with a 1981 Gibson Les Paul through it. The bass input seems to have a fair share of extra gain, and gets dirty a lot more quickly than the normal input when you crank the volume. The normal input is alot cleaner, and brighter. On this channel, you get the classic, chimey Fender clean tones with ease, and it breaks up beautifully when you start to push it. The bright switch will help you get some nice twang too.
Two other things I will say so far - One, this thing takes pedals very well. It seems to like my reverb and overdrive pedals that I tried through it. And two - This thing gets way LOUD! You'd better invest in an attenuator, or a good pedal for some dirt if you wanna play more than just cleans on one of these without getting the cops called on ya.
Overall
- Overall, it's easy to see why these old Fenders are sought after gems, as they're packed with gobs of great tone. You can pick up the Silverface era heads for next to nothing in the US, compared to alot of other name brand tube amps. Given the nature of the vintage gear market, who knows how long these things will stay cheap for, but for now, they're a great bang for the buck!

Join date: Jun 2008
50

IQ
Nice!
I've been looking into some old silverface amps myself.
I bet this thing sounds awesome.
HNAD!


Join date: Apr 2008
130

IQ
Nice find! If you don't mind, about how much did you end up paying for it?

Join date: Apr 2005
680

IQ
ExDementia, I dropped $400 USD on it. I've been told that's about an average price for one, but it's pretty cheap to me, being used to looking for ENGL/Mesa/other boutique brand high gain amps

Theonecalledjoe - Definitely! It sounds pretty nice through my greenback loaded cab, but I'm thinking of looking into another 2x12 for it with more American-ish voiced speakers.

Join date: Mar 2008
780

IQ
HNAD


Join date: Feb 2010
320

IQ
Sweet! It is ridiculous the kind of prices the silverface Fenders go for, and they sound pretty awesome!

HNAD!

Join date: Jun 2012
80

IQ

Holy Sh
i
t! Nice catch man! I heard those things are frigging awesome! You best post some sound clips boy

Hnad!