Recording device for tracking progress?
I'm wondering if it's a good idea to record myself on different techniques I'm working on like sweep picking and 2handed tapping. I heard that it's a good idea to record yourself everyday. I wanna be able to hear my difference in playing versus seeing it ( ex. writing down my progress w / BPM ). Also what are some devices that are good to record stuff myself with really quick and save it? I know Zoom has a few recorders. Any recommendations or advice is appreciated, thanks.

Join date: Dec 2008
350

IQ
Recording yourself can be very helpful. When I was taking lessons, I used a portable cassette player and a Radio Shack microphone.
Nowadays, there are more sophisticated devices:
Boss Micro-BR 4 track
http://www.guitarcenter.com/-i1169092.gc
Pocket POD
http://www.guitarcenter.com/Line-6-Pocket-POD-Guitar-Multi-Effects-Processor-104391875-i1173933.gc
Tascam GT-R1
http://www.guitarcenter.com/TASCAM-GT-R1-Portable-Guitar-Bass-Recorder-105125306-i1401677.gc
http://www.guitarcenter.com/TASCAM-DR-1-GT-R1-Accessory-Kit-105020473-i1402140.gc
Korg Px4
http://www.guitarcenter.com/Korg-Pandora-PX4D-Guitar-Multi-Effects-Processor-103381554-i1124641.gc
Korg Px5
http://www.guitarcenter.com/Korg-Pandora-PX5D-Guitar-Multi-Effects-Processor-104821715-i1387080.gc
Here is a visual comparison of (left to right) Tascam, my PX-5 and one of my Px4s to my old Aiwa cassette player: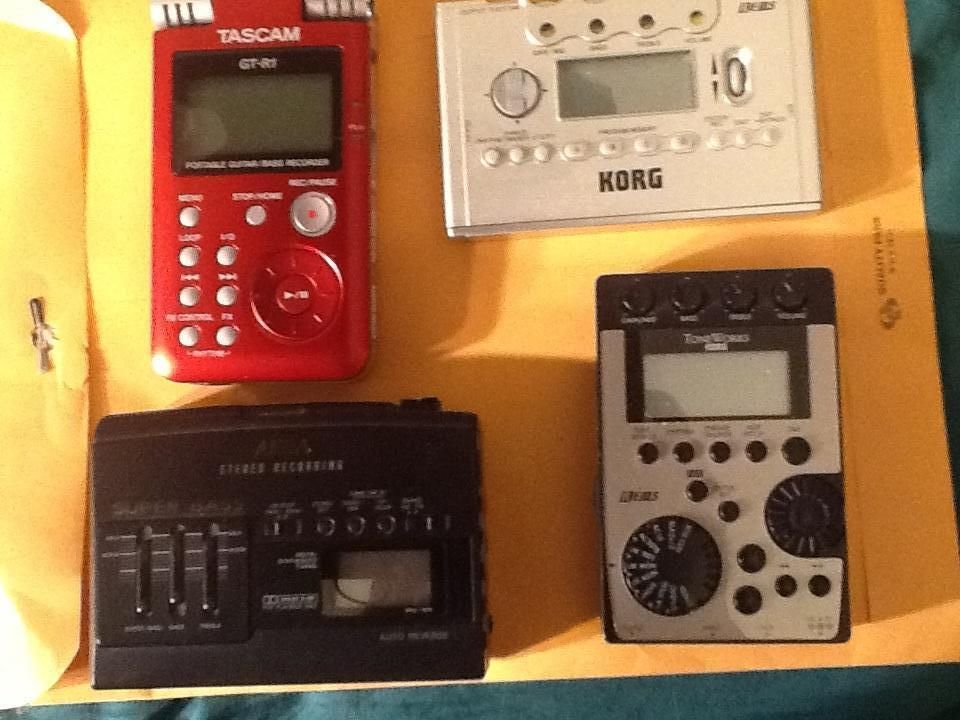 Only the Tascam has decent acoustic recording capacity. All DO have features like tuners, metronomes, drum synthesizers, and digital amp & pedal modeling.
So with decent headphones, you can rock out like you were playing Texas Stadium. And yes, they are all about the size of an old Walkman.
The ones I own: the Tascam has the external mics, a phrase trainer (loop & slow down stuff for practicing), and takes SD cards. Both it and the PX5 can connect directly to your computer via a USB port.
The PX4 is discontinued, but it doesn't meet your needs- no mic, no built in computer connectivity. (Included because its in the photo.)
The ones I don't own: The Line6 PocketPOD is, I believe, the most popular device like this; the Boss might be the most powerful (and priciest).
Thanks for taking the time to make that reply ( and adding the picture ). Very helpful. I'm gonna research those further.

Join date: Dec 2008
350

IQ
My guess is that something like the Tascam- and see other makers like Zoom, etc. online at Guitar Center or Sweetwater- or that Boss would be ideal for you.
Last edited by dannyalcatraz at May 3, 2013,
How about an iphone or an ipad? If you want to go direct you can get an interface as well.
I tend to record a lot of ideas on garageband on my ipad or iphone, depending on which is closer. The built in microphone works great for recording when I'm playing through my amp.
A bonus is that it has a ton of other features if you're not in the mood for using it for music.