Swweet ngd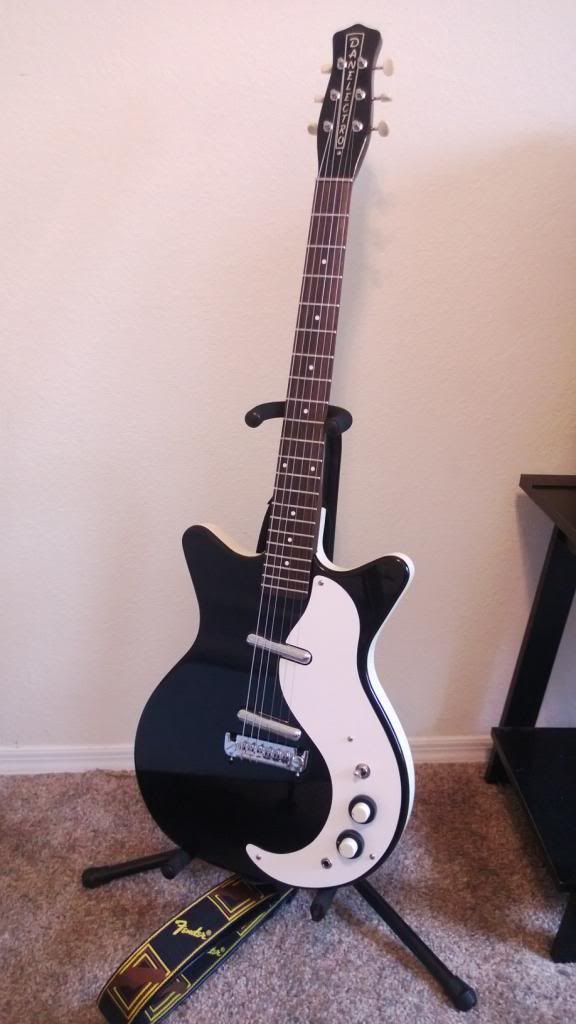 Got this new danelectro 59dc modified iv been wanting for years, 2013 model reissue with badass bridge, i think this is a severely under rated guitar (although since the reissues started coming out with the modified bridge theyve been getting alot more praise) and for the price cant be beat. People use the word jangly to describe this fine instrument as if its a bad thing, me personally i think it has the exact tone that iv been looking for, and if you want a guitar with its own voice to stand out in the crowd of les pauls and strats this thing is for you. It also doesnt hurt that some my favorite artists (JP, Syd Barrett, Mark Knoppfler, JH) have utilized it at some point in their careers despite most of them being able to shell out 5 times as much as the 59 cost for a premium axe. Its not for you metal heads and hard rockers but more for those of us who enjoy those vintage classick rock/blues tones and i imagine it could pull off a country twang pretty well too.
I love it so far and i haven't even started doing my usual ngd adjustments. Although I bought it from Danguitars.com and it was setup before shipping pretty well as far as action and intonation goes. Just gonna play around with the pickup height. But just wanted to give this guitar its due praise and get back to rockin

Last edited by DannyV783 at May 8, 2013,
Cool guitar, never really liked the look of Danelectro guitars but it has been years since I've seen one (dont think I've ever really seen one here in the UK), to be fair I do think that looks pretty cool, it has that 1950's surf vibe about it.

I like the Danelectro pedals, I have the Surf N Turf Compressor and the Fish & Chips EQ, they are cheap and they are plastic but they look cool and sound great!
That's badass! I've been considering a Dead On 67 if I can find one for the right price. HNGD!
kasmir right focking nao.

Dude HNGD


Join date: Sep 2009
50

IQ
Im not a dano-head myself but i think this guitar stands out from the rest of their lineup and is just beautiful in my eyes. As far as sound goes im willing to bet they all sound pretty similar same pickups and if im not mistaken same type of construction.
Just put some new Ernie ball 10 bottom heavy strings on it and made it 100% better my favorite guitar and a pretty good argument against tone wood imo great guitar

Join date: Oct 2012
50

IQ
I love the look of the '59 DC. Probably my favorite Danelectro guitar for looks. Not too expensive, either.
It and the mod 6\mod 7 are really the only ones that look good imo thinking about getting a mod one day, interested in hearing the lipstick humbuckers on it

Join date: May 2008
80

IQ
You missed out Mr Page from your list of users

Edit: oooops just saw your JP, it was a bit small for my eyes to pick up lol.
Last edited by Delboyuk_01 at May 13, 2013,
Ya I'm sure there was alot more people too, I think it really says something about this instrument that jimmy page utilized it among his huge collection of some of the best guitars in the world especially on such a heavy song like Kashmir where I would think to just stick with 59 les Paul but the danelectro definitely nails it

Join date: Dec 2011
120

IQ
Nice! HNGD. I definitely like the Danelectro 59. You're right, it is a little underrated. Excellent guitar for the price.
Looks mint

It is its the 2013 reissue from danguitars
Here's my family pic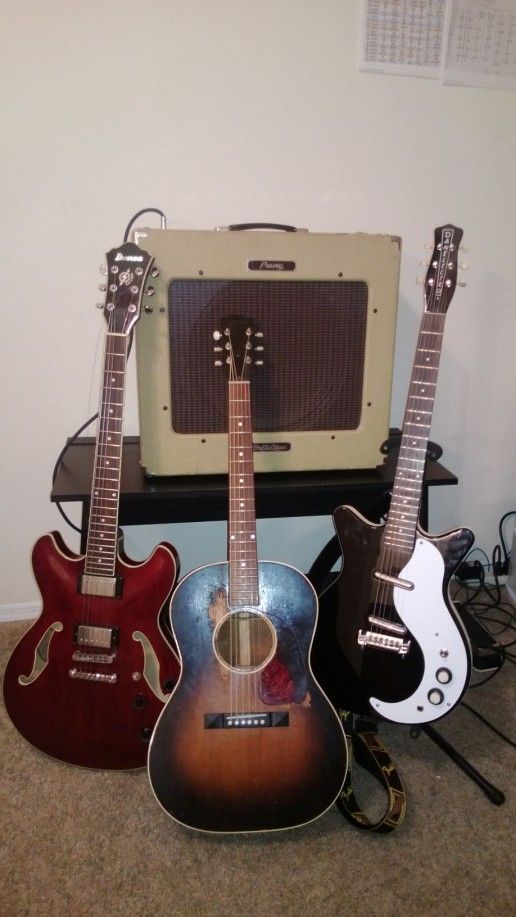 Last edited by DannyV783 at May 14, 2013,