PREACH ON! The Reverend Owner's Thread
REVEREND
- a little Detroit area guitar maker (est. 1997 by Joe Naylor) that is not on most people's radar...and that's a damn shame!
Despite their low profile, Reverends enjoy worldwide sales, numerous industry awards, and an artist roster with some pretty impressive names.
The earliest production guitars were all made in the USA, but economic realities have shifted production to Korea. However, each Reverend still has its finishing touches, inspection, and set up in the Detroit location by the same people who have always done it.
Reverend's design approach melds player-friendly features with classic style without actually looking or sounding like imitations.
TYPICAL CURRENT PRODUCTION REVEREND GUITAR FEATURES:

PIN-LOCK TUNERS

A thumbwheel under the tuner pushes a steel pin up through the post, locking the string in place for exceptional tuning stability and super-fast string changes. Also, the posts are custom height, eliminating the need for a second string tree.

CUSTOM PICKUPS, standouts include:

RailHammers

New from Reverend founder Joe Naylor, these feature a rail/pole design that keeps the lows tight and the highs fat. (Available separately at

www.railhammer.com

)

RevTrons

Based on the FillerTron design, but slightly hotter for extra punch and sustain.

Dual-Pro

Based on a mid 1960′s Supro pickup, with a hot single coil and a second blade polepiece in addition to the screw polepieces.

QUALITY TREMOLOS

Wilkinsons & Bigsbys only

GRAPHITE NUT

Reduces friction, allowing the strings to easily slide through the nut slots, improving tuning stability.

KORINA BODY

medium-light weight wood with highly prized for consistency, resonance and tonal qualities.

BASS CONTOUR

A passive bass roll-off does for the low end what the tone control does for the high end, giving you a broader variety of tonal options.
(More and thorough data can be found at
RevFan.com
.)
Reverend Guitars: if you had one, got one, or want one, post here!
Last edited by dannyalcatraz at Mar 8, 2014,
danny to make this thread more informative to people searching out reverends take a look at how the G&L thread is formatted in the OP. Jake did a great job on that thread and i think that kind of opening will help those searching them out. we can post pics all after the "informative" part with links and pics of different models/specs etc.
i'll delete this so you have the first so many posts whenever you want.

looking forward to this thread!
Eh..keep it in place as a reminder! No biggie.

And I'll check out the G&L thread when I get back from guitar circle, picking up my cousin after theater arts practice, eating dinner, walk the dogs...
I'm in! I'll have to take some new pictures though when I get some light. My NGD was too recent to repost the other pictures.
Oh, and Reverend freakin' rules

To start this off, I'm reposting pix of my one and only Rev: a Reverend Flatroc 15th Anniversary Edition (Gold metal flake #5 of 12). Korina body, 25.5" scale. 2 RevTron mini-Humbuckers (based on FillerTrons) and a Bigsby.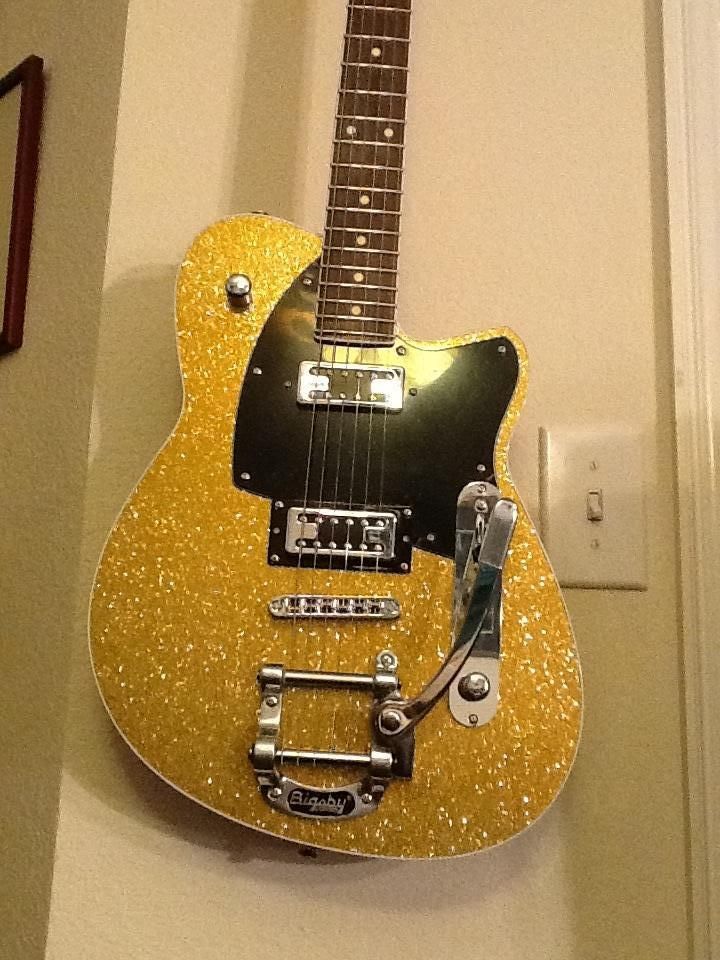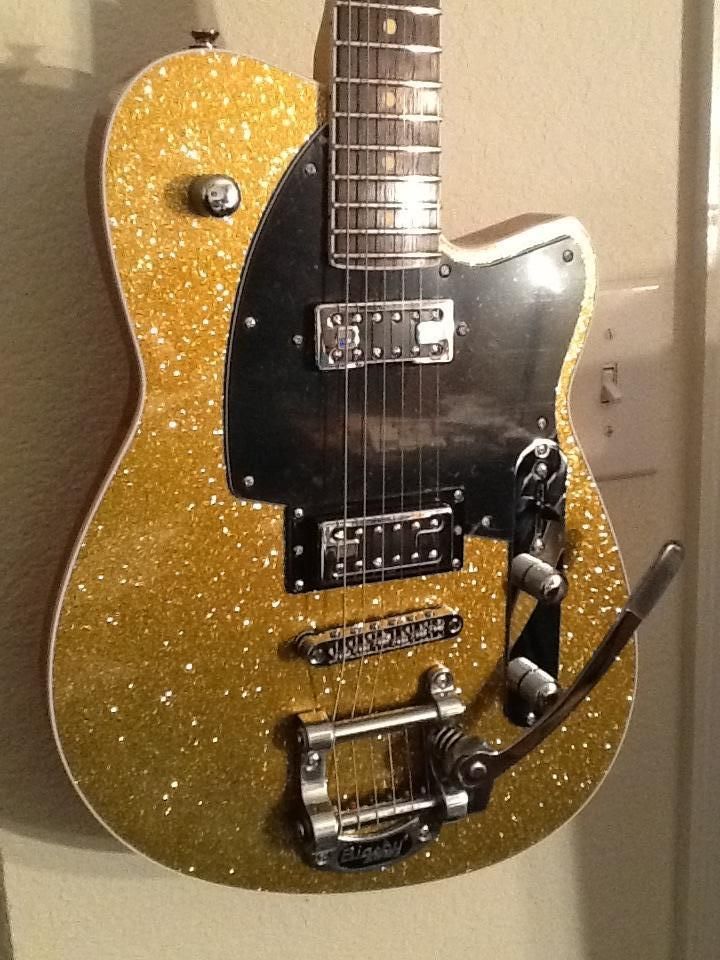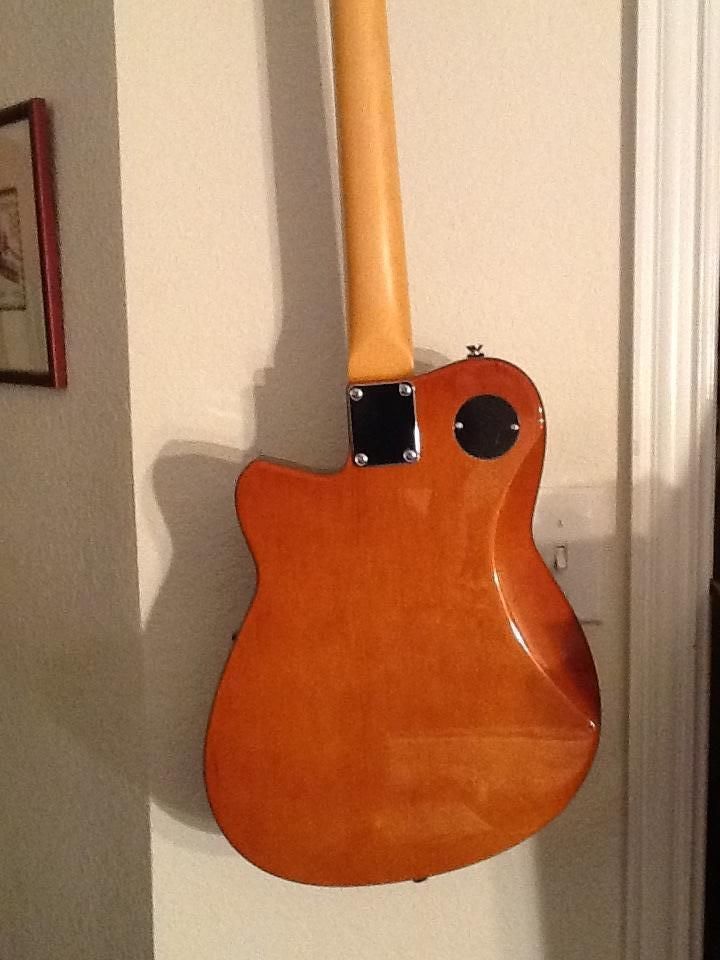 The honeymoon period is over, but the love remains! I've tried out a few others since I got mine, and have added some to my G.A.S. list.
Danny, I think you and I will be contributing to this the most, but I have a question about the Bass Contour and your Flatroc. I'm noticing some diminished volume on the roll off, assuming that it somewhat mimics a single coil. Now, I know you have the Revtrons, but is this something you've noticed as well?
Also, Fender seems to have done something similar to this with their Enforcer humbuckers in their latest HH Jag... I wonder if they're taking cues (ruh-roh, it's like a weak troll).

I think I know what you're talking about, but I don't think it is an actual volume loss. I think its an illusion based on how we perceive volume- more bass = louder.

That's just my theory, I don't have a dB meter to back it up.
always thought they looked cool but never have been able to try one

I really want a Reverend, but I'm not going to have free money for a year or longer. Sigh.
Keep your eyes open, y'all.
They are a small company and hard to find. I live in the Dallas/Fort Worth area- a sprawling metropolis of millions- and I have only found one store that stocks them. And THEY only have a few. I actually had to order mine from Tulsa.
And what I got was I just as ready to play out of the box as the ones from that store near me. For the most part, when I've seen them online, there was a discount of a couple hundred bucks. However, the is one retailer that doesn't discount theirs as much-
WildWood Guitars
- and they have a HUGE inventory, including some guitars with finishes that are exclusive to them.
Heaven help me if I win the lottery...
Last edited by dannyalcatraz at May 10, 2013,
See, I'm moving back up north in about a week, to Cleveland. I'm originally from Detroit and still have family there... I plan on making a few trips up there to scope some used guitar shops. I figure, Reverend is based out of Motor City, and the economy sucks. This is a perfect storm for a couple more Reverend NGD threads

Take the factory tour if they offer one!
Heck yeah! I'd like to meet Naylor, but I've heard he's a bit goofy one-on-one.

Join date: May 2012
30

IQ
Hey Danny, check out my store in Grapevine, called Grapevine Guitar Works, we have a lot of Reverend stuff now.
Hey Danny, check out my store in Grapevine, called Grapevine Guitar Works, we have a lot of Reverend stuff now.
I'm in south DFW, perhaps I'll be stopping by soon as well... I'm going to end up divorced, I better not!

Join date: Jan 2005
616

IQ
I want a Reverend super hard.
Get one and love it harder

Join date: Mar 2011
200

IQ
Great idea for a thread, figured danny would be the one to get this off the ground. Unfortunately, I just got rid of my Reverend to get my DC Les Paul. However, I do plan on buying another reverend very soon. Great guitars!
Hey Danny, check out my store in Grapevine, called Grapevine Guitar Works, we have a lot of Reverend stuff now.
I actually know your store quite well (for the record, it's a nice store!): I was going to buy that blue metal-flake Flatroc 15th Anniversary edition, but you sold it a few hours before I could return!
(I wound up getting that gold one from a store in Tulsa, but had I known about WildWood, I might have gone for a red.)
Anywho, I might get a Vito or Gabrels sig from y'all down the road...
Edit: just checked your site- you really HAVE boosted your Rev inventory! If I see something on the Rev site, can you special order? I like the Vito best in black, for instance.
Last edited by dannyalcatraz at May 11, 2013,
Ordered up a used white Daredevil HB with case for $350. Reverend #2 is on it's way to me! I wasn't crazy about the shape, but I sold my SG and kind of missed the style. Plus, these are spec'd out better than many of the SG's I was looking at, and the fact that they're discontinued kind of adds to the fun factor. Impending NGD! (I'll probably do another dual NGD since I have an ASAT Special that I got on Friday that needs a writeup).

Join date: Apr 2012
70

IQ
love me some reverend.
gassing for a flatroc- stupid lack of money

Way to go, SteveHOC! Lookin' forward to it!
love me some reverend.

gassing for a flatroc- stupid lack of money
[
CLINTON
]I feel your pain.[
/CLINTON
]
You know
we're
pullin' for ya!
I won't be buying any more guitars- beyond the ones I'm committed to already- until 2014, unless I sell something off. And I soooooo want a Reeves Gabrels and a Rick Vito...each in their respective black colors.
But I don't have a spare $2-3k just sitting around...
Last edited by dannyalcatraz at May 19, 2013,
See, the Flatroc will absolutely be my next Reverend when I find a knockout deal on one. I'm in the habit of not being able to pass up stupidly good deals when they come my way. I always have to view at least some of the guitars as transient investments, but there are staples to my collection as well. Reverends, I imagine, would be hard to sell due to a relatively limited exposure. You really have to play one to know just how good they really are.

When I do get the Daredevil, I may not do the traditional NGD thread and just post it in here. I will likely do a comparison with the Les Paul DC I owned, or the SG, as I've got extensive notes on both of those guitars.
Never seen a Daredevil, so I'm eagerly awaiting it!
Mmm, I like the look of the Daredevil, but mostly I'm gassing for a nice Manta Ray with p90s. I think my exposure to p90s has ruined me for anything else.
Mmm, I like the look of the Daredevil, but mostly I'm gassing for a nice Manta Ray with p90s. I think my exposure to p90s has ruined me for anything else.
Yeah, it's going to be a bit of an experiment for me, a departure from Tele's and offsets.
Dude, I just saw a semi-hollow Manta in orange with triple P90's and a Bigsby, pretty sure it sold yesterday. It was a limited run, but holy crap, was it awesome.
want.
want.
Sweet picture of a sweet axe!
Damn! That is a stooooopid low price.

Flip burgers! Sell yourself out on the streets! Go defile yourself at a sperm bank!

DO SOMETHING and BUY that!

(I would, but at $0.25/ throw- maybe $0.50 near a convention- it would take a lot of hooking for me to be able to buy that...)
Last edited by dannyalcatraz at May 20, 2013,
Holy crap. Buy that. Take a loan from a friend. Whatever it takes.
There probably isn't a better used HSH guitar out there under $500. I've never tried one out, and I'm now "Gil-curious".
Holy crap. Buy that. Take a loan from a friend. Whatever it takes.
All my friends are poor.

Reverend guitars don't seem to sell super fast in my area, though. I see a lot of them (maybe 1 a month on CL, which seems like a lot) around $500-600. I'm planning to sell some of my gear anyway to raise money for better gear, but that's going to take time.

I guess I better turn to prostitution!

I'd still rather have a Manta Ray or Sensei, though.

Join date: May 2012
26

IQ
Im getting as much OT at work as I can to buy this beauty!
Its going to be hard to justify it to the wife but... well im sure you guys understand

I have that one on my bedroom wall, with a lovely wide, padded, black leather Levy's strap. Those RevTrons sound killer, especially when playing classic rock, psychobilly or surf.

Tell your wife it is like Viagra that never goes bad.
Son of a bitch. I want a Flatroc so bad. I need to stop buying other guitars and just save up for one.
I really think these guys are in it for the long run, I think in a decade or less revs will be a long side the big players in the guitar world you can tell the amount of detail that goes into making these things, there some of the best quality and most versatile guitars on the market. I really want a Gil Parriss model. Just waiting for the right one at the right price to come into my crosshairs so I can pull the trigger