NGD: Japanese Content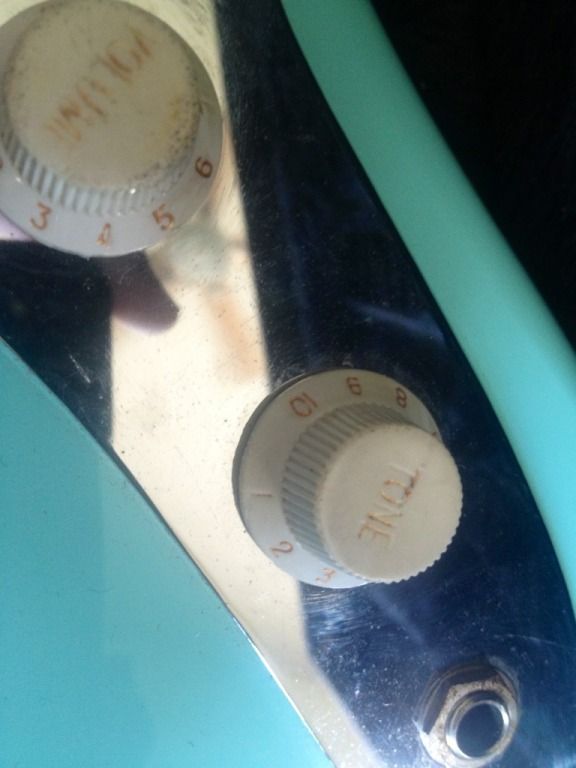 Any guesses? It's slightly misleading, you'll see why in a bit

(Review and pictures coming soon)
Last edited by Flux'D at May 13, 2013,
I'd say Jazzmaster, but the control plate is too far off, unless that's just perspective.

Join date: May 2011
131

IQ
Mustang or Super Sonic ;D

Join date: Dec 2011
30

IQ
Check out the control knobs on that though, Gallagher

Next teaser: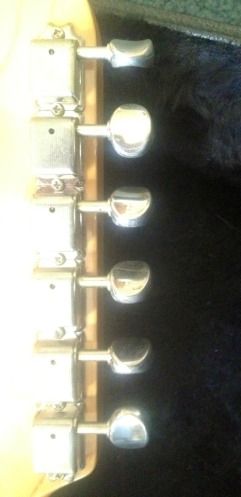 Join date: Apr 2006
80

IQ

Join date: Aug 2007
20

IQ
come on, I haven't got all day ya know
Marauder, Bass VI, Duo-Sonic, Music-Master, Swinger, Jag-Stang, XII, Cyclone, Maverick, Jaguar, Mustang? I'm pretty sure those are all of the Fenders with control plates.
The Suspense Is Murdering Me!
You're terrible
I can't stand the wait
I love offsets and non-Strat and Tele Fenders
I'm too excited
Just tell us what it is already
Non-original knobs
Last edited by sashki at May 13, 2013,
wow, 21 screws in that pick guard!

Did G&L make Mustangs?
EDIT:

Wait, is it just me or it looks like that pickguard doesn't belong to that guitar?
Last edited by Linkerman at May 14, 2013,

Join date: Nov 2007
420

IQ
HNGD

Play lots of surf or I'll hunt you down.
Eh, I lost interest in this after the pitmonkey Sash had to be an asshat. But I'll finish it up for UG's sake
1996 Fender Jagstang, Made in Japan (50th Anniversary)
Original run and I'd give it an honest 9.9/10, it's practically dead mint
I haven't seen any recent pictures of one in better shape
(Review in next post)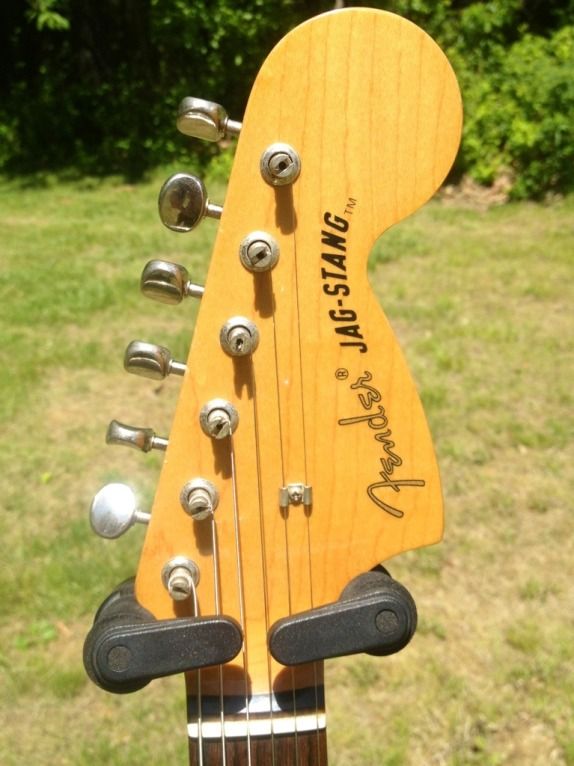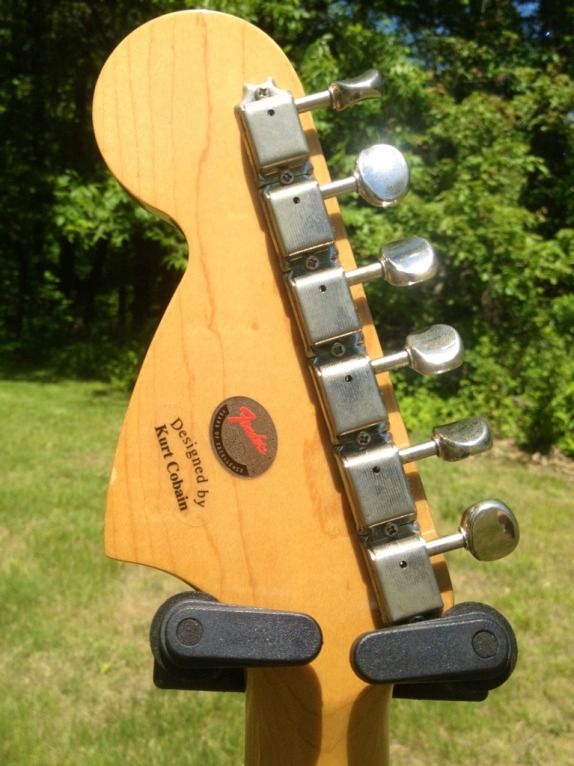 Wow, way to show my ignorance...

Looks really cool, congratulations on the acquisition. HNGD!

There's a lot of negative reviews out there and I'm not sure why? This is a very well built guitar, I guess it's not a traditional Fender design so everyone steps on it's toes. Kinda like people do whenever Gibson releases something that's not an run-of-the-mill Les Paul

. The previous owner was obviously not a player, the action and intonation were wayyyy off on this to the point it wasn't playable. Some quick wrenching brought it into shape though.
This is a 24" scale, 7.25" radius instrument with a narrow neck and vintage-style frets, it feels a lot different from anything else I've played. It's not a bad thing though, as a package it "feels right" to the hand. Any one of those specs applied to a modern instrument would feel very off to me, working as a team it's pretty nice actually. It's one of the better playing guitars I've had

. The short scale makes long stretches a breeze and rhythm playing is chording across a cloud. It frets out kinda early on the upper register, for example double unison bends aren't happening. I can't do a 2-step bend either, it runs out at about a step and a half. I think tweaking the action just a little higher would let me do a full 2-step though.
The body shape is very different, but incredibly comfortable even though it has no contours on it. The offset waist on the guitar fits my body well when I'm sitting down and it balances nicely. No neck dive for me. Standing up feels good too, the guitar has enough weight to let me know it's there without feeling like my vintage Dean or a Les Paul.
Action, Fit, & Finish: Once I set it up it's a great player, the action isn't super low (it buzzes like crazy on the bass side) but it's low enough to be comfortable. I never cared for mega low action anyways. If this guitar is an example of Japanese quality, then I'm sold on everything from the country. It's very well built with an incredible attention to detail, the only thing I could remotely complain about is the side dot markers are sunk in a bit and not flush with the neck. That's probably due to the age, not the manufacturer though. No actual complaints about anything in this category
Sound: The pickups leave something to be desired. The bridge pickup is rather muddy and somewhat thin, the neck pickup is passable though. Just not my taste. If you think about it though, the guitar was designed by a punk rocker so it fits that criteria very well: cheap sound from a pretty instrument. Just not practical for a gigging musician outside of the genre. I wonder if the slanted humbucker route adds to the thinness?
Trem: Anyone not familiar with Fender's Dynamic Vibrato will be lost without some guidance. These came out on the Jaguars, Jazzmasters and Mustangs, Leo believed this was a superior design to the Strat-style bridge because it holds proper intonation throughout it's movement. The closest design to it would be a Kahler, and it's about as similar as a bicycle is to a motorcycle. They take a bit to setup right and counter intuitive to string (I done it wrong in the pictures


but once it's ready to go it's a pretty stable design. It may be too sensitive to some players though, it's easy to palm mute too hard and knock it outta balance.
That's all I can think to address right now. I traded my '79 SG for this and I'm happy with the swap, the SG had a VERY comfortable neck but I couldn't deal with the low-profile Norlin frets it had. And I made about $100 in trade value on this, so it works out well for me. I plan on trading this for an American Standard Strat, or a P90 Gibson of some sort down the road. While I have it though, it's gonna be a fun quirky player.

Last edited by Flux'D at May 14, 2013,
sweet

Very cool and Congrats!
I love the JagStang shape, different but familiar. What bridge PU are you considering?


Join date: Dec 2011
130

IQ
That's one of my dream guitars. I am very jealous. HNGD!!!

Join date: Oct 2010
460

IQ
Dude sweet Jag-Stang.