Best band merch items?
What are some of the coolest merch items you've seen from bands? And are stickers a good promotional thing to have for a band or just cds and shirts?

Also is PAYING for facebook promotion on their website cheating or?
Last edited by blake1221 at May 13, 2013,

Join date: Jun 2009
5,600

IQ
Also is PAYING for facebook promotion on their website cheating or?
What. Again with this? Why not just keep it in your other thread?
OT: Eh. I like some band merch, but there's never really been one that absolutely wowed me into buying it or anything.
Maybe except for this:
They came to my local mall so I went and bought this shirt. Got it signed too. By far the best shirt they've ever sold. Can't find it anywhere anymore. Real cool dudes, too.
Edit: Oh, and this: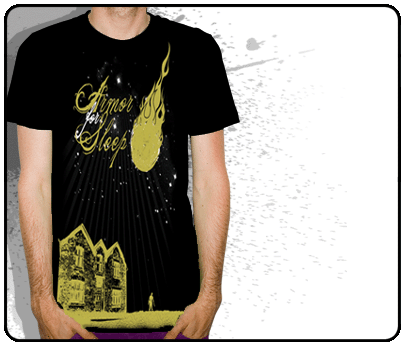 Last edited by Joshua Garcia at May 13, 2013,

Join date: May 2004
291

IQ
The Acacia Strain's crew neck that had a picture of bald Britney Spears with an upside down cross carved on her forehead.

Join date: Apr 2006
173

IQ
I would say just CDs and shirts. You can have stickers but they gotta be free.

Join date: Aug 2009
90

IQ
Shirts and CDs/Vinyl (limited runs of vinyl are very popular with people who collect that stuff). Make pins and give em out free. Stickers are good too. They should be cheap, like a dollar, but if someone buys something else feel free to give them one for nothing.

Also, if you can figure out a fun, unique thing to sell as merch that can sometimes be fun.

Join date: Sep 2003
110

IQ
actually, I'd totally buy that. I'm always wearing out my bookmarks with the terrible way I treat books i'm reading.
Much better priced I'd guess compared to the other crap. I mean t-shirts are £25 now, wtf, even at low key gigs.
at this one devin townsend gig they were selling hq prints of album covers on card or a metal sheet. I only had enough cash for the metal one and the queue/crowd was so huge to get in and out of I couldn't be asked to go to a cash point and come back for a card print. Now most places have the sense to keep handheld card machines handy (because who the hell carries £40 in cash just for a hoodie!)

Join date: Sep 2011
50

IQ
Last edited by TheEelsAnkle at May 13, 2013,

Join date: Jun 2011
20

IQ
I will almost always buy the vinyl of the new album of band I'm seeing... that is if I don't have it already. I'm also a sucker for posters/key chains.
Flask

It actually encourages you to bring whiskey to shows.

Murder by Death came out with red one piece Longjohn/pajamas that were pretty sweet.