Drop A: 6 String or 7 string?

Join date: Jan 2012
1,110

IQ
Okay well...I'm planning on buying a new guitar soon. I already have a 6 string and most of the music I play is in Drop A tuning. I know it's my guitar, but when I tune my strings from Standard to (A E A D F# B), my strings are very loose and the sound isn't great. I even changed my strings to a different gauge and they're still really loose. I don't know what the problem is because I've seen people play in Drop A tuning on a 6 string...

So what I'm thinking is to just buy a 7 string guitar since I can just tune the low B, 2 half steps down to A so it'd be (AEADGBE). I'm just wondering what the major differences are since Drop A on a 7 string is pretty much standard E tuning on a 6 string, with A as the 7th string. I'm thinking playing on a 7 string will be a lot better (tighter strings, better sound, extended range), im not completely sure though.

Sorry if I asked a stupid question :\ I'm just curious.
Better options:
One, get a guitar with a much longer scale. Try one with a 27" scale (this one, for example, may look like a standard LP type guitar, but it's a 27" scale with 24 frets. You can run it with standard gauge strings tuned to standard or with thicker strings tuned much lower:
There are a lot of 28" scale guitars (anything with 28" or beyond is considered a baritone).
Two, get a longer scale/multi-string guitar. 7's and 8's work just as well and give you some interesting options if you're on the upper frets and need to get lower than you could ordinarily. Great for arpeggios that need to cover a lot of ground.
Three, buy a Variax.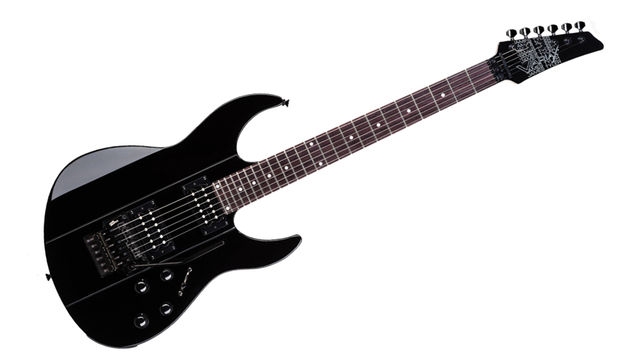 The JTV 89F, for example, has a 25.5" scale and a Floyd (you can get it in hardtail as well), 24 frets and a 16" radius. If you're using the built-in modeling, you have a choice of something like 28 or 29 different guitar models (including acoustics, Jazz boxes, resonators, teles, LPs, Strats, ES 335s, etc.). But in addition to all of that, you have the ability to change to alternate tunings (using the pitch change technology) instantly, with no change in tension in the strings. Several are built in, including several drop tunings down to Bb, and standard tunings down to B, but you can actually tune down as low as a full octave (bass range) on each string with no issues. And you can program your own into the system so they're instantly accessible.
Model. Access the alternate tunings you created using Variax Workbench™, Line 6′s virtual guitar workbench software.


Standard (E A D G B E). By far the most popular tuning on a 6-string guitar.


Drop D (D A D G B E). The low E string is dropped down a full step from Standard tuning. This popular tuning has been used by bands and artists such as Rage Against the Machine, Soundgarden, Pantera and even The Beatles on "Dear Prudence."


1/2 Down (Eb Ab Db Gb Bb Eb). Each string is tuned down one half step compared to Standard tuning. Some of the greatest guitarists of all time, including Jimi Hendrix and Stevie Ray Vaughn, played almost exclusively 1/2 Down.


Drop Db (Db Ab Db Gb Bb Eb). Compared to Drop D, every string is dropped an additional half step. This tuning was made famous by Eddie Van Halen on the 1981 song, "Unchained," and popularized by bands such as Nirvana on their In Utero album, Evanescence, Linkin Park, System of a Down and more.


1 Down (D G C F A D). This tuning is one full step down from Standard, and used by artists and bands including Elliot Smith, John Fogerty and Shadows Fall. You can also find it on Nirvana's "Come as You Are," "Lithium" and "Drain You," as well as Metallica's "Sad but True" and "Devil's Dance."


Drop C (C G C F A D). Drop C is like a standard D tuning, with a dropped C for a more brutal sound. It's popular with a wide variety of rock and metal bands including Carcass, Metallica, System of a Down and more.


m3 DOWN (Db Gb B E Ab Db). Compared to Standard tuning, all the strings are tuned down by three half steps. This tuning can be found on songs by Black Sabbath and others.


Drop B (B F# B E G# C#). This tuning is one and one half steps down from Drop D, and has been used by heavy metal bands such as Slayer, Slipknot and Tool.


M3 Down (C F Bb Eb G C). This tuning is a major third lower than Standard tuning. You can find it on "No One Knows" and other Queens of the Stone Age tracks, as well as songs by The Misfits and more.


Drop Bb (Bb F Bb Eb G C). Two full steps down from Drop D, this tuning is used by artists including Static-X, Bring Me the Horizon, Spineshank and Sevendust.


Baritone (B E A D F# B). This tuning is popular with a variety of hard rock and metal bands, from the Foo Fighters to Carcass.


Last edited by dspellman at May 16, 2013,