Any suggestions on small portable practice amps?
I unfortunately don't have a whole lot of time at home to be practicing my guitar most days out of the week. I work 2 part-time jobs: one during the day/lunch-time and one in the evening. I usually have around a two hour break in between these jobs. This gives me some space in between where I could play my guitar some more but I don't usually run home in between these jobs I just go straight to the next one. I figured I could use a little portable amp to play on in the office at one of my jobs.

I'm just looking for something I could keep in my car. It would be nice if it was A) cheap, B) both battery and plug-in powered, C) possible had some kind of effects to it?

Any suggestions guys?

Join date: Nov 2011
10

IQ
Fender Mustang Mini? pretty much what you described
Join date: Dec 2008
370

IQ
These are my kind of portable practice devices of choice- most will fit in a guitar case:
Boss Micro-BR 4 track
http://www.guitarcenter.com/-i1169092.gc
Pocket POD
http://www.guitarcenter.com/Line-6-Pocket-POD-Guitar-Multi-Effects-Processor-104391875-i1173933.gc
Tascam GT-R1
http://www.guitarcenter.com/TASCAM-GT-R1-Portable-Guitar-Bass-Recorder-105125306-i1401677.gc
http://www.guitarcenter.com/TASCAM-DR-1-GT-R1-Accessory-Kit-105020473-i1402140.gc
Korg Pandora Mini
http://www.guitarcenter.com/Korg-Pandora-Mini-PXMINI-Guitar-Multi-Effects-Processor-H70754-i1746466.gc
Korg Px4
http://www.guitarcenter.com/Korg-Pandora-PX4D-Guitar-Multi-Effects-Processor-103381554-i1124641.gc
Korg Px5
http://www.guitarcenter.com/Korg-Pandora-PX5D-Guitar-Multi-Effects-Processor-104821715-i1387080.gc
Here is a visual comparison of (left to right) Tascam, my PX-5 and one of my Px4s to my old Aiwa cassette player: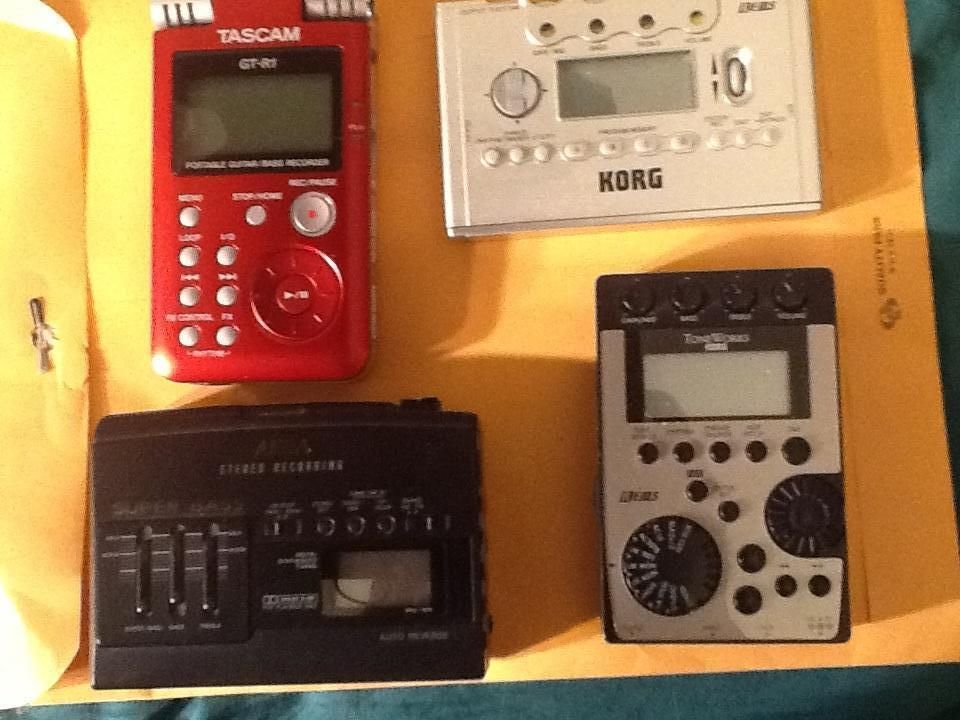 Only the Tascam has decent acoustic recording capacity. All DO have features like tuners, metronomes, drum synthesizers, and digital amp & pedal modeling.
So with decent headphones, you can rock out like you were playing Texas Stadium. And yes, they are all about the size of an old Walkman. Bonus: almost 0% chance of disturbing anyone else in the office.
The ones I own: the Tascam has the external mics, a phrase trainer (loop & slow down stuff for practicing), and takes SD cards. Both it and the PX5 can connect directly to your computer via a USB port. The PX4 is discontinued, but it can still be easily found. It is less powerful than the PX5, but, oddly, the PX5 does not have a belt/strap hook.
The ones I don't own: The Line6 PocketPOD is, I believe, the most popular device like this; the Boss might be the most powerful (and priciest); the Pandora Mini is the smallest (its about the size of a stack of business cards), cheapest, and least powerful.
Last edited by dannyalcatraz at May 16, 2013,

Join date: Feb 2009
40

IQ
Wow, thank you guys for these responses. I was originally looking at something like a mini combo amp like the Fender Mustang Mini that was suggested or a Line 6 Micro Spider, but these other mini effects devices are quite intriguing as well. dannyalctraz, I didn't expect to see these when I was thinking about buying a mini amp. I also didn't expect to see someone bust out with a Walkman for size comparison.

Anyway, as far as those mini effects processors, the Korg looks most intriguing to me right now. Now I'm kind of torn between an mini amp and one of those.
Also, I think that Pod HD is a little out of my budget. I was looking at spending <100USD. I should've been more specific with that I guess.
Join date: Dec 2008
370

IQ
Check used- they do pop up at GC and other stores from time to time.

Join date: Apr 2007
330

IQ
I highly recommend the Yamaha THR10 series of amps. About the size of a loaf of bread. Runs on AC or Batteries. Has headphones out if you need to play quietly. Sounds HUGE compared to its size. Has USB so you can record right to a computer if you want to. Aux-in if you want to play along with a song. Do yourself a favor and check one out. I was sold in less than a minute once I heard it.
I chose the
THR10C
model for it's more classic amp sounds.
That THR10 is still more expensive than what I'm looking for. I'm not looking for something that has to sound great, just something I can still jam on by myself.

Join date: Apr 2010
1,670

IQ
i would feel comfortable recommending a korg (toneworks) AX1500G. i had one a long time ago and sold it, and oddly enough another one came my way along with some other gear given to me by my mom's coworker.

they sound pretty good overall, nice and simple to navigate. i won two zoom g2.1u pedals (two months in a row at sam ash back when the 2.1u was new), i was not impressed. but i sold them and made some money.

it is a floor unit, which is nice so you can switch channels and presets hands free. but they sound good, i haven't looked but i can just about guarantee you could find one in budget used.

also has a phrase trainer and i think a short timed looper (don't quote me on the looper though, i am not 100% positive).
Hi, I got a used PX4 for exactly the same purpose as you do. I use it on my desk; DIY fabricated cable from USB to the power-in, so I do not need any batteries (one of the USB lines is +5V, an other is 0V, easy as baking pie) and can directly plug in the headphone output of the PC into the AUX input of the Korg PX4.
Start youtube, put my headphone on and I'm ready to rock my cubicle


Join date: Apr 2013
40

IQ
What do you think about Marshall ms-2? It's a 1 watt solid state two channel amp with volume and tone controls. It doesn't have any effects. I own one and I like it, it's very good thing for the price I paid. It's very small and portable. You can use both a 9 volt battery or adapter for it.
I've gotta put in another vote for the Korgs. I've got both a Pandora PX5D and the PX3D (discontinued, but still working). The PX5D has such a long laundry list of capabilities that there are times when it may seem overcomplicated. Aside from all the FX and amp and cab models, you also have some SERIOUS practice bits, such as a slower-downer, a pitch changer, a phrase trainer, a metronome, a pass-through for your MP3 player, a built-in tuner, both battery and AC operation and so much more.
find a used vox da5.

problem sorted for under $100.
Have DA5 too...it rocks! Kicks Microcube ass...but it is seriously NSFW as you only use headphones..

Join date: Jun 2013
10

IQ
Try the Fender '57 Mini amp. Great sound, does both A and B, make sure you use the BOSS pedal adapter though, not what guitar center or amazon recommend...And it looks so nice. [forbidden link]

Join date: Jun 2013
10

IQ
Try the Fender '57 Mini amp. Great sound, does both A and B, make sure you use the BOSS pedal adapter though, not what guitar center or amazon recommend...And it looks so nice. http://