Tone issue - higher strings 'washed out'
Hi,
I'm having an issue where if I play a chord you can barely discern what the top strings are doing, for example if I 'sus' it you can barely hear the difference. When soloing the top strings sound fine, it's just that the bottom strings seem to 'override' the top strings. I'm playing garage rock/punk stuff.

Could anyone tell me which things are a factor in this?

Is it because:
I'm using an '85 gibson V in the bridge position w a relatively hot pickup
I'm using 9s (my assumption as to the cause)
I'm using a string set with heavy bottom light top (9s)
I'm using a '83 JCM 800, do I have the knobs all set in a way to cause this?
Is it caused by running too much gain/distortion?

I did notice last night explaining to my band mates that when I switched to the neck pickup with the guitar volume really low every note stands out, but switching to the bridge pickup at 10 the highs are washed out.

Any other common causes?

Thanx for your help, I've decided to tackle this issue I've had for a long time.

Join date: Oct 2009
1,223

IQ
It might be your pickups that need some adjustment. If the "bass side" is too loud, lower the bass side of the pickup or raise the treble side.

How have you EQed your amp? Is your guitar tone knob at full?
It might be your pickups that need some adjustment. If the "bass side" is too loud, lower the bass side of the pickup or raise the treble side.

+1
that won't definitely cure the problem (as it depends on what's causing it), but it's probably the place to start. EDIT: and the heavy bottom/light top set isn't helping.
The 9's aren't an issue at all.
The string set with a heavy bottom light top is, however, an issue.
Bridge position and hot pickup are a factor.
And your tone controls may also be a factor.
And then there's picking technique, which you didn't list.
In the beginning (he intones), both bridge and neck pickups were the same pickup. If you nab almost any guitar built before 1980, plug it in and strum, you'll find that even though both pickups are identical, you get less output from the bridge and more (sometimes much more) from the neck. When you pick any string, you'll find that the string vibrates more strongly in the center of the string than at the ends. The neck pickup is closer to that center and the result is more volume. The string is constricted by the bridge at that end and can't vibrate as far. Less volume. Thinner strings produce less volume than thicker ones, which have more effect on the magnetic flux produced by the coil/magnet assembly of the pickup.
By putting heavy bottom strings on the guitar, you're magnifying the issue.
Running a Marshall makes it a bit worse. All guitars with magnetic pickups are mids-heavy. Tone stacks on a Fender compensate for the mids by cutting back on the low mids, leaving a profile heavy on upper mids. Thus, a brighter-sounding amplfier. Marshall changed the tone stack of the Fender Bassman to cut back on the upper mids, thus producing an amplifier heavy on the lower mids.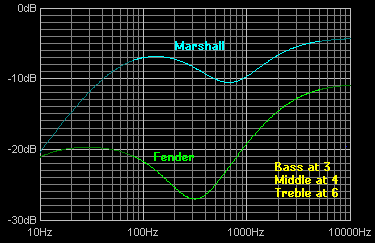 If you're running a scooped or smiley-face EQ (high on the bass, low on the mids, high on the treble), you're then making the problem worse yet.
Gain and distortion usually pull the ends of the frequency response in. Treble disappears and bass turns into mud when the volume goes up. Most folks who practice by themselves in the bedroom crank up the gain. In a band situation, they're usually using far too much if they're using the same amount as they practice with. It usually produces a wall of mush.
If you're using a 4x12, you have an additional problem or two.
First. There's no dispersion of highs -- anything above 500Hz is beaming. If you're standing near a 4x12, your ears are far enough off axis that you can't hear the treble. Only your knees can. I've put all four of my 4x12s into storage because of this. If you want to hear what your 4x12 is really doing, raise it off the ground so that your ear is in the center of the four speakers. THERE'S your treble. There's simply none off to the side.
Second, if you've got the bass turned up and a set of heavy bottom strings on, your Marshall (which is actually underpowered at volume; a thing you'd NEVER intuitively have suspected) is unable to accurately reproduce bottom end. Instead, it's making do with the upper harmonics of the fundamental bass tones you think you're producing. The old addage with a marshall stack is that bass disappears as you increase the volume. So your bass has disappeared (real bass requires a LOT of power), your mids are still over-present and your treble is beaming straight out so that you can't hear it if you're off axis. If an audience member happens to walk in front of that box, their skull will split and they'll wonder what kind of ear damage
you
suffered that you can't hear how bad your tone is <G>.
You can hear your solos because you're no longer asking your amp to produce bottom end, so all the power can go into high mids (where it doesn't need as much power). You're playing a single note at a time, so you're not asking your amp to produce this womping great cluster of overtones. You're playing into your ear's hot zone (we hear mids better than anything else because it corresponds to the human vocal frequencies). And you're listening hard to what you do.

Solutions?
Dump the heavy bottom strings. Go back to a balanced set.
Cut back on the gain and distortion.
Swap out the 4x12 for a 2x12 and put it
vertical
ON an amp stand (get it higher up, in other words). You can even put two of them (vertically) one on top of the other, like this (and yes, I KNOW that your Marshall head won't fit well on top. Find somewhere else to put it). This will let you hear what you're doing and it will disperse the high end far better (even your bandmates will now hear what you're doing):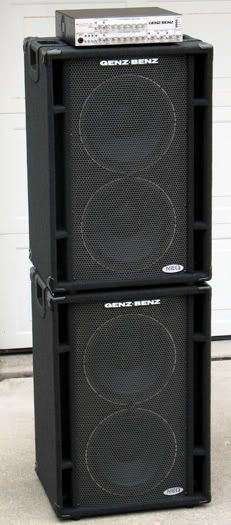 Let your bass player handle the bottom end. He's got the right gear for it.
Reset your amp EQ.
Last edited by dspellman at May 16, 2013,
I've yet to find an unbalanced-sounding guitar that can't be fixed by simply lowering or raising one side of the pickups.
holy shit, thanx for the super response!

I wasn't sure if I still had the bottom heavy strings, but I used to always use them for a heavier band I was in before. I'll definitely stop using them now.

And it's a small practice space, so I'm to get out of the 'my knees are hearing everything' as best I can. Maybe I can pop the cabinet up on a table or something.

I've always just left the tone/volume knobs on 10.

I'm going to try to get further from the amp, turn down the gain/dist, and make sure I'm using a standard set of strings tomorrow night.

thanx again!
oh yeah, I'll try a pickup adjustment too.

thanx for the all the tips!
I've yet to find an unbalanced-sounding guitar that can't be fixed by simply lowering or raising one side of the pickups.
yeah you try the easiest fix first
Thanx guys, turns out I was running way too much presence/gain/preamp, basically I dialed a bunch of stuff back, tweaked the EQ and it's way better now. Sounds WAY better.

thanx.