A/B switch
I'm a little bit confuse. I want to be able to use a multieffect alone and be able to mute it and use a pedal board without the multieffect and i'm looking for a switch like an A to B and i can't seem to be able to see what i'm looking for.
I want to use my ME-25 that will be sitting on my pedalboard but i want to be able to shut it down and use the rest of my effect pedal without it and without unplugging anything. So all the effects are going to be on one board but sometimes i don't want to use anything than the ME-25 and sometimes i don't want to use it.
Any pedal or switch recommandation that i can have on my pedalboard that i just have to push a button and change the configuration?
Sorry if my explanation is a bit long but i'm french speaking and i'm trying my best to make it clear.
Thanks


Join date: Mar 2008
780

IQ
would the pedals be in an FX loop or is everything out front? You could put the ABY pedal in front of everything and then get a Y splitter jack to bring them together before going to the amp.
for ideas and stuff on the high end look at
www.tonebone.com
No loop, sometimes in need to use only the ME-25 and sometimes i don't need it so i'm using only my other effects. I'm using a wireless for my guitar so from there i would like to have a box with an IN and 2 OUT's so that one of the OUT (A) is going to the ME-25 and by clicking on a button i go to the OUT (B) to the effects.
Is that box looks ok for me
http://www.jhspedals.com/products/bass-pedals/abt/
It seems that i have A/B plus an out to the tuner.
Thanks for your time.
after thinking in my head....its not an A/B that you need. you will have 1 cable feeding 2 units, and then back into 1 input of the amp. so it needs to converge back to 1 path. and A/B inplies 2 outward paths.

i am trying to conceptualize this.....how about a bypass looper pedal at the end of your stomp box board, and this loop will contain the multi FX.

that way, you can still hit the front end of your amp with both the normal board and the multi FX....and you are not forced to run a stomp box OD into the multi FX and then to the amp.....that would take away from its tone and effect.

the goal would be to take the multi FX out of the signal path but keep it going into the front end of the amp while at the same time keeping your stomp box units running into the amp unhampered (by the multi unit).
Wow, i wasn't expecting that to be complicated but thanks for trying to find a solution.

If you look at the picture of my profile, you can see that i have a lot of effect pedals but some of them won't be part of the next board.

This is what i was thinking about:

From wireless to A/B, let say that the A side will go to ME-25 and then to the vox wha, the VS volume pedal and then to some sort of splitter with 2 IN's and one OUT to the amp.

Then, wireless to the same A/B and this time the B side will go to the compressor, chorus, VS delay, Behringer digital delay, harmonist, TS9 Blues Driver, VS Double Trouble, VS Jekyll & Hyde and then to the vox wha, the VS volume pedal and the splitter to the amp.

Maybe it's not faisable but the main reason that i want to do this it's to be able to bypass the ME-25 when i don't need to use it and be able to play with it when needed.

If i cannot do it i'm going to put everything in a chain, ME-25 first and then all the other effects as it is right now.

I was all over the internet to try to find something to do it, what do you thing of the BOSS LS-2 line selector? Is that can help me?

Thanks again.
boss line selector is a true bypass looper pedal as i described above.
its not hard...sorry if i made it sound that way. i am trying to think where in the setup i would put the multi FX if i ran a true bypass loop. if your answer is amp FX loop, well your done there. you obviouly want to run the multi FX in front of the amp. that leaves you with the question of "where do i put the true bypass loop / multi FX in my signal chain".
many times multi FX have a loop built in for soem stop boxes, but you wouldnt want to put something like an OD in there.
the only way i can think to still have the best signal path for both your multi FX and stomp boxes is for the bypass loop / multi FX to be last in your board. that way your multi FX isnt running into your pedals, and your pedals technically only have ot pass through the 1 looper to get to your amp.
and it goes without saying, make sure your true bypass looper is a good bypass.
a boss will have a buffer. now we are in a buffer vs true bypass debate. seperate question. being a semi tone freak that i am, i would rather have this:
http://www.loop-master.com/product_info.php?cPath=22&products_id=30
no frills, 100% hardwire ture bypass, no buffer or anything. tone goes straight through, nothing messing with it. thisi s 100% passive, the power supply only powers the LED so you know when its on.
Thanks, i'll take a look at it but it seems that loop-master is what i'm looking for.
I was playing with this on paper using the NS-2 noise suppressor and the LS-2 line selector and i'm starting to have a headache....hahaha, i'm going out of the house for awhile so that i can think about somethine else

I'll be back later on but i will take a serious look at the looper that you recommend.
Have a great day

I will get a loop-master looper, in fact i will get 2 of them. For the price i can't go wrong. I'll see if i can achieve what i want with it. Lots of fun ahead, can't wait to receive them.

Thanks and if you have any other recommandations or ideas please feel free to post it.
well there is also this one...
http://www.nosepedal.com/store/nose-micro-true-bypass-looper
also passive true bypass. why 2 you say? place them in different areas? depending on where you want the loops, you can get 1 pedal with multiple ones such as this
http://www.nosepedal.com/store/nose-mini-looper
loop-master has 2,3,4 god they have everything. poke around on these sites.
keep in mind that they are looping back into the 2 main input/output jacks. so jut because you have 2 loops, they are still part of the same area in the signal chain.
technically, 2 individual loopers will allow 2 different placements in your chain such as 1 in front of amp and 1 in FX loop. a multiple channel looper is if you have 10 effects running into teh front of your amp and you want to make 2 or 3 combined patches out of em.....still all running into the front of your amp.
Thanks ikey. I'm going to play with the loopers to see what they do. I never had any so i don't really know how they are going to be use. I'm still thinking of being able of using the ME-25 alone without the other effects when needed but it would be great if I can use it with them also. I played around with my actual boards and actually the ME-25 is receiving the cable from the wireless and then all the other effects are connected to him. I tried to find a way to bypass it if i don't want to use it and be able to use all the rest of the effects but i didn't see anything in the manual.
I'm not in a hurry with that. I'm building my new board so for now i'm using my other boards without the ME-25 that i removed from my configuration. I have to see where everything is going to be place because i need to drill holes for the cables, the power supply (Voodoo Lab Pedal Power + 2) will be under the board, for now it's on the ground.
There is too many cables running all over the place. So i have a 1/2 inch plywood painted in black that is 30 X 16 inches with 3 solid feet under it. Most of my effects pedal are going to be mounted on 1/2 inch wood block, the power supply and the power bar are going to be mounted under the board.
I was looking on the internet for a board that i like but for now i didn't find anything so i'm making one. On it, the ME-25 and 9 effects pedal are going to be mounted and i want to make sure that most of the cables are going to pass under the board, it's not going to be easy to find the right way to do it.
I had 3 days off, back to work today for 4 days and then i have a week off next week that i'm going to use to try to finish this project and i'll post a picture of it.
Have fun

well. im not keen on wireless setups.
perhaps you can reverse what i said. plug your wireless input into the bypass looper, throw your me25 in the loop. then run that looper into your stomp box board.
that WOULD take the me25 out and leave a pure signal into your stomp box but i see a problem.
if your running modulation and time effects etc on the me-25 and then click on a stomp box OD...well now you might have some issues with the order and how it sounds. thats why i said run it after the board in a loop.
what are you using the me-25 for and what do you have on your board.
i built this board in about 30 minutes but its been solid so i havent changed it. might expand it. if i put like a week of work into one i could probably do it pro quality. i built it angled up a about 2 inches off teh ground and routed much of the patch cables and 1 spot underneath it. its been evolving.
current. the wah is screwed onto the board (might remove for space). the signa drive (green) runs into the amp and then i have the black tremolo, EHX delay, ditto looper, and xotic boost in the loop. all cables are routed underneath or out to the sides of the board and velcro strapped.
for a 30 minute homebrew im pretty proud...solid little rig.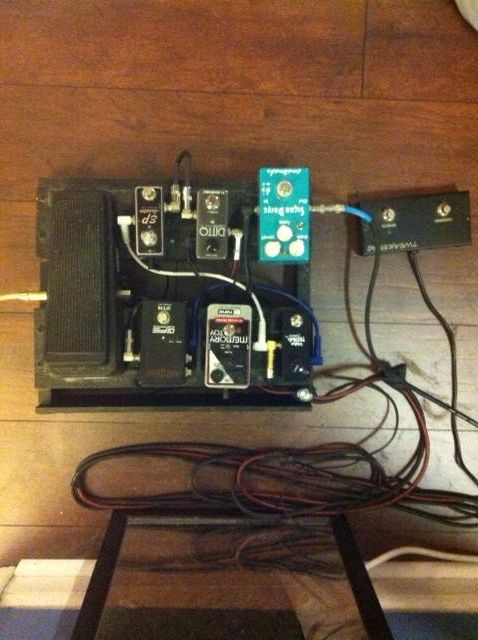 Last edited by ikey_ at May 21, 2013,
The wireless gives me space to move around, i just got it so i'll play with it for awhile and see if i want to keep it.
Ideally, I would like to have all my effects pedal (11) with including a tuner and the ME-25 on the board because now the ME is on the floor. The vox wha and the VS volume pedal are going to be on the floor, less difficult for my old body when i stand up.
The setup that i would like to accomplish is:
Wireless to loop, to ME-25 to another loop and to the amp. Maybe it's not faisable. Then after from the first loop to the rest of the effects, back to the second loop and to the amp. So 2 lines with one box to receive them both that can give one OUT to the amp.
Because i never tried a looper, i don't know how it works. The first loop will be to be able to choose from a line with the ME-25 and a line to the other effects. The second loop would be to receive the signal from the ME-25 to the amp and the signal from the effects to the amp.
It seems that the second looper won't accomplish that. If i can find a way to take 2 different signals to one box that has one OUT to the amp it will be what i'm looking for.
Now that i' thinking, here is another way that i would like to have it.
Wireless to ME-25 to a box that has 3 OUT so that this signal goes to another box that can also receive 3 signals with only one OUT to the amp.
The second line will be the wireless to the ME-25, to the effects and to the final box to the amp. Either pedal first and ME last but all on the same line.
The third line is from the wireless to the effects pedals and to the final box to the amp.
I'm probably dreaming here but it's nice to see how that can be done if it's possible to do it.
Now, if i find a way to bypass the ME without cutting the signal to the effects, i won't have to do all that and everything will be fine.
I'm still looking in the manual to see if i can do it.
Like your pictures, it's a great way to show how you work with it

Some of them are going to be removed from the new board.
wow. i dont see the me-25, but you have a lot going on there. more than i need for sure.

i think you can definitely find use for those loopers....perhaps even multi channel loopers and create some nice patches out of all those. reduce the tap dance.

....if some are going, i hope you mean the behringer. ive found those to be very sub par...
Yes, a little bit too much, i believe in trying different sounds to find something to do with them. I play different styles of music so for me it's a creative way to get inspired.
I never had problems with the Behringers but i don't use them a lot. I keep them to add another dimension from time to time and because i don't use that a lot i did not spend a lot of money on them. If they stop, they go

I'm removing the Digitech Bad Monkey, the Behringer Slow Motion and the BOSS Phase Shifter that is broken, the STAGE button is gone on it. I was also planning on removing the Noise Suppressor, it doesn't do a lot or maybe it's me that don't know how to use it.
On the picture the ME-25, vox wha and the Visual Sound volume pedal are on the floor somewhere so it's not on it same as the Voodoo Lab power that i didn't have when i took the picture.
One of my main concern is the amp. It's a Roland Cube 30X, good power but i just can't get the sound i want. I tried it with and without the effects, used the ones that are on the amp itself and i'm still not satisfied.
Here is a little bit of what i'm looking for that i can't get right now:
http://www.youtube.com/watch?v=ZKuv97-XR_s
However, i'm also enjoying having fun with playing around with the sound. It reminds me my younger days while sound were coming from experiences that the musicians were making. Yes, i still miss that hahaha.
...and i play as good as the guy in the video and i'm still having fast fingers for my age

There is a mp3 in my profile that you can also listen, it's a jam with a blues backtrack in G which i call a G string

Last edited by malatete at May 22, 2013,
You're right about the amp, i can not decide which one i need to play the kind of music that i have in my mp3 here.
And yes, i like the mirror

Finally, i received an answer from Roland support about how to bypass the ME-25. All i have to do is create a new USER Patch into the memory in which all the ME-25 effects are OFF and then i'll be able to play with all the other effects without using the ME. It's also nice to know that i can go back using the ME if i want it

thats actually not there for the self ego boost when playing, but it just so happens its a convenient place for my board....and yeah it doubles as as an ego boost while playing.

well pardon my ignorance. i didnt know you could do that. yeah, sometimes these multi FX have a loop in themselves. tehcnically i wouldnt call that a true bypass as your still sending signal into the roland...which is most likely being buffered and converted into digital.

however, that is of little significance since with that many pedals your already getting buffered and digitized elsehwere in your stomp boxes.


i agree....amp upgrade is on your near future.

Join date: Nov 2012
10

IQ
What you need, is a new pedal.
Could be...hahaha. Seriously i already removed 3 of them and thinking about removing some more.
I'm getting there with the new board, the Behringer Harmonist won't be there anymore such as the Behringer Delay. Less pedals, more place under the board to put a power bar and the Voodoo Lab Pedal Power 2 Plus.
Last edited by malatete at May 25, 2013,
Still working on it, the powerbar is going to be outside, no space under but it will be fine too.

Everything is in place, i'm painting what needs to be painted and to stop the board from to move if i'm using it, i have kind of a rug that goes into moving vehicles to stop the dishes from moving around. It's attach with double sided tape, really great.
The board is ready, not the most beautiful one but as cables are concern, less on the floor and endless possibilities.
Back
Top
Under
A few cables to change and i still have to add the vox wha and the volume pedal that are going to be outside of the board.
Last edited by malatete at May 25, 2013,
I did a few changes on the board, i also added another smaller one for the VS volume pedal, the vox wha and a Dunlop Cry Baby that is coming up.
On the main board i have now the wireless box that will be remove to put a Fulltone mini deja vibe.
It seems that this project can't stop from having his own evolution by growing up but i have to really tweak my sound to find the ones that i need to play so it will continue to change over time