ES-style semi-hollow build
So i've just today started on my latest build.
It's based on an ES-335, but smaller. Hopefully it should move on quickly enough, and I'll take loads of pictures on the way!
SPECS:
Wood;
Neck - American Black Walnut
Fretboard - European maple
Body - Flamed/Spalted maple, pine, mahogany
Hardware;
Pickups - GFS Liverpool retrotron
Tuners - Sperzel locking
Bridge - Roller TOM and string-thru
Electronics - 2 volume, 1 tone, 3 way switch
I'm going to go for a dark stain with cream binding. I'm also putting the controls on top, like an acoustic so that the front of the guitar will be almost bare except for bridge, pickups and diamond f-holes.
I'm undecided so far about a pickguard, but if I do decide to put one on I'll make it myself from either ash or mahogany.
Today anyway, I Cut up the black walnut and scarfed/glued it up. Will rout for truss rod tomorrow and maybe start cutting fret slots.
I'm stuck for ideas to get the fretboard radius though, so any suggestions would be great. Easiest is best of course!
Pics:
jig for cutting scarf joint. My table saw didn't have the right cutting depth, so I had to improvise. Using the circular saw against the spirit level in the pic, it worked well enough. Put some scrap wood just to support the saw and get a decent cut.
Result!
All glued up. The main neck piece isn't as wide as the headstock piece, so I had to prop it up on some scrap.
More updates tomorrow hopefully!

Join date: Jun 2006
411

IQ
Looking good so far, Sean-O.
I like how it's all in soft focus - how romantic.

In fact, play this while scrolling slowly down the page...ahh...

http://www.youtube.com/watch?v=C6ZDsUGiGqM

Looking good though.
Hah brilliant, I love it!

It was such a nice day and I was using my phone, hence soft focus.
Thanks for the kind words though guys
Right, got nowhere near as much as I'd have liked done today. I decided to finally get off my lazy ass and went on a 40km cycle. Didn't get out to the shed to work then till 6..
Pretty much all I managed to do then was make a start on my radiused sanding block. I found and used a technique from mylespaul.com (
http://www.mylespaul.com/forums/luthiers-corner/80744-diy-radius-sanding-blocks.html
) which was pretty simple really, but I still managed to mess some of it up with measuring.
Resulting scarf joint. I'm pretty happy for the most part with this.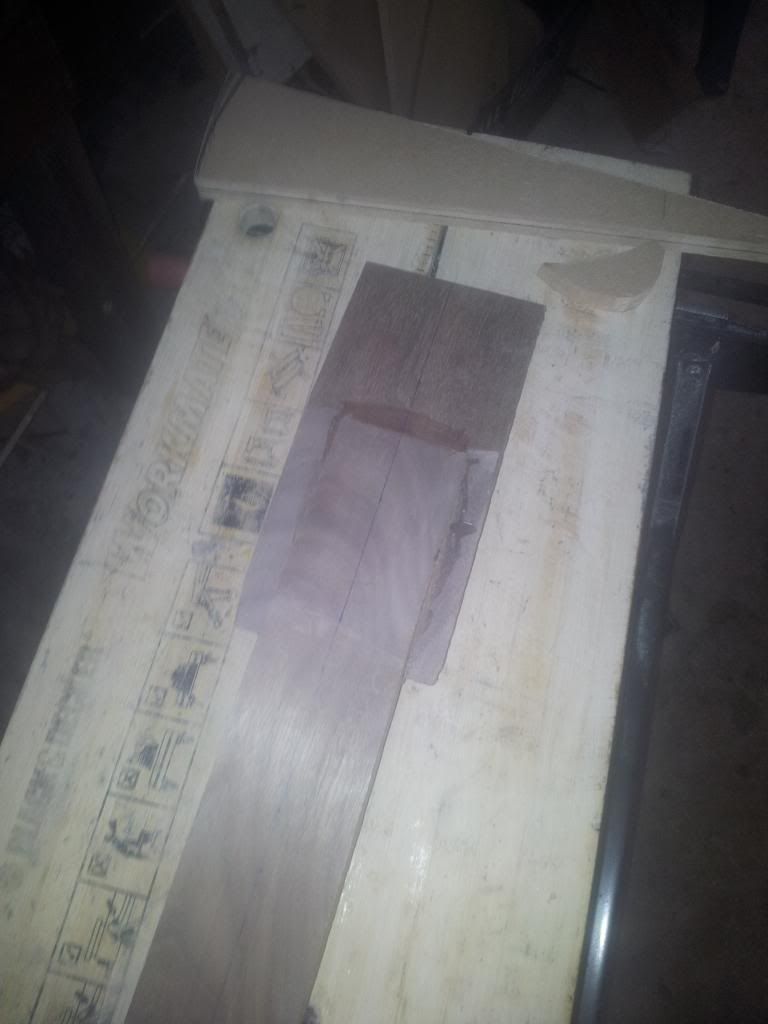 Although, some tear-off from the MDF it was resting on. I'll take care of this with a chisel though, easy peasy.
Jig for cutting the sanding block pieces.
And what the jig produces.
More updates tomorrow hopefully!
I seem to have neglected this thread a little bit, been really busy though. I've had work experience for the past 2 weeks and doing a LOT of cycling/running/gymming so I've been really tired.
Got the truss rod route done though, tapered fretboard and glued on. Headstock shaped and drilled for tuners and one part of the body "sandwich" done.
For the fretboard I'm actually doing a sort of a 2 ply binding thing. Main part is the maple, then a sliver of a dark brown wood I found in the shed which I have no idea what it might be. Seems to have been a fence possibly except it's in great condition (many planks of it) and it's reasonably dense. I'd say slightly softer than mahogany, but not by much and from what I remember the grain was reminiscent of pine almost. Any guesses off hand what it might be? I'll sand a bit tomorrow and picture the grain. It also smelled horrendous when I cut it and irritated my lungs a fair bit..
But, after this mystery wood I'll have cream binding at the outside of the neck. Going to have this over all of the guitar actually, not just the neck.
Full body template;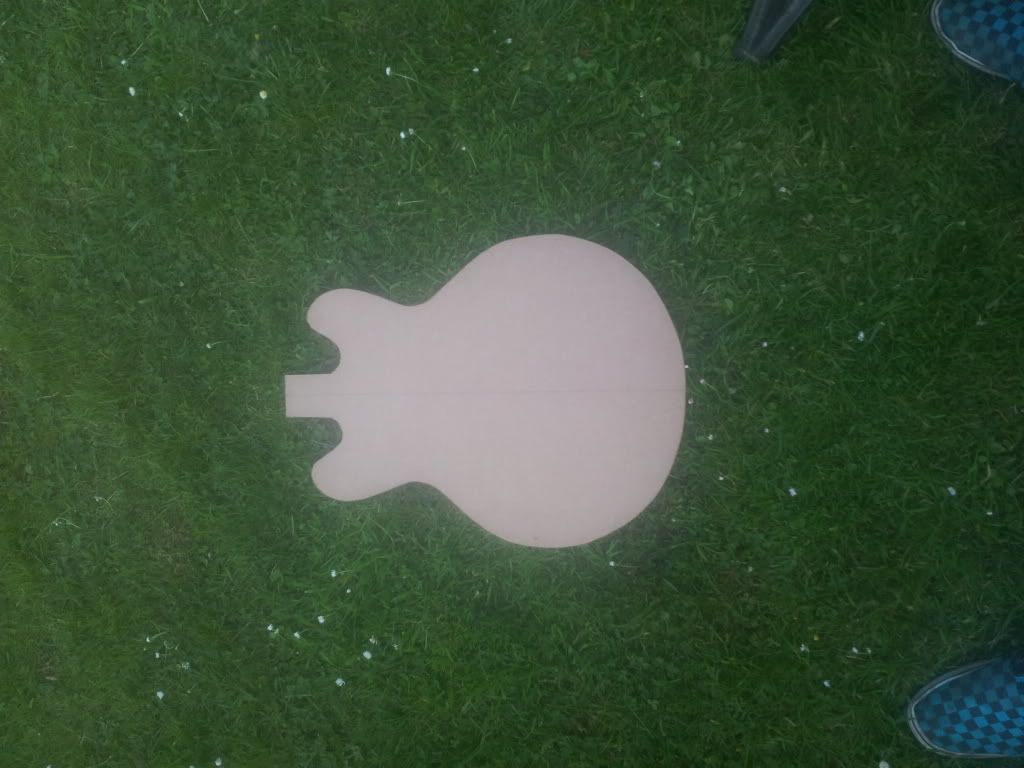 Flamed/spalted maple for top. Photo doesn't do it justice at all! It has a really nice flame and the spalt is pretty good too, but nothing exceptional. I'll rub spirits and get a picture when I glue it up.
Routing truss rod channel
Result! Wings were attached just to act as a straight edge since the headstock piece was wider than the rest of the neck.
Test fitting truss rod, nice and snug. Happy with this considering it's my second attempt at a truss rod channel and the first one wasn't great at all!
Fretboard glued up. I have some nails tapped in either side to hold it in place. it can't slide left or right now like this.
The wooden 'binding' for the neck.
And the pine for the sides. that knot won't feature in the guitar at all! I'll be cutting out the outline of the guitar first on this, then cutting it so that there is only about a 10mm left. That will go between the top and back of the guitar then, forming the semi-hollow element of it.

Join date: Aug 2010
330

IQ
Next time you should glue the headstock piece on top of the scarf, instead of the back. So the joint wont be in the middle of the headstock.
Next time you should glue the headstock piece on top of the scarf, instead of the back. So the joint wont be in the middle of the headstock.
Well that depends. If he's going to put some veneer on it, it won't matter. Also, joining it this way it gives a bigger surface for the glue to hold the pieces together. Some people also say that joining it the way you propose can, in time, cause problem for the fretboard (since the join will be approximately under the first fret).
But I do agree that it looks better the way you favor.

Join date: Dec 2011
30

IQ
Next time you should glue the headstock piece on top of the scarf, instead of the back. So the joint wont be in the middle of the headstock.
I can't for the life of me remember why I did it that way at the moment, but I'm almost certain I had a reason. The piece of walnut I had was slightly too short though, that might have been it. IIRC, the piece I got was 24"X2"X6" or so. What I did then was split it so I'd have 2 inch thick boards, then cut it so I had a piece 24"X1"X60mm and another 24"X1"X90mm. the 60mm became the main part of the neck with a length of the 90mm as the headstock since 24" is too short for both. Maximising length of the fretboard area is the only reason I can think of for joining it like that, even though I don't think it would have made much of a difference in hindsight. I will probably put a mahogany/ash veneer on it though.
This gonna be guuudd!
Hah thanks! Here's hoping anyway. Assuming I keep it nice and slow I shouldn't mess up too much
And I do realise that there's a slight split in the maple shown, the picture actually shows it in a really bad way and it's not that bad in person.
We just recently hit a heat wave here and since I lack the clamps to perfectly join boards that wide, I reckon the heat caused the split since the join was only mediocre.