cathode/fixed bias switch
hello, Im working on an building a fairly complicated amp and Id like to cram as much tonal options as I can into it. one of those options is a switch to change between fixed bias and cathode bias. the power amp is really the only part left to finish. the power amp is based off of the soldano slo poweramp with a lower voltage power supply(around 400v-450v instead of 500v). the SLO is a fixed bias amp. for the cathode bias switch option, Im basing it off of the tiny terror schematic. heres a drawing I made to demonstrate how the switch would work.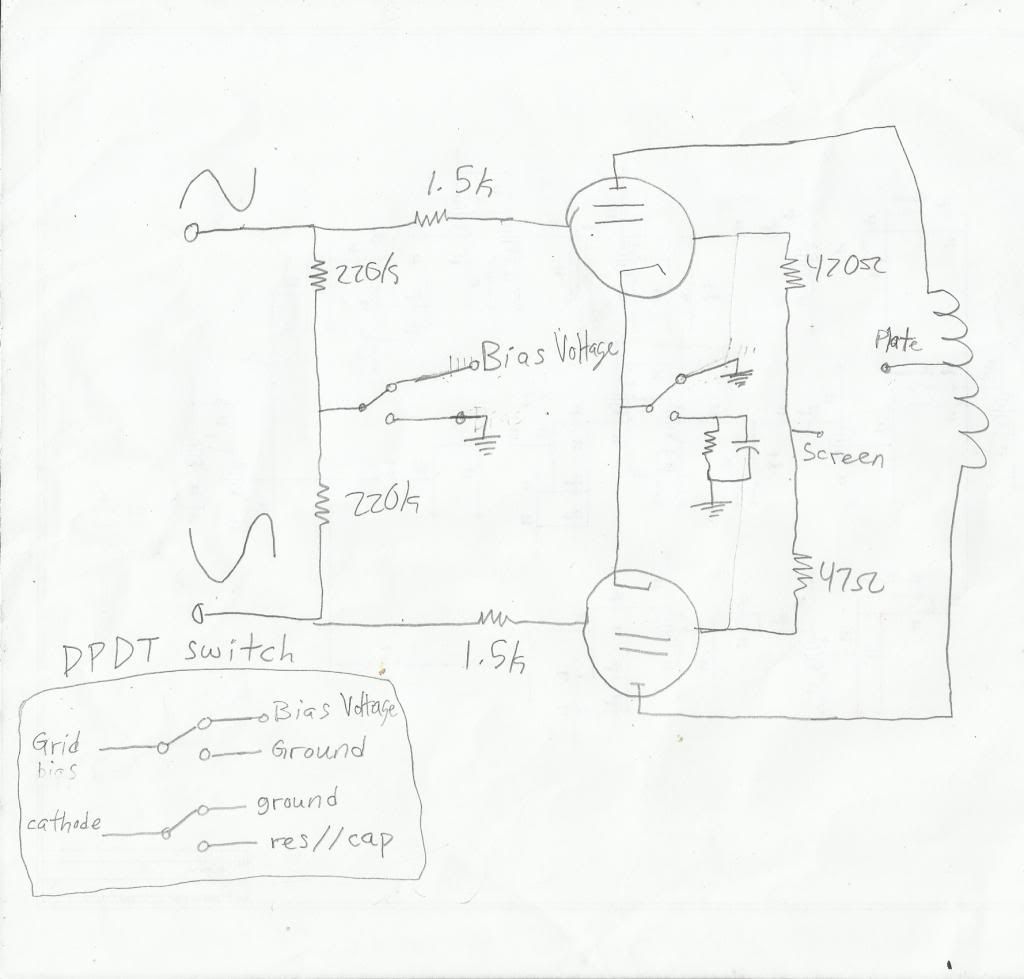 as you can see, Id use a DPDT switch to do the switching. when in fixed bias mode, the grid sees the bias voltage and the cathode sees ground(just like an SLO). when in cathode bias, the grid bias point sees ground and the cathode sees the resistor//capacitor(just like the tiny terror).
would this work as simply as Im imagining it? also, what power output would this amp have if it had a 50W power transformer? the fixed bias option would get me 45-50w, but I have no real clue how the cathode bias would affect the power output of a class ab power amp.

any help will be appreciated.
had previously skimmed over it, but now I read it all. I understood what I read as far as I can tell. didnt really read anything that could tell me it wouldn't work, unless the tube is physically affected by how its biased. are they?

Join date: Jun 2007
260

IQ
That will work. Do a search, this has been done before many times.

Regardless of the bias method your amp will be class AB.

It's a subtle switch. Expect a bit more compression and squish when in cathode bias, but more open sounding with less grit in fixed bias mode.