Generic Tuning Question: Need some help.
This is probably a pretty generic thing and probably a pretty generic fix, but shit, it's getting on my nerves.

I'm pretty sure my guitar is set up quite nicely, intonated, truss rod not stupid, strings properly stretched, tuned rightfully.

Every time I tune it, I tuned below the note of course, then come back up to the note. But I play for maybe 2-5 minutes and it becomes slightly out of tune, so I go to the tuner pedal and check the notes, and they've already become sharp as shit. Now, If I were to tune DOWN to the note, it's not perfect, BUT, if I go ahead and tune below the note and then tune back UP to par, the same situation happens. It becomes sharp as all hell in the matter of minutes.

I'm playing an ESP EX-50 lefty. What in gods name is going on

Join date: Jun 2012
80

IQ
I think you might need new tuners, and then get it professtionally set up (just to be sure

). I have Grover locking tuners on my Kramer, and they hold tune great, so that would be my recommendation.
Last edited by Maineguitarist at Jun 22, 2013,

Join date: Sep 2005
170

IQ
Another nod for pretty tuners here. Go with a set of Gotoh or Grover tuners.

The EX50 doesn't exactly have the best hardware in the world, so I would suggest just getting new hardware and a new nut installed. That should cure all of your problems (and make your guitar play better as well)

As always, get the guitar set up by a pro and then don't mess with it.

Join date: Oct 2007
91

IQ
It would seem there's too much tension on the strings. Probably a set-up thing, like the neck is back too far or something. Sounds annoying though, you should just take it to someone to fix. You could try adjusting the truss rod up a little.

Join date: Nov 2009
670

IQ
I always tune down. Tuning up just doesn't seem like it would work to me. Idk.
Most importantly, are you stringing correctly? This is so important, it makes a huge difference.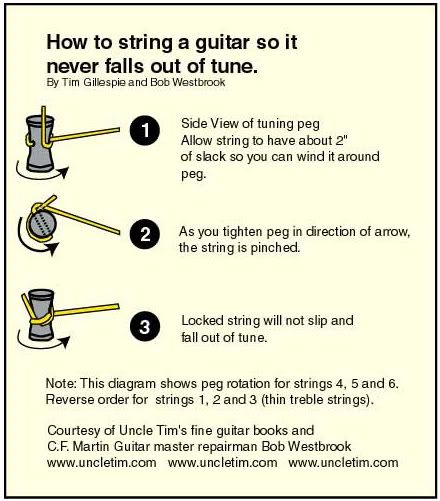 This improves my tuning stability, EVEN on my guitars with locking tuners and locking nuts.
If it always becomes sharp after a short time, you probably have some binding in the nut. You tune upward to pitch, and the string between the bridge and nut is at the correct tension, but what is between the tuner and nut is under higher tension due to the binding. You play for a bit, and the string tension slowly equalizes along the whole length, to a slightly higher tension between the bridge and nut than you had before, leaving the note slightly sharp every time. Your description of what happens when you tune down to pitch seems to back this theory up.

Make sure that the gauge you are using is correct for the nut you have. Use graphite in the nut slots.
Last edited by Vulcan at Jun 23, 2013,

Join date: Feb 2011
170

IQ
My only guess is that the strings are getting caught in the nut, due to it being cut improperly or just from wear and tear. When you play on it, it may jar the strings in the nut, and thus cause the tuning to go out of whack.

Ah'd say before replacing the tuners, just try replacing the nut and see where you go from there. Nuts are hella lot cheaper than good quality tuner heads.