Agile 3010 or ESP EC-1000?
I'm torn here. I can get a used EC for 450 or a new agile for 450. I play rock and metal. which sounds more like an actual lp? which will i like more?

Join date: Nov 2009
690

IQ
We need more information.

There are many variants of AL-3010, and many variants of EC-1000s.

Exactly which models are you getting? All letters in the model name and everything.
The EC with the duncans, not the EMG's. Mostly because of the finish.
as for the agile,
this
with the extra put towards a pickup swap

Join date: Nov 2009
690

IQ
If it's just a regular EC-1000, not a T or CTM variant, then the Agile will be much much closer to how a real LP feels/sounds.

The EC-1000 has a thin body, and belly cut contours, which basically makes it more like a super strat than a Les Paul. The Agile has a traditional flat back with no contours, and a thick body, which puts it far into the Les Paul ballpark.

Put some good PAFs in the Agile and you'll be a long way there.
Oh jeez, ESP all the way. 450 is a great price for an EC1000 and it's a better instrument. Agiles are fine guitars 'for the price' and they get tons of love on here because it's tough to find a decent guitar for $300 and they make one. But the EC1000 is actually a good guitar, not just for the price but in general. The hardware, build quality, finish, electronics, fretwork, are all noticeably nicer. The Agile's got no-name hardware and pickups and can hang with the nicer Epi models, while the EC is comparable to some of the midrange Gibson models and the hardware is as good as you can get on a production guitar.
I agree that the Agile might sound a bit closer to an actual LP, but the ESP isn't that far off (it is mahogany, so it's got that over a super strat) and the quality is so much better that I don't think it's worth ditching for the Agile. The Agile doesn't have a maple cap either so neither of them are going to sound exactly like a standard LP anyway. Might as well go for the higher quality of the two, IMO.

I appreciate the help guys. It still unsettles me that one is new and the other is used, and I don't have a chance to try either one where I currently am. How slim are the EC-1000's? Surely not as slim as my S series... I have played an Epiphone LP before, and I rather liked it. I imagined both the EC and Agile would be along the same lines, but I wasn't aware one was thinner.
It's not as thin as an S, but it's got that stomach cutaway and it is a bit thinner overall than an Epi. You can sort of see it here: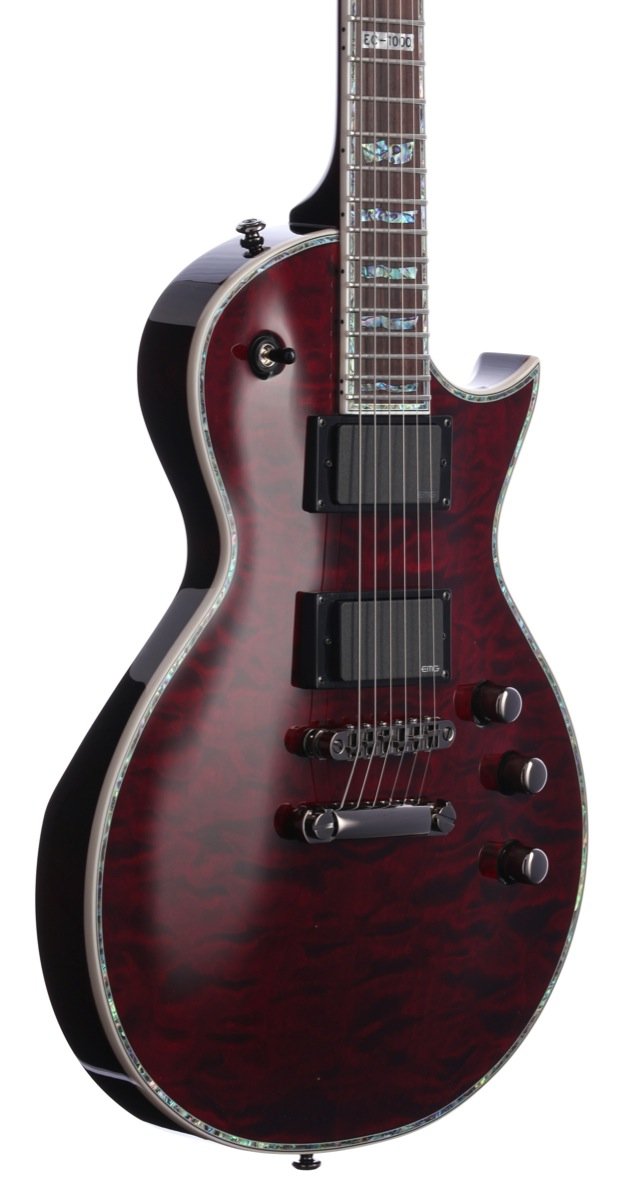 Some of the views here show it a bit.
http://www.zzounds.com/item--ESPEC1000
So yeah it's a bit thinner but it's not wafer thin or anything, it's more like the epi without the maple cap. The Agile will be very close to the Epi in thickness, I think the carve is slightly different but the thickness is the same.
I'm torn here. I can get a used EC for 450 or a new agile for 450. I play rock and metal. which sounds more like an actual lp? which will i like more?
The EC in the links is a 24-fret guitar, the Agile a 22 fret guitar. In order to get 24 frets from the same scale, the neck is extended about 3/4" and the bridge and bridge pickup are moved toward the neck pickup about the same amount. It will handle differently from the Agile (or a standard LP, for that matter).
The 3010SE is sort of a "middle" model, about half between the AL-2000 and the AL-3000, with some of the features of each. The Agile is likely to be heavier than the EC (and, of course, they all vary within their own model).
You may not want to change the pickups on the Agile. You won't know that until you actually play it, of course. There are those who've put a set of '57s on an otherwise stock Agile and pronounced it a thing of beauty, with tonal qualities better than their stock R9's. Who knows?
The 3010SE Agile is probably more like a standard LP than the EC (what LP do you know of with EXTRA Jumbo frets?), but in the end, who cares?
I went to guitar center today, here's a shot of the thickness of an EC-1000 (left) and an Epi Trad Pro (right). Epiphones and Agiles are of a standard LP thickness so that's an accurate dimension for basically any reasonably accurate LP clone.