New guitar build - Vintage Harley Davidson tribute
It's been awhile since I visited this forum, so as a way of getting reacquainted, I thought I'd post some pictures of my most recent build.
First a bit of background. My dad was a Harley Davidson dealer for a couple of years before WWII. When the war hit all HD production switched over to military, so he didn't sell many machines. I ended up with various pieces from his collection, including part of a wooden crate that the motorcycles were shipped in with my dad's name stenciled.
While the crate is pretty cool in that very few have survived the past 70+ years, and Dad's name was on it, I really didn't know what to do with the thing. Then I got the idea! Build a guitar of course!
The guitar is based off a Les Paul Special. Everything except the electronic components, the fretboard, tuners, and bridge I made from scratch.
Top - crate material 1940
Back and neck - black walnut (I wanted to keep US grown species)
Fretboard - rosewood
Frets - medium/high
Truss rod - double action
Neck - Set, long tenon, 12" radius '50s style asymetrical chunky
Scale - 24.75"
Tuners - Grover vintage open-back, aged nickel
Nut - 1-3/4" brass, made out of a common brass bolt, aged
Fret and side markers, brass
Pickups - P-90 alnico 5 dog-ear aged chrome covers
Saddle - compensated wrap-around LP jr. style aged chrome
Knobs - aged brass nuts topped with buffalo nickels, heads=vol, tails=tone. Dad was an avid coin collector. Two of the nickels are 1917, his birth year
Pots - 500K CTs
Caps - .22uf NOS Russian paper/wax
Headstock decal - original 1939-40 HD oil tank decal
Truss rod and back control covers - aged sheet steel
Finish - amber shellac, satin lacquer on back and neck
Weight - about 9 lbs.
On to the pictures....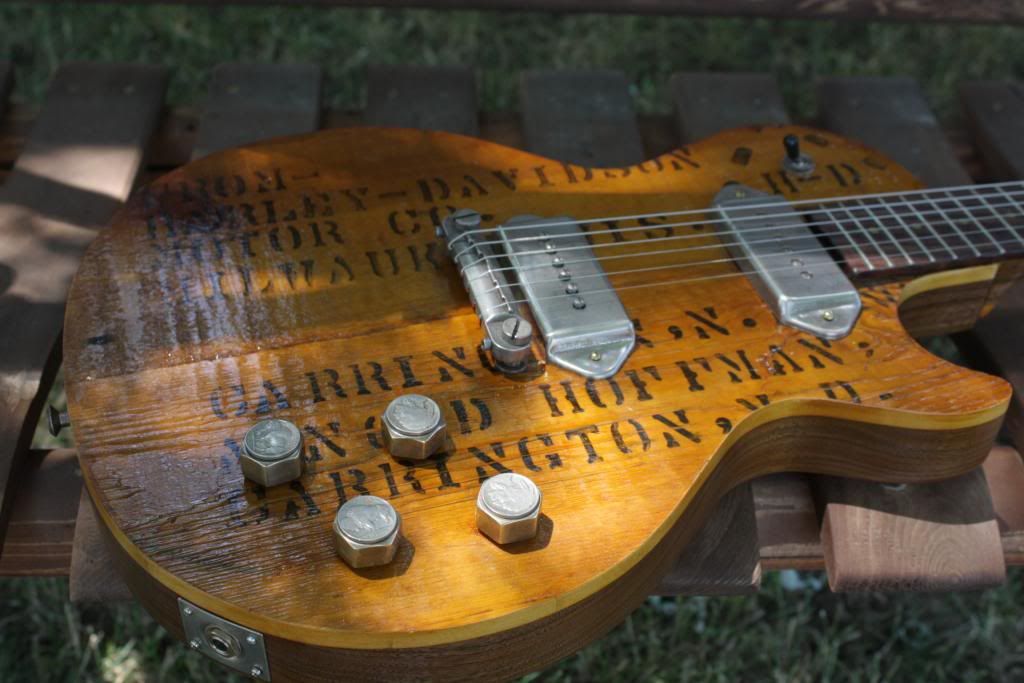 The truss rod cover on the LP is engraved "In Memory of Dad 1917 - 2009". When I sold one of the motorcycles I used part of the money to buy the Les Paul to remember Dad by. He and Les were born only a few months apart, and died within a month of each other. The guitar was built the same month he died.
I happened to have an old late '70s Les Paul case... perfect!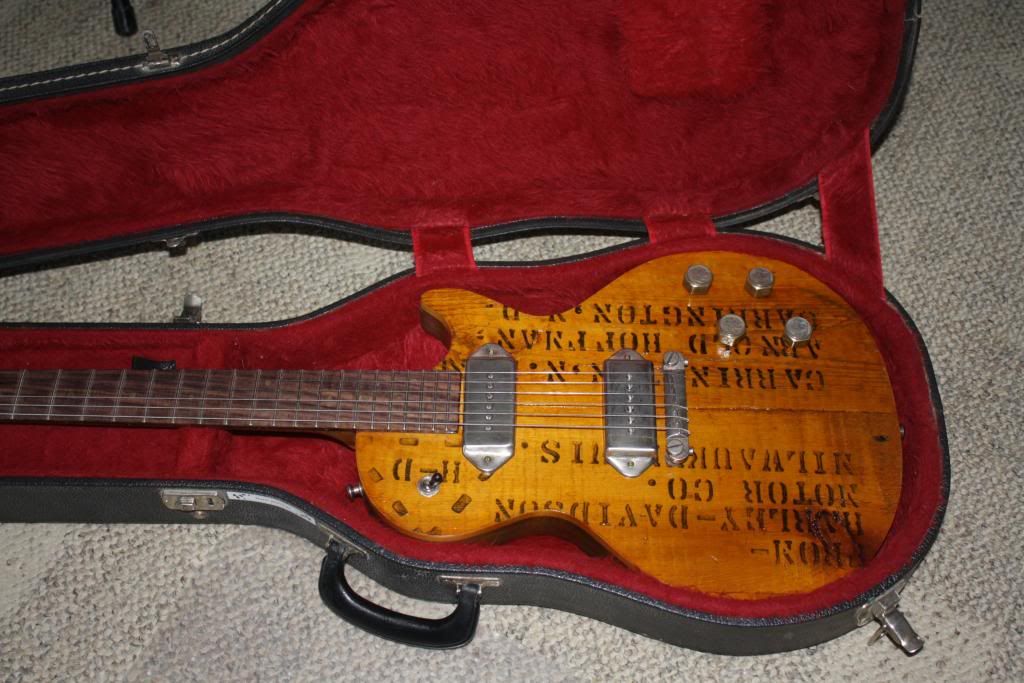 Thanks for looking!
Last edited by stormin1155 at Aug 1, 2013,