NBD-Fender Mustang Bass
The story. I had a Longhorn Shortscale that was basically a wall hanger. It was very good at looking attractive on my bedroom wall but didn't get much playing time.
We've been playing a bit more R & B and Motown in the band. While the Accubass has a good vintage tone, its heavy as frick at 14lbs and my shoulders weren't happy at all. So I went in search of a bass that was a bit more manageable but could give me a vintage sound.
So I went down and traded the Longhorn for a Mustang Bass!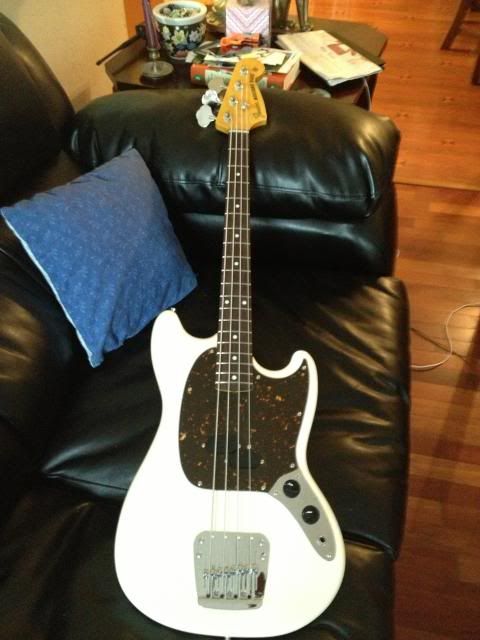 ]
It has a Alder body with a maple neck and rosewood fretboard. The pickups are the Mustang split single coil, which give a bit of that Pbass vintage vibe with a twist of its own.
I love the white with the tort pickguard (which is good because its the only option for color..)
Its a string through body which I like as well.
And since I'm on vacation for two weeks, this things is going to get a lot of love in the not to distant future.
HNBD!! Always loved messing around on short scales. Love the growl on those mustangs

All these NBD's are making me quite jelly

The right colour scheme.
Beautiful HNBD! Feel the mustang love!

That Rosewood looks pretty dark and looks great with the finish and PG. Congrats!

BTW, not too many like the Fender Aerodyne (Basswood) but it's relatively lighter than most basses. Have you had the chance to audition the model?

Join date: Jan 2005
626

IQ
It's even got the look, hnbd!