NPD - deeeelllaaayyy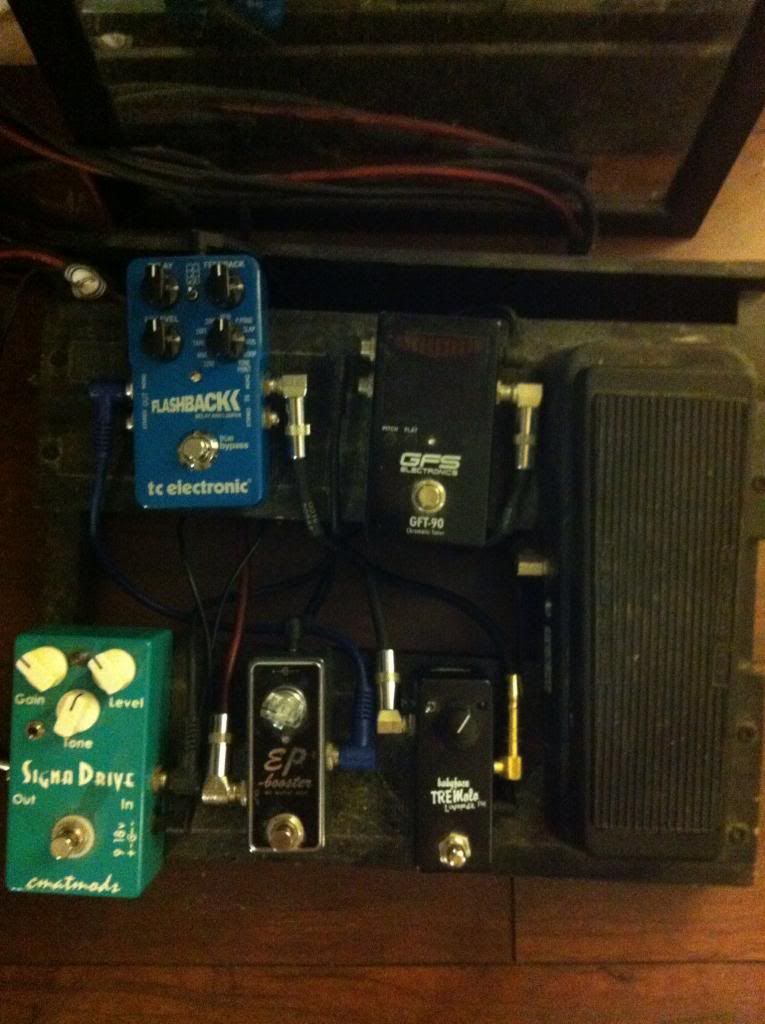 so i may have done something awesome, or perhaps screwed up big. i will let you be the judge.
i had 5 pedals to trade in = boss os-2 overdrive, EHX memory toy, guyatone ST-2 comp, TC ditto looper, Boss GE-7 EQ.
my friend is buying the EQ for 30, GC gave me 120 for the other 4, plus trade in discount, i got a TC FLASHBACK FOR TEN DOLLA!!!!
_________
Build - not sure how i feel about TC, but the enclosure seems rugged, knobs feel smooth and solid. all good it appears. TC switches irk me a bit. however, they encorporate tapping etc into these, not just on/off so they perhaps need to be that way.
sound - i am floored by the features. i was scared about doing digital cause i am an analog guy, but it sounds better than my memory toy all analog. it really does sound good. other features such as tap tempo, built in looper, buffer setting has a delay spillover (keeps the repeats when you turn it off, trailing, instead of an abrupt stop). VERY full featured.
tone print? have yet to try.
best of all? unity gain? GTFO memory toy with your boosted signal.
________
ok now for the "i messed u part"
i basically had a $150-$175 discount on anything i bought. i could have bought the flashback x4, line 6 DL4 or the TC NOVA delay for 100-150!!!
did i make a monumental error?
nice

IMO yes, but if you're content, who cares?! HNPD!
i woke up this morning and went..wait, 150 discount...that opens so many doors?

well honestly, there is one features i REALLY want and that is to put a delay in a true bypass looper with a boost, in order to create 1 patch that i click 1 button that offers a solo boost with a 2nd flavor of delay.

i am not sure i can do that even with a flashback x4 etc. what i really might do is buy a 2nd delay pedal like a flashback or something cool, and set it up like i just described.

Join date: Dec 2009
20

IQ
I would've gone with the Line 6, but if you're happy with it, then congratulations!

Join date: Jul 2008
150

IQ
I think you got screwed on the trade in, unless that's fair in the US, but here, you'd fetch way more if you sold them on the second hand market.
That said, the Flashback is a really nice pedal. I would have gotten the X4, because I really think it's worth it. Test the toneprints for sure, and try the editor as well. Crazy stuff can be done.


Join date: Feb 2007
808

IQ
HNPD

ps. can anybody tell me why one should buy this over say Hardwire delay?
HNPD

ps. can anybody tell me why one should buy this over say Hardwire delay?
Because it's better.
I've got the X4 one and simply the ability to make your own delays makes it more worth the pennies than Hardwire or Line6 DL4.
OT: HNPD! However, like said above, I agree that X4 is more bang for the buck.
Last edited by Sakke at Aug 10, 2013,

Join date: Mar 2008
780

IQ
Glad you found a delay you like

true, but honestly i was very happy getting that much from GC, i thought it would be far worse. and i personally didnt want to take the weeks to a month of phoning people on craigs list to sell them. my friend only wanted the EQ.

so i am happy with the trade in.

i can say the toneprints is AWESOME. FREE? its like having 100 delays, and then the free software to tweak your own. this is revolutionary. i dont think many have caught on.

overall i am very happy with the pedal and none of the settings sound "bad". i mean, on a modeller, its almost a given you never use 50-75% of them. i could easily find a use for just about everything except the ping pong.
Join date: Jun 2012
80

IQ
Happy new pedal day, man.