CAB SELECTION 1x12 info/opinions needed!
Hi, UG forum! Id like to know your opinion on this cab...
Harley Benton G112 Vintage

[forbidden link]

It has a Celestion V30 in it, and it costs 95 euros.... you see what im saying? A v30 ALONE costs 95 euros... whats the catch here? The dimensions seem OK, it must be construction then? Is it a good cab to get? I would be running a 100w Sunn clone with a koch loadbox II to it... attenuated to 40w.Would the V30 100db sensitivity be ok for low volume playing?


Thanks in advance!


-Mihkel
Forbidden link... hmm okay... weirdness... anyways... put that cabs name into Thomann.de search function if youd like to see an overview.
Join date: Feb 2011
310

IQ
HB cabs are a great value in Europe. It would work for your needs.

I'm pretty sure the HB cabs are Ply and not MDF
I have the 2x12

Construction 3/5
Sound 4/5
price/performance 5/5

The cab has been banged up a bit and has the slightest amount of flex. The flex when carrying it around disturbs be the most. Also at very high volumes with bassy guitar playing, the cab rumbles a bit likely due to construction but can probably be remedied with some foam.
Sound: Has the punch of a mesa 2x12. Mesa has more low end (oversized rectifier cab) while the harley had more apparent high-mids. Still beats anything else I've tested in the price range.
But for what I was getting for the price, damn it was hell of a deal.

166 eur +50 shipping (ouch) to canada. I can still say it was 100% worth it. $280-$300 in the end and I can easily sell the speakers alone on kijiji/craigslist and make $230.

Satisfied? Yes, there are better things out there but for the price there's little to no competition.

I use an Blackstar HT-5, and a friend's Peavey 6505 and they run quite well with the cab. The 6505 runs through a weber mass (iirc) Again, the rumbling is annoying but it's not a complete dealbreaker
Last edited by solidrane at Aug 28, 2013,

I'm pretty sure the HB cabs are Ply and not MDF
the 2x12 is ply but i suspect the 1x12 isn't. it appears to be the same cab as the 1x12 with no-name speaker which says it's mdf.
So yeah, er, that's the catch.
I haven't found a catch with the 2x12 yet, though.
EDIT: just checked thomann, i stand corrected. I'm sure when that 1x12 first came out it looked the same as the cheaper 1x12, but now it actually looks more like the 2x12.
So I dunno. I guess you could email thomann. I would say, though, not to get too excited, because thomann lists the harley benton cabs which are plywood as being plywood...
Last edited by Dave_Mc at Aug 29, 2013,
Well whats wrong with MDF.. i actually think that MDF is FAR superior as far as sound is concerned, its non resonant, you should only have a cab built from resonant material when you can tune it.The reason people use ply is cause its REALLY durable... thats the only thing that it has over MDF.Yeah the noname speaker version has different dimensions so its not the same cab

Great info here! Thanks guys! I think im sold on that one... there is one thats B stock... its even cheaper... wonder what that means? Abit of wear and tear? Or someting worse.. does B stock mean returned? Or just used...
nah ply generally sounds better. actually that's the reason ply is so good for guitar- it's resonant a bit, but not too resonant. mdf by comparison sounds kinda "dead". I think you only have to tune things for hi-fi. mdf is pretty popular for hi-fi, i think, because it's not resonant, but there's a big difference between sound production (guitar) and sound reproduction (hi-fi).
That's not to say solid wood sounds bad (it doesn't), just it's more resonant which may or may not be what you want.
EDIT: just to clarify, if that sounds like I know what I'm talking about in the hi-fi world (or even the guitar world

), I don't.
But yeah MDF is meh for guitar. Given the option of plywood, take plywood.
Yeah i kinda stated the things i said as very fact like.. im sorry, its still an "Ongoing debate" on the whole MDF vs Ply... but yeah i personally agree with the MDF camp.Of course the speaker would matter too so...
no worries

i'm pretty sure it's not an ongoing debate in the guitar world, pretty much everyone accepts ply is better (rightly or wrongly, lol), with solid wood better if you're after a certain type of tone.

in the hi-fi world, maybe.


i'm pretty sure it's not an ongoing debate in the guitar world, pretty much everyone accepts ply is better (rightly or wrongly, lol), with solid wood better if you're after a certain type of tone.


I've had this conversation back in the late '60's with people. Didn't know internet myths had revived it.
1. In terms of construction materials: Plywood is better if you're gigging, MDF is fine if you're not, and solid wood is fine, but not as strong as plywood. Composite materials (usually foam and fiberglass) are being used on the custom end for serious cabinets, such as for bass. They're stronger and stiffer than plywood and a ton lighter: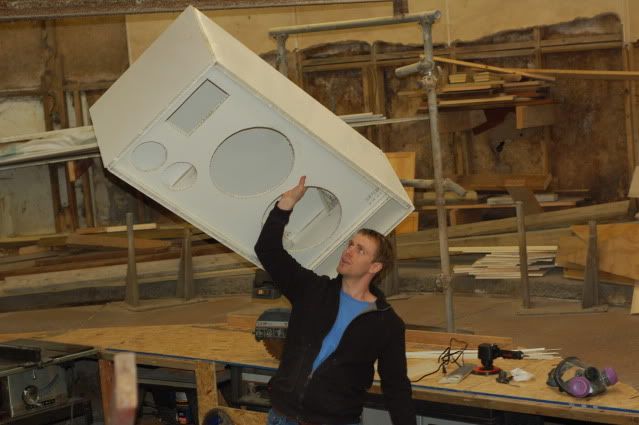 2. In terms of sound design: Resonance is NOT something you want to have in a speaker cabinet, and this includes a guitar cabinet. There's a reason that 3/4" plywood is used in the construction of some cabinets, and that's that it's relatively cheap and in that thickness doesn't move much. But even Jim Marshall found that if you have a large enough panel (such as the back panel of a 4x12), you'll get a buzz, and that's why every 4x12 has that pole in the center -- it's to break the resonance of the back panel (and to limit oilcanning, explained further down).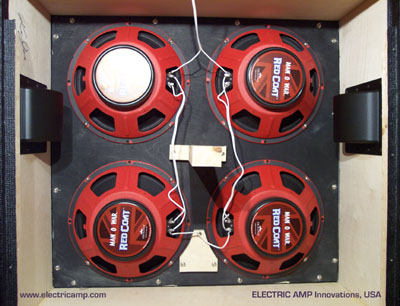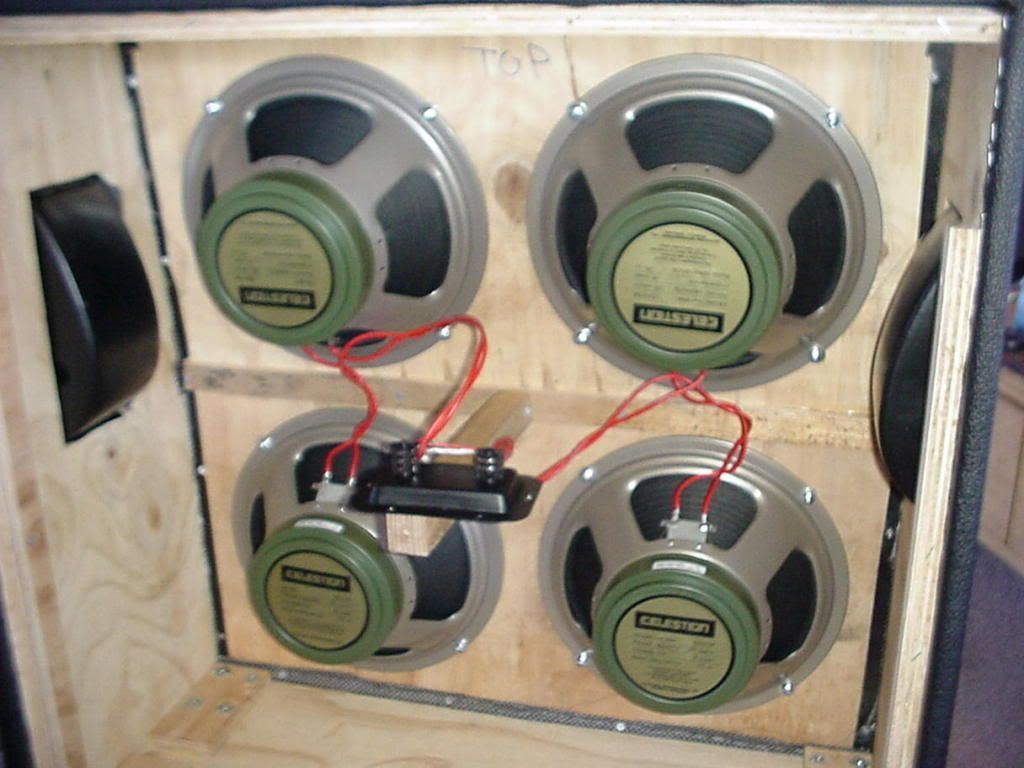 You can actually build speaker cabinets that are lighter but stronger and that have the same resonance characteristics (as in little or none) by designing the bracing better. This cabinet will handle 900W of bass power, but weighs half what a 4x12 does):
Another reason for using proper bracing and avoiding large unbraced panels is the issue of "oilcanning." When you get a speaker cone moving one way or the other inside a sealed or ported cabinet at high volume, the air is seriously compressed and/or a low pressure area created. That pulls in large unbraced panels and pushes them out. What that does is rob the speaker of power and volume. What you get is a speaker that will fart out early and that will break its voice coil sooner.
Some folks like pine cabinets. Mostly these are small cabinets housing low-power speakers (tweeds, etc.). Due to the thickness of the wood used and the relatively small size of the panels for these small cabinets, there are no untoward resonances causing problems. Where the problems arise is when you get random carpenters (not speaker *designers,* but cabinet builders) who decide that pine boxes have something to do with the sound, and who build larger boxes of the same material. Random mid-tones will suddenly appear when the volumes get past bedroom levels and guitarists will be mystified that their expensive cabinet is warbling at them with a specific note. If you simply ask them what the frequency of that note is, you can point to the offending panel; the measurement of the diagonal will almost always correspond to the wavelength of some harmonic of that note.
Very often, in the guitar world, we hear the words, "everyone accepts" because "nobody really knows." A bit of education can fix that.
Last edited by dspellman at Aug 29, 2013,
^ *defer*