Picked up this strat today...
I'm a huge fan of strats. I already own an american strat - but it sits safely in its case under by bed. It like my "museum piece". I've always loved the way strats play. The necks are PERFECT. Not too thin, not too thick. The problem I've had, is I've had trouble justifying buying another one, because I play primarily heavy music - Killswitch Engage, Death, some Trivium, COB. And GENERALLY, a strat doesn't come to mind when you think of those types of bands.
Well I stumbled across this piece in Guitar Center today. It's a strat that somebody nearly completely overhauled. It's a head scratcher as to why somebody would spend all the money on the upgrades on such a guitar.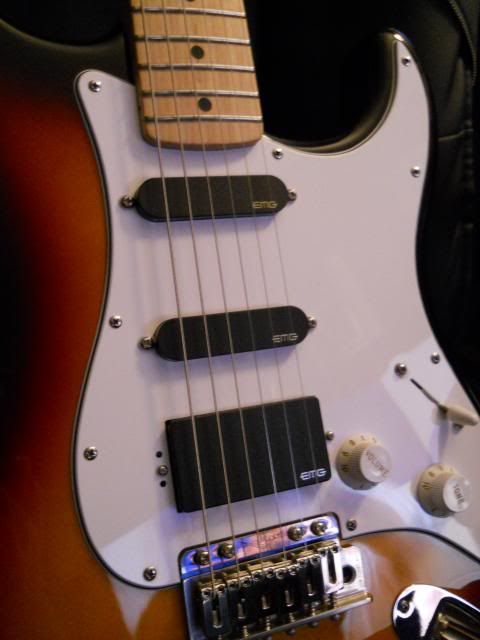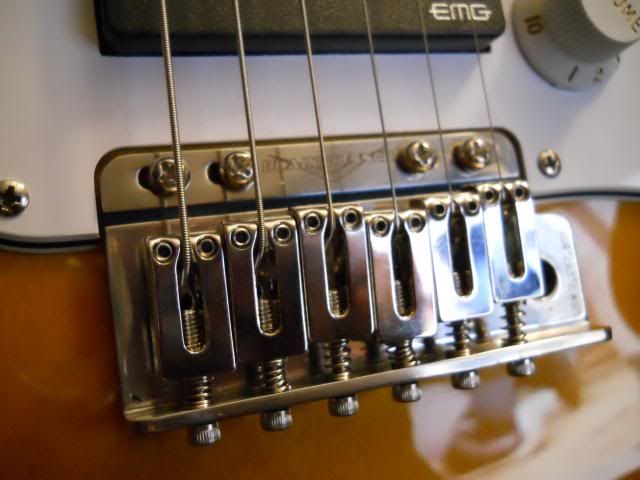 It's a super hot-rodded strat.
It's a mexican standard suburst strat, with a pre-wired EMG pickguard on it. The salesman couldn't tell me which set it was, and I know very little about EMG's. It looks like an 81 in the bridge, and then 2 SA's in the neck and middle. Whoever owned this also upgraded the bridge to a Super Vee blade runner.
The EMG pickguards seem to run about $250, and the bridge is about $200. Why somebody would spend that much money on a standard strat I don't really know, it could be just me, it seems a little odd to me, but I only paid $350 for the guitar and case, so I think I got a pretty good deal on it. (it's about 8.5 or 9/10 condition) It plays awesome. It sounds like a monster. You could definitely play any type of metal on it. This thing shreds. I love the maple fretboard (never owned a maple fretboard guitar before). The only thing really left to do to this guitar is upgrade the stock tuners. I don't even know if i'll do that or not.
Very nice find great price

Join date: Aug 2012
100

IQ
Holy shit a used strat laying around Guitar Center with a blade runner? That's pretty sweet. There's this hss strat I found at my local GC that the saddles have been upgraded and a coil-splitter (I think) for the humbucker has been installed. Been thinking about picking it up.

But anyway HNGD looks pretty sweet.

Join date: Dec 2008
410

IQ
Looks like a steal of a deal! HNGD!

Join date: Aug 2013
10

IQ
Thanks guys! I definitely thought it was a good deal! I'm pretty happy with it!