New Carvin Day (eye candy inside)
9 weeks later, i get my baby, Carvin CT624. i have spent years thinking up a USA made guitar for myself and i am 100% satisfied. i am in shock. almost nothing, NOTHING, i have laid hands on is built like this.
on the the review:
Build: 10. 12 out of 10. As i stated, it is flawless. the best direct comparison is a PRS, and to get the quality of wood, the PRS would need to be probably 3000-4000 or more. fit and finish is PERFECT. Mahogany back and neck, flame maple top, birdseye fretboard. the back of the neck is tung oil and satin smooth, like a music man guitar. the guitar is about as heavy as a PRS, perhaps lighter. definitely lighter than a les paul, perhaps by 2+ pounds.
features: locking tuners, strap locks, coil splitting, stainless frets, rosewood knobs, 24 frets. 1 volume, 1 tone w/ coil split, 3 way switch.
Feel: neck is a semi-thin, wide-ish D shape. 14 in radius. this is slightly different than what i am used to. the radius feel flat, but i have found this REALLY facilitates fast scales and runs. the body is light, balanced, and contoured. again, think PRS.
fret access is 100% accessible! i can get to the 24th literally without any roadblock at all. i originally wanted a DC for the neck through, but if that is a concern, throw that out of the window. these CTs have perfect neck access.
the overall feel promotes confidence and a positive vibe. touching the sexy rosewood knobs for example just feels special. drop that typical metal checkered knob BS.
playability: WOW. again, hard to get better here. the setup is perfect out of the box. the bridge is set right on the body, which is good, but there is no reason to go lower. I asked the sales rep about adjusting carvins. he said "dude, have you ever played a carvin? you wont need to.". He is right. the stainless frets are SLICK. strings bend like butter. very few guitars bend so silky smooth.
Sound: Resonant! the build definite shows through. the guitar is louder acoustically and brighter / spankier than my epiphone les paul. the stock pups have decent medium-ish output with good harmonics.
the coil split is a very good single coil tone! it is a legitimate split into single coil, not a tapping which is a reduction in output. the humbucking goes away, and they get noisy (non hum bucking). combining these selections makes for a VERY versatile guitar. i can pull off stratty tones quite well and was playing sultans of swing and RHCP riffs like "Cant Stop" to a T, which just didnt sound right on my epiphone les paul.
overall: i cannot believe what you get for price. i dont think anything competes at all dollar for dollar. the appointments like the rosewood knobs, natural body binding, birdseye board etc really make this special.
this has really altered my perception of affect of guitar on tone. this guitar sounds RADICALLY different than my epihpone les paul. night and day in a good way. i am thrilled.
possible downsides:
- getting used to a different neck after playing 1 guitar for 4 years
- pickups are good, but they are not aftermarket
- electronics are good, but not as good as the best of the best (for example, i LOVE music man electronic quality. Petrucci guitars have top notch grade A hardware).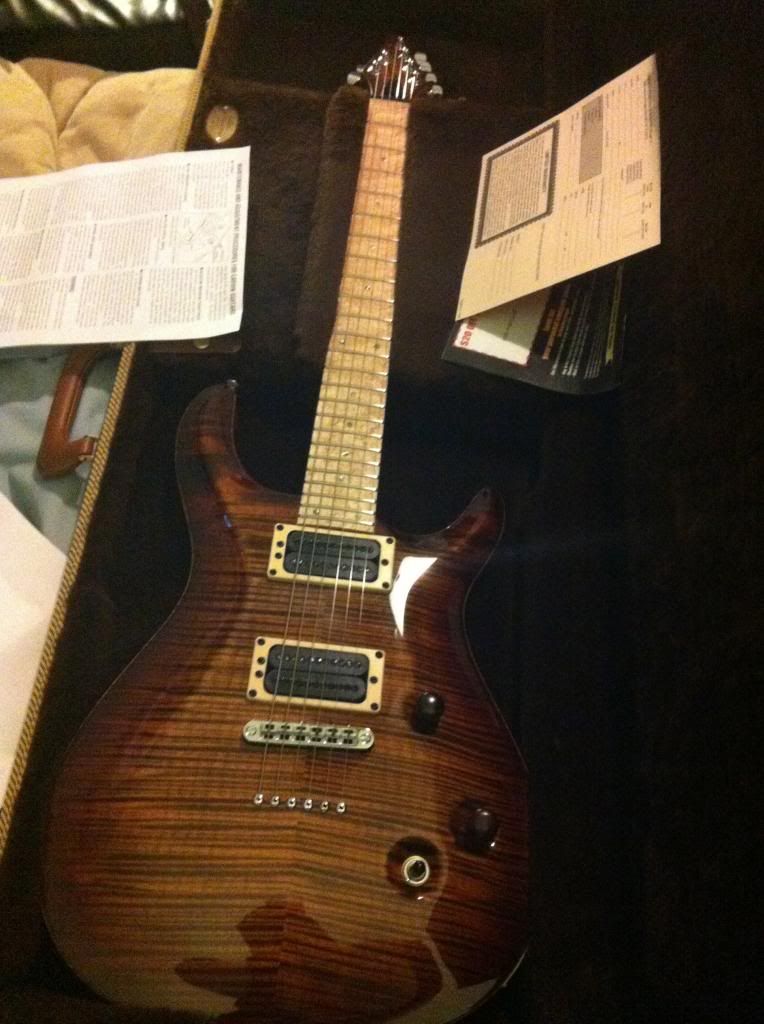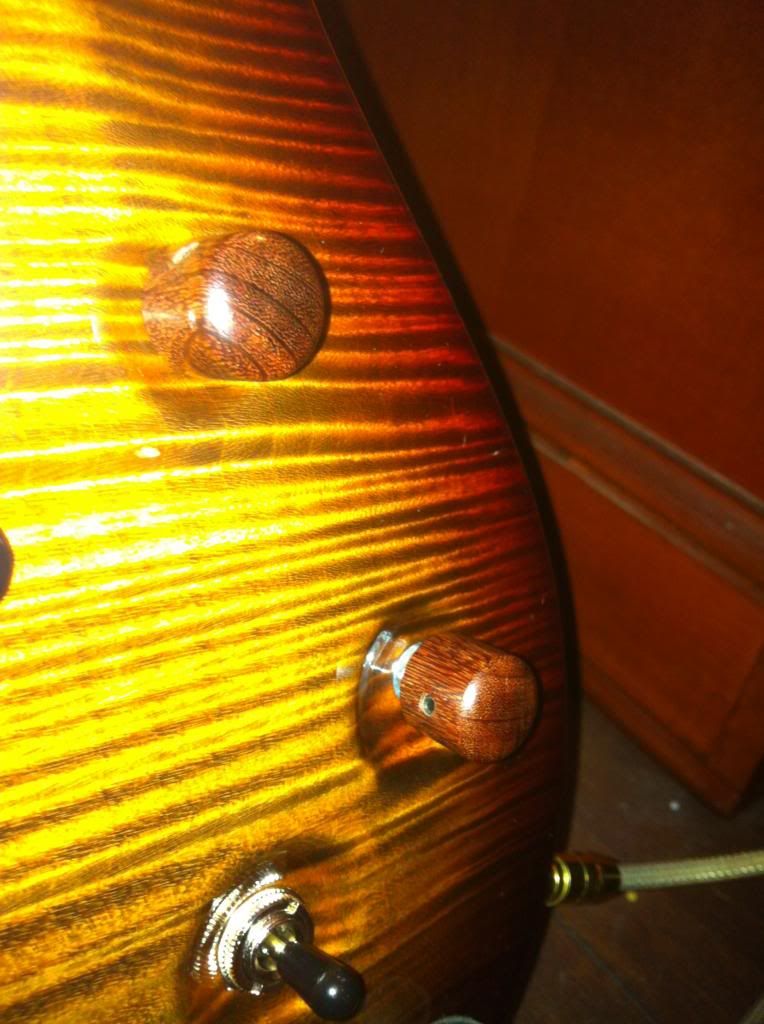 Last edited by ikey_ at Sep 5, 2013,
Last edited by ikey_ at Sep 5, 2013,

Join date: Dec 2008
350

IQ
Yummy! Yet another stunning Carvin on the UG boards!

Join date: Sep 2009
40

IQ

overall: i cannot believe what you get for price.

Well what is the price?

Join date: Sep 2009
40

IQ

Join date: Nov 2006
1,108

IQ
Never been much of a Carvin man, but that one sure looks pretty. It does kind of remind me of a PRS.
what do you mean? the volume knob is the one closest to the pickups. if you are referring to lack of grip? i did think of that.
A - i dont do that often, hardly ever
B - if it ever became an issue, i would take a dremel or an exacto knife and carve grooves or criss-cross into the rosewood knobs.

it came in around 1600 with the tweed case.

oh yeah i forgot straplocks in the feature set.

Join date: Oct 2012
20

IQ
$1600?? holy hell that's a great price for those specs. been a fan of carvin for years but never have the money to have one made how i want but after seeing yours, i think my next splurge is gonna have to be a carvin :-)

Join date: Oct 2008
570

IQ
Another member of the brotherhood!

Beautiful guitar, any clips?

Join date: Oct 2008
80

IQ
That really is one of the more beautiful guitars money can buy. Love the knobs, where can I get some?
thanks guys!
deathByDestroyr - check it here
http://www.carvinguitars.com/group/guitar_bass_knobs
and for follow up on price, Carvin basically does Lay Away. it takes 9 ish weeks to build, you put a 10 or 20 % deposit down (it came to about 200 bucks). they wont ship the guitar until the balance is paid, and if you continually dont pay, they keep the guitar for resale and keep your deposit for being a dumb*ss.
what i am saying here is that you have 9 weeks to pay it off. for cash flow reasons i had them charge my card 2-3 times over that 9 weeks. so it lessens the pain than 1600 bones upfront.
makes buying a carvin pretty easy.
___________
about value? yes thats why i am floored for the price.
all the guitars i would compare it against like PRS, music man (build quality) are well over 2K, or atleast 1500 for basic models without all this fancy wood.
the quality and woods you are getting for 1600 is literally unbeatable. however, i would say a music man or PRS have better Pups and hardware. again, price difference.
the fact of the matter is, find me brands that offer this type of wood? find me brands that offer this type of wood under 2000? find me a brand that with do those 2, and customize it ot the buyers specs?
i think Carvin is alone in the world here.
Last edited by ikey_ at Sep 6, 2013,
Join date: Feb 2011
310

IQ
Nice guitar, and $1600 new is not bad at all.

Is it a semi custom or did you buy off the site store?

HNGD that is a looker
Nice guitar, and $1600 new is not bad at all.

Is it a semi custom or did you buy off the site store?


I think he said it took him 9 weeks, so that would probably make it a semi-custom.
oooh very nice


i put all the specs myself. this has been a culmination of years of guitar research + the unwillingness to pay over 2000. sure i would buy many other options if i had 2,3,4,5 thousands to spend, but when i came down to it carvin accomodated my picky needs the best for the lowest cost.

some rationale coming from a les paul style and wanting more versatility

wanted a double cut that is lighter, good upper access
still wanted a carved top
wanted 1x volume for better control of gain
wanted uncovered pickups (for the superstition it allows better tone)
wanted a fixed bridge for tuning changes, lack of hasstle, faster string changes and better transfer of tone
wanted locking tuners and strap locks

wanted SS frets, because my epihpone with a bound neck will cost about 400 bucks to do a total fret job. i only paid 400 for it. i also want to use SS strings and have confidence they are not wearing the frets more

wanted single col and humbucker sounds, and wanted a true coil split, not a coil tap

had interest in 24 frets for a classic "original PRS" design as it was intended and the scientific explanation of 22 fret guitars having a pickup on a dead node on the string length

i REALLY wanted a hand rubbed / unfinished neck and ive always thought the birdseye necks were dead sexy. i with the whole neck was birdseye maple

i wanted maple for a bit more snap and pop to my tone

i picked the color to be classy, sorta flashy, but not gaudy. a sexy respectable instrument. kinda like how i want my women.

BODY BINDING IS HAWT, and this is wood biniding not white plastic!

i wanted to be able to see all the woods in the instrument. if it wasnt for having a beautiful finish, i would have wanted a tung oil, non finished guitar for some mystical reason that it breathes better.
things i still wish i had:

compensated nut
other pickup options (perhaps a HSH? maybe i dont know)
direct mount pickups not plastic pickup mounts
a slightly different neck profile
a compound radius fretboard from 12-16
perhaps other electronic options such as in/out of phase with a push/pull volume
an upward angled cable jack in the rear, not straight down towards the floor. this is how it should be anyways so you dont step on your cable and pull it out

i wish it had name brand pups, or a selection of aftermarket pups to choose from

chambered body?

peizo pickups built into the bridge? thats a big design change

_________

do you guys see how picky i am? if i did all these things custom, it would be 3000-4000 minimum. probably well over that
love the maple neck on that HNGD
thanks man. 2 fold there, 1, i wanted a different feel and a bit more attack from the fretboard. second, i really want a great contrast to the body color. and when going maple, why not go birdseye

Join date: Dec 2008
350

IQ
thanks man. 2 fold there, 1, i wanted a different feel and a bit more attack from the fretboard. second, i really want a great contrast to the body color. and when going maple, why not go birdseye
I've got a custom from another builder that is going with the same logic- claro walnut & Birdseye maple- and I have another guitar that is all-maple with a Birdseye fretboard.
It just looks great.


Join date: Jun 2010
310

IQ
That is an awesome guitar - but I'm a Carvin fanatic - ever since I got my DC145 I don't really play my other guitars anymore, just plan what other Carvins I will eventually get. Your guitar is beautiful.

Join date: May 2011
82

IQ
That guitar is f**king gorgeous. Congrats, and welcome to the Carvin brotherhood!

HNGD!