Compatible cab for Randall Rh100g2
Help. Deeply confussled.

Right, I currently play through Randall rh100g2 using one cabinet. The band I'm with is 3 piece and the idea had been mooted that I get another cab on the go to match the bass mans 1x15 + 4x10 rig. The cab i have has two inputs; 4ohm left and 4ohm right which also has 8 ohm above it and is the one I always plug into at the moment, and a stereo/mono slider. The amp has a parallel output, which says min output 4 ohm so I'm guessing its possible to connect another cab...? I get that its bad to run an amp with higher impedance than speaker, and from what i can gather this head can handle 4 or 8 ohms. But if i run from the amp will it be 4ohms from each output I.e to each cabinet? Does anyone have any suggestions of appropriate cabs to add, second hand preferable, under £300, or am I better off saving for a more powerful amp?

Cheers

Join date: Oct 2007
250

IQ
Right, I currently play through Randall rh100g2 using one cabinet.
i am having a little bit of a problem finding the exact specs on this thing, but from the pics i can find online this looks like a solid state head. as you mention below it's rated for a minimum of 4 ohms.
The cab i have has two inputs; 4ohm left and 4ohm right which also has 8 ohm above it and is the one I always plug into at the moment, and a stereo/mono slider.
so you plug that amp into the 8 ohm input on the cabinet? with the slider on 'mono'? if so, then all that is good.
does the panel on the back of the cabinet look like this? (your left jack probably isn't busted though)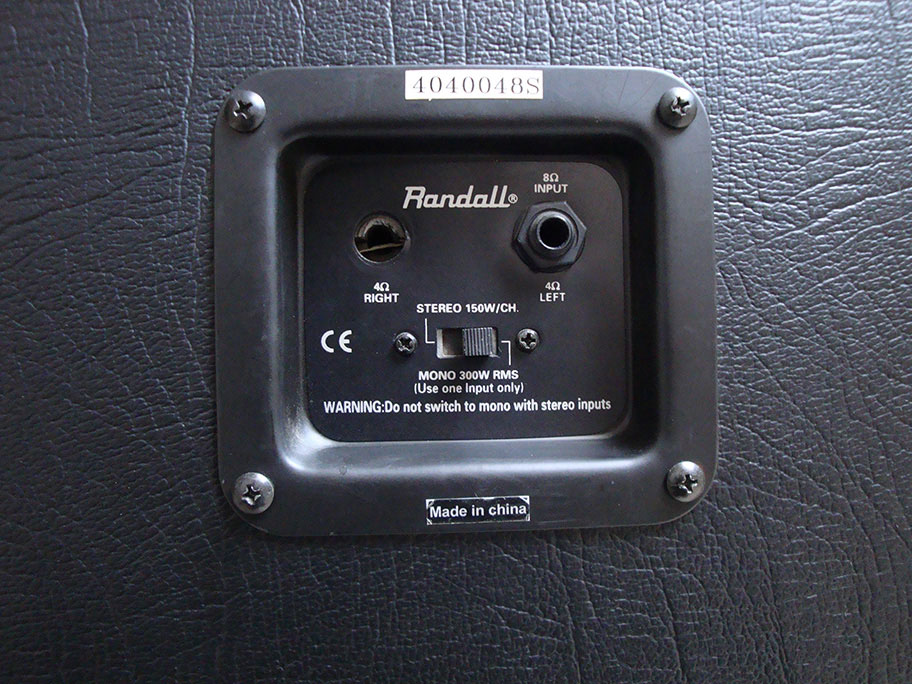 I just want to confirm so i understand what you are talking about.
The amp has a parallel output, which says min output 4 ohm so I'm guessing its possible to connect another cab...?
if everything stated above is correct, then yes you can run another cabinet with your head.
you'd just need another 8 ohm cabinet. just use speaker cables to connect each cabinet to the parallel outs on the head. you will then be running both 8 ohm cabinets in parallel for a total load of 4 ohms.
I get that its bad to run an amp with higher impedance than speaker, and from what i can gather this head can handle 4 or 8 ohms.
this is a solid state head, it has no output transformer so the power section of the amp is directly loaded by the speakers.
what this means to you is that you can run any cabinet (or set of cabinets connected together) with a total of 4 ohms of impedance or more. so 8 ohm, 16 ohm, w/e is fine and won't hurt anything.
the higher the impedance the cabinets are, the less the output of the amp will be. should even say something to that effect on the back of the randall. something like:
100 watts @ 4 ohm
80 watts @ 8 ohm
i just made up the numbers, but there should be text on the amp saying something like that.
mind you that tube amps are different, they want a matched impedance to the output. they use an output transformer and so the rules are different with tube amps.
But if i run from the amp will it be 4ohms from each output I.e to each cabinet? Does anyone have any suggestions of appropriate cabs to add, second hand preferable, under £300, or am I better off saving for a more powerful amp?
the two speaker outputs on the amp are connected in parallel. if you use two 8 ohm cabinets in to both of the outputs then the amp will 'see' a total impedance of 4 ohms.
any 8 ohm cabinet should work
Brilliant stuff. That's that cleared up then... Thanks for taking the time to explain that