How can I make the paint on my Epi Goth Shiny?
I have an Epiphone Goth Explorer and the flat black paint has become shiny on the areas that get touched a lot. The back of the neck looks really glossy. How can I make the paint look shiny all over? I just want the color to look more uniform instead of patchy. I know it won't look like a factory finish but I want it to look a little better than it does now. Anyone have any ideas how to do it without painting the whole guitar?
Join date: Feb 2011
320

IQ
buff it with a high-speed buffer and some cleaner wax

Join date: Apr 2010
404

IQ
what Robbgnarly said, just make sure to use some kind of polish that is compatible with the paint.

Join date: Jan 2010
30

IQ
i take all my necks down with steel wool, gives them more of a matte finish but it feels a lot better in your hand than the shitty gloss finishes.
Toothpaste. Not kidding. Get a white finishing pad from any woodworker's store or some Home Depot-type stores have them. A little dab of Crest is a lot cheaper than polish.
I tried the toothpaste and white finishing pad method today and it does work. The finish is shinier, feels smoother and looks more even than it was. And my Explorer smells minty fresh!

Thanks a lot for the help guys. I'll try to post some pics soon.
And I broke one my volume knobs when I was taking it off. I had an extra knob styled like it but it says tone on it, so now my middle knob says tone but it is still a volume control.
Before:
The paint had shiny spots around the knobs and other areas of the body.
After:
The paint looks even now all over. (It shines more in person. The glare makes it look dull & I changed the knobs since the last pic.).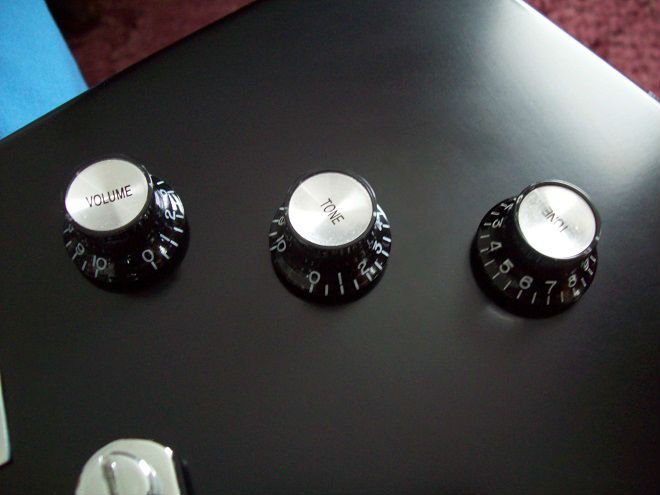 Join date: Dec 2009
40

IQ
The sound of applying toothpaste to a guitar got me a little skeptical. But wow, it actually works
Now try rubbing a chocolate bar on in...what? It turned the bottom of a can into a parabolic mirror on Mythbusters.




Join date: Jun 2007
40

IQ
The sound of applying toothpaste to a guitar got me a little skeptical. But wow, it actually works
You can use it to buff out the yellow weathering on a car's plastic headlight housing too. If it's good enough for my teeth