NGD: dull, boring content
As the title says, you're better off looking at someone else's NGD, there's a few out there.
Not much of note to see here that you ain't seen before.
Are you still here?
I bet you like watching cricket/paint drying.
I suppose enthusiasts of said activities are still people too.
So anyway, I got a new guitar.
And when it showed up I opened the case.
Then lifted the lid.
And a photo was taken:
Yeah, not too bad I thought.
What has it got? Well, it has gold hardware. And a pickguard that has gold round the edge. Not real gold, just plating.
The neck is mahogany with a maple fingerboard with no inlays. Makes it a bit trickier
if you weren't exactly amazing in the first place lol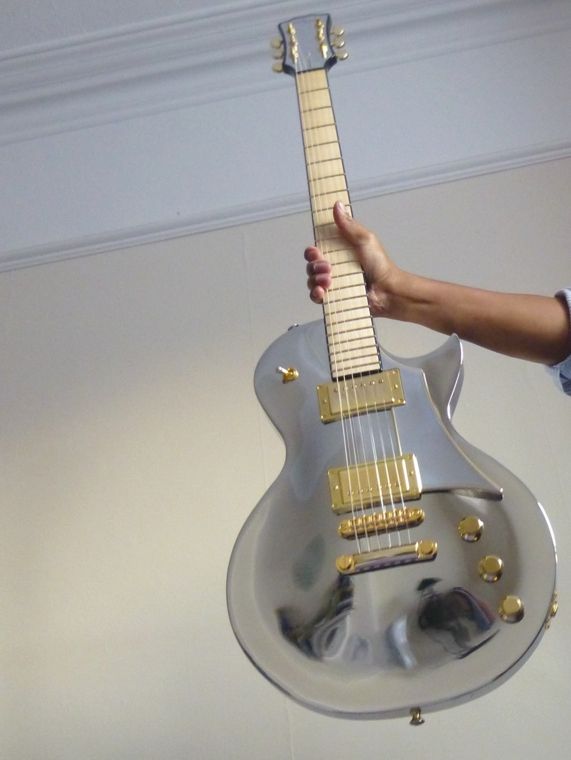 Oh it's an aluminium alloy body. Or 'aluminum' if that's what you say.

The humbuckers are a '59 and a JB.
Push pulls do the phase/split thing.
Is it weird we share a bed?
And what is it like to play?
The neck is something else. Kind of like a 60s profile and the surface to touch feels great, low on friction. Action is low and you could get up to some serious shredding speeds on this.
Plugged in you can get all the classic twin humbucker sounds you'd expect. Really versatile, through cleans for funk to as much br00tz as is bearable when distorted.
It might lose some of its looks as time goes by but then so do women

Made by AlumiSonic.
It was a gift...
albeit from me to me

.
I call her Maja.
Sorry for boring you to tears.
Wow! That's spectacular!

Congratulations!
HNGD! Do love me some all gold hardware, though I know too many people who think it's just way too much.
How heavy is it? (weight. sound too I suppose

) I always imagined aluminium bodies being quite heavy to hold, especially if it's solid, even though aluminium is supposed to be quite light in contrast to iron.
Thanks all
How heavy is it? (weight. sound too I suppose

)
Not solid mahogany '59 LP heavy that's for sure. More like a chambered one.
Soundwise, yeah it can do a nice thick distortion. Lots to explore on that still

Join date: Jan 2013
70

IQ

Join date: May 2011
82

IQ
By Odin, that thing is shiny. Pretty damn sexy too.

HNGD!

Join date: May 2013
30

IQ
You need to post that in the gear pictures thread and shut it DOWN!

Join date: Feb 2009
110

IQ

that is GORGEOUS. Post a picture of it with a mirror and see how many reflections you can get

.
I also REALLY wanna hear how this thing sounds! HNGD for sure!


Join date: Jun 2011
10

IQ
Just when I had lost all hope for solid body guitars...stunning axe man, cheers!
when i read the title, i was expecting a typical sunburst strat or a blonde tele or a cherry sunburst LP or a schecter with lots of abalone binding and inlays and a flame veneer top

HNGD - i think that's officially the shiniest guitar i've ever seen. And i like shiny things

Shiny and no paw prints! Play it!

wow awesome

here i got you a big bottle of special polish designed for just these kinds of finishes!
congrats that is awesome.


Join date: Dec 2011
130

IQ
One of the best NGD's ever. Seriously, I love it. Reminds me of Buzz Osborne's guitar. Electrical Guitar Company makes it.
:O i dont even know what to say

Join date: Apr 2011
80

IQ
Really awesome. HNGD!

Do you notice any difference in sustain / shimmer if you compare this beauty to your average Gibson Les Paul?
Really awesome. HNGD!

Do you notice any difference in sustain / shimmer if you compare this beauty to your average Gibson Les Paul?
Thanks.
Sure, unplugged, the raw acoustic sound is ringier and a little louder than a wood LP.
As research has apparently shown, body material doesn't make much difference to tone (*can of worms alert!*) so it's kinda similar plugged in but it has different pickups etc so it's hard to say what the difference is...

Join date: Apr 2011
80

IQ