I couldn't resist... Was it a good deal?
Put an offer in on this Ibanez lawsuit double neck and I think I've got it for $350, case included. All it needs is new strings and some minor neck adjustment for the 12 string and it's in good playable condition. I have too many guitars already (is that possible?) but I've always wanted a double neck so I decided to jump on it. If you can tear your eyes away from that god awful paint job, what do you think? I don't know a lot about these so am unsure of the year, what has been replaced, etc. and was hoping someone here may be able to give me some info on it from what can be seen in the picture. I really dig the cherry finish on this model so I'm hoping to either strip it down and stain it to get a cherry finish (depending on what lies beneath) or put some lacquer on it. Any thoughts, opinions and info are appreciated.
so this was repainted? is there any sign of a serial number?

it could actually be a very good guitar, the nicer mij ones sell for decent bucks.
Last edited by gregs1020 at Sep 28, 2013,
That finish.

that is painfully ugly. but as a guitar, probably worth 350 for a double neck.
Paint doesn't look well, but the guitar itself could be reasonable with 350 bucks.
You're going to find out two things about doublenecks.

One is that they're heavy and that while they're cool to show off for a while, they tend not to be as usable as they are if you're Don Felder (and then only for maybe a song or two). Usually they get passed on after sitting under the bed for a couple of years.

Two is that the SG-style doublenecks are less usable than either guitar would be in individual form. Notice where the body meets the necks compared to a standard SG; the upper frets are buried in the body. The body is also longer than standard (by quite a bit) to counter the weight of the necks.
I have an '80's Carvin doubleneck like this one (except for color). It's still heavy, and it doesn't see the light of day all that often, but you can actually use the 24th fret on the 6-string, and the action on the 12-string neck is very very low and has no buzzing frets.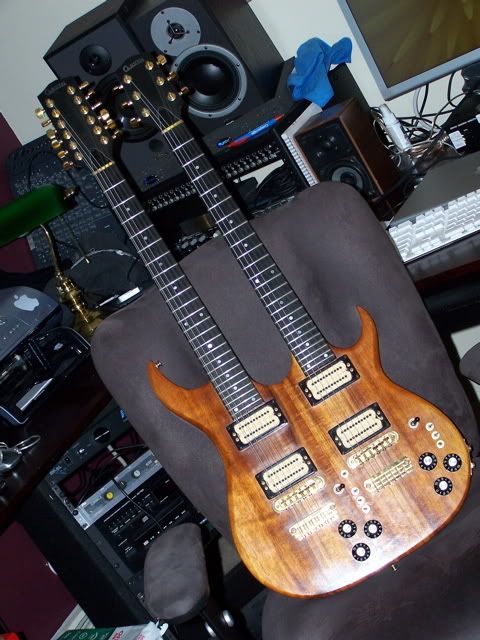 Put an offer in on this Ibanez lawsuit double neck
Does it say "Ibanez" on the headstocks?
It doesn't say Ibanez on the headstocks. Not all of them did apparently. The other day I found an ad online from the Ibanez catalog that had the exact guitar in cherry on it. Unfortunately I can't seem to find it now, but it didn't say Ibanez on the headstocks and also didn't have the neck switch in between the bridges where most of them seem to have it.

It is definitely an eye-sore as it sits but I think the first thing I'll be doing with it is refinishing it. Looks like someone tried to one-up Jimmy Page's Gibson and failed miserably...