NGD - Les Paul
I'm getting to the point in my guitar playing where I'd rather have quality over quantity. I've always owned several mid range guitars, and only one or two higher end guitars. So lately I've been selling off some of the cheaper ones for some more personal favorite guitars. I'd just rather have 4 or 5 really nice ones, than 10 or 11 mid-level guitars.
2 weeks ago, I bought my dream american standard strat.
This week, I bought a guitar I never really thought I'd own.
Sorry for the blurry photos. I'm still not very good at taking pictures =(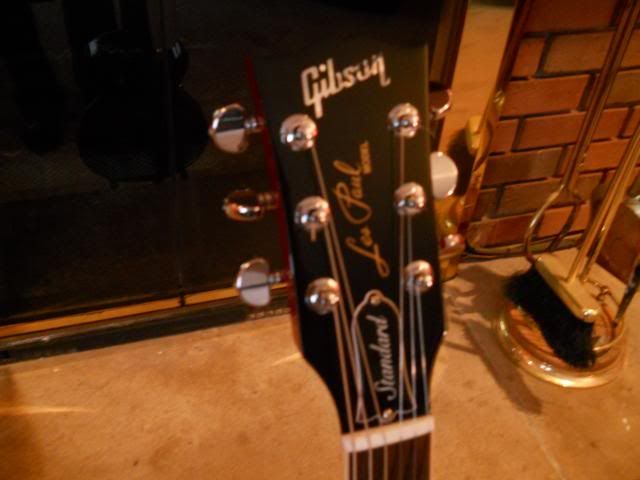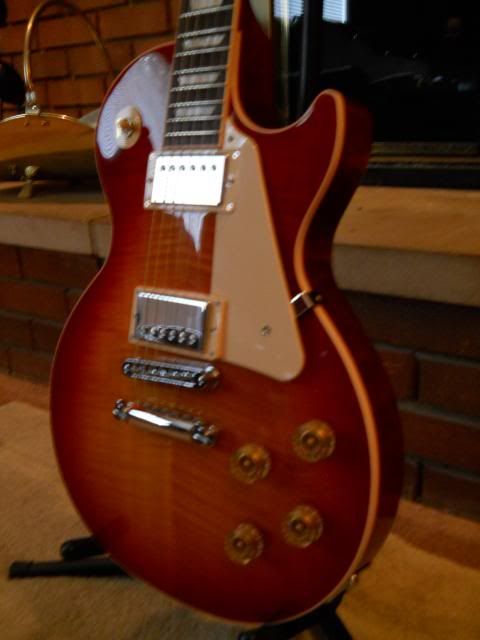 It's a 2013 Gibson LP Standard. Again, I've always been more of a strat guy at heart, but I already own 2 american strats, and actually went into GC for another one today, but I thought why not just buy a Les Paul?
It's a pretty nice guitar! It's got a really beautiful AA Flame Maple top on it. I wish my camera picked it up better. It's just feels like a really SOLID guitar. It's got locking tuners on it, and it has the push/pull pots for splitting the pickups. I have an epiphone les paul I bought last year, and the neck shapes are similar, but I think you can honestly feel the difference in quality between the two instruments. The Gibson just feels a lot better. The pickups sound GREAT. Very versatile with the coil splitting. You can really play anything on these! I see now why so many artists use them. It is chambered, so it's not really heavy. The sustain is exactly what I've heard about these guitars. It sings. Really comfortable to play. One of the nicest guitars I've ever played, and definitely the most expensive one I own. I bought it USED, but it is in MINT condition. Came with the gibson hardshell case, and original paperwork. Really happy with this one!
Sexy!


Join date: Oct 2012
50

IQ
Gibson Les Paul with coil splitting? Nice!
excellent


Join date: Nov 2007
470

IQ
Lovely guitar man! Gotta love a cool LP

so awesome! strat and LP... can't go wrong

Join date: Dec 2008
410

IQ
Classic!

And congrats on realizing another guitar dream!

Join date: Jun 2009
10

IQ
Beautiful guitar, HNGD!
You'll soon be at the point where you want quality AND quantity

Thanks a lot guys! I appreciate it!
Beautiful guitar, HNGD!

You'll soon be at the point where you want quality AND quantity
Haha! I know - buying guitars is a never ending cycle. Every guitar I buy, I swear its the last one. But with me, it's always a revolving door. In the last year alone, i've went through 4 or 5 guitars, so instead of buying temporaries, I'm trying to buy "staples". I find myself having all these guitars, and only ever playing 3 of them. It's kind of a drag. But - thats what this "renovation" is for!

Join date: Feb 2008
50

IQ

Join date: Nov 2006
1,119

IQ
Very nice. Looks like the same one my wife owns, except the pick guard is still in her case and was never installed.
very nice 2013 standard. congrats!


Join date: Feb 2008
30

IQ
Gibson Les Paul with coil splitting? Nice!
Yep 2013's come fully loaded with electronics. Coil Splits, Phase and True Bypass if my damaged brain remembers properly. The price tag went up on them in the process. To the OP you will always have a hard time getting a nice picture of the flame maple. My Traditional has a AA+ possibly even AAA flame maple top but any time I take a picture of it, it just doesn't pop like it does when you see it in person. I also noticed the finish of mine (Honeyburst) seems to darken or lighten depending on how much light hits it also making it tricky to see the colors of the burst in a photo. I highly recommend swapping over those control knobs for the old antique bell knobs because the speed knobs just don't look right on a Les Paul. You will love her though, my Lester was my second non-garbage guitar (first was a Gibson Explorer) and unfortunately for my Explorer the Les Paul is better!
Thanks a lot guys! Very cool guitars marantz.

And yeah - these 2013s are fully loaded. Really cool stuff on these.

And ne14t - you're right. Pictures never do these things justice!